Just like food for humans, comments for blogs and websites. An active commenting section for a website or a blog is crucial. But, why comments are important that much? Comments are the easiest way to drive traffic and get backlinks to your website or your blog. An active commenting section makes the content of your blog more interactive. WordPress has provided bloggers with a perfect Content Management System with a native commenting system. Have you ever wondered whether the WordPress native commenting system can fulfill every task that a perfect commenting system is supposed to do? So, in this article, we are going to see the best WordPress commenting plugins that can make your website with a lot of traffic and backlinks. This will give you a clear idea of choosing the best WordPress commenting plugin on your own.
Let's dive in step by step to find the best WordPress commenting plugin for your WordPress blog.
Why not WordPress Default Commenting System?
As bloggers start having a WordPress blog, they usually use WordPress Native Commenting Systems as it is not a plugin that needs an additional installation process, it is the default, in-built commenting system of WordPress that makes users have nothing to do with it anymore. But, ease is not always what it seems. So the tendency to look for alternatives has risen as same as they look for WordPress alternatives because of its complexity. Using default WordPress comments while doing everything to make your blog a perfect one is in vain. In fact, a question remains. Can WordPress Native Comments really do everything that a perfect commenting plugin is supposed to do? What are your thoughts? Let me know by commenting below.
To find a clear answer to that, first, let's see what a perfect commenting system is supposed to do.
A perfect commenting system...
It is clear that we mainly expect from a commenting system a high rate of user engagement on our websites/blogs. So, it is fair to define that creating a good rate of user engagement is the main task of a commenting section. Moreover, driving more traffic and creating backlinks indirectly are the other tasks that we expect from a perfect commenting section.
There are both pros and cons to the Native WordPress Commenting System. The pros seem really lovely and can cover the cons.
In the cons, you can see that most of the critical components of attracting users to a website are highly blocked when using WordPress Native Comments.
For the record,
An attractive, user-friendly UI of a commenting section is the very first thing that keeps users more time on your blog while unattractive, less user-friendly commenting sections keep the users away as they find it quite uncomfortable to interact with.

Using an anti-spam commenting plugin is way better. Because users do not love to interact with spammy comments. On the other hand, you will be fed up with manual spam comments management after doing it for a period of time.

An SEO-friendly commenting system is an integral part of a successful blog/website. So, it is better to use an SEO-friendly commenting plugin.

Comments moderation controls should be very user-friendly. It is pretty easy for you to choose what to do and what not. If you do not want comments pre-moderation, you can turn them off. But if not? It would be a disaster in the near future because of loads of comments.

Social media integrations are really helpful to make your blog more user-friendly.

What if you can choose one or two plugins that fulfill all the essentials? Fewer plugins make your blog free of unnecessary loading time while a number of plugins make your blog load slower. So, choosing a commenting plugin of ALL IN ONE is a pretty good move.

WordPress Native Comments system lacks social media integration. Users these days expect social integration. So, why don't you provide it to them?

Not only comments, but users also love different types of interaction methods such as reactions, upvotes/downvotes, etc. So, it is better to give users an interesting space for commenting.
So, it is clear why it is crucial to replace the WordPress Native Commenting System with a perfect commenting plugin.
There are lots of comments plugins in the WordPress repository. Among all of them, choosing the best WordPress commenting plugin according to your desire is important. Let's see how you can do it without a mess.
Choosing a good commenting plugin...
When choosing a perfect commenting plugin, the following factors must be well considered.
User Friendliness of the commenting plugin - The commenting plugin's UI must be attractive but simple in all the ways such as comment editing space, colors, fonts, graphics, etc. If the UI is way too much in the design concept, users might find it pretty boring and uncomfortable to interact with for a long period of time. So, better UI, maketh better user engagement!!

SEO friendliness - Check whether the commenting plugin that you are choosing is SEO-friendly

Users' privacy - Some commenting plugins, track users' data & sell it to third parties as a part of their marketing process.

Moderation Features - Comment moderation features are a must when you maintain a blog. When the commenting plugin is not supported with comment moderation features, you will have to face several issues when it comes to handling users' comments.

Ease of use - Commenting plugins must be easy to use for commenters as well as website/blog owners. , When it comes to publishing a comment or replying to comments/carrying the discussion in the comment section, commenters love to freely share their opinions without complex steps.

Ownership - Some commenting plugins do not let you control your own blog comments section. This is going to be a serious headache with time. So, a commenting plugin that gives you full control of your blog comments section is the best to go with

Spam Management - Spam comments are the nightmare of a blog owner. So, choosing a commenting plugin with a built-in spam management feature is priceless.

Methods of interaction than just publishing comments - Reacting, upvoting, downvoting, and rating,

Guest Commenting - Some users do not like to sign up in order to comment or react. So, guest commenting is the best option for them to comment anonymously just by providing their name and email.
Now let's see what are the best WordPress commenting plugins out there.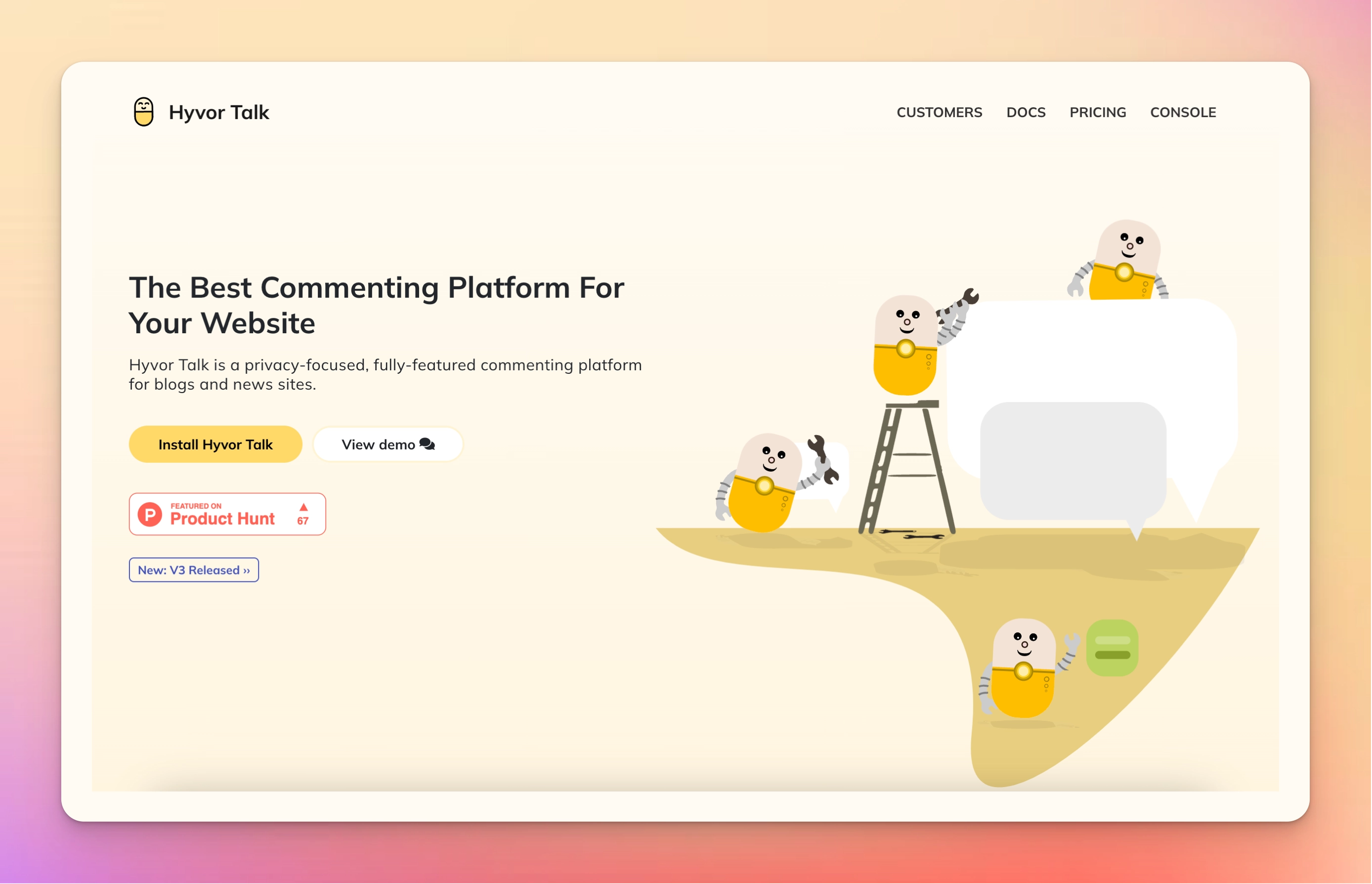 Hyvor Talk is a privacy-focused, fully-featured one of the best WordPress commenting plugins. It is one of the most popular commenting systems in the world. Hyvor Talk gives website/blog owners as well as commenters a unique, user-friendly, attractive UI that boosts user interaction heavily. For the ones who are very considerate of privacy, Hyvor Talk is the best option.
Features
Hyvor Talk has super cool features that users really love. These features have helped website owners in driving traffic to their own websites.
Single-sign (SSO) - Easily set up Single Sign-On to allow users to comment using their accounts on the website owner's system.

Real-time comments - Comments are published and displayed in real time.

Privacy first - Privacy is the main worry of all the people on the internet due to unethical tracking and selling of user data to third parties. But, when it comes to Hyvor Talk, they do not track your users. So, it is safe and secure. It protects end-user privacy "by design". And they are GDPR Compliant. No affiliate links, tracking codes, or ads are placed on your website; so, users' data are completely safe.

Comment analytics - In-built analytics are provided for your ease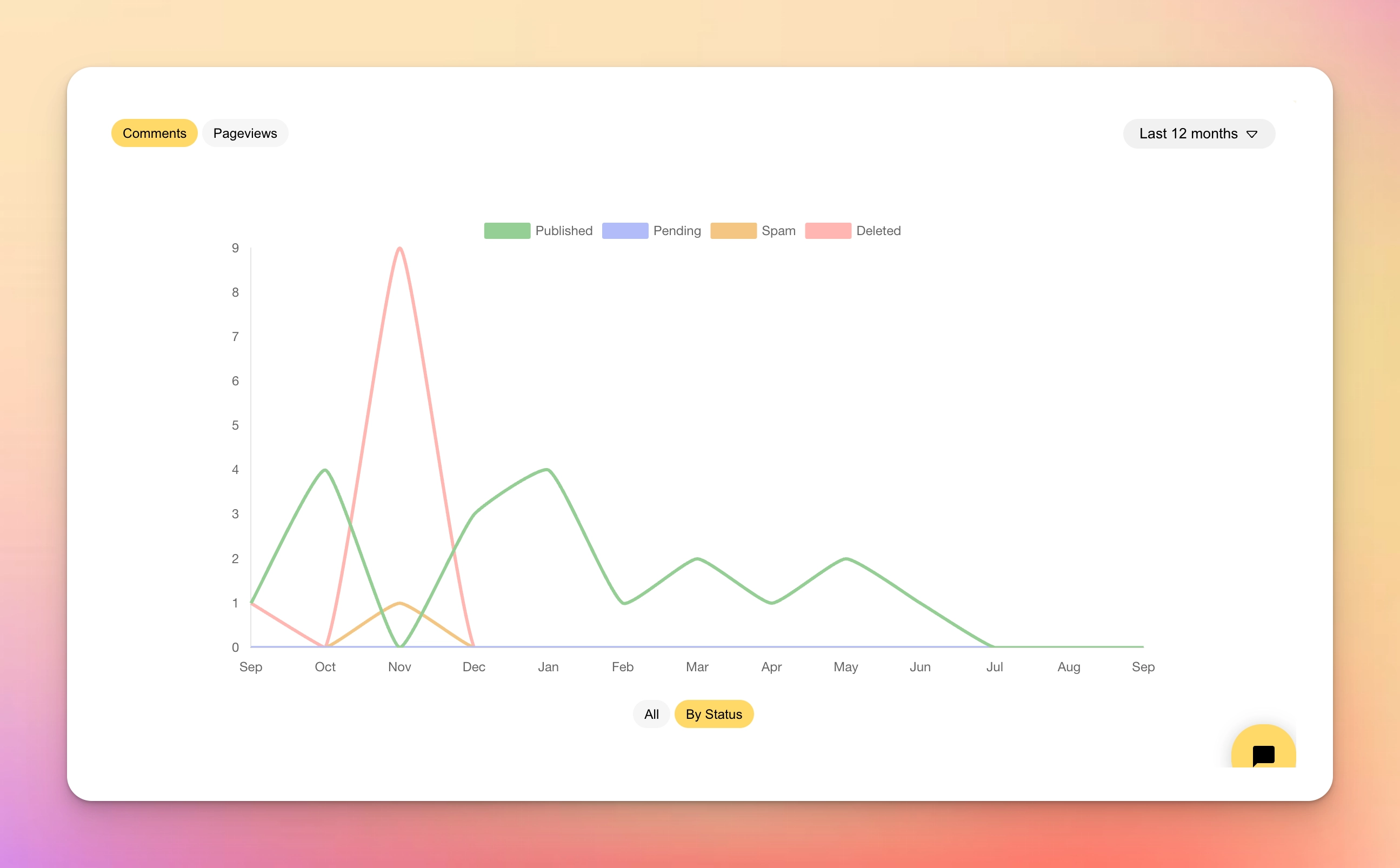 No Ads - No ads are shown in any plan. So there is no disturbance for commenters which makes users spend more time on your website. However, lots of commenting plugins show ads. So, if you are looking for a commenting plugin with zero interruptions for the visitors of your WordPress blog, Hyvor Talk is the best

Automatic spam detection - The in-built spam detector detects spam comments based on user reputation, included links, and many other factors. Also, you can add your own rules as well.

API & Webhooks - You can set up one webhook URL per website in the Hyvor Talk console API & Webhooks section.

Top-notch moderation - IP moderation, shadow banning, trusting, assigning badges, email moderation, and many more options to make things easier for you.

Upvotes and downvotes - Upvotes and downvotes are available for comments.

Reactions Plugin - Hyvor Talk provides a supercool reaction plugin. It is also customizable. You can make your own reaction plugin as you like.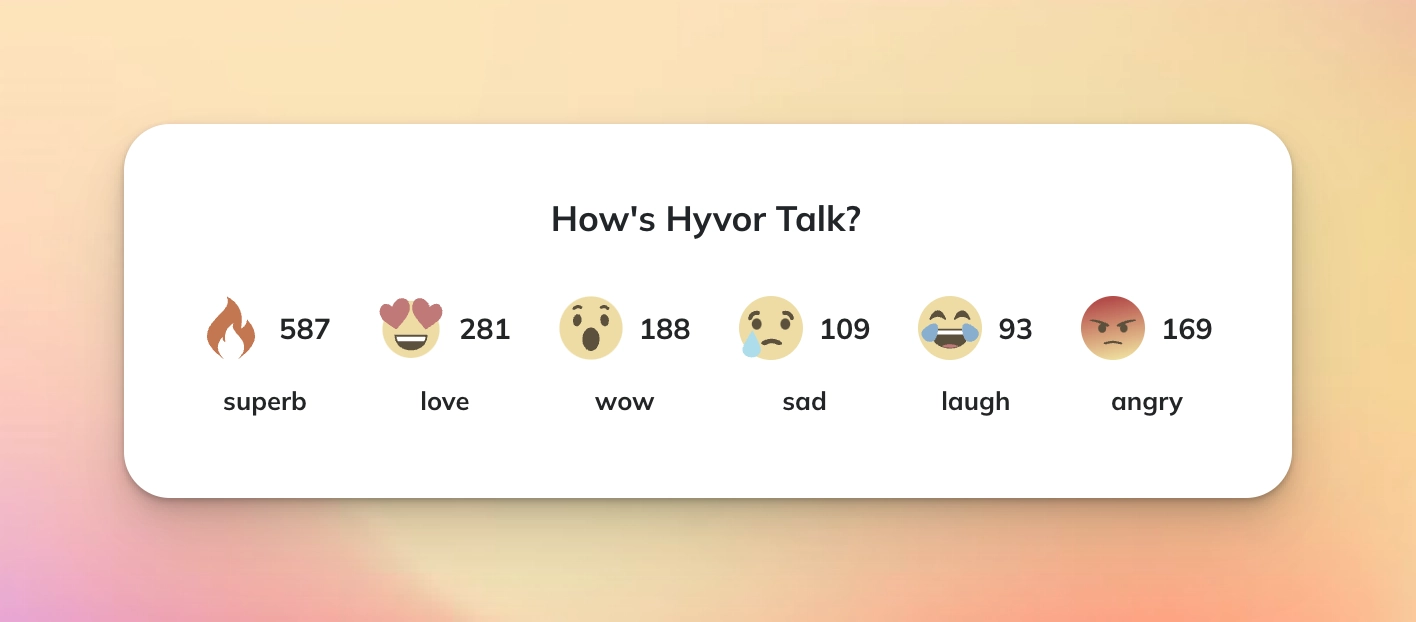 Fully customizable (colors, UI, and texts) - This plugin is fully customizable. Users can change colors, themes, and texts. Users can also add custom CSS. In order to do that, a few clicks are needed to make the comments section feel like a part of your website, not an external plugin.

SEO friendly - This plugin is completely SEO friendly; you do not need to worry about it.

Supports 24+ languages - Hyvor Talk supports 24+ languages.

Email Notifications - Your users (commenters) receive email notifications when someone replies to their comments. So, they will revisit your website frequently. And, it will increase the user traffic to your website. And also, they can unsubscribe from it as well. So, no worries at all.

Importing Comments - Import your previous comments from WordPress or Disqus to Hyvor Talk with a few clicks. See the Importing guide.

Exporting Comments - You can export them anytime in JSON format to backup or import them to another place.

User badges - They have introduced user badges for the commenters.

Upload images, post GIFs, and markdown support - Hyvor Talk is markdown supported as well and it creates commenters a space to upload images and post GIFs.

Emojis - You can use emojis to express your ideas in detail.

Auto code highlighting - Code highlighting is done automatically.

Pre-Moderation - Comments pre-moderation is also available. You can either enable it if you need it or disable it if you do not need pre-moderation.
And, so much more.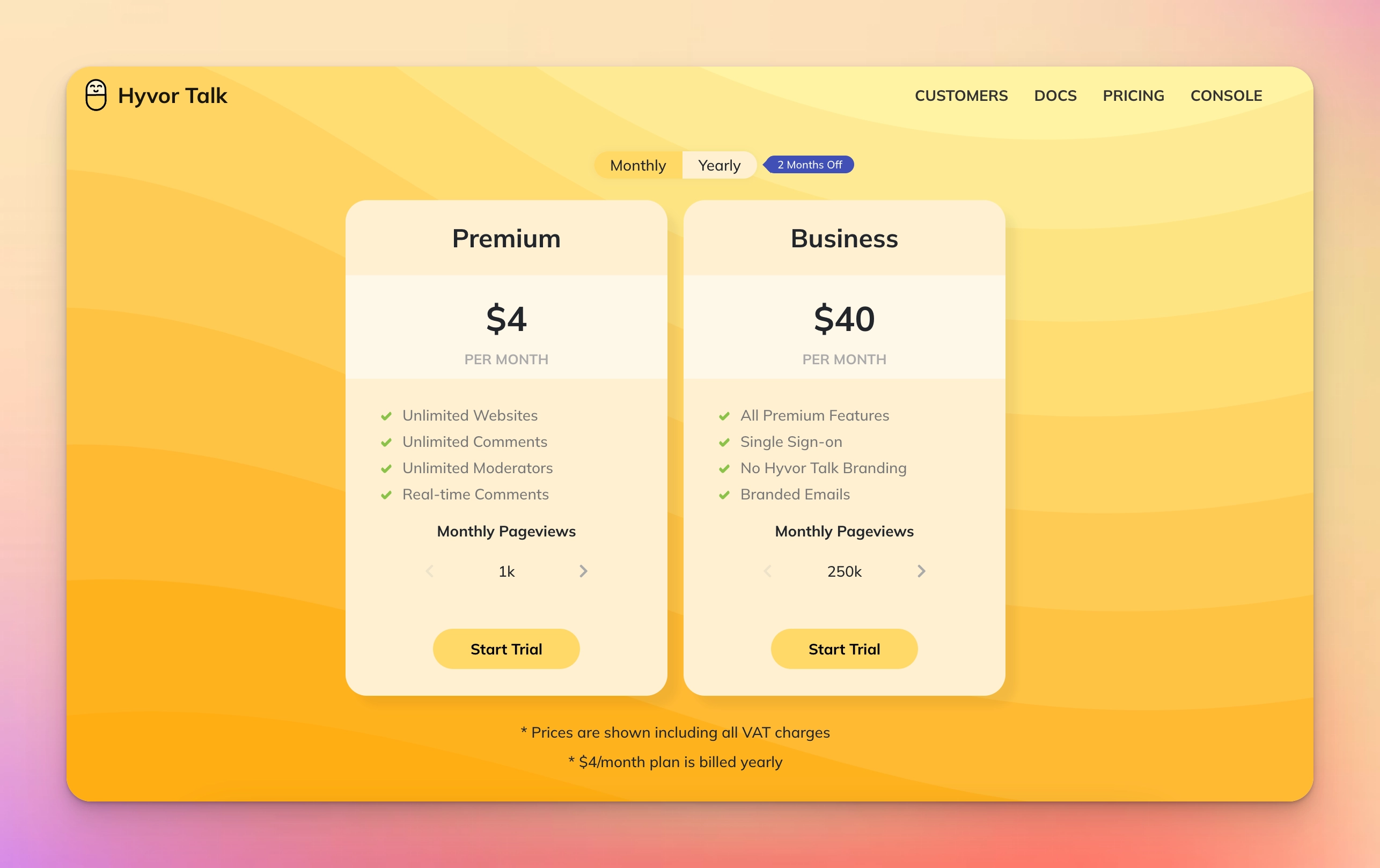 Hyvor Talk has a simple pricing plan. It is a paid service so you do not need credit cards to try Hyvor Talk within the 14-day trial period. How cool is that hah? Moreover, this 14-day trial is filled with all the features plus zero restrictions. After the trial ends, to use Hyvor Talk, you need to pay them monthly or annually according to your page views under the Premium and Business plan. Just visit the Hyvor Talk Pricing page and set the page views of your website and see how reasonable the price you get is.
wpDiscuz is a free commenting plugin for WordPress. Plus, it is built by gvectors team. It also has
- Features
Multi Layout - You can choose different layouts for different pages and post types using custom comment form builder settings

Inline Comments - This is an article reading option with the author's questions and readers' comments. Authors can create questions for readers in any paragraph of the text and ask for feedback while visitors read it.

Live notifications - You can get live notifications when new comments.

Post Rating - Post rating is allowed.

Social Commenting - Social login options are available.

Comments Analytics - You can view comments analytics too

Comment Bubble - Comment Bubble is a real-time updating sticky comment icon on your pages. It invites people to comment and displays current comments information. It also notifies current page viewers about new comments.
- Pricing
wpDiscuz is a free commenting plugin but there is a paid add-on that gives you limitless features. A few of those add-ons are mentioned below.
And, there is plenty more.
Muut is a commenting plugin that is developed by Muut Inc. and is also available in the WordPress repository. This is completely a paid plugin.
- Features
SSO - Single-sign-on is available

Federated Identity - Federated identity is a feature given by Muut that is able to integrate into your user database. It's totally seamless for users.

Optimized for SEO

Online Users - The Online Users list is available on the main forum page and channel embeds.

Latest Comments - Latest comments widget keeps track of which posts have received the latest comments. And, who made those? Plus, all the users on your website can see it updated in real-time as they participate in the discussions on all your posts.

Forums - Let the conversation flow with the fastest and cleanest forums out there.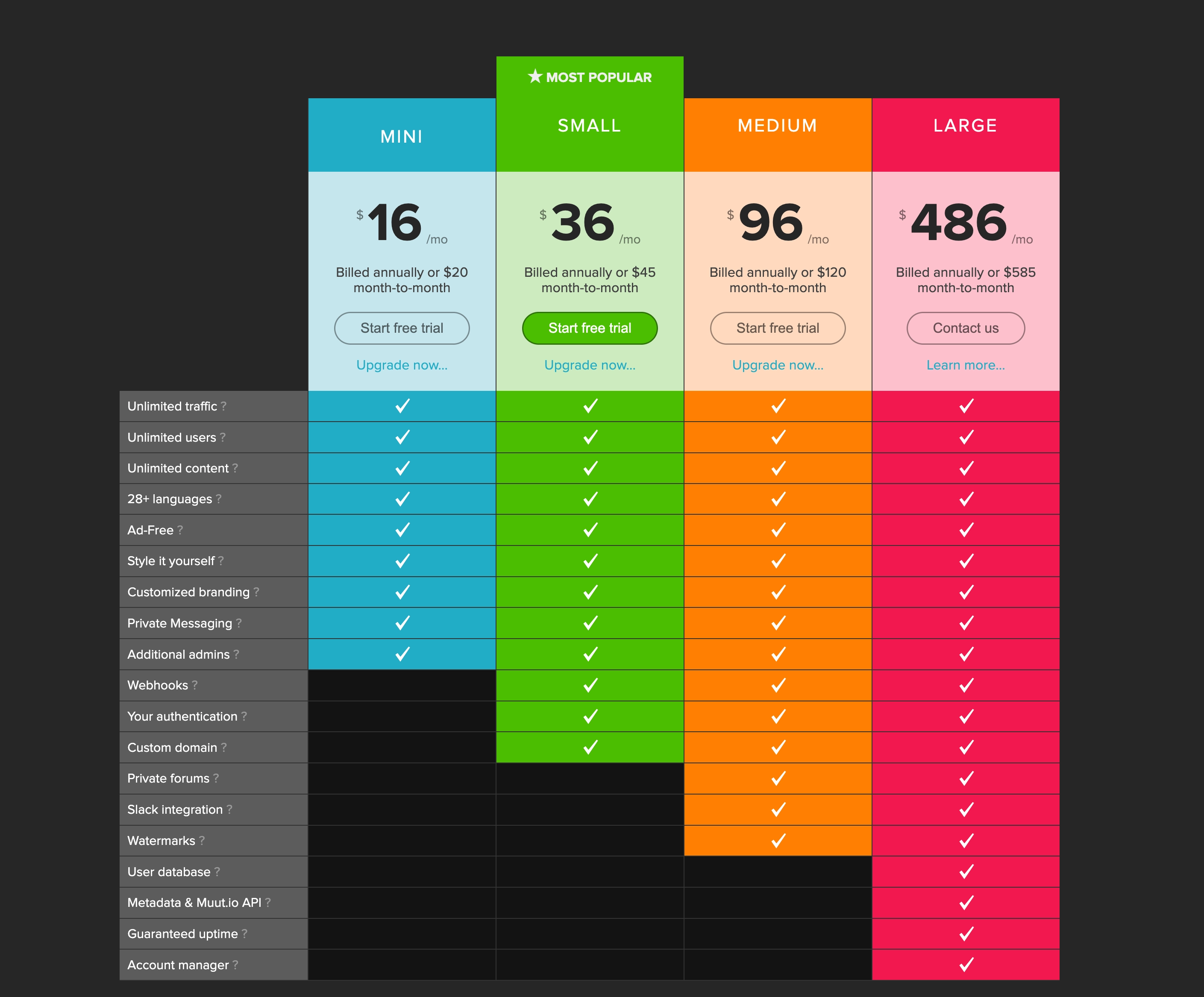 Muut has a pricing plan divided into several parts called MINI, SMALL, MEDIUM, and LARGE for prices of 16$, 36$, 96$, and 486$ respectively. However, each plan has a free trial to check Muut.
Disqus is another commenting plugin that you can find in the WordPress plugin repository. It is a third-party commenting system built for websites and blogs. This commenting plugin is also one of the popular commenting systems. There are cool features inside of it. However, people have had some privacy issues with Disqus since a few months ago. This has led them to lose lots of customers.
- Features
There are pretty cool features provided by the Disqus team to the users as follows.
Real-time comments - Fun discussion interactions like upvotes, downvotes, threaded replies, and recommendations, happen in real-time.

Works on any device - Supports devices like desktop, and mobile, including Google AMP.

Media commenting - Media-supported comments let readers add images and videos to keep discussions live.

Adapts to your site's look - Automatically adapts to your site's design and colors or you can set it to your own liking.

User reputation - Based on actions across the Disqus network, user reputation helps moderators to identify trolls, spammers, and other troublesome users.

Pre-moderation - Choose to pre-moderate comments that are likely spam or trolling based on user reputation.

Banned and trusted lists - Comments from banned users do not display. Comments from trusted users are automatically approved.

Email moderation - Moderate your comments via email notifications with three simple commands: Approve, Delete, and Spam.

Shadow banning - Discreetly ban troublesome commenters to stop them from coming back.

Automated Spam Moderation - Disqus automatically detects and removes spam before it lands on your site.

Timeouts - Temporarily ban users and provide specific feedback so that they can correct their behavior.
And, so much more.
Disqus has a pretty simple pricing plan based on page views. It has three pricing categories called Plus, Pro, Business at 11$/month, 105$/month, and custom pricing. They also have yearly plans. Take a look at the following image for the prices.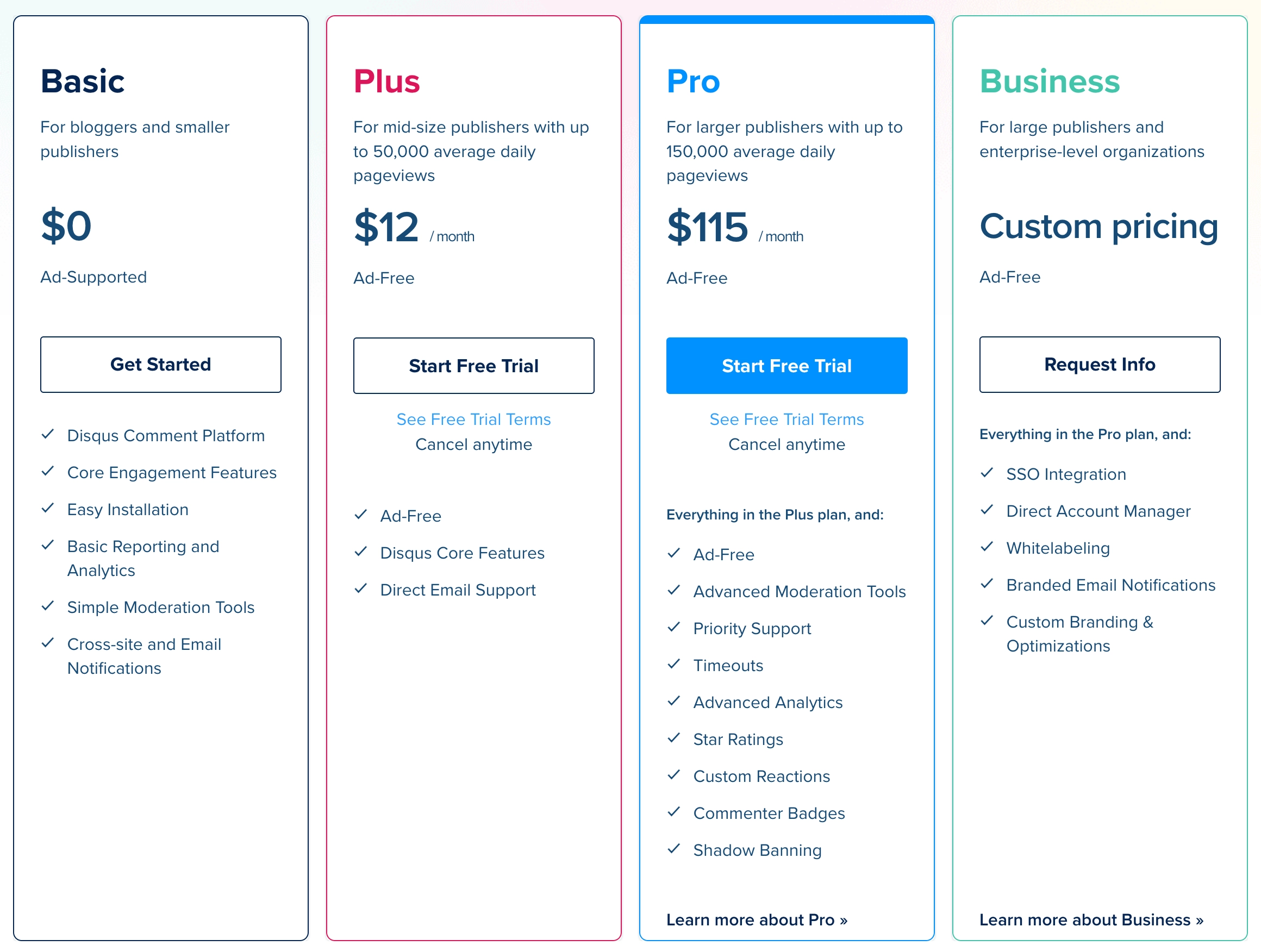 However, for the ones who are very considerate of privacy, it is better to know its dark side. It monitors users pretty scary, right?
AnyComments is a Russian commenting plugin that you can use as the commenting space of your WordPress site.
- Features
These are the key features of AnyComment.
Set up social authorization - Choose suitable networks to make it convenient for users to comment on sites.

Moderation - Moderation panel without leaving the site with the ability to view the general feed of comments from all sites where the user is appointed as a moderator.

Export and Import

Page Rank - Allows users to rank your page out of 5 stars

Like system - Ability for users to respond to comments and choose the best ones using likes and dislikes

Translation in English and Russian plus other languages

Smart Actions - Setup filters and actions as you like

Analytics - Ability to view the analytics of the comments
And, so much more.
- Pricing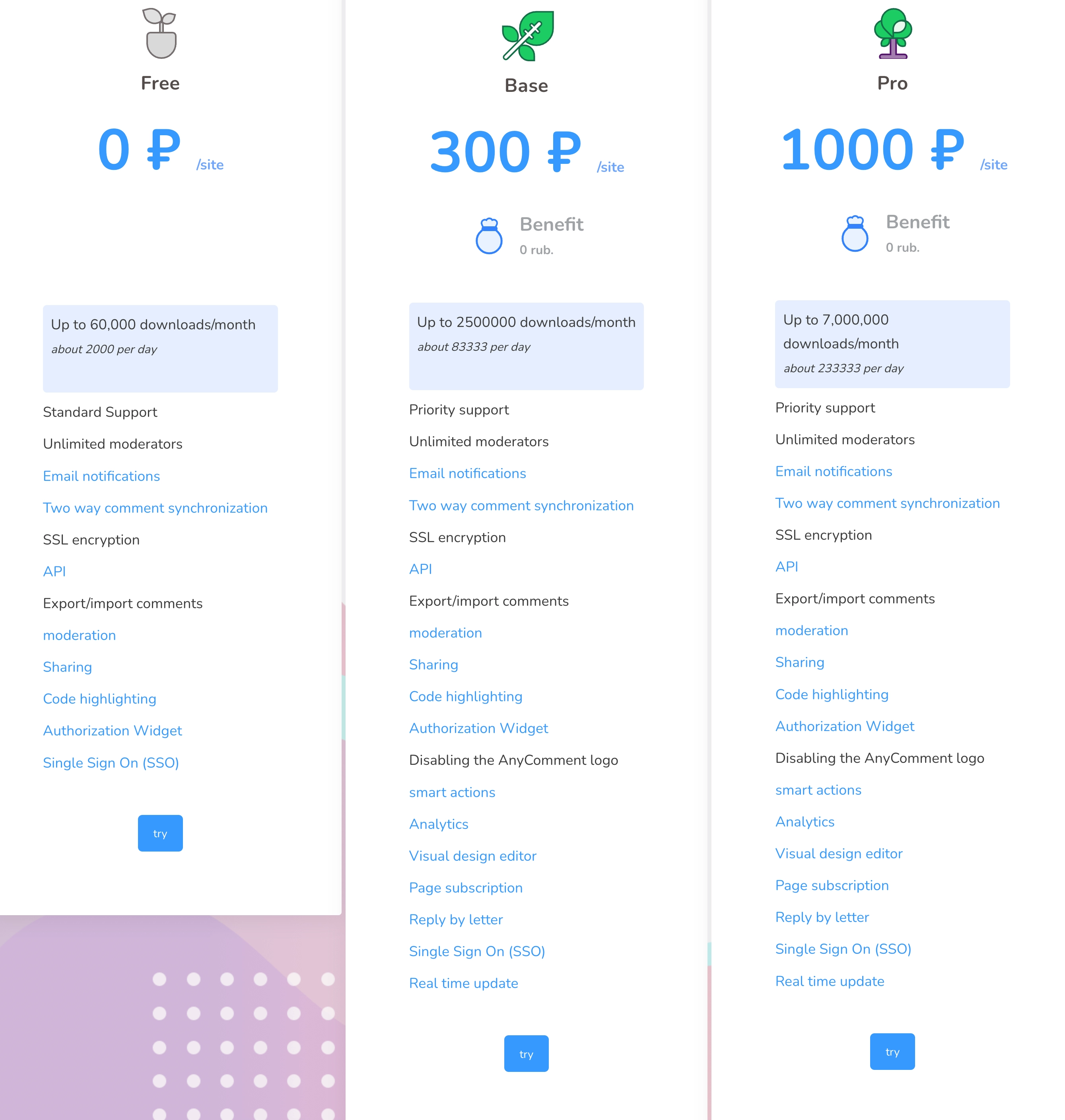 AnyComment has a free plan while having paid plans as follows. Each plan has different limits of features allowed.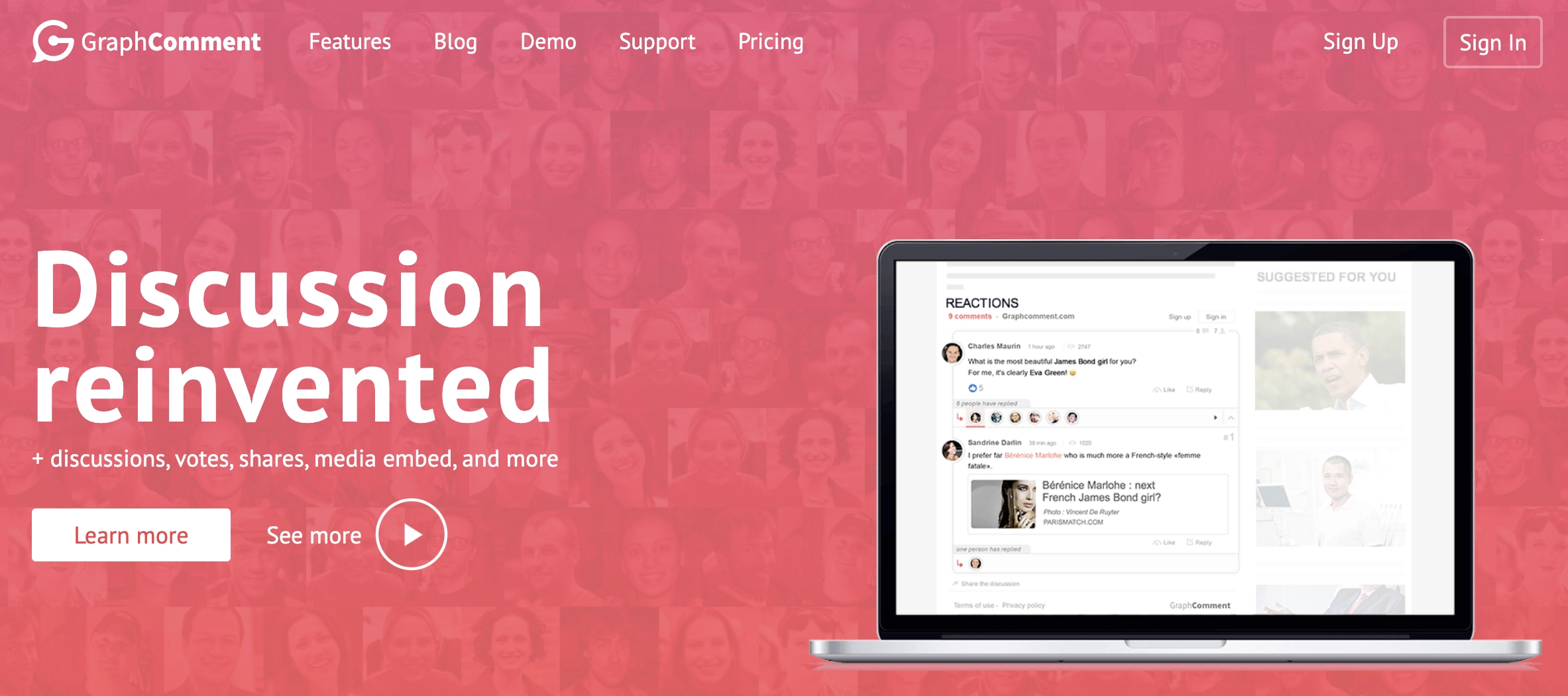 GraphComment is also a free commenting plugin for great discussions. And, they have put zero to disorganized discussions piled on several pages.
- Features
Features of GraphComment are,
Customization - You can display your personal logo during registration and on transactional emails. Plus, you will have access to the footer modification options to manage according to your preferences.

Easy Installation - Easy to put on all WordPress.

Live Discussions - Comments lead to real live discussions with the publication and updates of messages in real-time. Users can chat in real-time and without losing the thread of the discussion; even with a large number of people will not be an issue.

Automatic registration - Sign In to Comment with a variety of different platforms (Facebook, Twitter, Google). Pseudonymity is preferred to anonymity which causes incivilities.

Theming - Allowed choosing a theme color on an elegant selection to nicely integrate GraphComment in your web design.

Guest Commenting - Commenters can comment as guests.
And, so much more.
This commenting plugin has a free plan called Basic while and two paid plans called Starter and Pro for 7$/month and 74$/month respectively. Furthermore, it has a plan called Enterprise for Enterprises. The Basic (free) plan is for commercial, pro, or professional sites, while Starter is for demanding personal blogs and Pro is for startups and small media. Also, in GraphComments, yearly payments are available.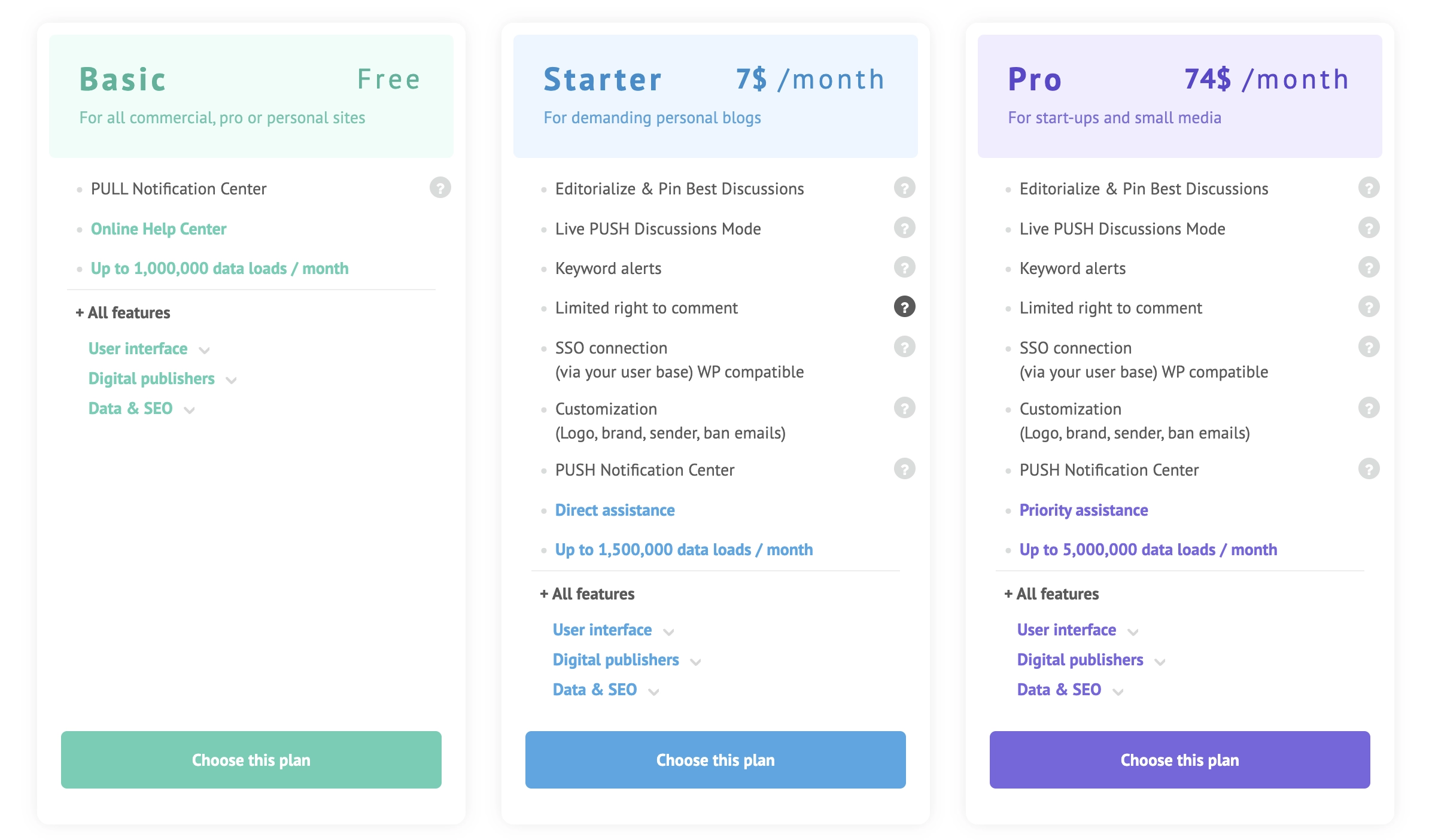 Cackle is also a commenting plugin in the WordPress commenting plugin that you can use instead of WordPress native comments.
- Features
Rating Snippet - Your users will vote for their favorite posts - you get the automatic indexing of the site in Google with a review snippet.

Adaptive Design - Commenting plugin responsive to all screen sizes smartphones, tablets, laptops, and desktop monitors.

CrossPosting in social networks - Comments on Facebook, Twitter, Vkontakte, and Mail.ru will automatically fall on the wall of social networks with reference to the site.

Analytics - Analyzes comments, users, likes, post-publication, a full report, and a log of the work of the moderators.

Multi-Languages - Cackle widget supports English, Russian, Ukrainian, Belarusian, Spanish, German, Italian, famous French, Greek, Dutch, Estonian, Lithuanian, Latvian, Polish, Romanian, Kazakh, Georgian
And, so much more.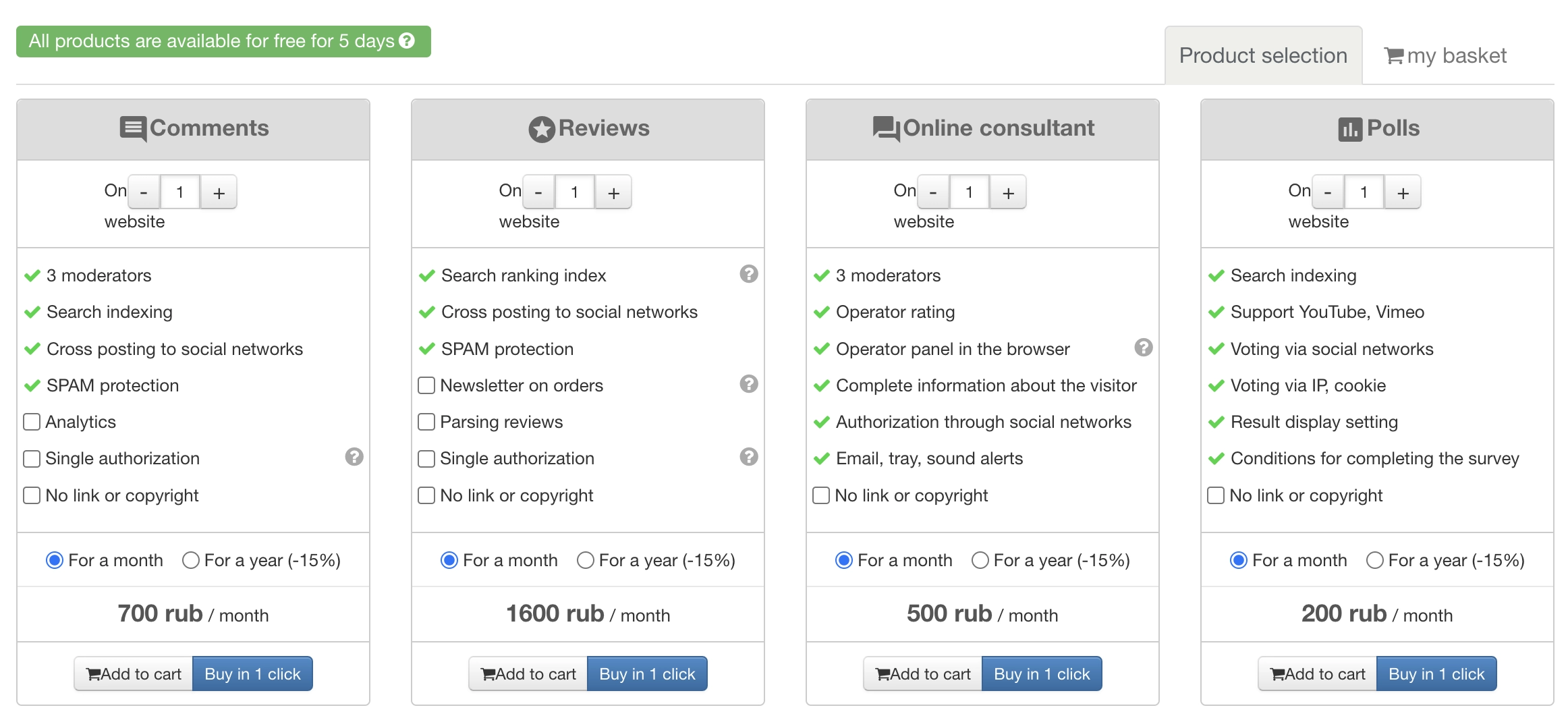 Cackle is a paid commenting plugin with a different type of pricing plan. They have given users. 4 main plans called Comments, Review, Live Chat, and Polls that of 17$, 14&, 13$, and 7$ per website per month. It also has annual payments. The number of websites you have and the number of features increases, and the price rises.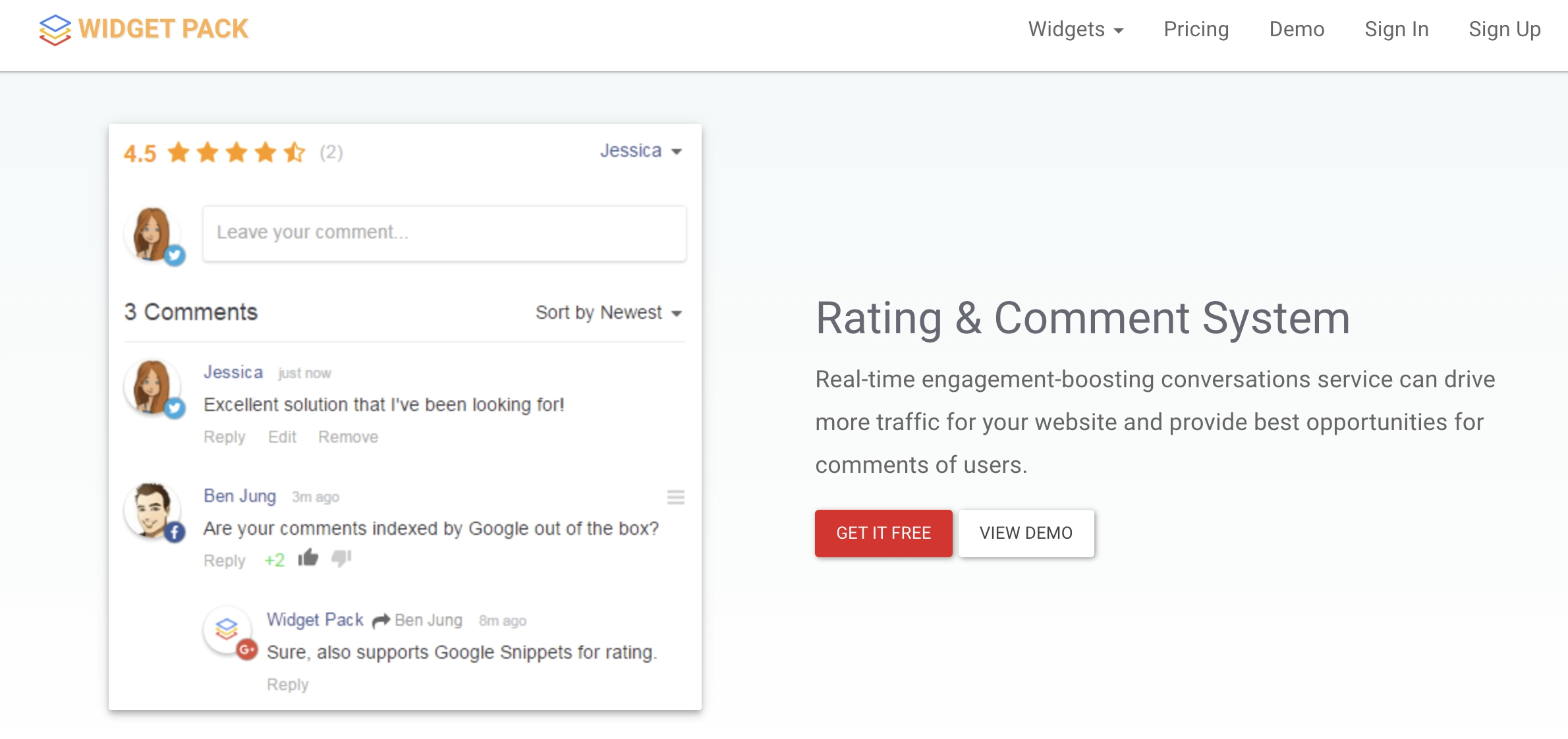 This is a commenting system provided by WidgetPack as one of their products.
-Features
Rating-Widget - Available in the commenting plugin to rate the page, aggregate rating, and indexed as Google Rich Snippets.

API - Store your comments in your Database and also changes widget behavior by JavaScript API

Voting - Voting for comments and changing the vote when you like is possible.

SEO - Comments are indexable by Google instantly as soon as you install the plugin on your website.

Email notifications - The author of the comment will get email notifications about new replies. Also, users can unsubscribe if needed.

Spam Protection

Social Logins - Can log in via any social network such as Facebook, Twitter, Google, LinkedIn, Instagram, Yahoo, Tumblr, SoundCloud, VK, OK, Yandex, or Moi Mir. It also supports guest login.

Real-Time - Real-time comments with notifications about new comments and replies.
And, so much more.
WidgetPack has both free and paid plans for its users. The free plan is limited to one moderator and one site while other plans called Plus, Pro, and Enterprise are paid at 15$ per month, 35$ per month, and on request respectively. You can pay them not only monthly but also annually. For the annual plan, they provide you with the service free of charge for the first two months.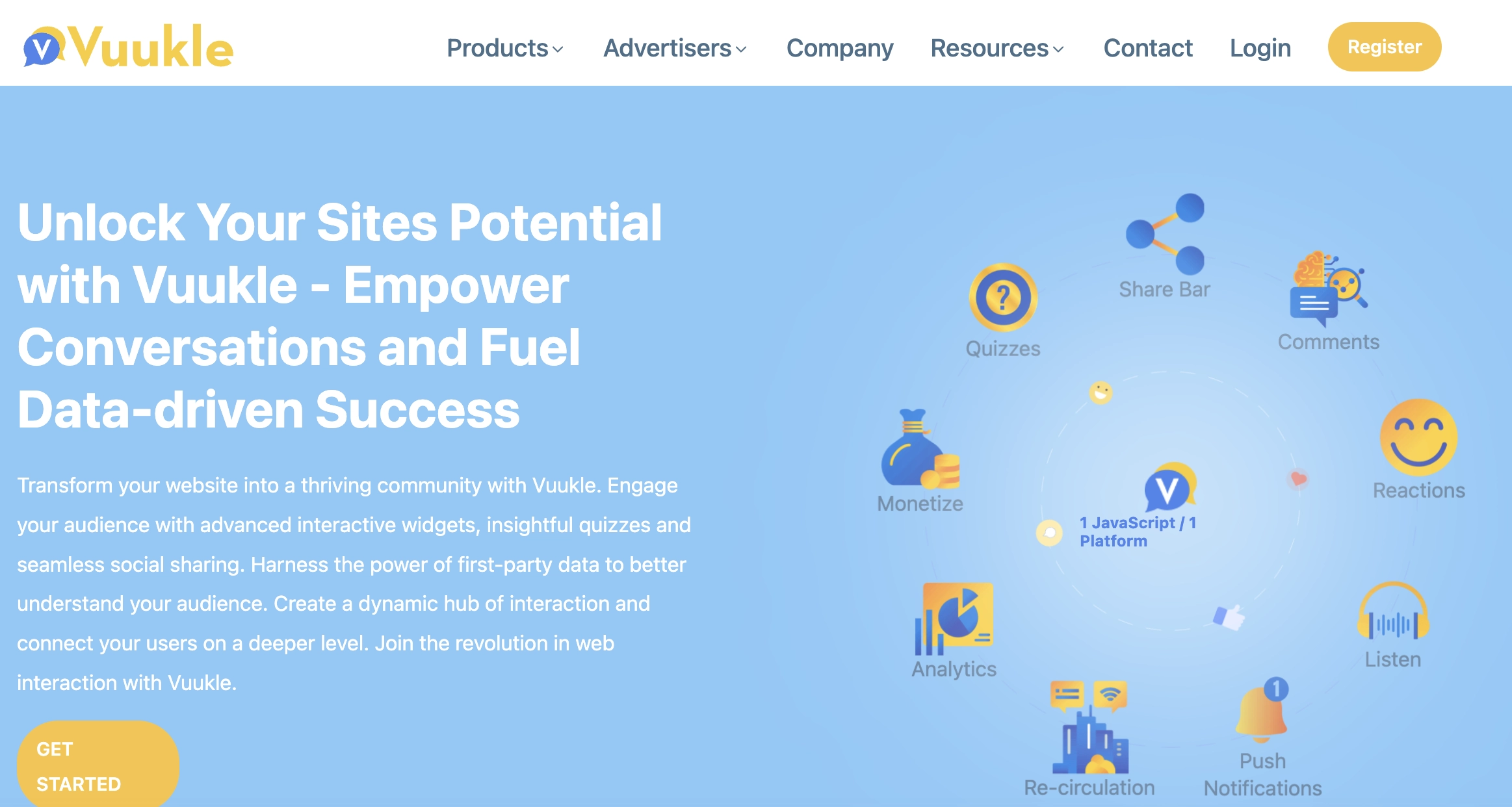 Vuukle is a commenting plugin available in WordPress with some cool features. They mainly focus on user engagement.
-Features
Customization - Fonts, space, colors, themes, icons, and headings all can be customized as you like.

User Profiles - User profiles are generated automatically when signing up.

Comments importing - You can import your old comments to Vuukle from any platform at any time.

Media Sharing - Elaborate rich text editor with GIFs, Image support, editing, and hyperlinking of comments.

Comments Moderation - Auto moderation of comments for spam, hate speech, foul language, and advertisements is available.

Social logins - Login through various social platforms available

Comment threads - Like, share, and flagging comments by users are also available.

Language Support - They support 35 Languages.
-Pricing
Vuukle is free to use on small or personal sites and blogs. They monetize the comments section by a single ad unit and share revenue with you. No, other details are given on their website.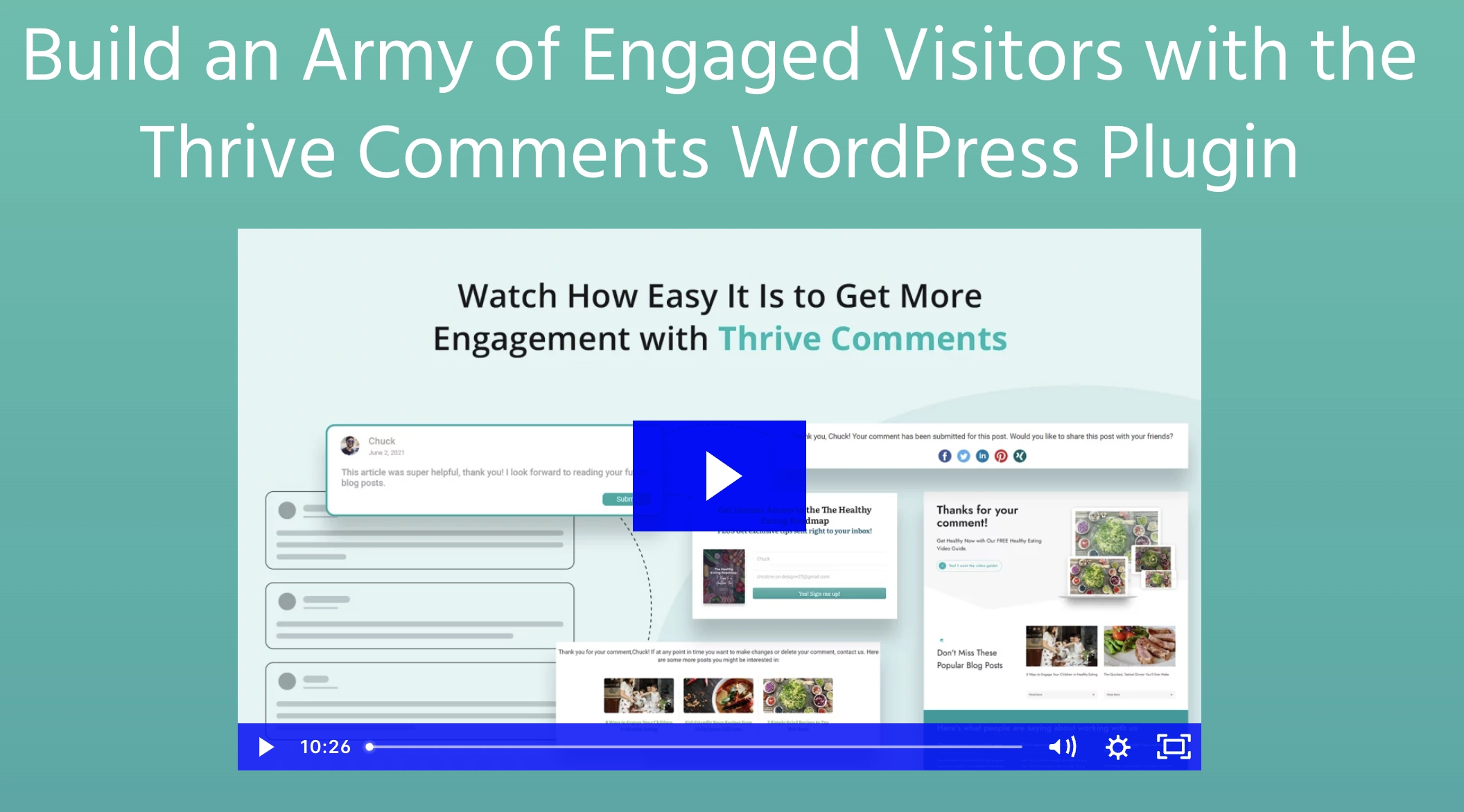 Thrive Comments is a game-changing commenting plugin that takes website engagement and interaction to new heights. Designed to transform your comment section into a thriving community hub, this powerful tool offers a range of innovative features to enhance user participation, boost social proof, and maximize the impact of your content.
-Features
Comment moderation

Notification options

Conversion-boosting features

Valuable insights with analytics

Social Sharing

Auto Generate Visitor Information
-Pricing
Here is the pricing plan of ThriveComments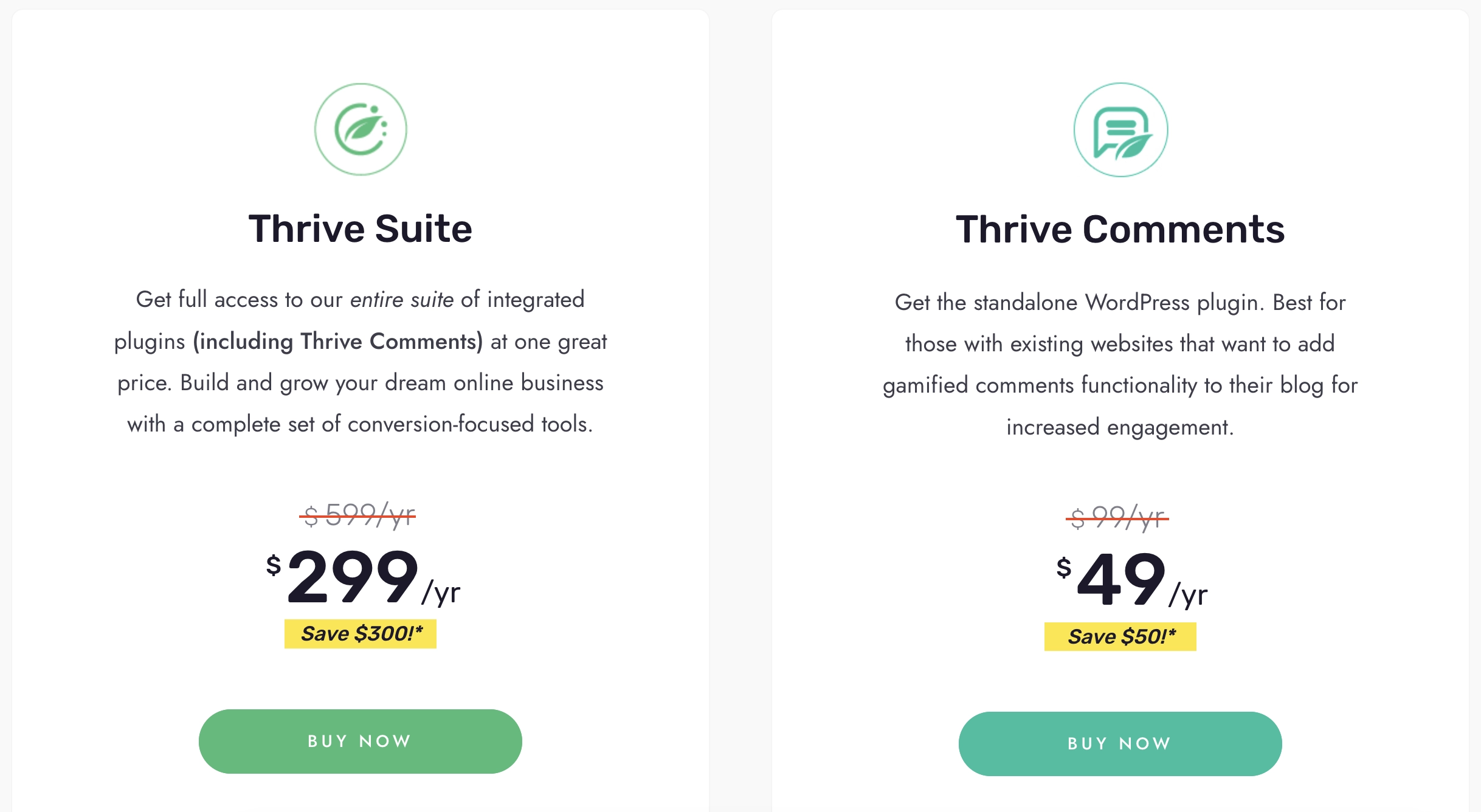 Conclusion
To conclude, choosing the best-commenting plugin to achieve the user engagement and traffic goals of your WordPress blog/site is totally important. So, in this article, we talked about how to choose the best-commenting plugin for your WordPress blog/site and there is a list of the best WordPress commenting plugins that you can try. Try them yourselves and choose the best to make your blogging goals a success. Happy Blogging!