Is blogging dead? Understandably this question lights up Google search results like a Christmas tree. With 2023 about to bid us an – Adiós! – with Covid-19 ruining the global economy, there is an ocean of opportunities present in the online sphere thanks to an ever-increasing glut of people getting online.
Blogging Is In. Remember This.
Blogging isn't dead. The common sense answer to this assertion is the natural proclivity for you and me to go type our search query onto Google armed with varying degrees of search intent. There are over 100 billion searches on Google per month, and 77% of internet users read blogs online. Blogging like all mediums will evolve, and is changing fast.
Let's segue now onto a quasi-rant on how blogging isn't actually dying. For one, there's a great deal of content being produced online now. With 1.5 billion websites online and 500+ blogs making their presence felt online, blogging isn't reaching the life support system yet.
However, we do know that certain things that used to work when blogging doesn't anymore. For instance, headlines that are 'clickbaity' are guaranteed to bomb. Short blog posts that meander toward boredom just won't cut it anymore. What matters now is quality, and this trumps quantity by a mile.
Blogging has become more than just a personal hobby. What works is niching down and educating people. The personal-diary-type-of-blogging has shifted towards the arms of social media. In short, if you want to be successful in blogging post-2023, be an educator and influencer that imparts long-form content with some multimedia being thrown in.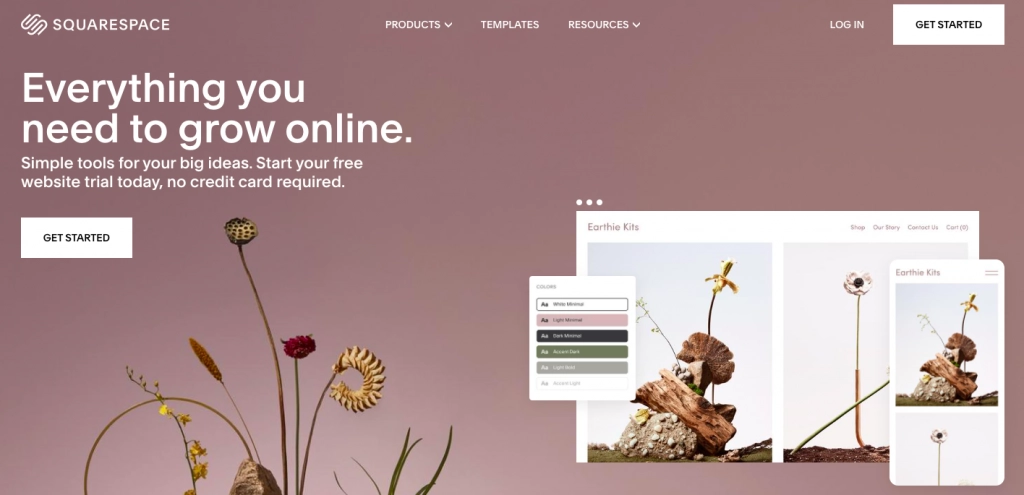 So, why choose Squarespace? WordPress is certainly where a lot of the world's bloggers reside, not to mention that options like Wix certainly bring in the cool factor alone. But there are many CMS options out there, and we have waxed lyrical about most of them on this blog itself. This blog post is taking into consideration the fact that you already have Squarespace installed. So we know that blogging is certainly an important part of your content strategy. Without any further a do let's delve into getting your Squarespace site embedded with Hyvor Talk.
What Is Hyvor Talk And Why Use It?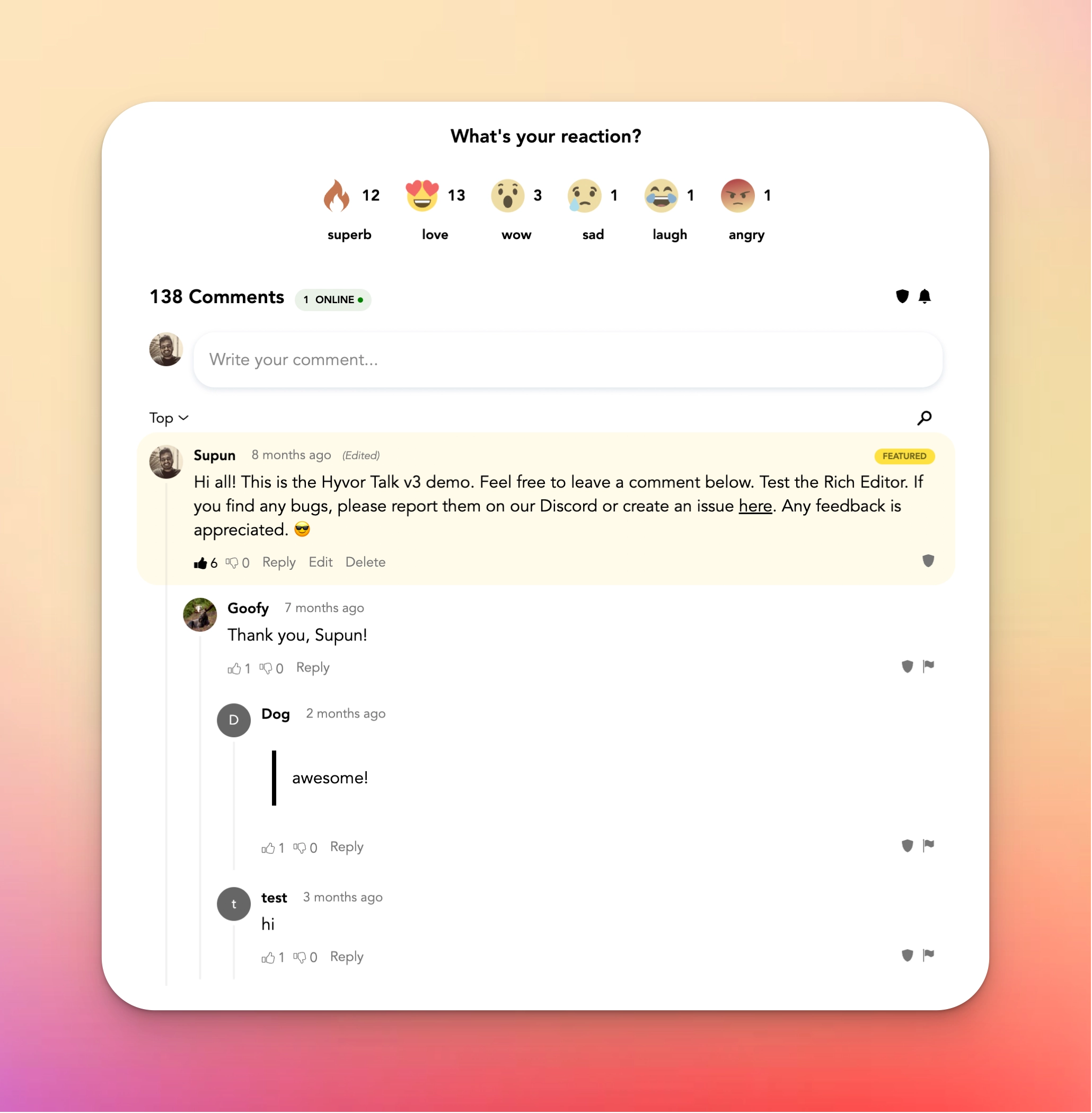 To put it simply, Hyvor Talk is simply the best commenting platform for both users and admins. Its list of features will make it the best for website admins, owners, developers, or bloggers. Beyond the marketing, spiel takes stock of this fact: Hyvor Talk is a privacy-first premium commenting platform.
To give some background to Hyvor Talk, the creation of this forward-thinking plugin was not something that was competitor-driven, but rather customer-driven and technology-driven. The proof of the quality of this product can be seen in the steady growth of our customers. We are north of 2,000 users as of today. Here are some redeeming factors that make Hyvor Talk stand out from the rest of the competition.
Modern UI
User interface holds great importance when you are about to install a new plugin. You will have to choose a product that offers excellent UI so your visitors don't feel lost. Hyvor Talk has a modern and elegant UI that will help you navigate easily and will allow you to manage comments without any trouble. One of the great things about this plugin is that it is lightning fast and it won't affect the performance of your website. It is designed to be super-fast and you won't experience lazy loading at all. If you are just a WordPress user with no coding knowledge, then it is a perfect option for you. You don't require any coding knowledge to use this specific plugin for your website.
Fully Customizable
It's hard to find a comments plugin that is fully customizable. However, Hyvor Talk is fully customizable and you can set an appearance to your desire. You can change the colors and text of the plugin with a few clicks in the console. One of the great things about this plugin is the modern and elegant design that will allow you to customize it without going through any trouble. You don't require code knowledge to customize this plugin. You will also be able to see customized demo pages so you can understand the customization options it has to offer.
You Get Great Engagement
You are going to get a lot of features that will help you to do easily engagement with your visitors. There are tons of features for commenting that you and your visitors are going to love. Whether it comes to choosing emojis or inserting code snippets, Hyvor Talk has got you covered. Moreover, there is powerful moderation available that will allow you to use features like user banning, change of language, moderating your pages, and so on.
Hyvor Talk Has Spam Protection
Hyvor Talk has an in-built spam detector as well. This feature will detect spam comments on the bases of user reputation and links included in the comments. There are many factors on which this spam protector works and will help you in keeping your website safe from spam attacks. You can also use moderating features that will help you control spam comments.
There Are Countless Features
When it comes to Hyvor Talk features, you will be able to find countless features that will help you increase user experience. There is an unlimited list of features including support for markdown features, selection of emojis, mentioning other users in comments, adding images and gifs in the comments, and much more. Users will be able to comment with their Hyvor account and they can also comment as guests.
You can have a feature-rich console where you will be able to change settings, customize the plugin, and moderate comments without any hassle. It uses single sign-on (SSO) to allow users to comment using their accounts on your system. Moreover, you will be able to get email notifications and multi-language support as well. Hyvor Talk is the best available comments plugin for teams and companies.
Easy-To-Use And Easy-To-Install
Hyvor Talk is extremely easy to use and install the plugin. This plugin offers an extremely simple installation process. There is no coding involved. More importantly, it is extremely easy to set up. You just need to sign up for Hyvor Talk and add your website's name and domain to the console. The code given by Hyvor Talk can be pasted into your website's source code and you are done with it.
Privacy Is Paramount
Hyvor Talk has a strong focus on SaaS security; and, we are focused on building trust in our product and fostering an ecosystem that customers feel comfortable using. It needs to be reiterated that Hyvor Talk does not track users, and does not sell any data either, which are serious privacy issues faced by SaaS companies. So many other platforms like Disqus collect users' data from millions of their client websites. Worst of all, they sell them to big companies without the user's consent.
How To Embed Comments To Squarespace
Every website or blog owner has a desire of having high credibility and good user engagement. Adding comments to a website helps to create a good user-engaged environment and it increases your reputation as a blogger. We have established in the aforementioned section that Hyvor Talk is easy to embed. And, we are about to show you how easy. Read on!
1. Signup to Hyvor Talk And Add Your Website
Before adding comments to your website, you will need to signup for Hyvor Talk and register your website there.
The steps to do this are as follows:
(a.) Navigate to the Hyvor Talk console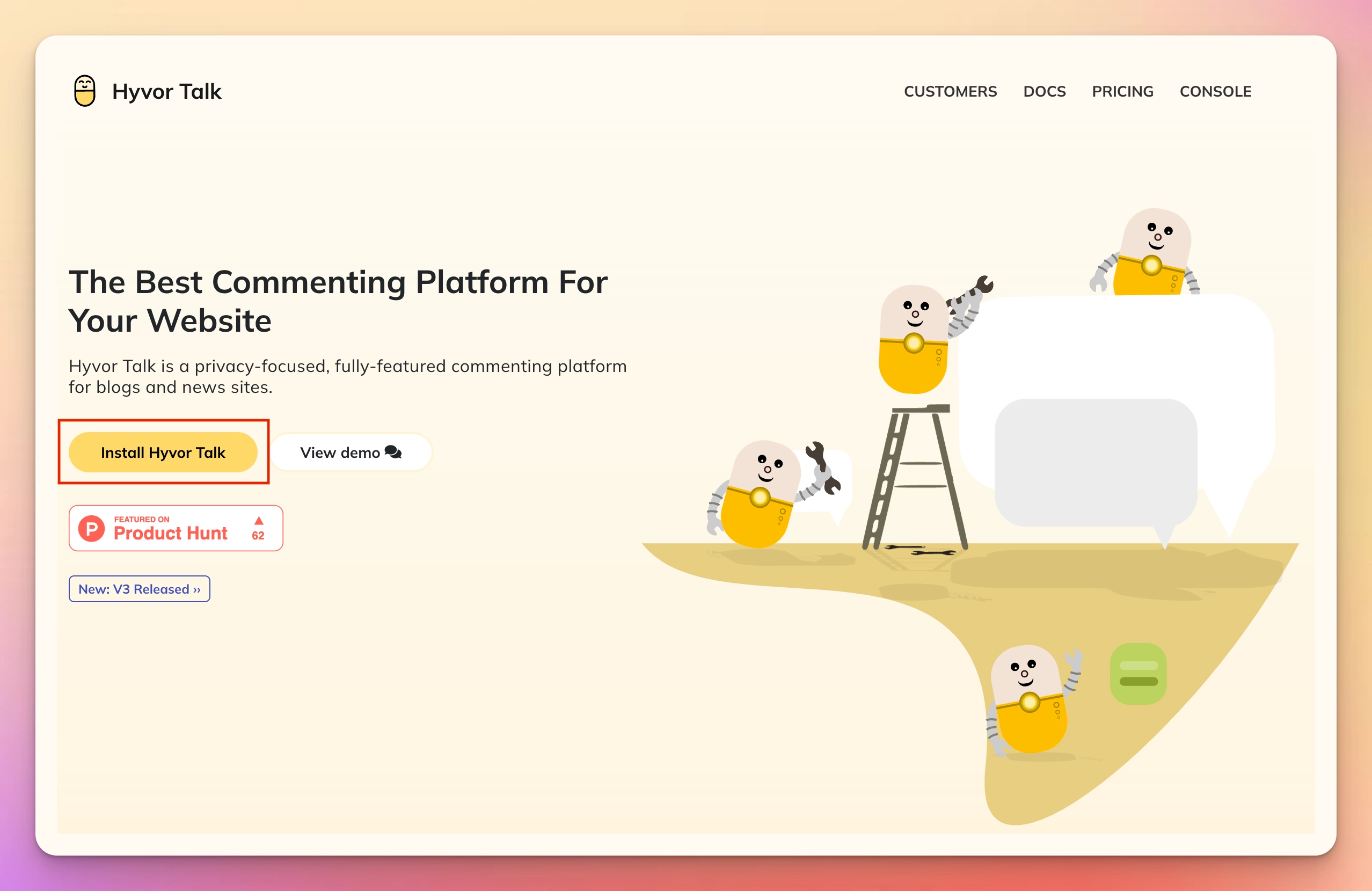 (b.) Register your website to Hyvor Talk at the Account -> Add Website section.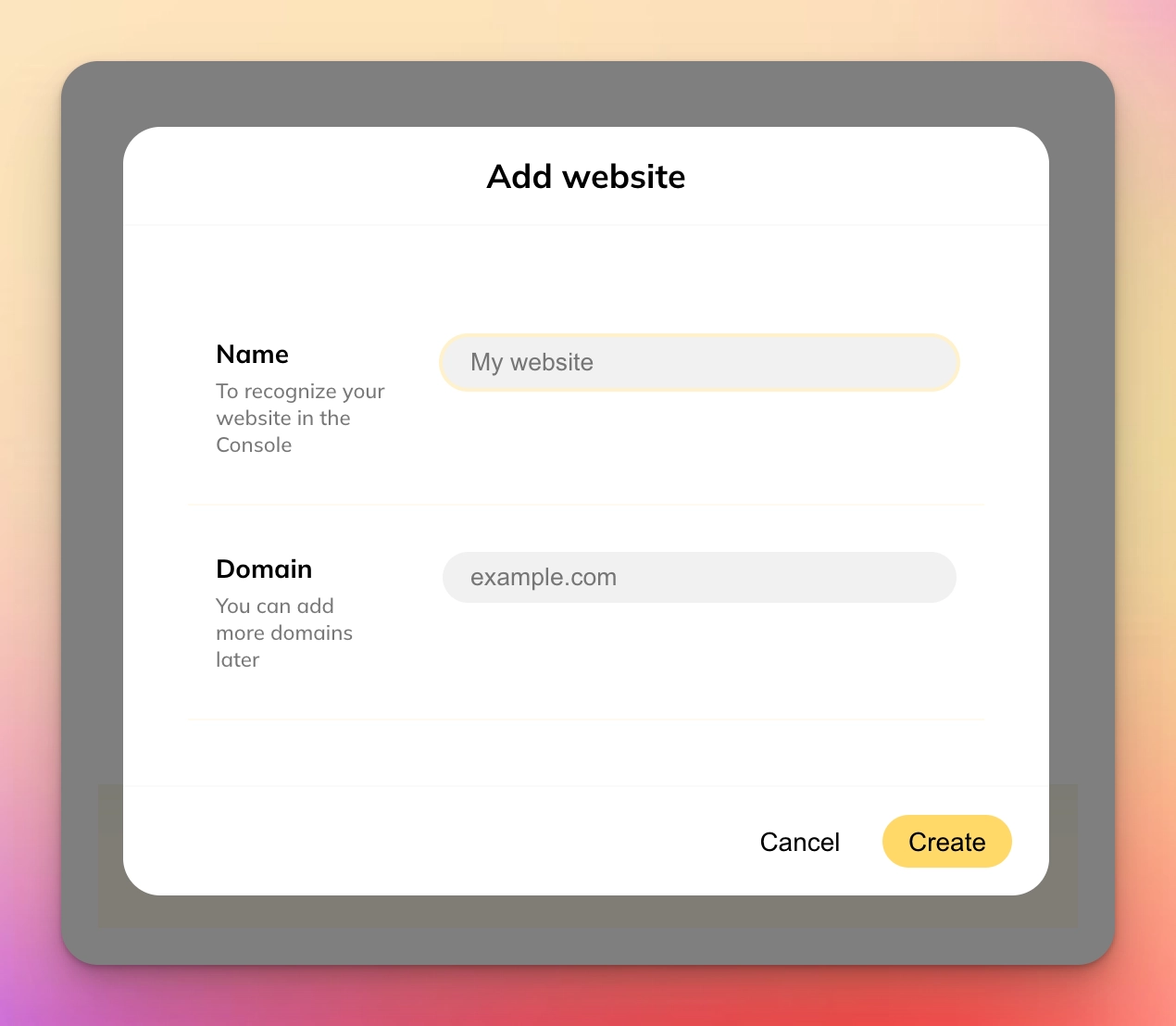 (c.) Thereafter, move on to the Install section. And click Squarespace as shown below.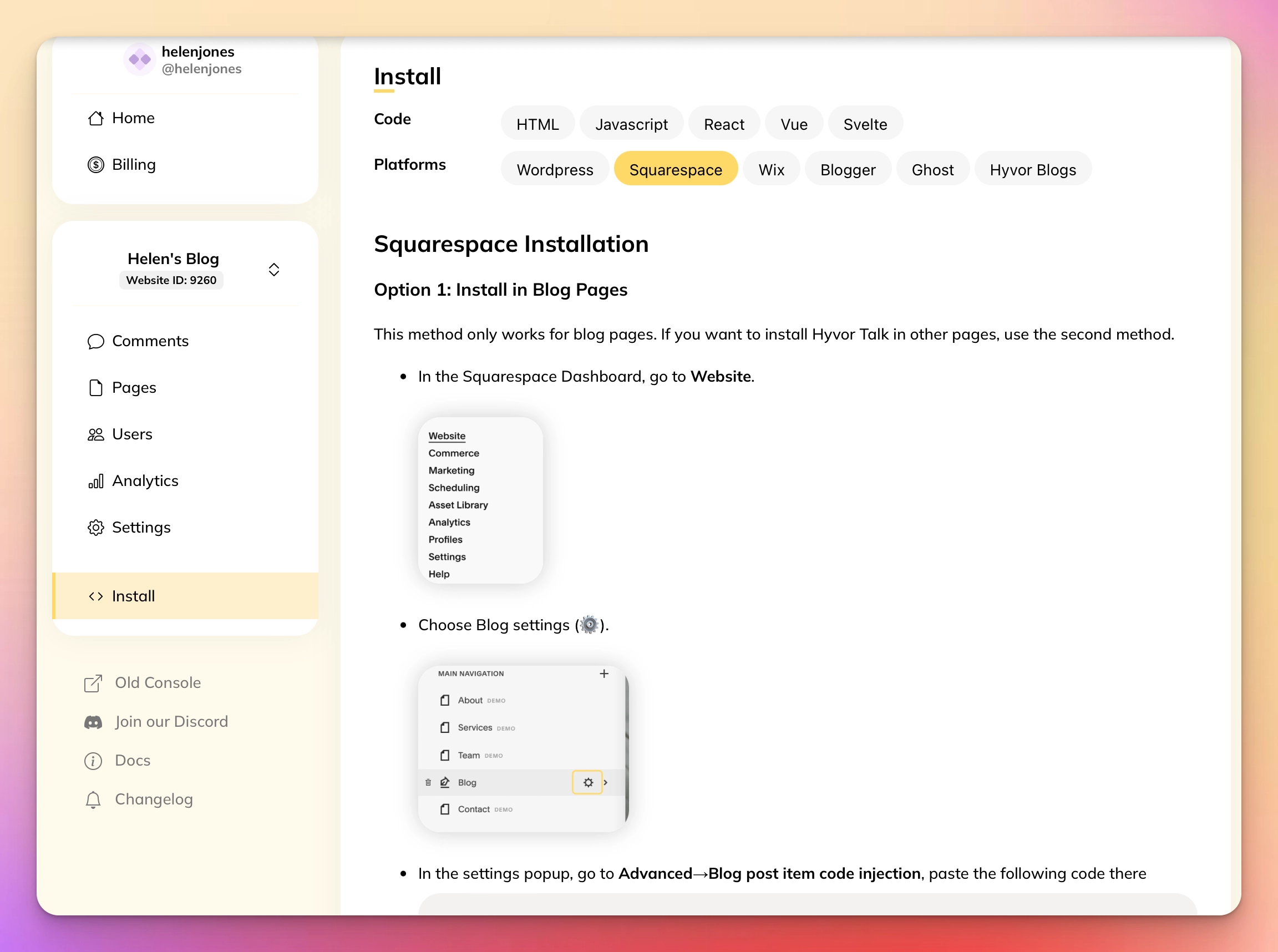 (d.) Copy the given code in the Squarespace installation guide in the console. Keep it aside. We will need it in the next steps.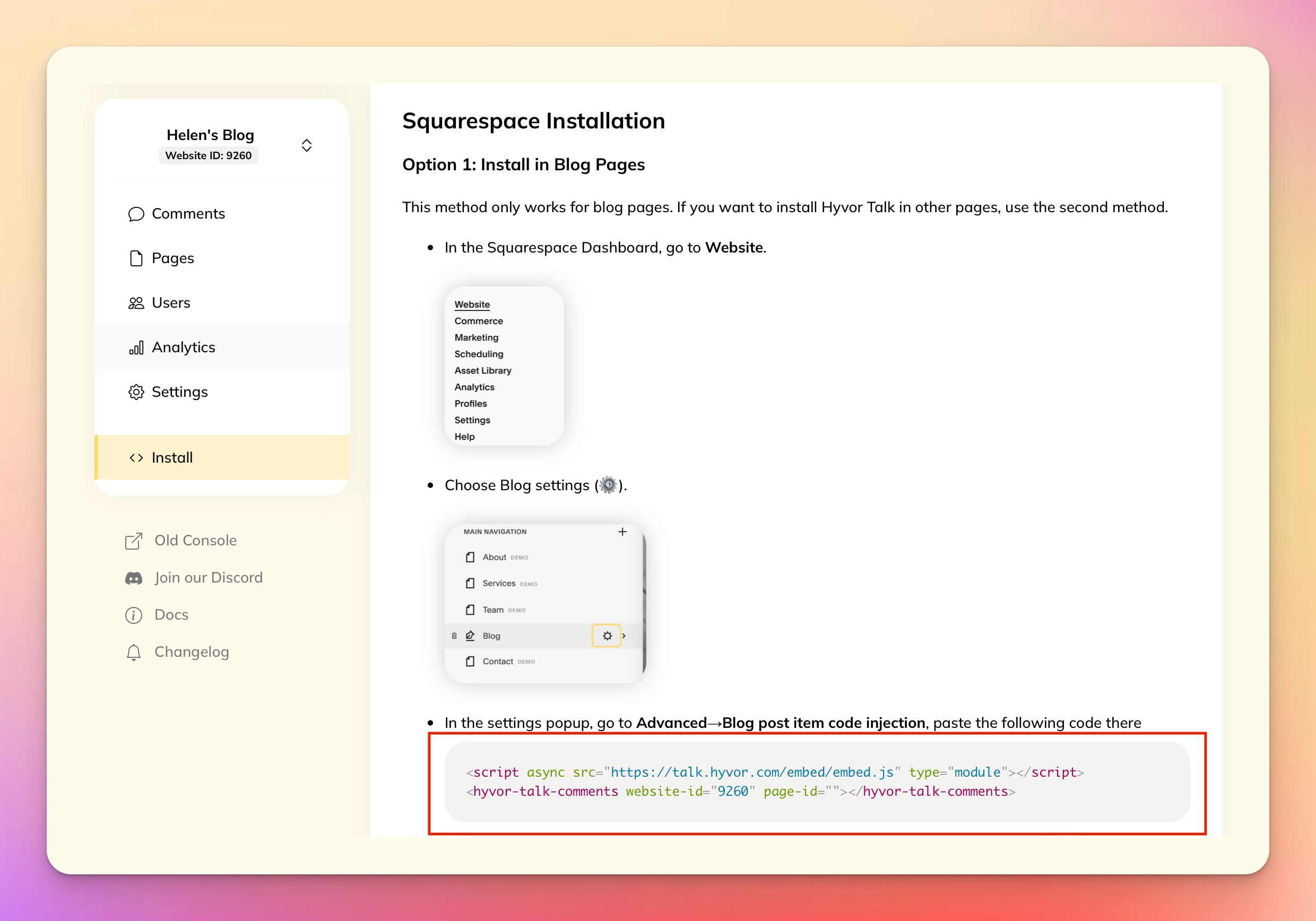 2. Installing Comments On Squarespace Blog Pages
Here, we are going to use Squarespace's Code Injection feature which is only available in Business and Commerce plans. You will need a business or commerce Squarespace plan to add third-party comments to your blog.
There are 2 ways to do this in Squarespace.
(a.) Log into your Squarespace website. In the Squarespace Dashboard, go to Website.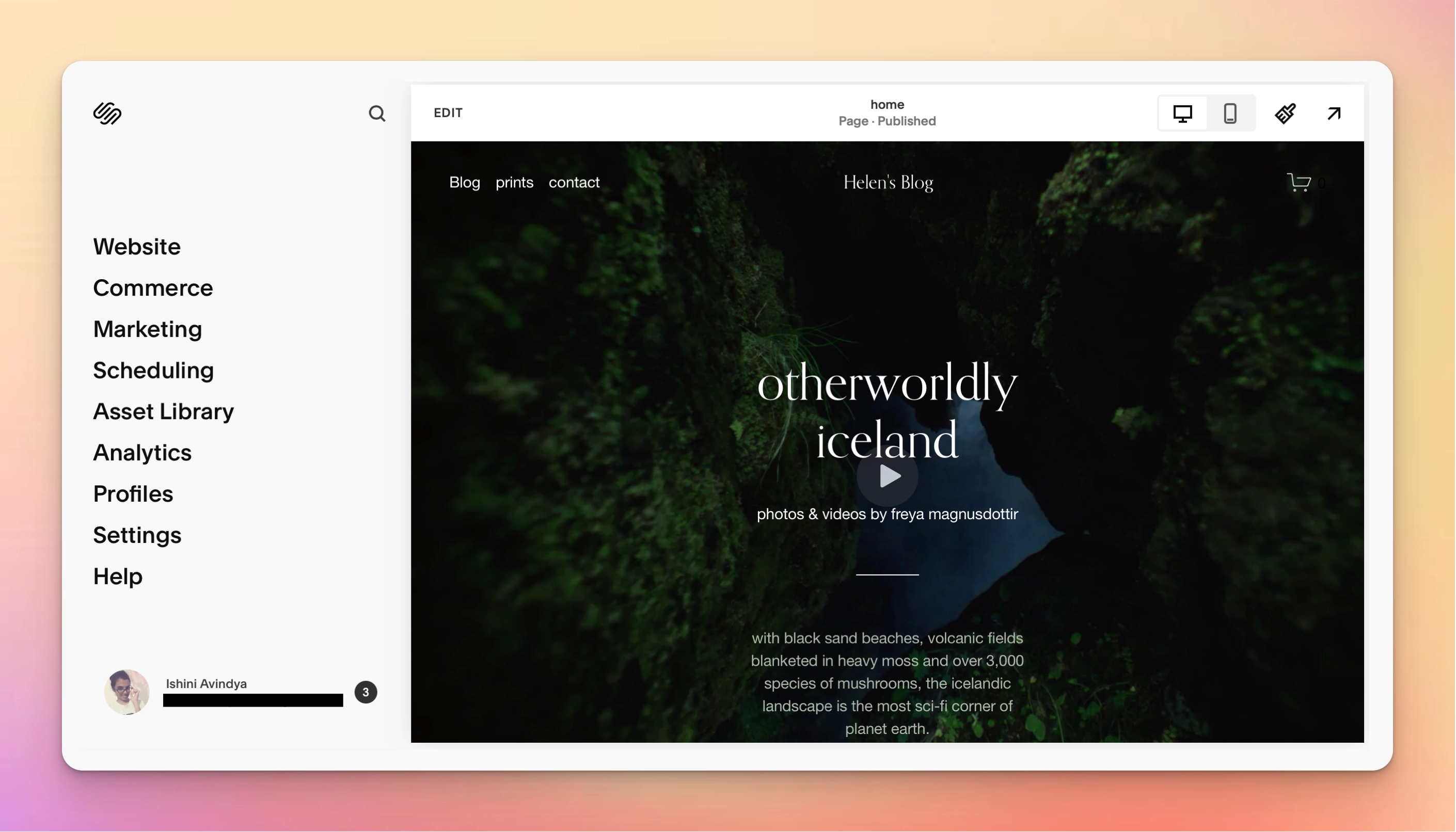 (b.) Then hover on Blog and click on its Gear icon.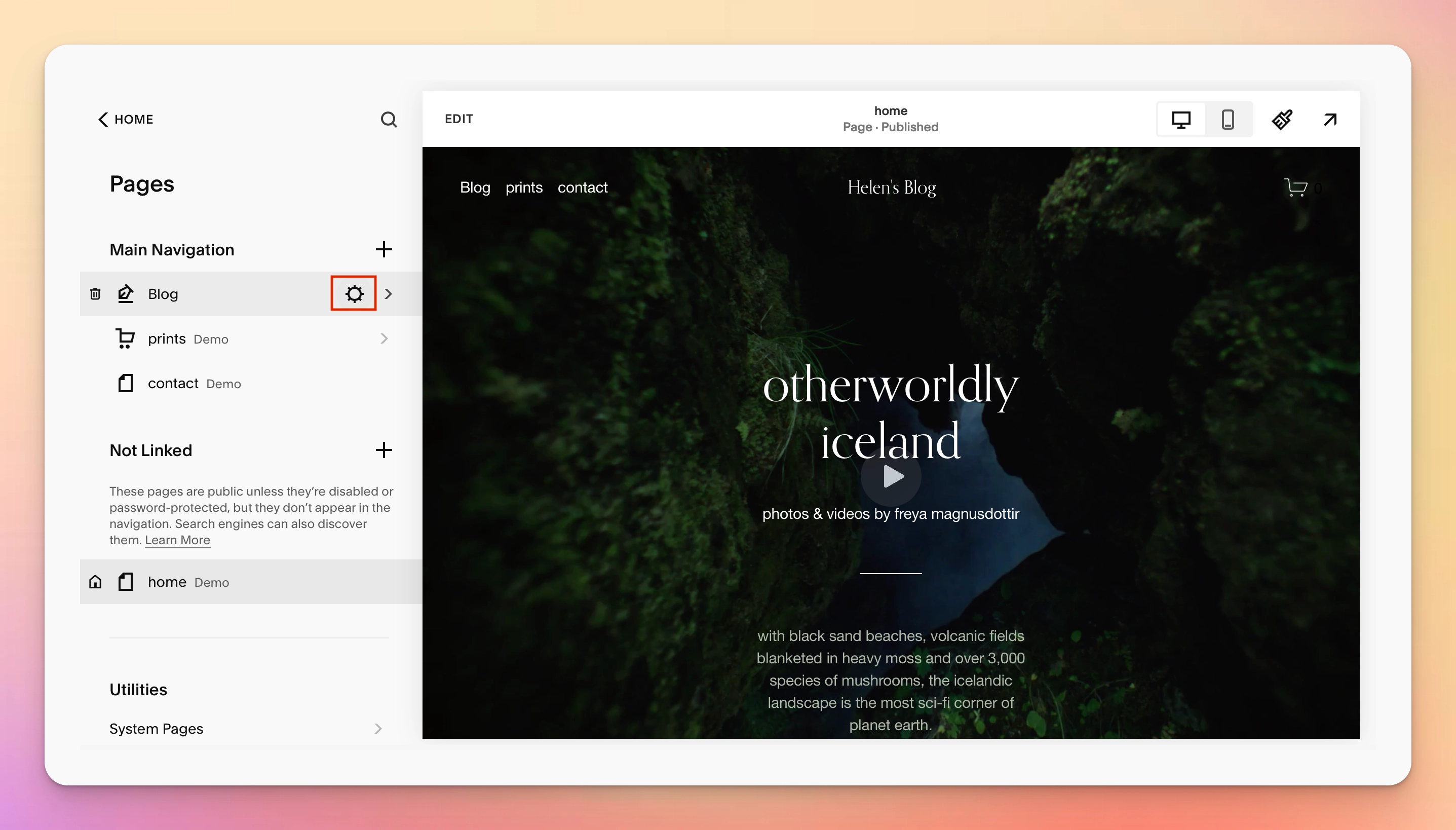 (b.) Go to the Advanced section as shown below. And choose Post Blog Item Code Injection.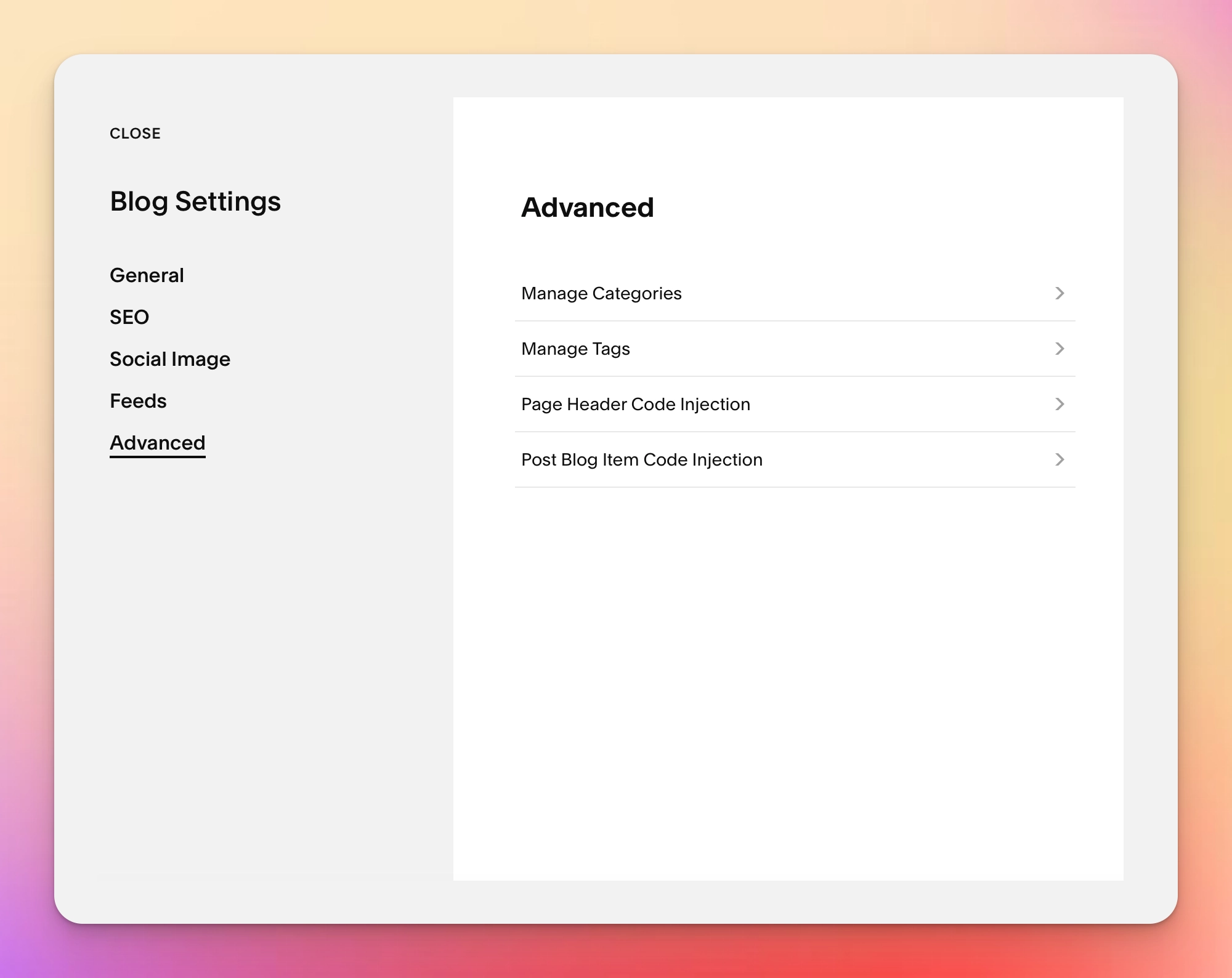 (c.) Paste the following code on the given space as follows. (This is just a dummy code generated for demonstration purposes. You have to use the code you are given in your console which I instructed you to copy and keep aside in a previous step.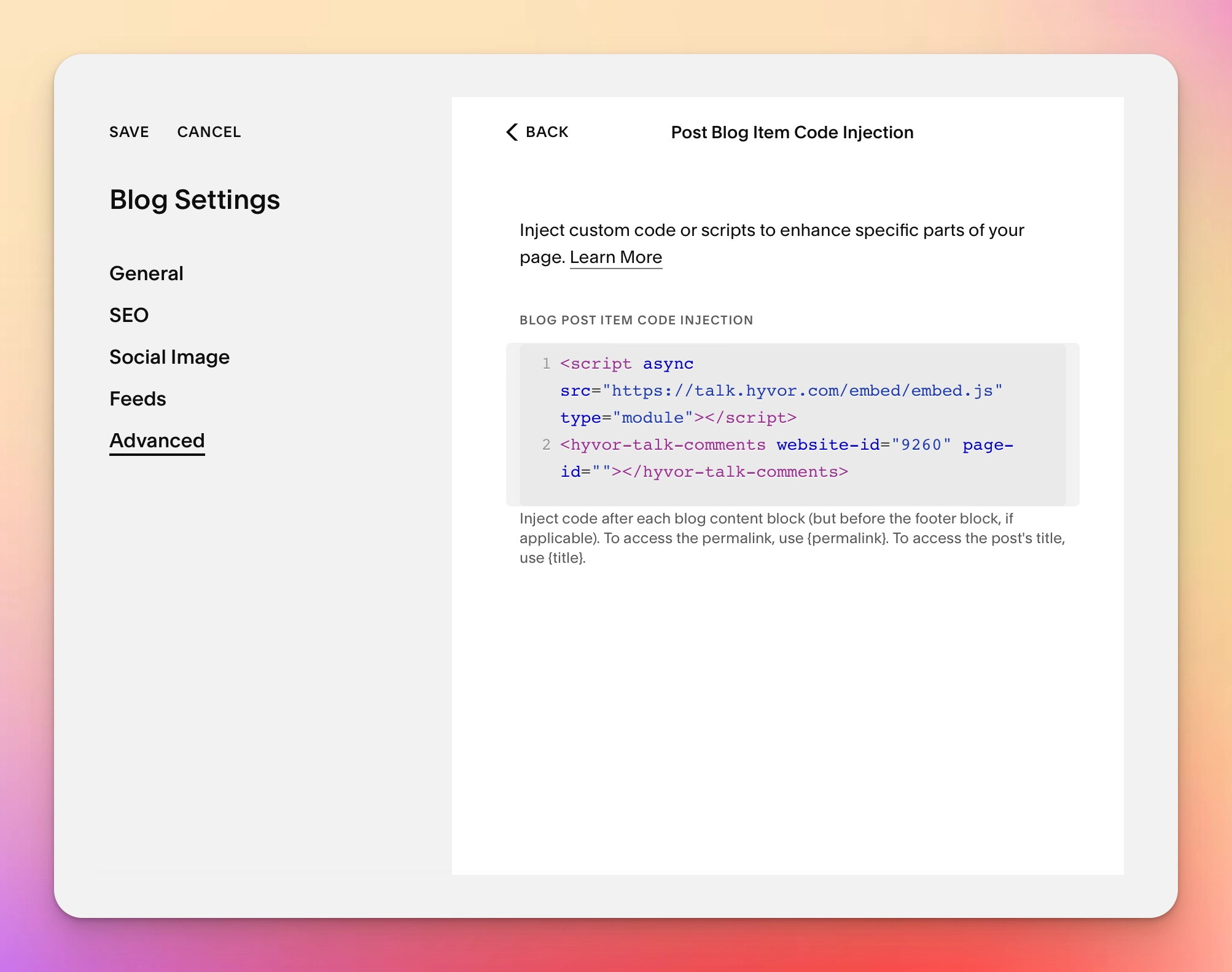 (d.) Click Save.
This method works for all pages. However, you need to add the code block to each page separately. Also, Advanced Code Blocks are only available in Squarespace Business, Commerce, Professional, and Premium plans.
(a.) In the Squarespace Dashboard, go to Website.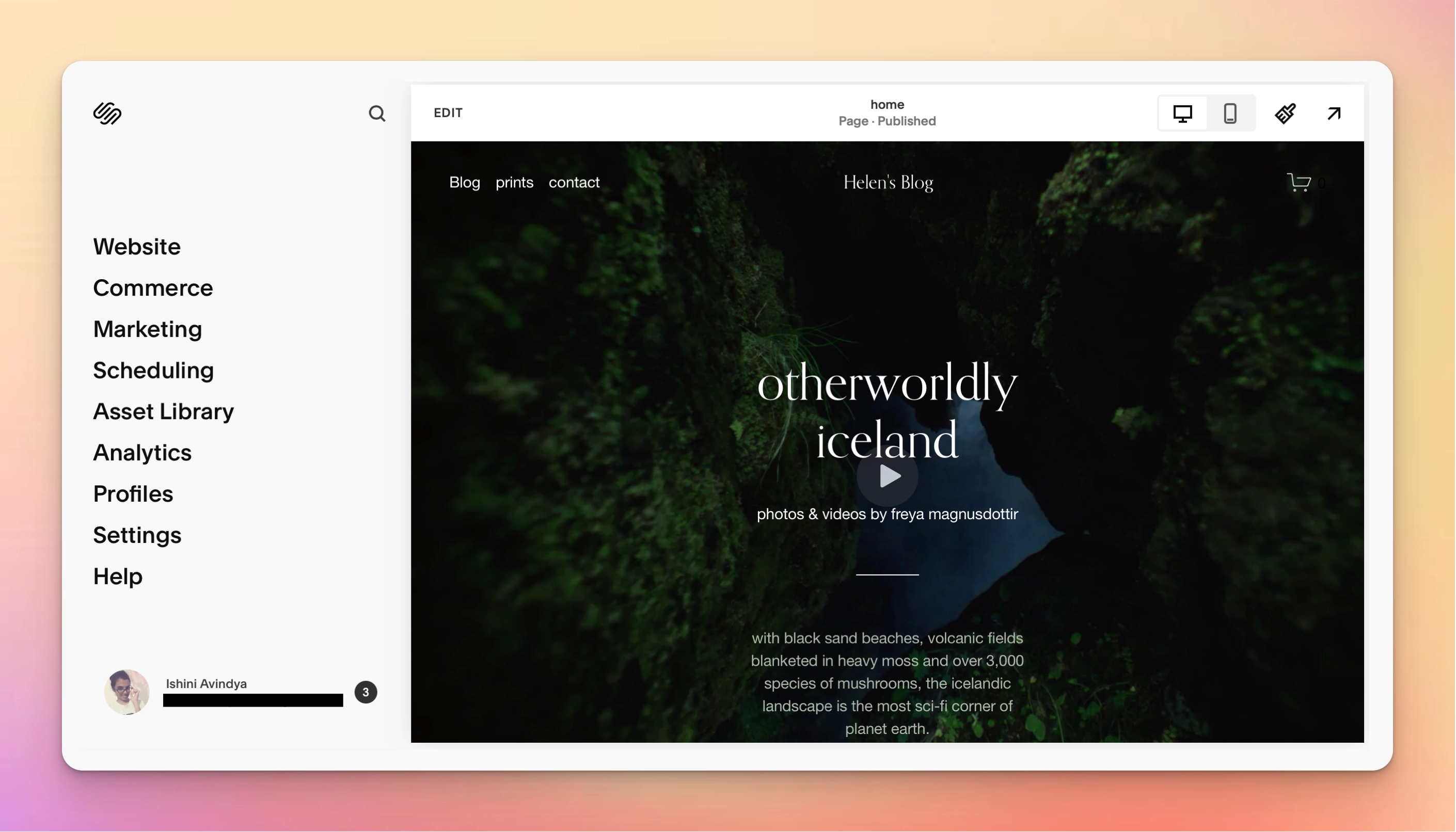 (b.) Then click on Blog.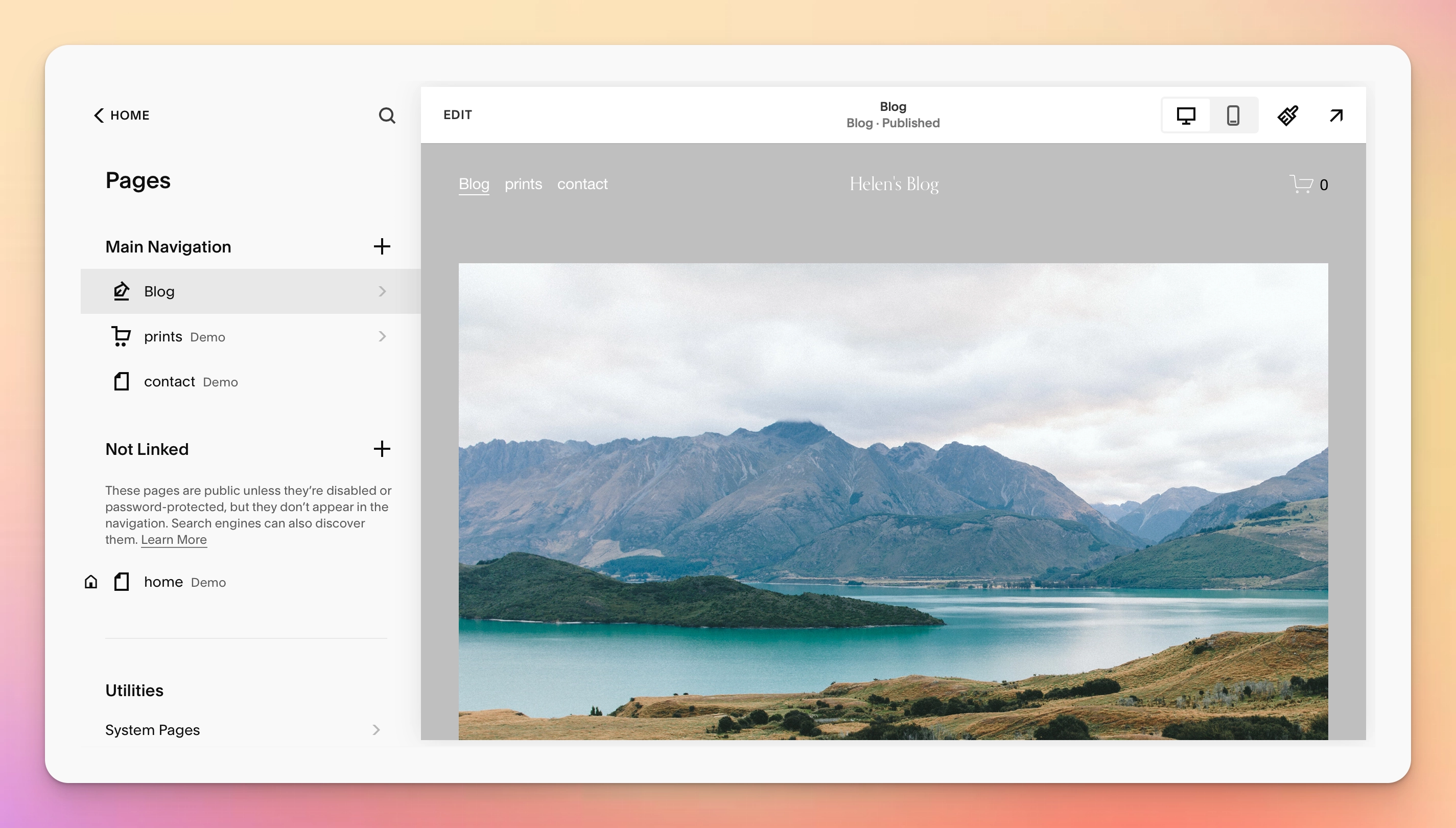 (c.) Select the page you want to add comments and click Edit.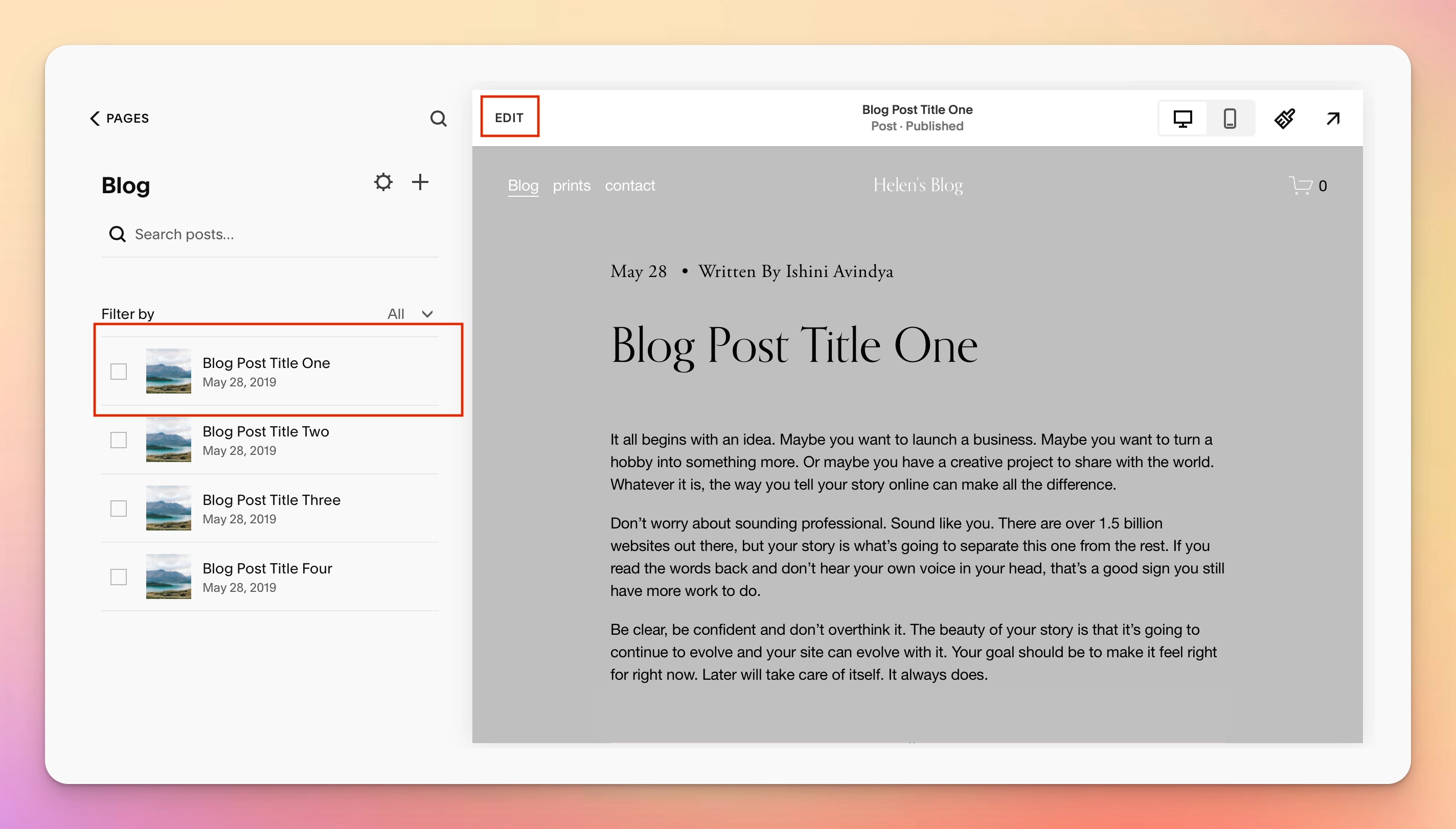 (d.) Click on the blue plus icon.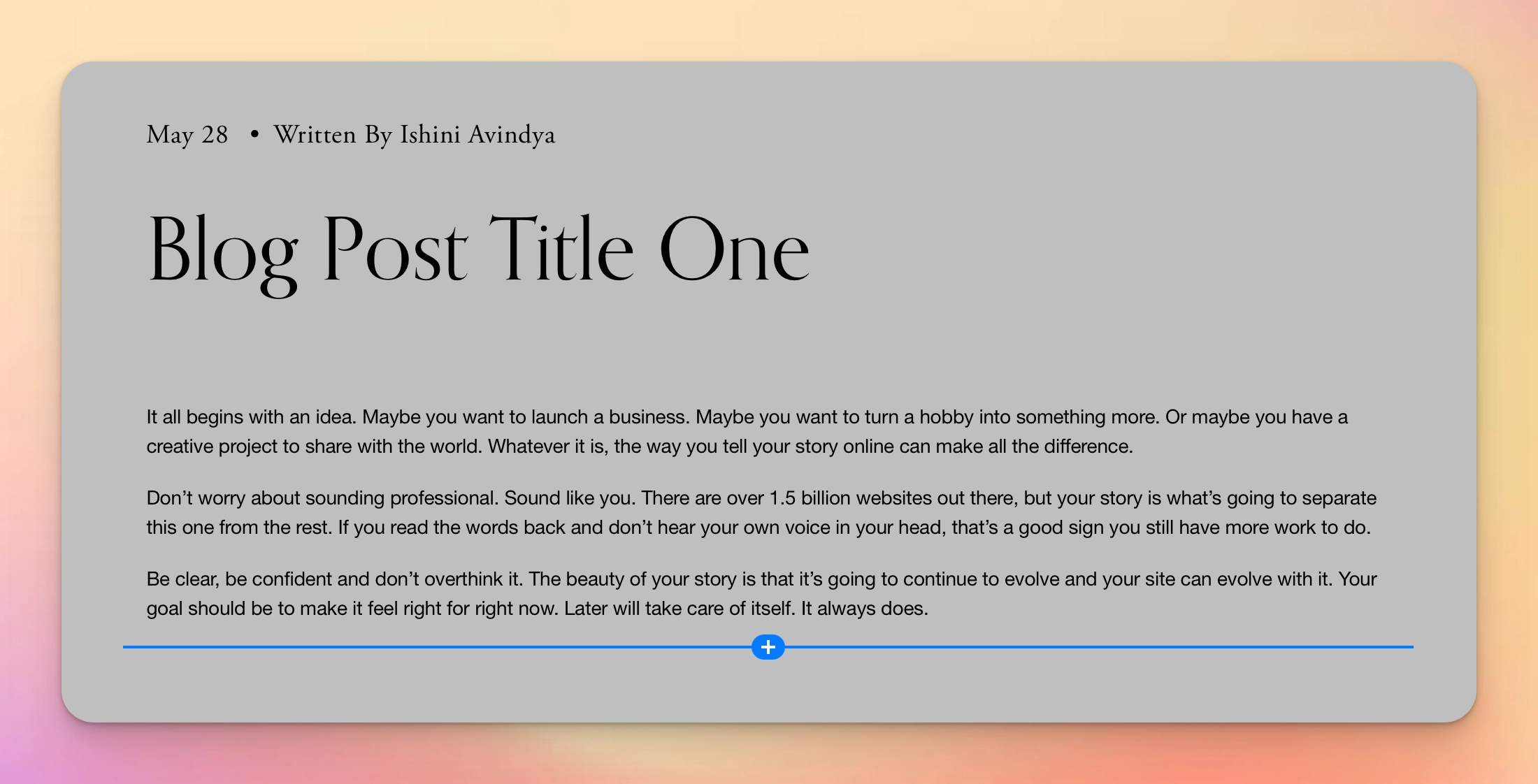 Then you will see a drop-down as shown below. Choose "Code"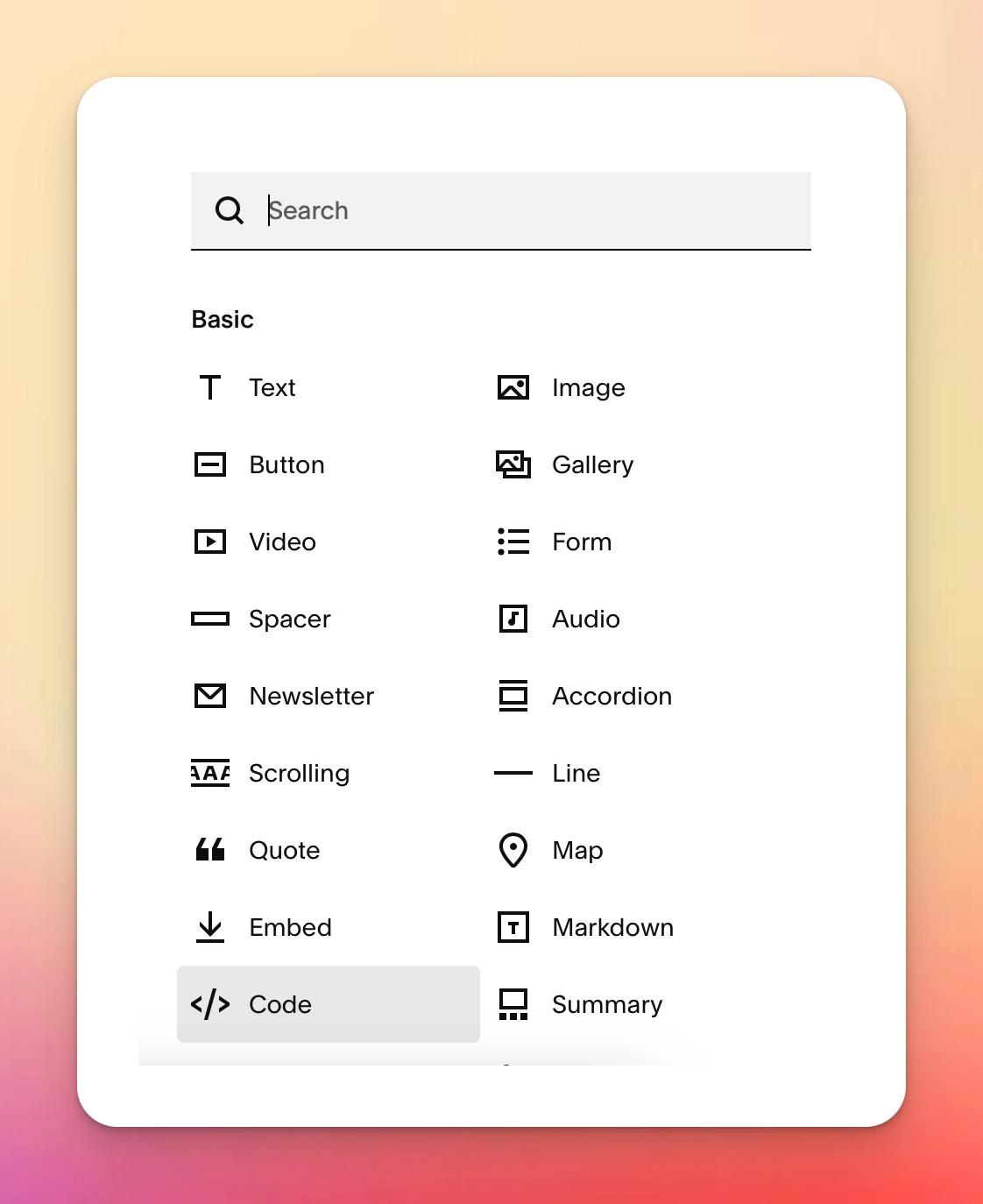 (d.) Paste the code you copied previously. Viola!
Finally, you will see the Hyvor Talk comments section on your blog pages.
In this guide, we discussed how to add comments to your Squarespace website using Hyvor Talk. It was a straightforward procedure. If you got stuck, please leave a comment below. Also, if you need any help with Hyvor Talk, please reach us. Our mission is to offer small bloggers a free comments platform without annoying ads and affiliate links and to provide businesses a powerful, affordable platform to increase their conversions.
To Conclude...
Squarespace offers one of the best website builder software platforms, that immediately stands out from the competition. The Squarespace platform doesn't hit you with lengthy feature lists and densely packed comparison tables, for instance. Instead, it follows a 'show, don't tell' approach, presenting a host of templates and design ideas to help you understand what's possible. The main advantage of this amazing CMS is that there is no coding required, and it is a CMS that puts the word 'ease' in easy. In other words, rather than loading Dreamweaver or a similar web design package up and churning out lines of code to construct a site, you do it all online using Squarespace's templates and style editor.