Wix is no stranger to crafting beautiful websites that boast a fantastic user experience. One of Wix's main selling points as a website builder is its ease of use, and the same applies to its SEO functionality. Wix has all the basic SEO features built in, and most of the advanced ones too.
It is true to state that Wix initially had a few issues, but all of that had been ironed out rather convincingly. It would be safe to state that many aspiring blogger or brand chooses between WordPress and Wix. And while WordPress has a crazy level of templates and plugins, no one can trump Wix for its beautiful user interface, design ethos, and simplicity.
To brag a bit about Wix, this rather innovative website builder hit a whopping 1 million user mark in 2009, 10 million in 2011, and 50 million in 2014. This rise in assurance by brands and content creators showcases the gaining popularity of this exceptional CMS.
Why Hyvor Talk? Because We Believe in Privacy.
Hyvor Talk is a privacy-focused, embedded, third-party commenting system that can be used on any website. Moreover, it is the best alternative for Disqus. Attractive pricing plans allow anyone to use Hyvor Talk no matter what their financial status is. It also has a nice reaction plugin which allows users to add reactions as they prefer.
Data Protection deals with how third parties collect, share, store, process, and use the information they have concerning us. Anyone who read about How Cambridge Analytica Sparked the Great Privacy Awakening and/or watched how Netflix's The Great Hack will realize the importance of Data Privacy. The issue of privacy and its real-world intrigue is not just science fiction.
Hyvor Talk is very secure and we take the aspect of privacy very seriously. with technology becoming pervasive and mandatory, the issue of privacy is real. It needs to be reiterated that Hyvor Talk does not track users, and does not sell any data either, which are serious privacy issues faced by SaaS companies.

As a new commenting platform solution, Hyvor Talk is fast changing how people interact with blogs, and it offers you a chance to understand our commenting platform and how different it is from its competitors.
Adding Comments to Wix with Hyvor Talk
There is no struggle with creating a website on Wix by yourself. You do not need any kind of knowledge of coding because the Wix website editor and Wix ADI are always there for you. However, when it comes to adding comments, a little bit more has to be done. Let's see how to add comments to Wix with Hyvor Talk.
1. Sign in/up at Hyvor
First, you need to sign in or sign up at Hyvor. Go to Hyvor Talk Console.
2. Adding Your Website to the Console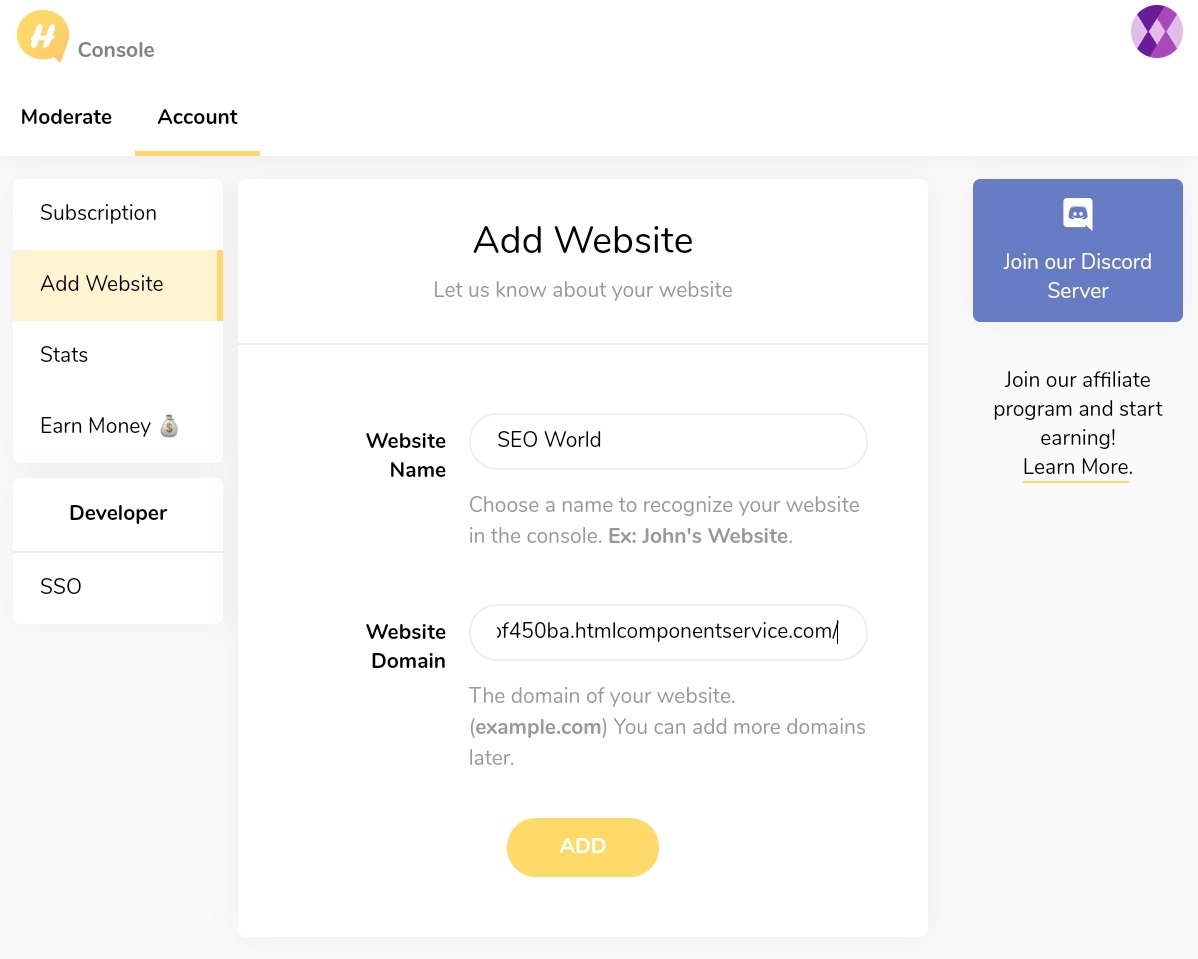 You will be directed to Add Website on the console. If not by chance, click Add Website on the console Then add your website's name and domain name in the appropriate boxes and click Add.
3. Installing Hyvor Talk to Wix
This requires a few simple steps as follows.
First, click Install. Then you will see the installation guide for several platforms.
Click Manual Installation.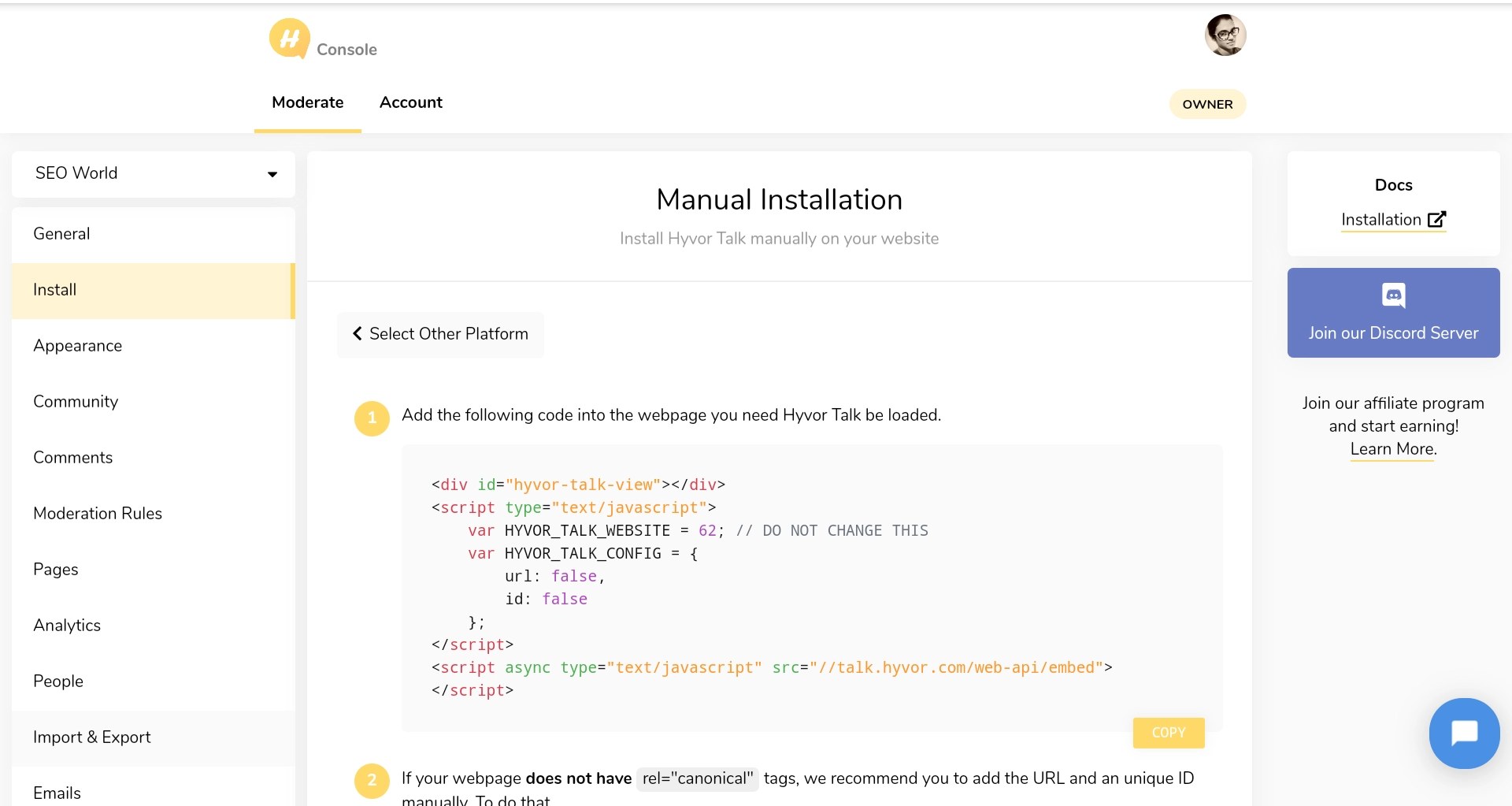 Next, copy the given code by clicking the Copy button as shown in the above image.
For the next few steps, you need to go to the Wix Editor.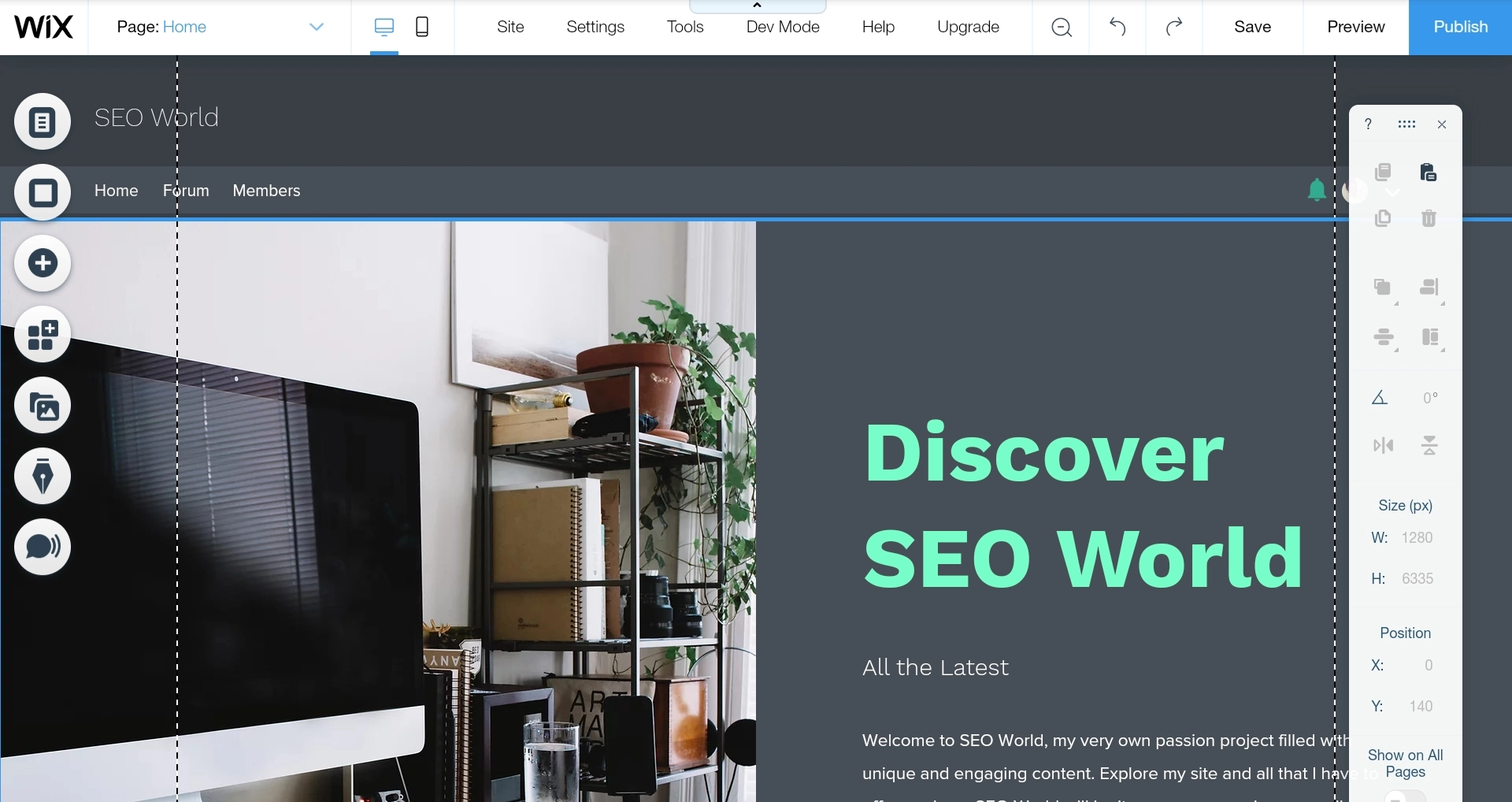 Here is the Wix Editor. Now, click the Plus button on the left side of the editor.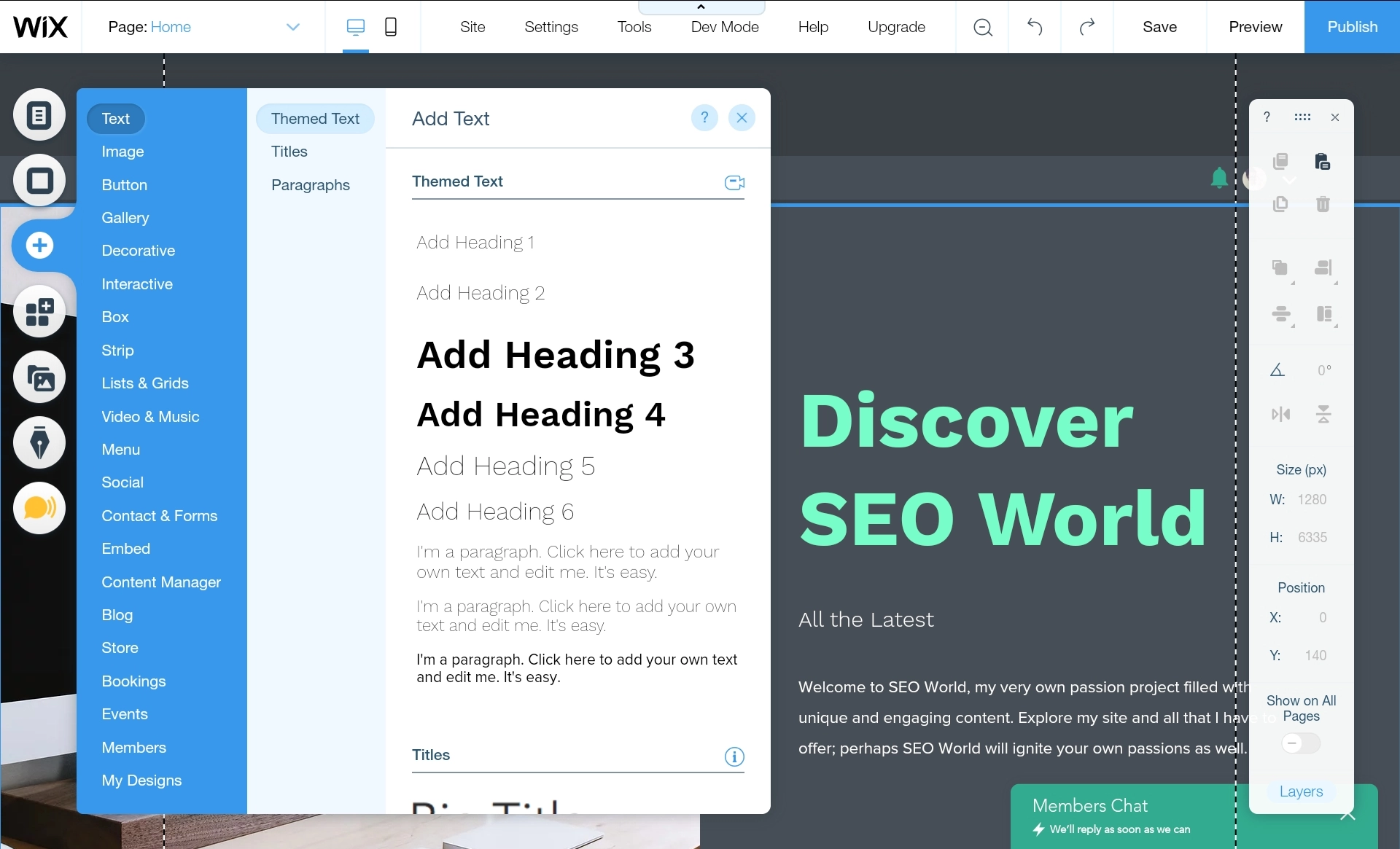 Next, select Embed from the menu as shown in the above image.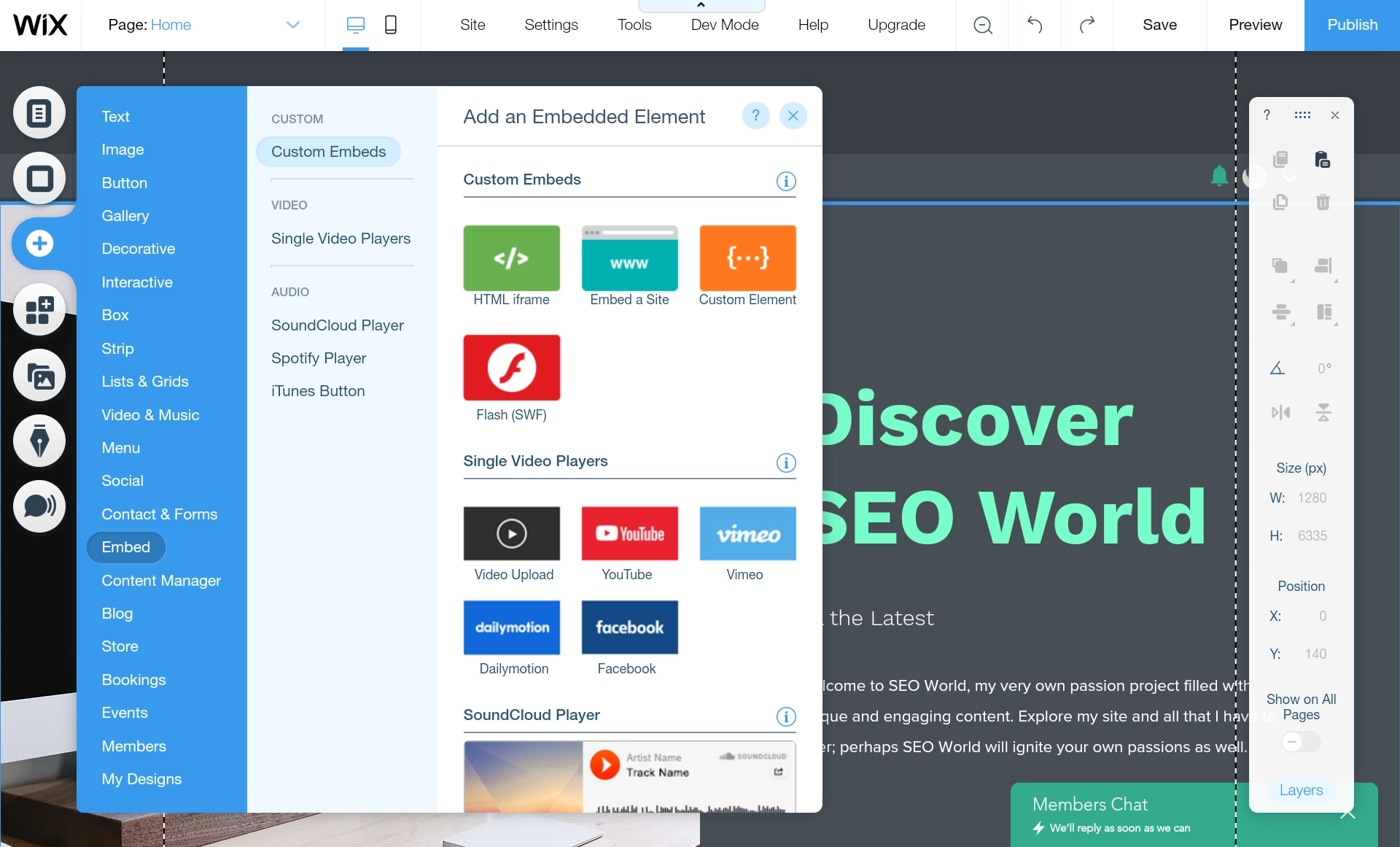 Click HTML iFrame as shown above.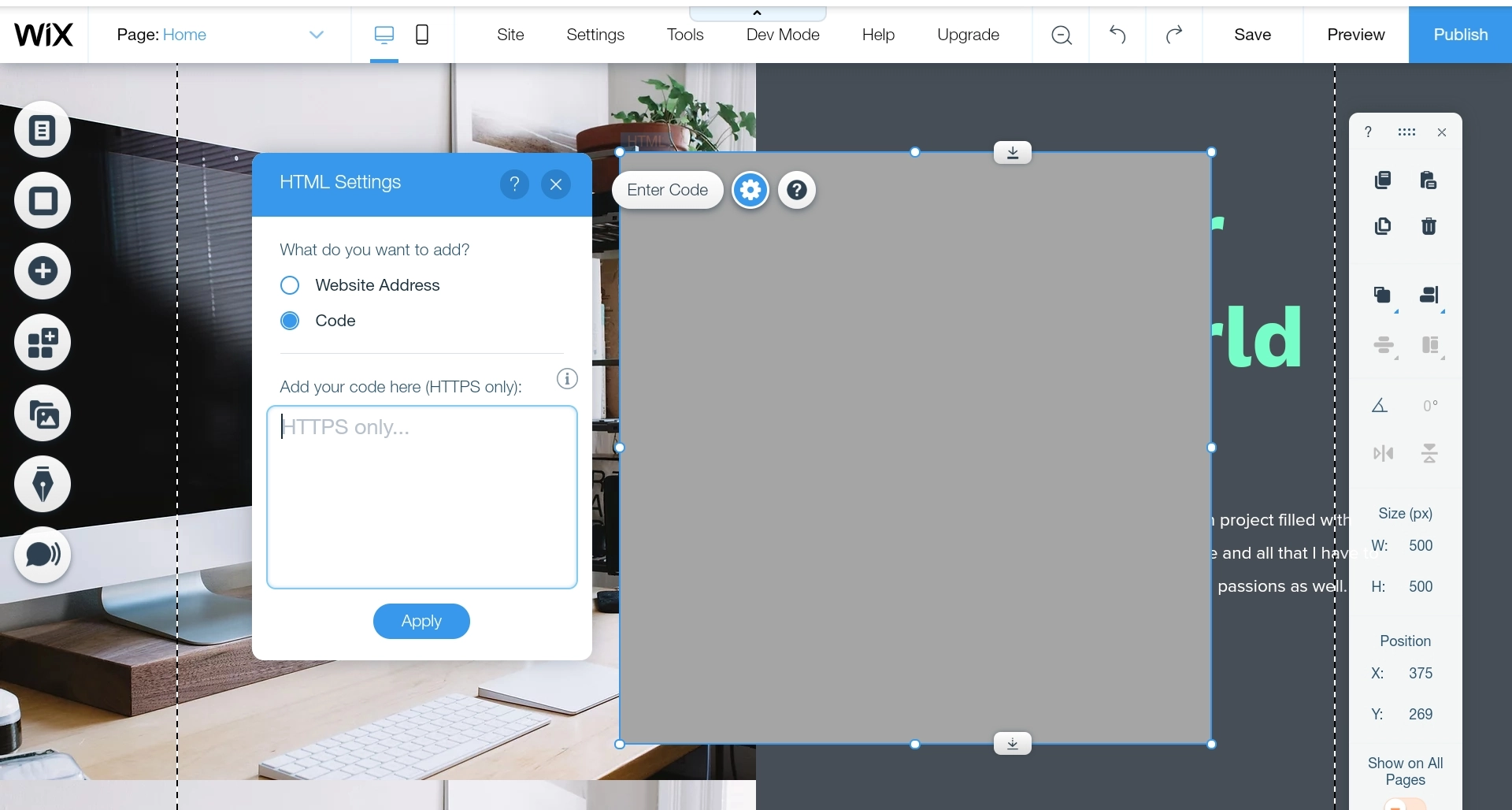 Click Enter Code. After that, you will see the menu as shown in the left side of the editor. On that menu, bubble Code.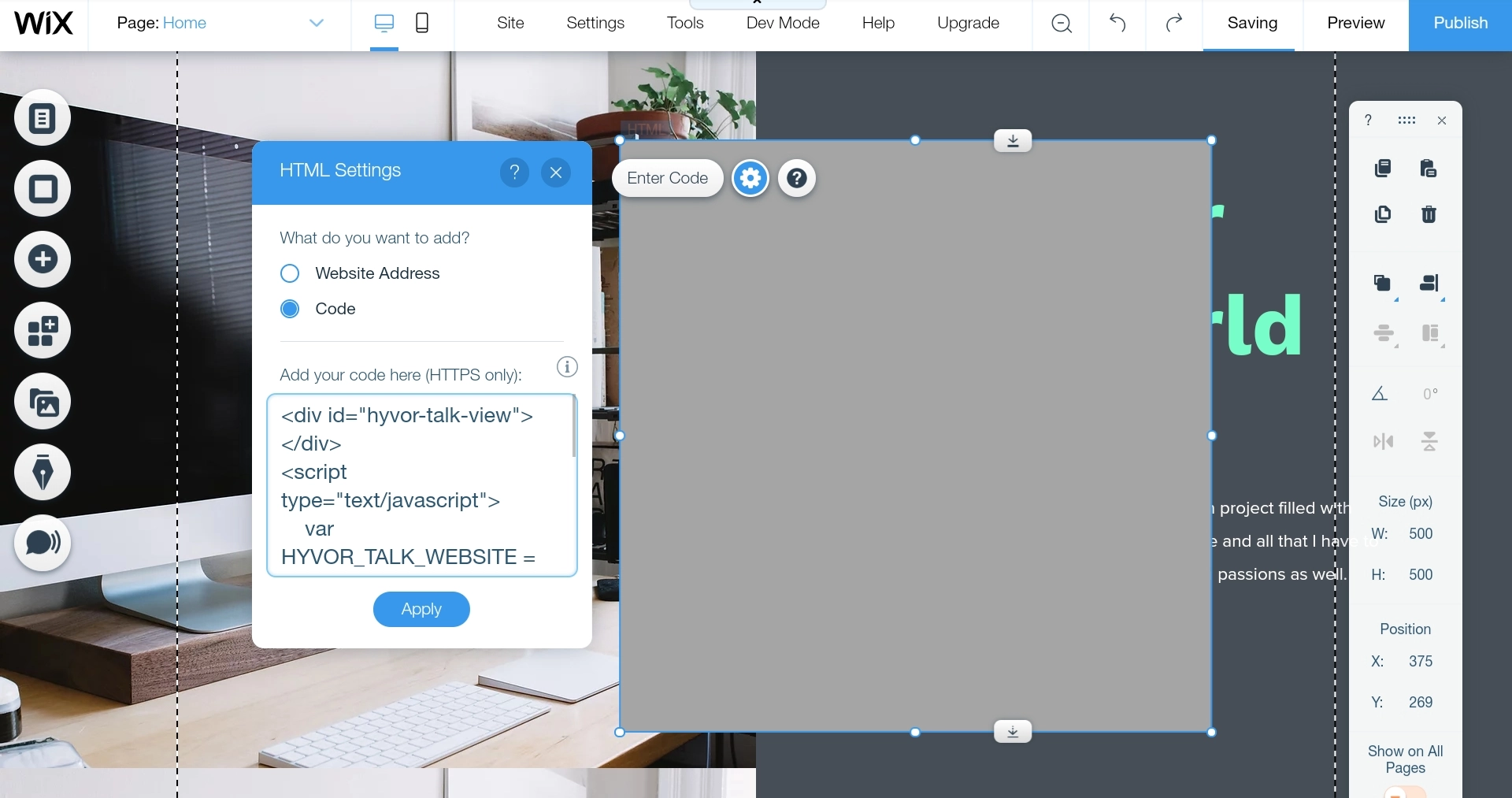 Paste the copied code in the box given and hit Apply. That's it.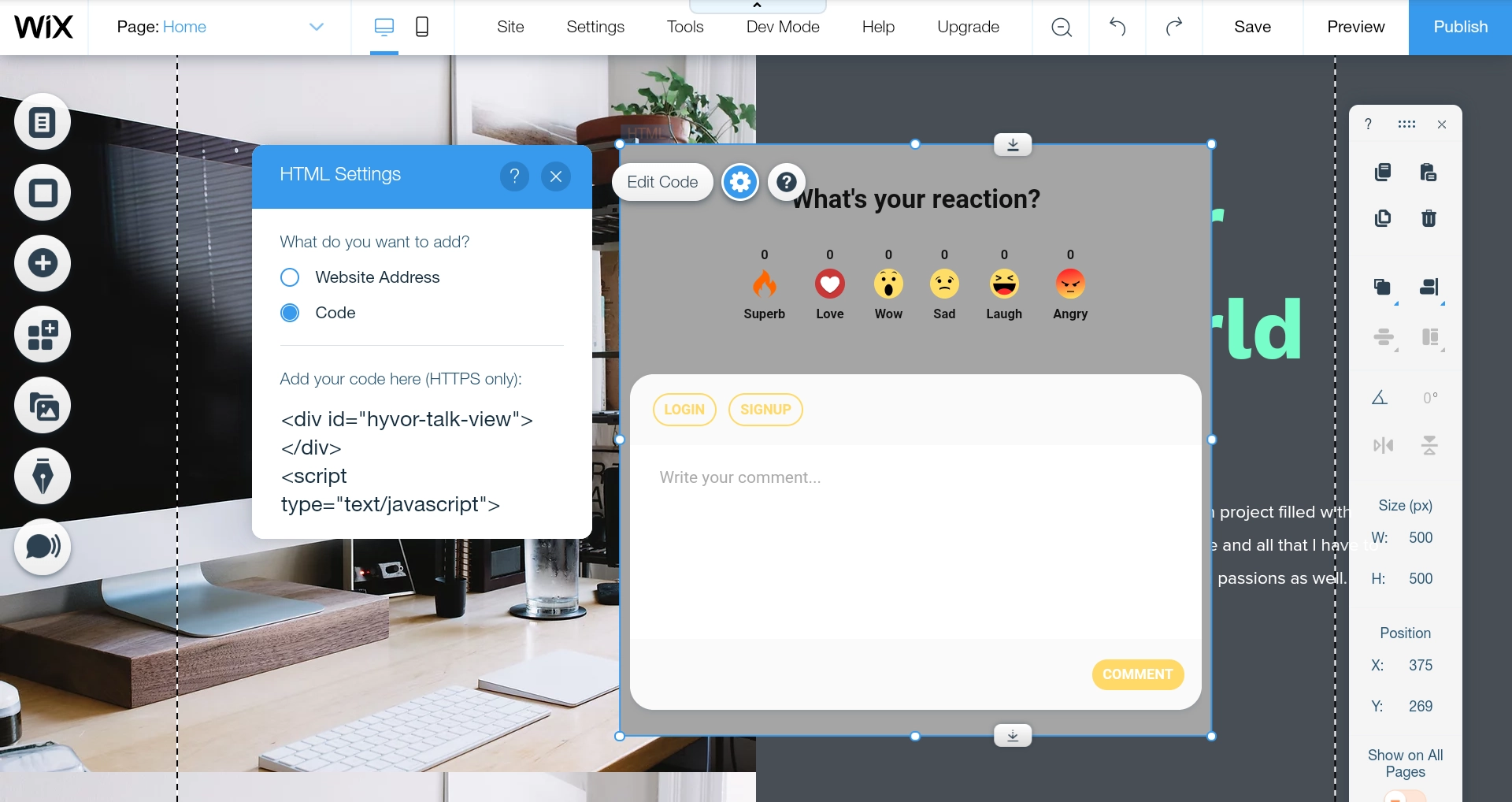 Yay! you did it! The Hyvor Talk comments section with reactions will be shown like as shown above.
4. Customizing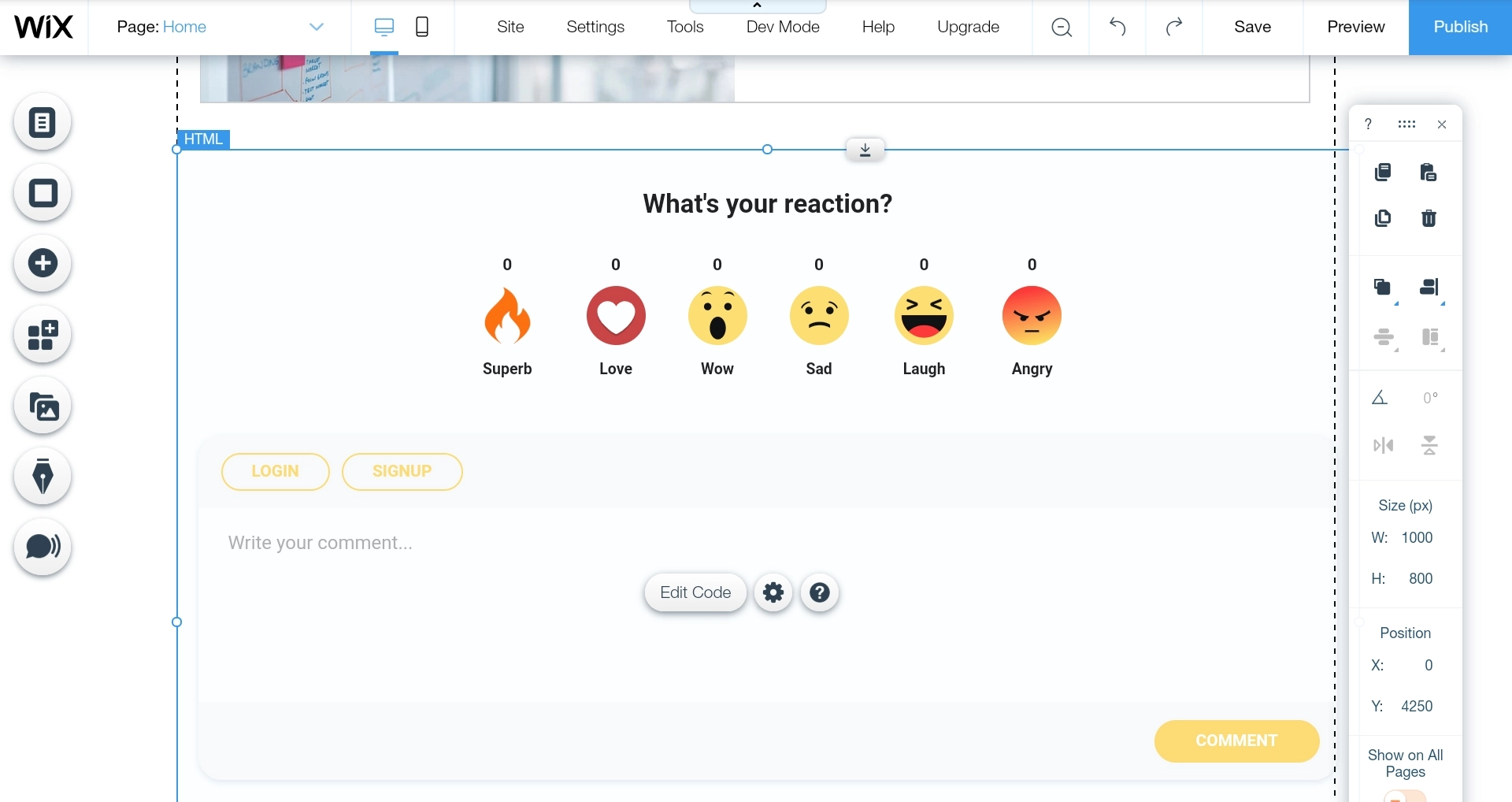 You can customize the position, and size, of the comments section on the right side of the Wix editor. If you need to customize the appearance, you can do it from Hyvor Talk console.
Check out our documentation to learn more about appearance customization.
After that, you can change how your users can comment, and what data to collect from them when commenting. Learn more about community settings.
Conclusion
That's all as simple as that. If you have any questions feel free to contact us. We will help you to go through it. Hope this tutorial will take you there. Happy Blogging!✌