Writers have always used pen names to avoid bias, personal retribution, or to tap into their full creative potential. This tradition has carried over into the digital world. Nowadays everyone with an internet-connected device can become an anonymous blogger.
In this article, we'll show you how to start an anonymous blog and best practices for being successful in the long run.
How to start an Anonymous blog
Make important choices
It's very important to start your anonymous blog on the right foundation. You need to choose your pen name, the name of the blog and make editorial decisions like how often and what you're going to publish.
Semi-anonymous vs fully anonymous
Semi-anonymous
Some authors want to hide their real names but don't have time to take all necessary precautions.
Semi-anonymous bloggers sometimes use their real first names or initials. This does little to protect their identity, but it has a number of advantages. The biggest upside is that they can take credit for their work.
On the other hand, semi-anonymous bloggers are easy to identify. Especially if their blog is read by acquaintances, friends, or even people who work in the same industry. 
Being a semi-anonymous blogger is a good idea only if you do not anticipate much interest in your identity, or revealing your identity isn't a great concern to you.
Fully anonymous
Bloggers who want to stay anonymous should use a nickname, a pen name, a fake full name, or no name at all.
Using a made-up name is a good start, but there are still a number of ways someone could identify you. In the following sections, we'll teach you how to completely hide your tracks and leave nothing to chance. 
Choose a pen name
As an anonymous blogger, choosing a pseudonym is one of the most important decisions you'll make. It's a good practice to consistently publish under one name, so take a moment to find a name that fits your blog and personality.
If you're successful and build a community of readers, people will mention you by your pen name. Choose a name that is unique but also memorable and relevant to your blog. An intriguing and mysterious name can go viral and help you garner more attention.
Ideally, your pen name should be easy to spell, so readers can easily find you in search engines as well.
Finally, choose a name that can not be confused with another person or organization.
Create your anonymous blog
Once you've come up with a name and decided on your approach to anonymous blogging, it's time to create your blog and get it published.
You can use blogging platforms like Hyvor Blogs, WordPress, Medium, or Ghost to publish your blog within minutes. Or you can buy a domain, a hosting, install a CMS and publish it yourself.
We will explore both approaches and advise you on how to protect your anonymous identity. 
Host the blog yourself
Many bloggers prefer to start an anonymous blog outside of any platform. This approach is a bit more involved and requires attention.
Step 1: Create a generic email
Most of the time, personal and professional emails contain your full name. It's better to create a new generic email and use it to register a domain and web hosting service. 
Step 2: Register the domain
Use the generic e-mail address from Step 1 to register the domain. 
There are many domain registrars out there, but we recommend you use Namecheap. It's reliable, private, and most importantly, offers free Whois protection.
If the exact match domain is unavailable, slightly change the current name or come up with a new one. 
For example, if you want your blog to be named "fun adventures", and funadventures.com is taken, you could register funadventuresblog.com or fun-adventures.com.
Enable Whois protection
Any interested individual can search the Whois database to find the owner of the domain.
The good news is, several domain registrars offer Whois protection for free.
Whois protection hides your identity in the database, but you retain full ownership of the domain and continue to receive relevant emails and notifications.
Step 3: Set up hosting
Hosting is a small corner of the internet where your blog is going to live. Choosing the right hosting will ensure your blog is always available to visitors and never offline.
A simple Google search will give you thousands of web hosting services to choose from. We recommend you choose one with the highest uptime, a metric that measures the quality and continuous availability of the server.
Use the generic e-mail address to register for hosting. Feel free to enter your real name and address. Unlike domain registrars, there's no way to check the owner of a hosting.
Step 4: Connect hosting and domain
Once you have the hosting and the domain address, you can connect them and make your website go live. 
When installing a CMS, you'll have to enter your admin username and email. To stay anonymous, use a fake name and a generic email we created for this purpose. You can use a website like Fake Names Generator to generate a random name. 
Write anonymously on a blogging platform
Unless you are very tech-savvy, setting up a self-hosted blog is too much work. Especially when you can use services like Medium to start an anonymous blog within minutes.
There are hundreds of blogging platforms with different features and services to offer. Choose one depending on your use case.
We built the Hyvor Blogs platform to be fast, accessible, optimized for search engines, and monetizable with ads. Most importantly, our platform allows bloggers to easily translate their content to reach a wider audience. 
Hyvor Blogs will help you stay anonymous so you can focus on what you do best - writing blogs. 
Write Anonymously with Hyvor Blogs
To get started, go to our homepage and create an account with Hyvor Blogs.
After successful registration, you will be redirected to the console page. Click the button in the top-right corner to create a blog.

You will be prompted to enter the name and domain address of the blog.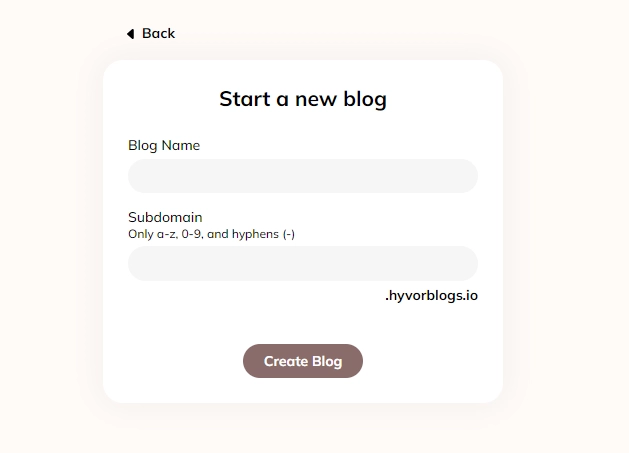 Once created, you will be redirected to the dashboard to manage your new blog.
By default, blog posts will be published under your Hyvor Blogs username. To change this, click 'Settings' in the left sidebar menu and open the 'Users' tab, where you'll find the list of users authorized to publish on your blog.

To change the name that appears as the author, click the pencil icon on the right to update user details.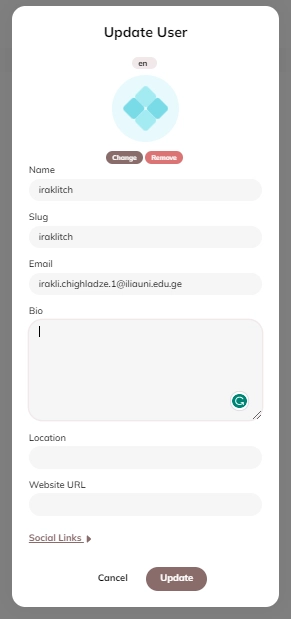 Hyvor Blogs doesn't require you to provide almost any information. The only required field is 'Slug', which is used to generate a link to the user profile. 
Posts published by unnamed authors look like this:

You can also enter your pen name in the 'Name' field.


Note: The URL of the author profile will include slug value. Make sure it doesn't reveal your identity.
Conclusion
In this guide, we showed you how to start a successful anonymous blog and keep your identity hidden in the years to come.
We also walked you through a step-by-step process of creating an anonymous blog with Hyvor Blogs or using your own domain and hosting.