Choosing the right Content Management System for your website can be a little confusing today. This is mainly due to the widespread availability of CMS platforms that specialize in different areas. While some of them grant full customizability and freedom, some focus on user-friendliness and convenience. In this massive world of CMS, the two platforms that stand out the most are WordPress and Wix. Wordpress may be the OG of CMS options out there, but here we show you how you can migrate from WordPress to Wix in some easy steps.
These 2 platforms are not strange to any veteran or newbie web developer out there. While WordPress is famous for being the most used platform in the CMS market, Wix is extremely popular due to their massive advertising and marketing campaigns. Fun fact — Wix has a marketing budget of over $100 million annually. And they are not hesitant to throw them at celebrities to have their platform promoted. Nevertheless, they are both good platforms to build a business site or a blog on and both of them have their own pros and cons. Wix is famous for being extremely user-friendly while WordPress is well-known for its versatility and customizability. However, if you are already a WordPress user and looking forward to moving to the simplicity of Wix, you are at the right place.
In this article, the following will be discussed in detail with all the necessary guides and steps:
WordPress vs. Wix

Hosting options for Wix

Migration from WordPress to Wix

Migrating your posts

Migrating your comments (Hyvor Talk)

Customizing Wix (Themes, plugins, etc.)

Installing Google Analytics and finishing up
Introduction: WordPress vs. Wix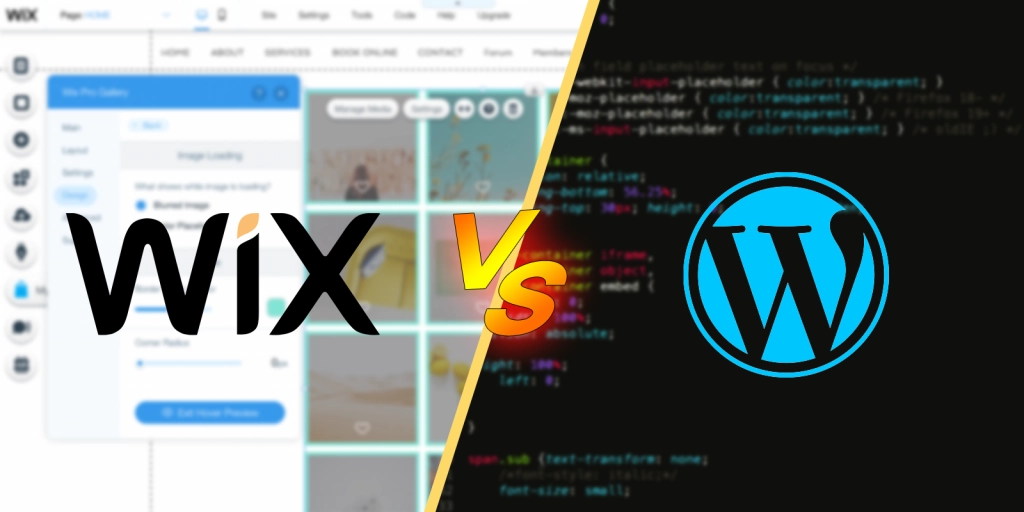 WordPress is the go-to platform for the majority of web developers today. This is mainly due to its extreme customizability and versatility. The PHP-based open-source platform started out as the best blogging platform and as of today, it has evolved into a more universal platform benefitting all types of websites. WordPress stands out from the competition mainly due to the massive marketplace it has for themes and plugins. These add-ons can make all sorts of magic happen to your website and the best part is that you have full control over it. However, it has one caveat; the customization part will require extensive knowledge of CSS and HTML. This is one reason that most beginner developers tend to opt for other platforms instead. However, if you know your way around CSS and HTML, there is no other platform as customizable and stunning as WordPress can be.
In contrast, Wix has a totally different approach to building a website. It mainly focuses on the ease and convenience of the user rather than anything else. The simplicity of the platform alone is why it is one of the main rivals for WordPress in the CMS market. Wix is ideal for both experienced and beginners as it features a clean interface with drag-and-drop tools with classy themes. Even though it does not have a massive marketplace for themes and plugins as WordPress does, all the essentials are available in their best form. If your priority is ease of use and simplicity, Wix will be ideal and save you lots of time and cash if you were thinking of hiring a professional.
Find out more about the two platforms and which one is ideal for you on our WordPress vs. Wix post.
Hosting Options
Hosting options for Wix can be a little frustrating for most people. Compared with the competition, their premium hosting options are a little expensive, considering that most other platforms allow third-party hosting with way lower price tags. However, Wix's premium options are more than enough for your business or your blog to grow. The Unlimited, Combo, and Business plans will allow you the following features:
Ad-free experience with the availability to use your own domain

More bandwidth or no bandwidth limitations at all with greater storage options

Access to e-commerce features and apps to grow your business
The pricing plans for Wix start at $14 per month with the Combo plan, $18 per month with the Unlimited plan, $23 per month with the Business plan, and $39 per month with the VIP plan. The Combo plan includes an ad-free experience with a domain name for 1 year and hosting. The Unlimited plan is ideal for larger websites with extra storage and bandwidth options. The Business plan grants you access to all e-commerce options like Wix Hotels or Wix Bookings. The VIP plan adds priority support for the best experience.
And for everyone who is planning on moving to Wix from another platform, do not worry about losing your domain name. You can transfer your domain name to the Wix host. All of the settings like the domain's contact information, DNS settings, and registration payments can be managed through your Wix account. Find out more about domain transferring from here.
As for now, let's assume that you have successfully signed up and transferred to Wix. It is high time that you start the migration process already.
Migrating: WordPress to Wix
As mentioned earlier, WordPress is one of the best platforms to build your dream website. You have the full freedom to customize and mold the site to your expectations. The massive amount of themes and plugins the market has to offer WordPress users only makes things better. However, one downside of building a website or a blog on WordPress is the complications that come with customization. As WordPress is an open-source platform, you will need to know at least the basics of CSS and HTML to work around the platform. This can cost you a lot of time coding and changing lines, or simply learning the language altogether. You could be spending a lot of money on developers if you are planning on hiring someone instead. So the best solution to avoiding all of this is to move to a simpler platform.
The go-to CMS platform after WordPress is naturally Wix. Especially if you are having the above-mentioned complications, Wix is the ideal place to go. It is prominent for its simple user interface and drag-and-drop tools. It simply doesn't get any easier than this. Wix has everything a business site, a blog, or any other website needs and will especially be ideal if you are a beginner. So what if you have already decided on moving your blog to Wix and how exactly do you want to start it?
1. Migrating Posts
To start off things, the very first thing you might want to do is import the posts to your brand-new platform. Many fear that moving platforms will make them lose all posts and special moments you've created within them. After all, posts are the essence of all blogs. But with exporting and importing options the platforms offer today, moving is easier than ever.
Unlike WordPress, Ghost, or a lot of other platforms, Wix takes an unconventional approach to post importing. While other platforms require you to export and import posts from the old one to the new one, Wix allows you to import them directly.
Following are the steps to get your posts up and ready on your brand-new Wix site;
01. Head over to the Posts tab in your site's dashboard and click on the "More Actions" (three dots) button.
02. Click on "Import WordPress Posts" and click "Get Started" on the next window.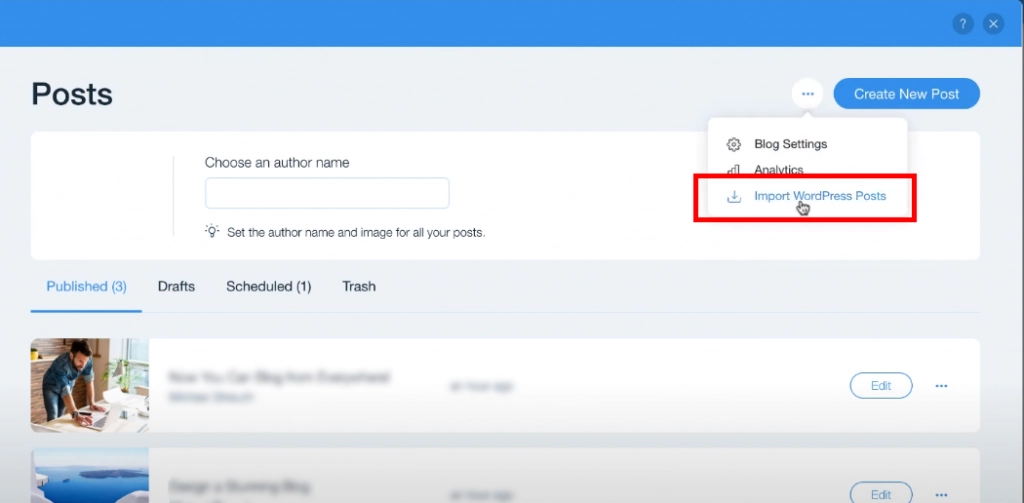 03. Enter the URL of your WordPress blog and click "Next".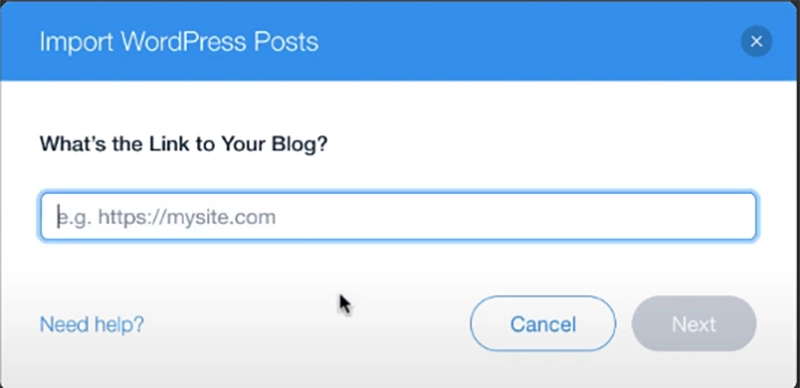 04. Confirm whether the site is yours by the name, URL, and post count and Click "Yes, Import Posts".
05. Wait until the posts get imported and edit the necessary SEO settings for your blog posts.
06. To have your posts published, click "Publish" in the editor and you are good to go.
07. Finally, to complete the process, set up 301-page redirects from your WordPress posts to your new Wix posts. Find out more about the redirection process here.
2. Migrating Comments
The next step in the migration process is importing the comments to your new Wix site. The comment section is what gives life to any blog. It simply showcases the aliveness of the blog with community interactions. It is also one of the main reasons why bloggers are passionate about what they are doing. However, if you are worried about losing your past comments in the process of the migration, Hyvor Talk got you covered.
Hyvor Talk is one of the finer comment plugins that prioritize simplicity and cleanliness over anything. The same goes for the plugin's importing system. Hyvor Talk allows users to easily export and import comments from both WordPress and Disqus without a sweat. So, the process involved with comment importing is as simple as the post-importing process on Wix. The procedure comes in 2 steps where you will be exporting comments from your WordPress blog and importing them on the new Wix site.
(We will be assuming that you previously used WordPress's built-in commenting plugin and the exportation will be showcased accordingly.)
Following are the steps for both exporting existing comments and importing them onto the new site:
01. To export comments from your WordPress site, go to "export posts" on the "tools" menu in the dashboard, and download the file.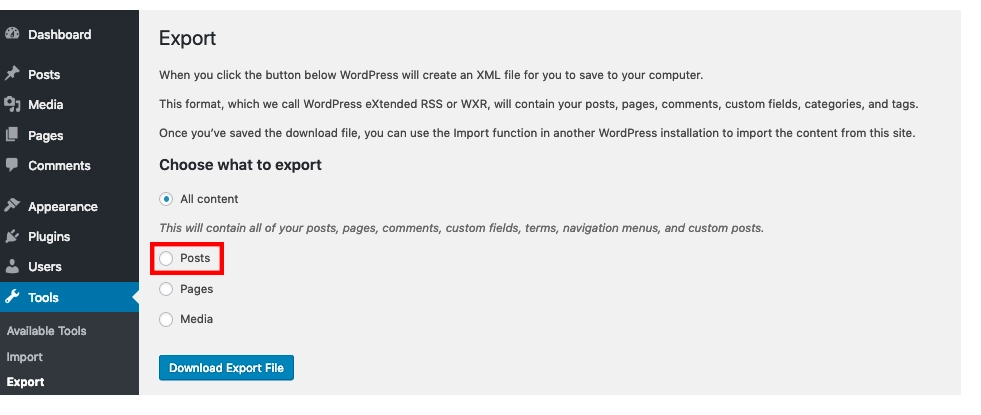 02. And then to import comments onto your Wix site, head over to the Hyvor Talk console and navigate to the "importing and exporting" section.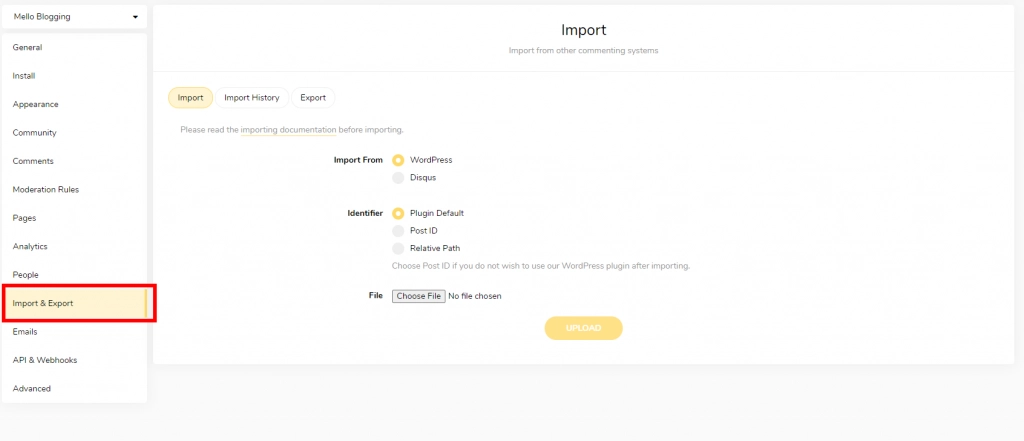 03. Go to the Import section and choose WordPress as the "Import from" option.
04. Select the exported file and click Upload.
Following are some important tips related to importing and exporting:
Important: Refer to the official support article for additional information about importing and exporting.

Exporting and importing may take some time to complete according to the length of the queue. Allow a day for the process to complete and you are informed when it completes via email. (Usually, the importing process does not take more than a few minutes.)

When importing comments, make sure to select the correct page identifier type as it will make the comments load correctly. The IDs can be set for posts and pages and this helps you load comments of versions of the same post into one place.
Note: When importing, you can select what type of ID to use with your platform and need (Post ID, Relative Path). In this situation, since we're importing on Wix, you will need to use the 'relative path' and set up a page identifier like this in the embed code.
Wix Customization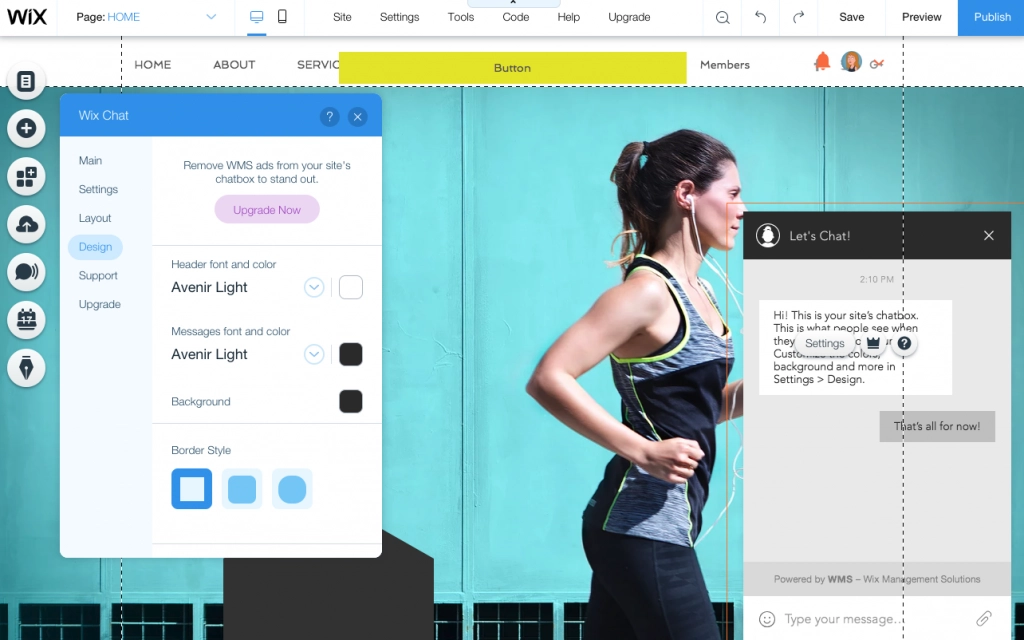 Wix is arguably the best CMS platform that features the classiest templates out there. They feature a collection of over 500 free templates that give your site a professional, cleaner, and modern look with simple designs and animations. Everything is categorized and organized in Wix's official template market and users always find a template that fits them perfectly. Also, the drag-and-drop editor can do you wonders, especially if you are a beginner in the whole webmaster scene. This can guarantee you can achieve the perfect desktop website you want. Another strong side of Wix's design and customizability is the mobile versions of sites and their optimization. They work better than most platforms and it is the reason why over 22 million mobile sites are built on Wix.
While WordPress is famous for the massive number of templates it has to offer, Wix is famous for its simplicity and minimal editor in the theme department. Even though the chances of you finding a really good-looking template is high on WordPress, you will still need a ton of customizations for it to work. Most of these customizations aren't done visually in WordPress but through coding. This puts Wix way ahead as Wix allows you to adjust the layout, text, images, galleries, colors, menus, and animations, all through visual means. The simple editor alone helps Wix take the crown not only by being visually responsive and modest, but also by being extremely user-friendly.
Moreover, the Hyvor Talk commenting plugin goes really well with almost all the themes Wix has to offer. Hyvor Talk's extreme customizability and aesthetic color and emoji options will make things even better for both you and the visitors.
Find out more about Wix customization through this official guide.
Finishing Up
The final touch to finish off this extensive process and a must-have feature for all blogs are Google Analytics. Google Analytics allows you to view in-depth data about your audience, such as where they visit from, how often, etc. This really helps in improving the quality of your content over time and understanding your SEO settings for better results. It will be the final step to finishing up your migration process and you are set up with everything you need for a million-dollar blog.
The process of configuring your Google Analytics for your site is as follows:
01. Set up a new Google Analytics property in the Google Analytics portal.
02. You are required to enter some additional info about your websites such as the website name, URL, time zone, and industry category.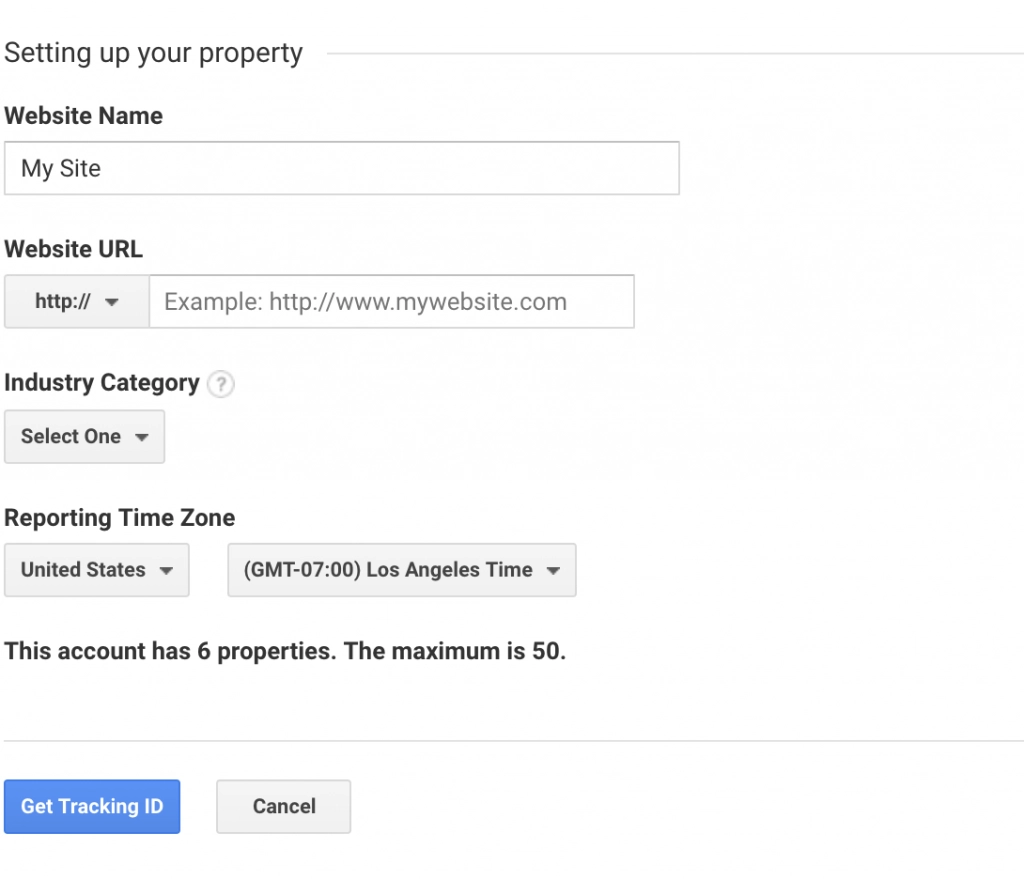 03. Once the property is created, you will be directed to the tracking code page. Copy it to the clipboard.

04. Head over to "Marketing Integrations" in the main menu and select Google Analytics.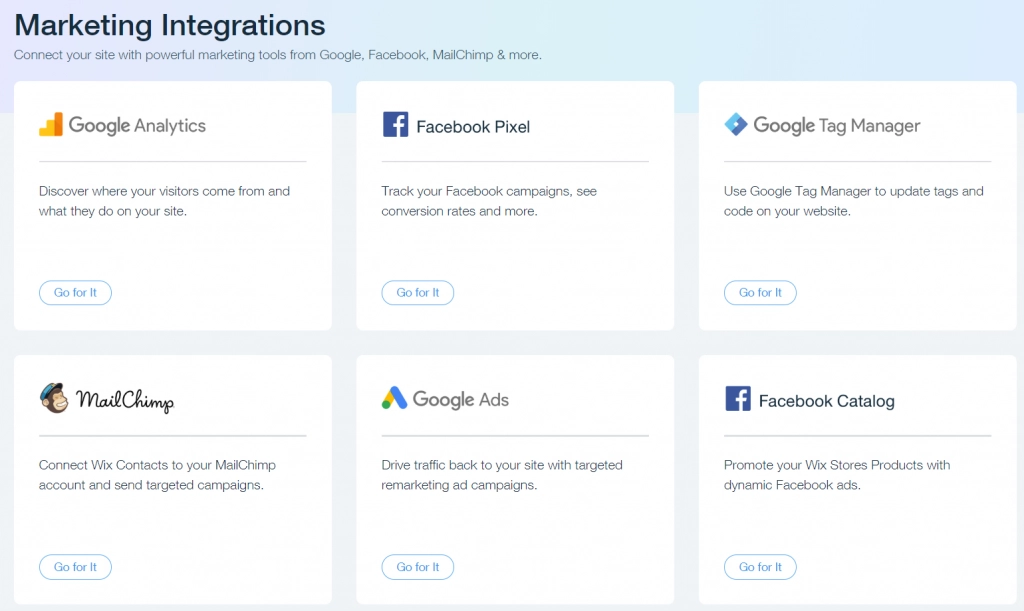 05. Click on "Connect Google Analytics" and paste the previously copied Google Analytics ID.
06. Check on the IP Anonymization box to ensure that Google does not save your site visitors' IP addresses and click save.
---
Congratulations, you are now the proud owner of fresh and a simpler blog! Following this guide will help you migrate successfully over to Wix from WordPress while retaining all your posts and comments. You can now go wild with the plenty of design choices Wix offers you. However, keep in mind that Wix's SEO is a bit weak compared to WordPress, and try to improvise to overcome this with the content you post.