Spam and blog comments have a long relationship. While we cannot completely prevent comment spam from any site, there are some simple tips that we can use to reduce comment spam on any WordPress site.
In this article, we will learn what is spam, ways to decrease spam, and software out there to detect spam.
What Is Comment Spam?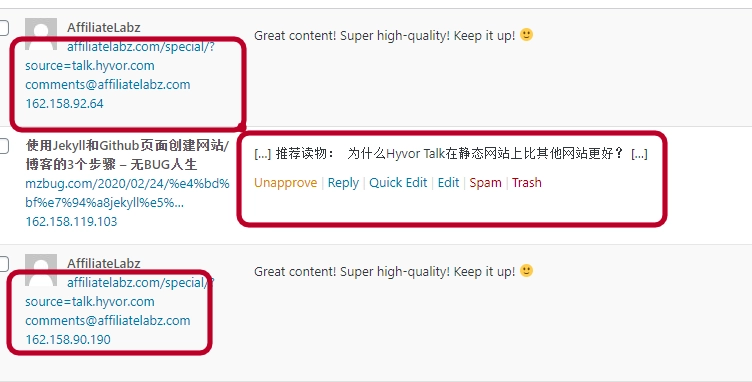 Based on common sense, you already know what is comment spam. When you visit a blog, you see comments that are either:
self-promotional

containing malicious links

containing irrelevant content and links

duplicated
Those are spam comments. As you can see in the above image, some people post encouraging comments just to get a backlink or traffic to affiliate links. Both types of comment spam can harm your site. When the first comment has normal encouraging content, WordPress will link the user to that spam link, which can hurt your SEO.
Risks of Having Spam Comments on Your Blog
Spam comments are usually irrelevant to your WordPress blog content. So, when your readers see those comments, it makes your site unprofessional. You can lose the trust of your users.
When your website is filled up with spammy comments, your real visitors can get discouraged from creating valuable conversations. And, when the comment section is filled up with so many spam comment links, your WordPress site UI can look a bit awful, which can lessen the value of your website.
These factors can hurt your SEO. Linking to irrelevant sites, and having irrelevant keywords on the page can take you to a lower SERP position.
Tips to Stop Comment Spam on Your WordPress Site
In WordPress, settings related to comments are handled in the Settings -> Discussion page. The first few tips for preventing comment spam are based on the settings on this page.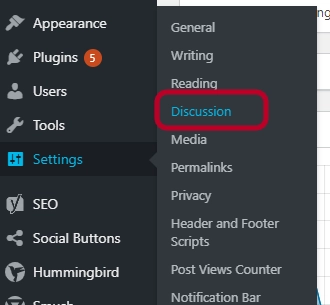 1. Restrict Comments to Registered Users

This is the most effective way to reduce spam on your WordPress blog. When all users are required to have an account created to comment on your site, you'll see fewer spam comments because spammers don't like to register for an account for spam when there are many sites that accept guest comments.
However, this approach isn't a good idea!
Disabling the guest commenting feature can also discourage real readers from commenting on your site. Therefore, if you have a small site with only a few users registered, it's better to keep guest commenting turned on. When it grows, you can make a decision based on how much spam you get.
2. Automatically Close Pages
One main objective of spammers is to share a link via blog comments. To look more professional, they search for related articles on search engines.
For example, they search for "internet marketing" visit several blog posts and leave a comment with links. If you automatically close blog pages after a certain period, spammers cannot comment on older pages.

Usually, bloggers close the comments section for posts after 7, 15, or 30 days.
3. Keep Comments for Manual Approval
If spam comments get serious, you'll need to enable manual approval. So, every comment will require your approval before getting published. This is the best way to remove spam. You can completely eliminate comment spam using this technique.

There's a serious disadvantage to this method. If you get a lot of comments on your site, you'll need to spend hours and hours reading all the comments and approving them. Also, you won't be able to build real-time discussions on your site.
4. Reduce The Number of Links per Comment
Most spam comments contain several links. So, it's better to hold comments that contain more than 1 or 2 links.

You can even set the number to 0 and hold all the comments that contain links.
However, having no links doesn't mean that it's not a spam comment. Sometimes users may post links with spaces (Ex: spam . site . com). Those aren't counted as links by WordPress. But, visitors can still recognize them as links, copy them to the address bar, and visit. They are still spam!
As I mentioned earlier, fighting against spam isn't easy.
5. Restrict Words to Prevent Comment Spam
WordPress offers a feature to hold comments for moderation or trash comments when certain keywords are matched.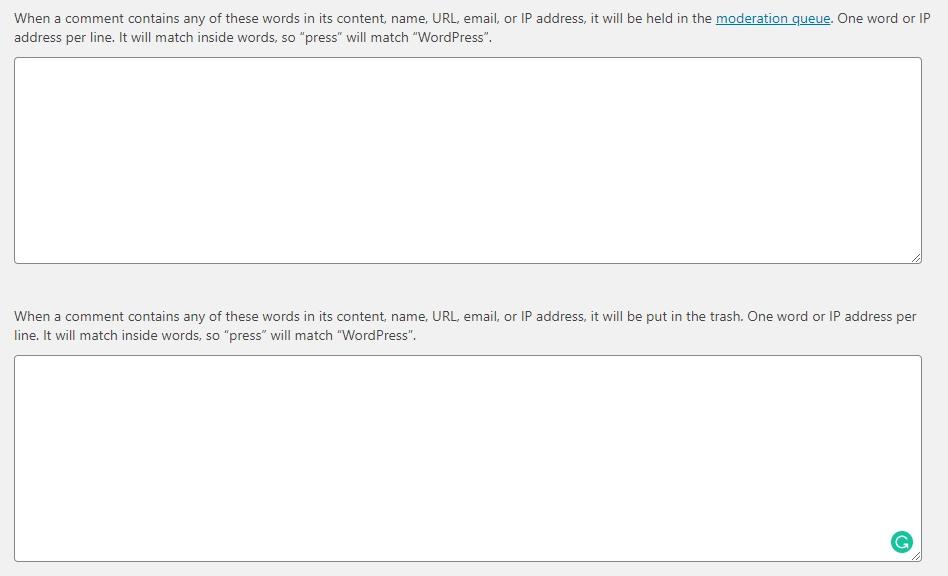 Here you can add a list of words and IP addresses. This feature can be useful sometimes. But, note that, "press" will match "WordPress". So, you have to be careful when adding words.
6. Set up Google Recaptcha to Prevent Bot Spam
Not only real users but also bots can publish spam comments on your site. If someone sets up a bot to publish comments on your site, it can insert thousands (even millions) of new records into your database, which can result in downtime. You'll need to do a lot of work and spend money to recover your WordPress site.
The easiest way to prevent bot spam is by using Google Recaptcha. This awesome guide by WPBeginner thoroughly explains how to add Google Recaptcha to WordPress comments.
7. Use Akismet
Akismet is the most famous WordPress spam prevention plugin. However, it's a paid tool unless you don't earn money, have ads, and promote your business on your blog.

8. Switch to Hyvor Talk
Forget about the payments for anti-spam plugins and get awesome commenting features on your blog with Hyvor Talk.
Hyvor Talk is a commenting platform, not a plugin. And, we offer a WordPress plugin to connect WordPress with the platform.
So, why Hyvor Talk?
Built-in spam protection: No additional cost for spam protection. There's a built-in spam protection that detects spam comments based on multiple factors.

All moderation features: Everything we did above is possible with Hyvor Talk. You can do much more in moderation, such as setting custom rules for comments.

Importing from WordPress: Don't lose your comments when migrating from WordPress comments to Hyvor Talk. See how to import comments from WordPress.

Real-time comments: WordPress comments aren't real-time. With Hyvor Talk, you can have real-time discussions with your users. It's a great way to convert visitors into clients.

No more weight to your database: The major reason for large WordPress sites for migrating to a third-party system like Hyvor Talk is that using WordPress comments (or a plugin that extends it) adds a huge weight to the database. It can hugely slow down the WordPress website. When using Hyvor Talk, there are no such issues. All the data is saved in our databases - they are safe. Everything is fast!

Reactions plugin: This is an additional plugin. You don't have to search for a reaction plugin for WordPress. Hyvor Talk comes with one.
See this guide to install Hyvor Talk on your website. Don't forget to visit our homepage to learn more about the platform and its attractive features.
Conclusion
Comment spam is something you'll definitely experience when running a blog on WordPress. The more traffic you get the more spam comments you'll get. So, it's important to take action to prevent spam to avoid making your site an unprofessional, annoying site. And, even bot spam can crash your server.
To prevent spam, you can use features in the WordPress dashboard, or simply switch to a third-party solution like Hyvor Talk.
Let us know your favorite method of preventing comment spam on your WordPress site in the comments!