Have you seen a comments section below a blog post you read? (If you haven't just scroll down this page and take a look). As you would probably note, for most blogs the comments section is provided by a service provider. Such services allow users to comment on a website and moderators to moderate the comments easily. This is the basic idea of a commenting platform (aka commenting systems). There are more advanced commenting platforms, like Hyvor Talk, that provide more advanced features. When it comes to commenting systems, you'll find that there are many out there. They are also called commenting platforms, which add commenting functionality to websites. The majority of these websites are either blogs or news sites that post content.
Just over a week ago, I wrote a blog post titled, 6 Famous Websites with Commenting Platforms. It showcased just 6 popular websites out of the many that had commenting platforms. And, before that blog post, I had the pleasure of writing — 5 Reasons For Enabling Comments. It would be a prerequisite for you to read both posts since it does focus on some very important points as to why having a commenting system is important.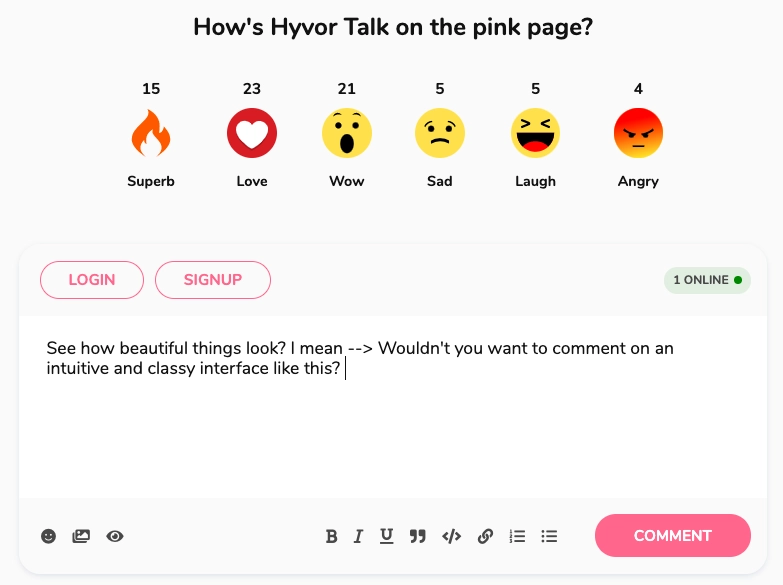 A staple of any commenting system is a text comment box where users can generate their own comments and leave a specific piece of content on them. If you're a sucker for eye candy as shown in the screenshot above, you'll realize that there are quite a few colorful features et al. on these platforms. 
3 Ways a Commenting Platform is about Interaction
Seth Godin may not want to have anything to do with an addition of a commenting platform, but then he's an author who already had a following in the offline world. If you're starting out trying to build your authority online, the last thing you want is to put so much effort into a blog post and not have anyone interact with it. It's tantamount to selling a Nutella-infused Vanilla Cone Ice Cream with no one to buy it. Who'd want that? 
1. Social Proof equals FOMO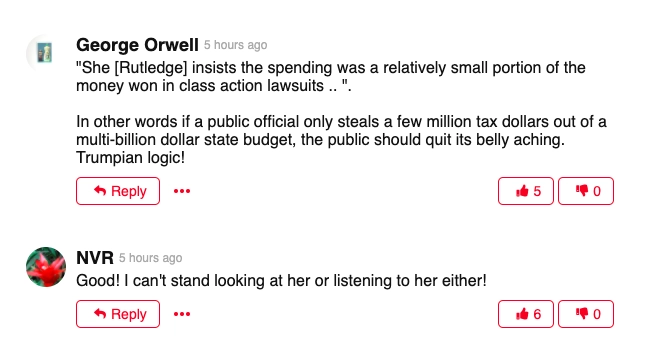 You know what social proof is by now. But if you don't, here's a small definition: a psychological phenomenon where people assume the actions of others in an attempt to reflect correct behavior for a given situation. From a psychological perspective, you'll realize that having your input in a comments section is very much like FOMO. There is an assumption that surrounding people (in this case, those that comment) possess more knowledge about the situation.
The above screenshot, which is from the Hyvor Talk commenting platform, is from the article titled, The new look of the Rutledge Report: No Rutledge, which is a post that begs opinionated viewpoints. While there are no replies to the original posts by George Orwell and NVR, both comments have got upvoted. What does this mean? It simply means that there is consensus and agreement on the position of the article, and offers the author an indication that maybe more content based on that route is advisable.
2. Google is the All-Seeing Eye of Sauron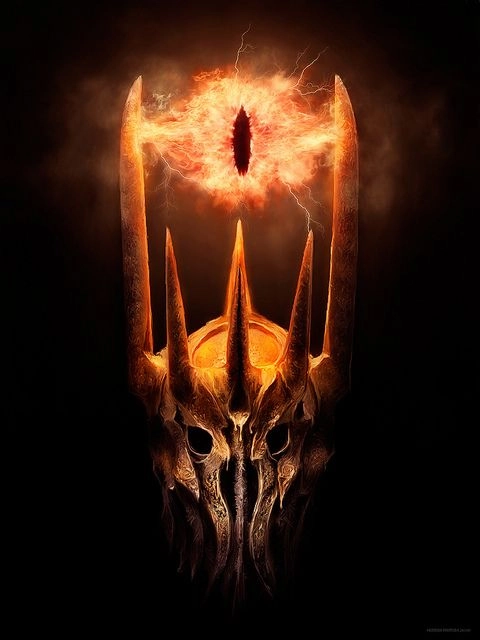 All sites are looking to gain a better ranking, and one truly effective way to do this is to get Google to check your site out along with its comments. Matt Cutts of Google went on to say in 2011 that Googlebot "Now has the ability to execute AJAX/JavaScript to index some dynamic comments."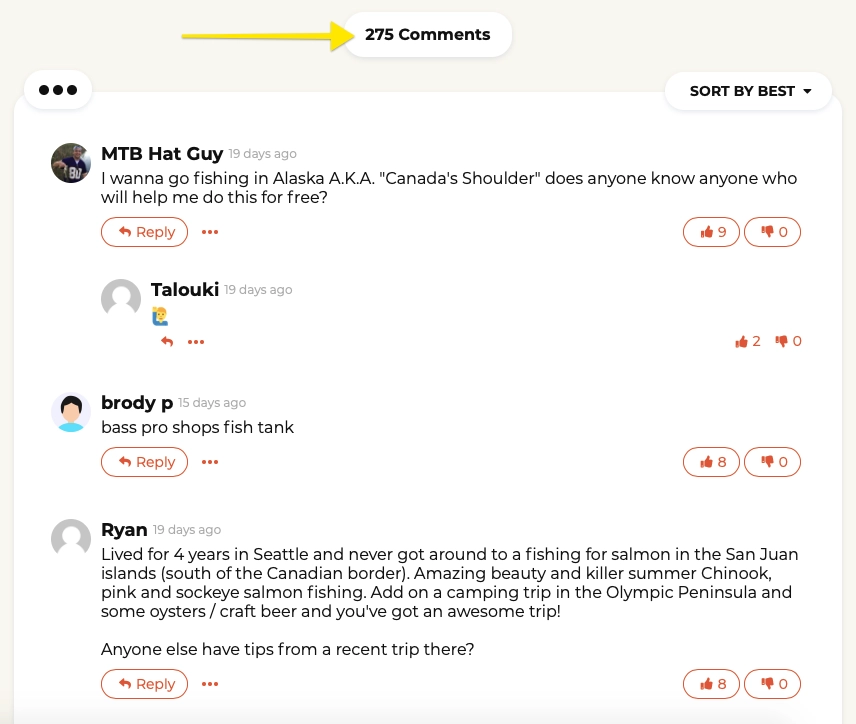 Remember that blogs with their respective commenting platform, are hard-working SEO machines. Blog content gets crawled and indexed more quickly than static pages. This is a great thing and it shows that having comments under your blog post will only help it gain more visibility. High-quality comments can help your efforts (as shown in the screenshot above), while low-quality comments can drag down the quality of your site. So, site owners should moderate blog and article comments heavily and ensures only high-quality comments that add value are published on a site.

Let's talk a bit about indexing and indexable content since it is important for this topic of commenting. What you really need to do is make sure the comments you allow add value to the post. This is why it is critical to moderate heavily. It's important to understand which pages Google is indexing, and which areas of a page are indexable. And for sites that allow user comments, many don't realize how those blog or article comments contribute to the overall quality of each page, if they are indexable, and if those comments are actually associated with the page at hand. Blog and article comments help make up the content on the page. Don't allow low-quality comments on your site (especially spammy comments). Spammy comments getting indexed is a really bad thing. 
3. A Logical Commenting System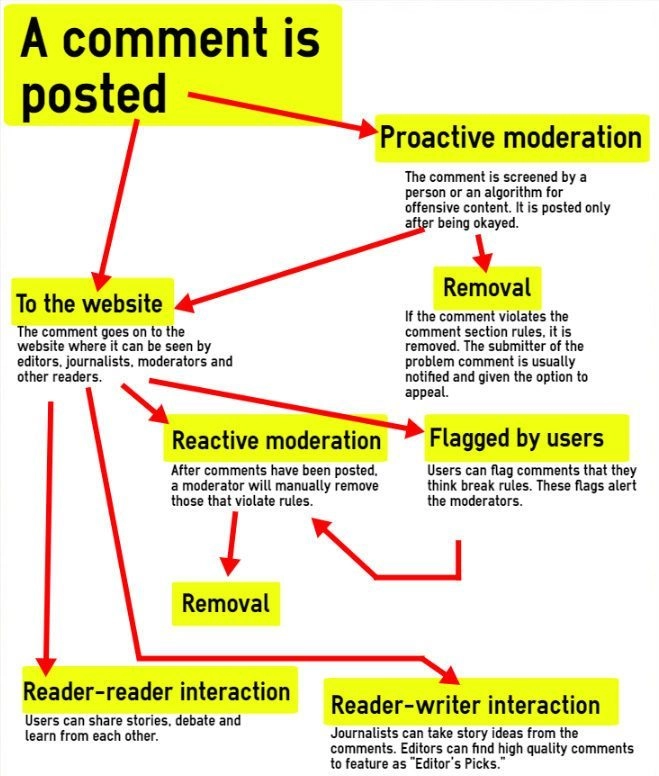 Commenting is expensive, time-consuming, and filled with effort, which is why choosing a proper commenting system that takes the pain out of commenting and puts pleasure into it is important. As the diagram above shows, it is important that such a logical process is followed. Remember that when it comes to commenting capabilities, it is mandatory that you engage an audience, so that the content on comments is more memorable and more likely to be shared. Comments are also an easy metric by which content creators can measure the performance of their work and how well it is received. 
In Conclusion
Commenting has been an exercise that has been in existence as long as there has been human interaction. Things have evolved as you would expect and the online landscape has changed, too. Open Diary is an early example of social networking software. It was an online diary project that allowed contributors to remain completely anonymous while still interacting with readers. The quote from the above Open Diary article, "...reader comments really helped them out when they were in a tough spot..." shows how important interactions are, and that being helpful is finally the ultimate theme of commenting.