There's a reason why interaction wins: All of us communicating together is better than one. There are a lot of advantages to creating your own circle and integrating a commenting system, and these 5 Reasons For Enabling Comments will show you why you should, too. There is a consensus here, and no dispute when it comes to the idea portrayed in the first sentence. At present, there are 12 commenting technologies serving 618,644 websites. Of course, there is a myriad of options out there each with its own pros and cons, but let's see what makes Hyvor Talk unique.
Why the Market Leader isn't Synonymous with Excellence
The market leader at present is Facebook Comments with Disqus lying in second, and like most market leaders, it's because of visibility that they own market share. It's rare because they are doing a great job. We wrote 19 Reasons to Move Away From Disqus and it is a post that is not only based on conviction but also facts. Instead of dedicating one entire paragraph to Disqus, we dedicated one entire post and achieved a certain degree of virality as well.
Why was Hyvor Talk created?
Like all great inventions, it was to solve a problem: New Commenting Platform Solution, Hyvor Talk, Is Fast Changing How People Interact With Blogs. The creation of this forward-thinking plugin was not something that was competitor-driven, but rather customer-driven and technology-driven. Having a comment box and embedded comments is important. The proof of the quality of this product can be seen in the steady growth of our customers. We are north of 1,500 users as of today. 
The Power of Small 
As a micro firm, Hyvor Talk is small and is supported by a team of tech and marketing enthusiasts who want to offer something better. There is constant development and progressive features being implemented. Yet the greatest USP that a small business like Hyvor Talk has is the fact that we are closer to our customers, and are in a better position to hear feedback, and observe preferences that are evolving. 
So, what's Special about Hyvor Talk?
One of the most important facts that we have to accept in this digital era is the importance of privacy. Hyvor Talk is built on a foundation of privacy, and is incredibly secure. We will never share users' data with anyone; such is our dedication to privacy, we have migrated to using Plausible from Google Analytics on this blog.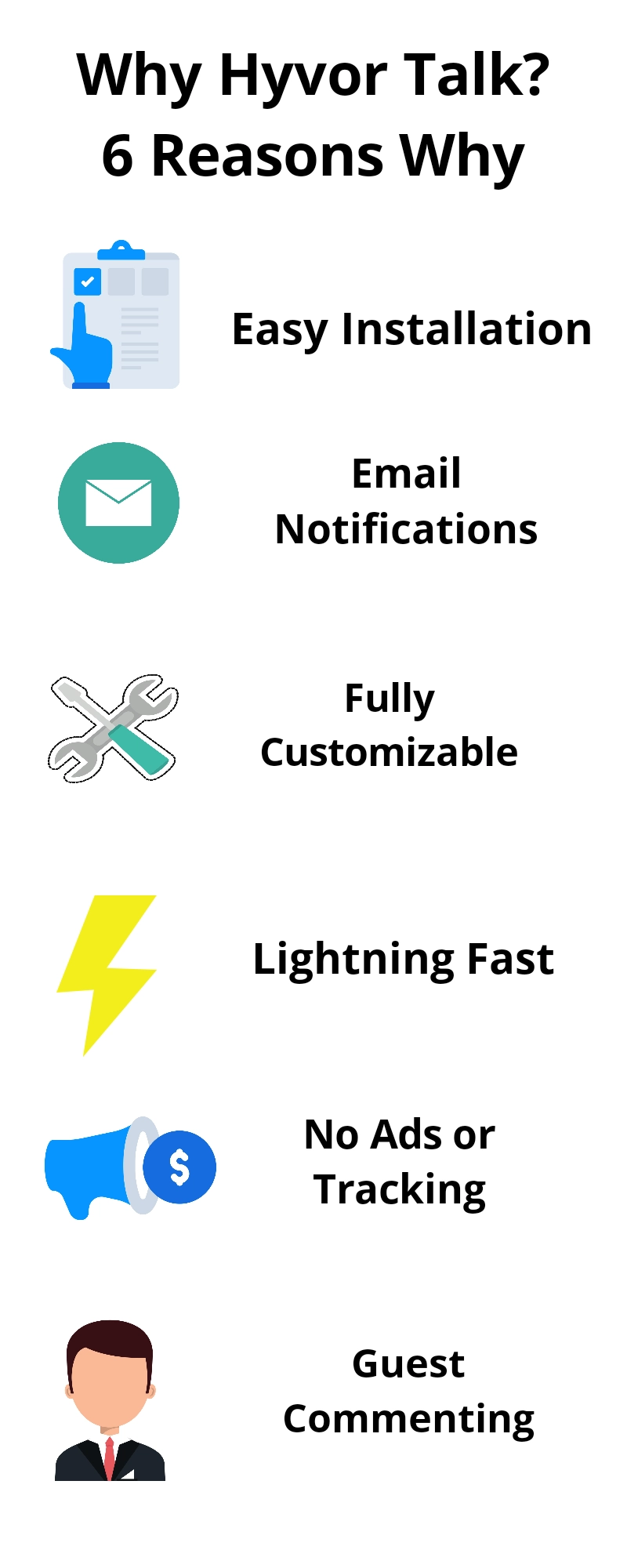 To know more about privacy and the issues aligned with it, please stopover at the following post and read — Privacy and Data Protection Issues with the Adoption of SaaS.
Hyvor Talk is intuitive and does what everyone else does better — We believe this, and so do our customers. Besides the 6 central reasons to use Hyvor Talk, we offer a seamless and buttery smooth tech experience.
Real-time commenting, promoted content, centralized management are part and parcel of the Hyvor Talk experience. There are great moderator tools in the plugin as well that allow you to highlight certain comments, 'Like' comments, and upvote and downvote.
In Parting...
In parting, there's one theme that has always been our focus and that is offering a superlative user experience. The ultimate barometer of what is right depends on what your audience thinks. Customer service is at the forefront of excellence, and this something that we will push for consistently.