In the early 2000 era when graphic design was a thing and was regarded as being really cool, I learned how to use Macromedia Dreamweaver and Macromedia Flash. This was a time when these skills were important to break into the field of graphic design. There was a steep learning curve regarding these two tools, and it wasn't easy.
Things have changed drastically today. There is a NoCode Revolution afoot. An interesting podcast called My NoCode Story with Ayush gives a thoughtful indication as to why more and more people are opting for No Code tools. The reason is digital empowerment, democratizing creation, and empowering the layperson.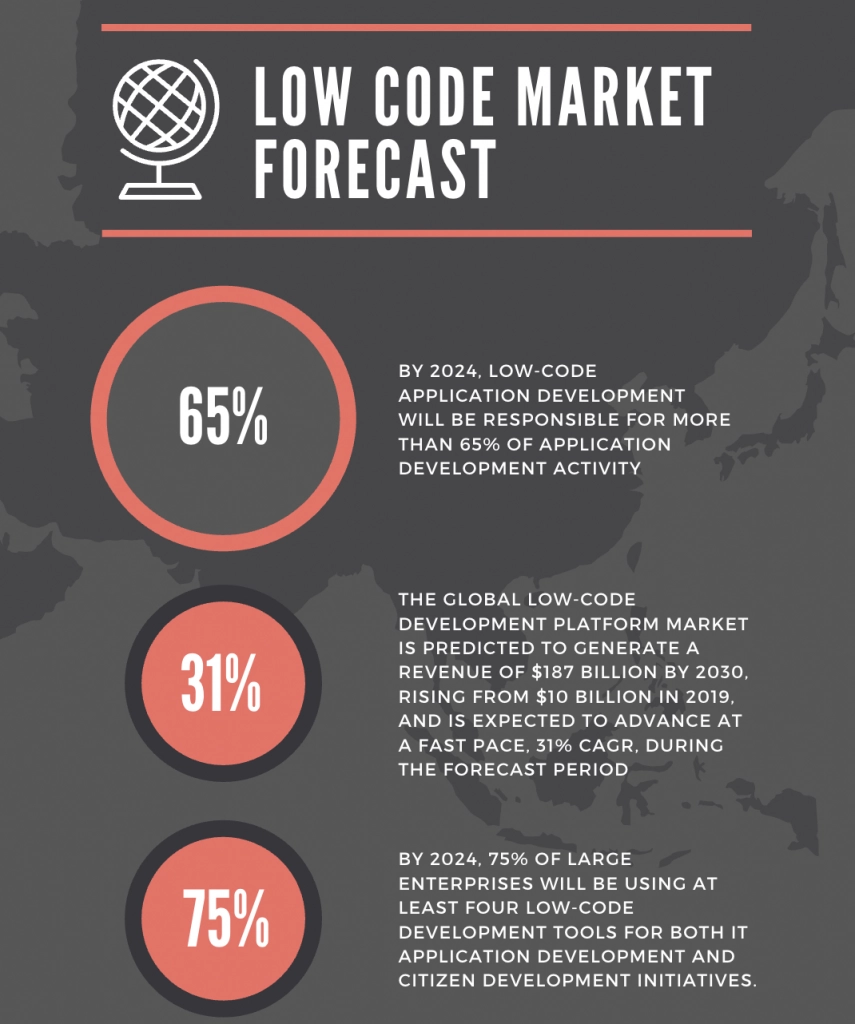 Initiatives like 100daysofnocode speak of the myriad of reasons why more and more people are going No Code. The 21st century has pushed the potential of the online world far and wide. The internet helped people create and connect, but No Code helped create and connect no matter what they know. There are only 1 out of 400 people who know how to code, and current initiatives like #100DaysOfNoCode are helping to give birth to a new crop of citizen developers.
There are plenty of No Code tools out there, and we, at Hyvor Talk, use quite a few. The infographic created on Canva above shows a few statistics of low code market forecast. That said, we are firmly ensconced in the No Code part of the IT world, and focusing on Bubble.io, which is a game changer today.
(I mean, you can create an app on Bubble.io without knowing the code!)
20 Reasons To Use Bubble.io
Personally, I am excited about Bubble.io since it is a fantastic option for content creators like myself. I'm mainly excited because as a writer, I can actually dare to venture into areas of app design without knowing code. WordPress was a godsend thanks to helping people like us express ourselves through the written word. But platforms like Bubble.io have just pushed the envelope by making areas that were specialized more accessible.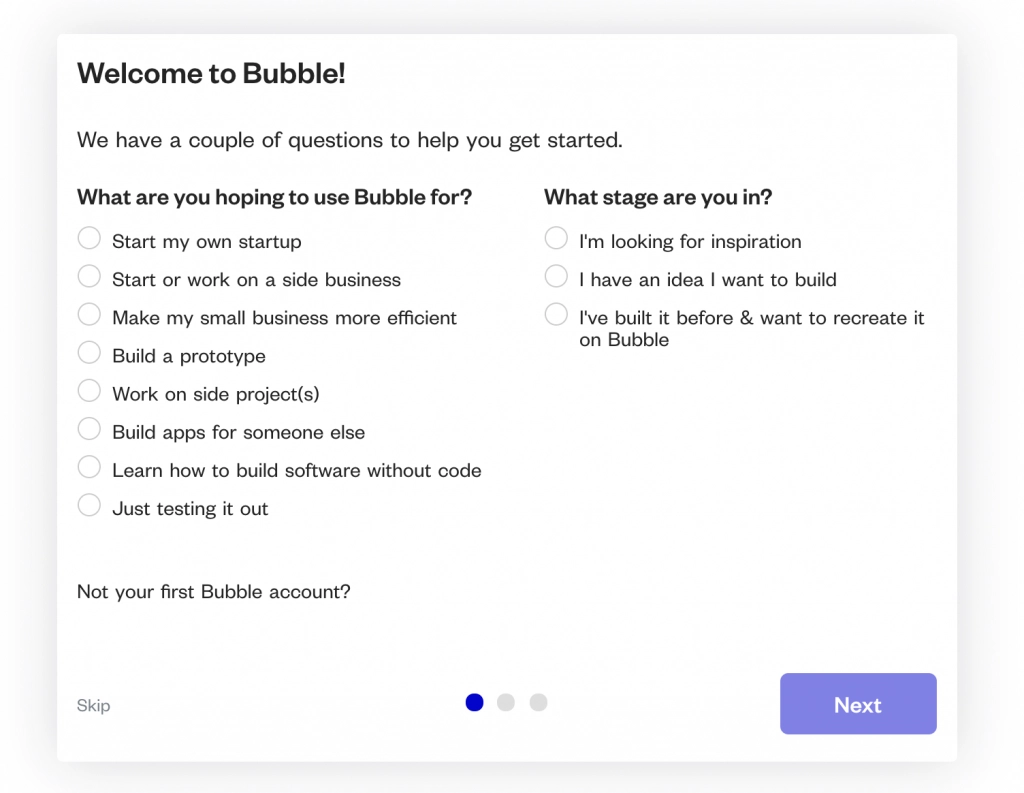 Starting with Bubble.io is a cinch. Just took at the Startup Page above. There are more than 20 reasons why Bubble.io should be in your arsenal of No Code tools. But here are the 20 reasons we, at Hyvor Talk, love this platform.
1. Create A Website (Or Landing Page) With No Code
You'd probably want to know why you'd choose Bubble.io over a CMS like WordPress to create a website.
There's no hate on WordPress here; I mean, this blog runs on WordPress, and it's a fantastic tool.
Bubble.io is not an off-the-shelf solution like WordPress but instead allows you to create your own solution from scratch.
Did I pique your interest?
The above tutorial will walk you through a high-level overview of how things work along with a demonstration of using Bubble.io to create the landing page.
2. Data Visualisation Is Possible
Data visualization is a hot topic.
This is true if you are in a data-centric business or industry. Consider the whole domain space of AI, ML, and forecasting as an example where the visualization of data is very important.
There is a vast marketplace of plugins that can make your life easier, and produce some exemplary visualizations of your data on Bubble.io.
ApexCharts is one example. It helps developers to create beautiful and interactive visualizations for web pages and apps.
There are plenty of data visualizations options on Bubble.io; and, this is a great read.
3. No Limit On Users, Traffic Volume, or Data Storage
This is a huge advantage that Bubble.io offers today.
Based on the number of workflows present, a landing page on Bubble.io will be able to handle at least 100 visitors.
And, there's no payment involved.
4. Minimalism Is A Theme
Minimalism is a movement, which has decided to become eternal and stay around for the long haul.
When it comes to web development and web design (or, any design, for that matter), minimalism is the way to go. Just read this article on how when you focus less on design, you put more focus on a website's intent.
Bubble.io is serving up some minimalism for all. Just look at its workspace in the screenshot above. Everything is clearly laid out in a logical fashion with no room allowed for clutter and confusion.
5. Drag-And-Drop Functionality
Drag-and-drop editors are more commonly referred to as WYSIWYG HTML editors.
The advantages of such editors are myriad. Not only is this feature oozing simplicity, but it is also responsive and accurate.
The above short video capture shows how Bubble.io's easy-to-use UI allows such easy maneuvering of elements.
What's not to like?
6. A Great Marketplace Of Plugins
Plugins add additional elements, events, actions, and data sources, and Bubble.io has a marketplace (over 300,000 actually) full of them.
Click through the link in the caption above to enter Bubble.io's marketplace of plugins. You can also install community-created plugins in addition to Bubble-built plugins.
Choosing a template is easier than choosing one on WordPress. (But, shhhh.)
There you have it. A simple install of the Canvas Base Template straight onto the editor to play around with.
7. Create An App With (You Guessed It!) No Code
There are plenty of No Code tools and many that can create apps as well. This isn't a fad. This is a trend.
Creating an app is the main redeeming factor of Bubble.io. You can create an app while being completely ignorant about knowing how to code.
The video below shows you how to do exactly that: create an app.
Gartner projects that by 2025, 65% of all app development will be done on No Code Development Platforms.
While Bubble.io forms part of the narrative with regard to empowering citizen developers, remember that this fantastic tool can be a part of an established business as well.
No Code platforms like Bubble.io can easily be used in business processes like education systems, service chatbots, retail customer experience management, project management, and data analysis.
8. Get Agency Support
Bubble.io has a great ecosystem of support.
Just like how WordPress has freelancers, consultants, and developers who can assist you with any WordPress-created shenanigans, Bubble.io can sort out your project.
This is important since Bubble.io is part and parcel of the creator economy, and you can tap into some serious talent to get your app figured out. Sounds like a plan?
Read about the agency plan here.
9. You Own Your Data
Data privacy is becoming an important issue every year.
We wrote about Privacy and Data Protection Issues with the Adoption of SaaS and A Think Piece On Privacy And Big Data.
Bubble.io does not own your data and wouldn't lay claim to it either.
Here's a good read on why No Code tools are the best when it comes to creating apps. There's reduced shadow IT, less paper, and regulatory compliance.
10. Dedicated Servers
Despite what you hear, dedicated servers are an advantage.
Dedicated hosting is the most advanced and powerful hosting solution you'll find on the market today. It provides you with maximum reliability, flexibility, and security.
It allows you to rent an entire physical server from the hosting provider. And it won't be shared with any other customer.
Bubble.io has got you covered in this area as well.
Still not convinced about dedicated servers? Here are 5 advantages of dedicated servers for your business.
11. Language Support
The world is becoming more global, and chances are your neighbor probably speaks another language or two.
Now picture your online neighbor. Well, you get the picture.
If you are running a business or are planning to, depending on the market, you'd better get your products and services speaking the language of your audience.
Did you know that 4% of consumers are more likely to buy a product with information in their own language?
Think about it: you are more likely to buy a product if the marketing message is in your own language.
12. Great For MVP
An MVP or a Minimum Viable Product is the early development of a product that can be pushed out to users so that they can provide feedback on it.
It is super important since developers can iron out kinks in the product and offer a better and much-improved iteration of it.
The sooner you can find out whether your product will appeal to customers, the less effort and expense you spend on a product that will not succeed in the market.
As the video above shows, Bubble.io helps you create an MVP with ease.
13. Community Support
It's true that most No Code tools like WordPress offers community support. But, then again, WordPress has been around for eons (in online years at least).
With many developers and freelancers plus agencies jumping on the Bubble.io bandwagon, you, as a new user, can get access to much-needed support.
14. API Support
API is the acronym for Application Programming Interface, a software intermediary that allows two applications to talk to each other. Each time you use an app like Facebook, send an instant message or check the weather on your phone, you're using an API.
Bubble.io has API Connectors that can assist you.
Not just one, but many.
And, you can customize how the plugin will be shown quite easily.
The above tutorial shows an easy-to-follow video on how to connect APIs to Bubble.io
15. Custom Logic
Custom logic is logic (or intelligence) that you create yourself and add to your design. 
Bubble.io offers exactly this. Have a read of this article, which shows you how you can determine what your app does.
16. SEO Customisation
SEO is everything today. If you don't rank then you're dead.
No Code tools or any online tool that deals with content on Google needs to have the facility of being SEO friendly.
Wix got some serious flak for being super-hard to rank. Wix had a terrible URL structure and had no facility to add alt attributes.
That said, other No Code tools probably learned a lesson from the past mistakes of others and ensured that they don't face the ire of the SEO police.
Bubble.io does not have any such issues and is SEO-friendly.
17. Integration With Various Services
It's all connected online.
And so is Bubble.io. Just like nearly all the other No Code tools, Bubble.io also serves up a great many integrations.
The usual suspects, whether it's Mailchimp, Google Maps, Zoom, or Slack, are featured.
There's also Hyvor Talk on Bubble.io, and stay tuned to this space where we will tackle a blog post on how to create a site on Bubble.io.
18. High-Speed Query Processing
The performance and scaling of a Bubble app are heavily impacted by how the app is built. The fewer data being fetched, the faster the performance: a page often needs to fetch some data on page load; a page that fetches 100 things on page load will load faster than a page that fetches 1 million data items.
Bubble.io tries to run queries on the database, resize images on the server, tell the browser to cache Javascript, etc. as appropriate.
If you're running a query that feels relatively simple and retrieves a relatively small amount of data that's running very slowly, check if there is some optimization that can be done to the app's data hierarchy or queries.
19. AI Powered
The Bubble Peltarion integration makes AI a breeze. The Peltarion platform is an intuitive AI tool where you can easily build, train and deploy deep learning models without the need to write a single line of code.
Check out the news on the Bubble and Peltarion integration above in the caption.
20. Low Learning Curve
This is the main advantage of No Code: a low to a non-existent learning curve.
There's a reason why Bubble.io has a great many positive reviews.
With an intuitive interface and a responsive design, this is a tool that has and will continue to contribute vastly to the creator economy.
The best thing you can do is to give Bubble.io a go.
3

* How to add a commenting system to Bubble?
Conclusion
The most disruptive trend of 20201 is no code. Competition is increasing and digital transformation is powerful leverage for companies that aim to stay relevant. Additionally, in a business world where everyone is time-poor, low code and No Code are beneficial. 80% of organizations state that citizen developers have given IT departments more breathing room. No Code tools like Bubble.io has changed the online game considerably. With the ability to create forms or data-collection apps, apps that orchestrate business processes and workflows within apps, and apps that replace paper, email, or spreadsheets, the future of No Code is sure to evolve and expand.