Are you wondering what is a personal blog and how you can start one? In this blog post, we will explore the concept of personal blogs and the benefits of starting one.
What is a personal blog? What is personal blogging?
A personal blog is an online platform where individuals can share their thoughts, experiences, and opinions with a wider audience. It is a space where writers can express themselves in a way that is unique to them, and connect with people who share similar interests or experiences. Personal blogs can cover a wide range of topics, from hobbies and interests to professional experiences and personal stories.
Personal blogging is mostly a self-expression
At its core, a personal blog is a form of self-expression. It is a space where writers can create content that reflects their personalities, beliefs, and experiences. Unlike social media platforms, where content is often fleeting and quickly forgotten, personal blogs allow writers to create long-form content that can be revisited and shared over time. Personal blogs can take many different forms, from written blog posts to photo essays and podcasts.
Personal blogging helps you build an online presence
One of the most significant benefits of starting a personal blog is that it allows writers to build an online presence and establish themselves as experts in their chosen fields. By regularly creating content and sharing it with a wider audience, bloggers can develop a following and build their reputation as thought leaders. This can be especially valuable for individuals looking to establish themselves in a particular industry or field.
Personal blogging helps you connect with peers
Another advantage of starting a personal blog is that it allows writers to connect with like-minded individuals from around the world. By sharing their experiences and perspectives online, bloggers can attract readers who share similar interests and engage in meaningful conversations. This can be especially important for individuals who may feel isolated or disconnected from their local community.
How to create a personal blog?
Creating a personal blog is easier than ever before. In this article, we will provide a step-by-step guide to help you get started.
Choosing a blogging platform
The first step is to choose a blogging platform. There are many blogging platforms available, including Hyvor Blogs, WordPress, Blogger, Medium, and Wix. Each platform has its own set of features, benefits, and limitations. Take some time to research each option and choose the one that best suits your needs.
In this article, we'll explain all the steps using Hyvor Blogs, a blogging platform that suits you very well for personal blogging. For example, platforms like WordPress are Content Management Systems with many features you will never need in many cases. On the other hand, Hyvor Blogs is very easy to set up, requires no technical knowledge, and is designed for one thing only: blogging. You have all the features needed to run your personal blog.
Visit the Hyvor Blogs Console to start a new blog. After creating an HYVOR account, you can create your blog with a subdomain. Your personal blogging journey begins!
Choosing a domain name
Your domain name is the URL that people will use to access your blog. It should be memorable, easy to spell, and relevant to your content. Many blogging platforms offer free domain names, but you can also purchase a custom domain name if you prefer.
When you sign up for Hyvor Blogs, you will get a subdomain of hyvorblogs.io for free. If you are blogging for fun, this is more than enough. However, if you like to build a personal brand around your blog, we highly recommend using a custom domain.
Buying a domain name is very easy. A quick "buy .com domain" or "buy .blog domain" search will give plenty of domain name registrars to select from. Once the domain is ready follow our custom domain guide to connect it to your blog. You can use mydomain.com or blog.mydomain.com for your blog.
Selecting a theme
The theme of your blog determines its appearance and layout. Choose a theme that reflects your personality and complements your content. Hyvor Blogs comes with multiple themes - all for free! Change your blog theme to a theme you like.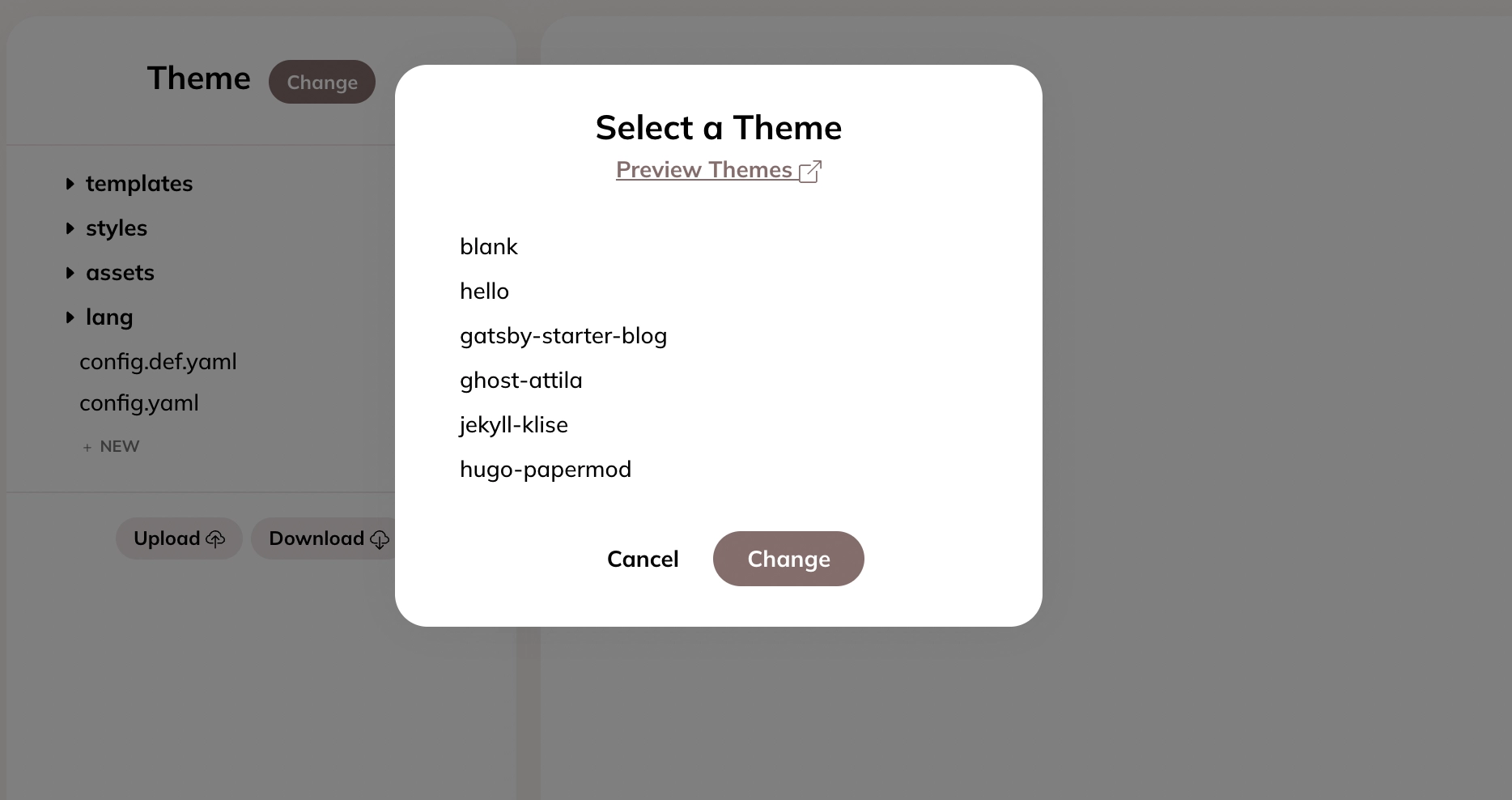 To customize the theme, go to Console -> Theme -> config.yaml. You can adjust colors, font family, font sizes, and more options to reflect your brand and personal blogging needs.
Create Content
Once you have set up your blog, it's time to start creating content. Choose topics that you are passionate about and that will appeal to your target audience. Write in a conversational tone and include visuals to keep readers engaged. Hyvor Blogs supports embedding rich content from your social media, uploading images, and many other options to make your blog posts more appealing to your audience.
See our writing guide to learn more about using rich content and styles in your blog posts.
Promote Your Blog
To attract readers, you need to promote your blog. Share your content on social media, email newsletters, and other online platforms. Engage with your audience by responding to comments and feedback. There are several strategies that you can use to promote your blog, including search engine optimization (SEO), social media, email marketing, guest blogging, and more. In this article, we will explore these strategies in more depth.
SEO
SEO is the process of optimizing your blog for search engines like Google. By improving your site's visibility in search results, you can attract more organic traffic to your blog. SEO involves several factors, including keyword research, on-page optimization, link building, and technical optimization.
Keyword research involves identifying the keywords and phrases that people use to search for content related to your blog. Use keyword research tools like Google Keyword Planner, Ahrefs, or SEMrush to find relevant keywords with high search volume and low competition.
On-page optimization involves optimizing your content to make it more appealing to search engines. Use your keywords in the title, URL, headings, and throughout your content. Use meta descriptions to provide a brief summary of your content and encourage people to click through to your blog. Hyvor Blogs handles all the technical parts. You have to make sure to
Write a description including your keyword

Make sure images are optimized. Compress them if needed

Test with Pagespeed Insights to check for any issues
Link building involves building links from other websites to your blog. The more high-quality backlinks you have, the higher your blog will rank in search results.
Social Media
Social media is a powerful tool for promoting your blog and connecting with your audience. Share your blog posts on social media platforms like Twitter, Facebook, Instagram, and LinkedIn. Use hashtags to make your content more discoverable and engage with your followers by responding to comments and messages.
Email Marketing
Email marketing is another effective way to promote your blog. Build an email list of subscribers who are interested in your content and send them regular newsletters featuring your latest blog posts. Include calls-to-action in your emails to encourage subscribers to visit your blog and engage with your content. See our newsletter guide to learn how to add a newsletter form to your blog.
Guest Blogging
Guest blogging involves writing content for other blogs in your niche. This is a great way to reach new audiences and build backlinks to your site. Reach out to other bloggers in your niche and offer to write a guest post for their blog. Make sure your content is high-quality, relevant to your audience, and includes a link back to your blog.
Comments
Adding a commenting system to your blog can increase engagement on your blog, and help you bring back users to your blog. There are many optimized commenting systems you can use. See our adding comments guide for more details.
How to monetize your blog?
Monetizing your blog can provide a way to generate income from your passion for writing and sharing information. Here are some ways you can monetize your blog:
Use Advertising
Placing ads on your blog can be an effective way to generate income. You can use programs like Google AdSense, Media.net, or AdThrive to display ads on your blog. Some programs pay per view while others pay per click. In most cases, you will need to increase your blog traffic significantly to earn a decent income from Ads.
How to add Adsense to your blog
Publish Sponsored content
Brands are willing to pay bloggers to create content that promotes their products or services. You can approach brands that are relevant to your blog and offer to create sponsored content. Be transparent with your readers and disclose that the content is sponsored.
Use Affiliate marketing
Affiliate marketing involves promoting other people's products or services and earning a commission on any sales made through your unique affiliate link. Join affiliate programs that are relevant to your blog niche and promote products that you believe in and your audience is interested in.
Sell Digital products
Creating and selling digital products like ebooks, online courses, or printables can be a great way to monetize your blog. Identify a problem your audience is facing and create a digital product that solves that problem. You can use a service like Gumroad to sell your digital products. Hyvor Blogs allows embedding content from Gumroad easily.
Sell Services
If you have a skill that others need, you can offer services like writing, coaching, or consulting to your blog audience. Use your blog as a platform to showcase your expertise and attract clients.
Sell Physical products
You can sell physical products related to your blog niche. For example, if you have a food blog, you can sell kitchen gadgets, cookbooks, or food-related products.
Experiment with different strategies and find what works best for your niche and audience. Remember to focus on providing value to your readers and maintaining their trust, as this is the key to long-term success as a blogger.
Conclusion
In this article, we discussed what is a personal blog, how to create a personal blog with Hyvor Blogs, how to promote your blog, and different ways to monetize your blog.
In conclusion, starting a personal blog is a great way to share your ideas, connect with like-minded people, and establish yourself as an expert in your field. With the right tools and strategies, you can create a professional-looking blog and attract a loyal readership. However, it's important to remember that blogging is a long-term commitment, and building a successful blog takes time and effort.
Once you have created your blog, it's important to publish high-quality content consistently, engage with your readers, and promote your blog through various channels like SEO, social media, email marketing, guest blogging, and paid advertising.
Remember that creating a successful personal blog is not just about making money, it's about providing value to your readers and building a community around your niche. Focus on creating high-quality content, engaging with your readers, and promoting your blog effectively, and you'll be on your way to building a successful personal blog.