Planning on starting a blog? It is an awesome feeling to start a blog that you are very passionate about. Imagining that users reading the content you publish is kind of all the rainbows and butterflies of the time. However, you can make it happen by knowing everything about blogging before the start. Especially when you are a beginner. Here we have narrowed down everything you should know to a handful. In this article, we are going to talk about 6 packed IMPORTANT things that you should know before starting blogging. With this in-detailed guide, we give you everything you should know about how to start a blog.
Blogging is not that simple to be taken that easy. It is not only about creating and publishing content. Creating s blog is building a whole organized functional system. So from the very beginning, take this whole starting, managing process of blogging kinda serious. Following these things will take you to your desired success in no time.
Let's usher in!
1. Successful planning is the start
Before starting anything, planning plays a major role because without planning nobody can achieve the desired success in anything. It is like sailing a ship without a map. So do blogging. Ever wondered why planning is crucial?
Helps you to set goals and work for them – Planning helps you to create goals for the particular thing that you are going to do. Not only that but also it helps you to work to achieve those goals effectively and efficiently.

Manages your time efficiently – Planning completely manages your time by sectoring each activity for particular periods. All you need to do is wisely sector time periods for the particular activities and work according to the plan. For instance, if you do not have a plan, you might waste time thinking about what you should do next or what you should do in a failure. But, if you have a plan, there are no drags.

Helps to allocate available resources in a useful manner – It also helps you to allocate available resources beneficially. Well-planning reduces wastage by letting you use the correct amount of resources for the relevant tasks and projects. For example, let's say that you want to acquire any kind of IT service for your blog (for instance let's take a commenting plugin) if you have planned the amount of money that you are going to spend initially and how much of it you are going to use for acquire commenting plugin service according to your budget vice versa. Isn't that cool?

Prepares for uncertainty – When starting something new, we have to be prepared for the worst-case scenarios. Otherwise, it would be a disaster. And that is where we need planning. Planning 90% helps you to recover from the worst-case scenarios. Read more here.
Now let's see how to do planning well before starting blogging. This whole process can be divided into a few main sectors as follows.
Set the goals of your blog
First, try to think about what you expect from blogging; what you want to gain from blogging. That is how you can set the goals of blogging. One may want to earn money, and one might blog just because as a hobby so and so. However, setting the goals and working for them push you to have a successful blog.
Tip: prepare a checklist of your goals as to-dos.
Decide what your blog will be about
This is the very first thing required that you can do under planning just after setting the goals of blogging. In this step, we decide the niche of the blog. Without deciding the niche of the blog, one cannot start a blog.
In simple words, Techcrunch writes about the tech industry news, Tasty blogs about food. Blogs that are concentrated around a topic tend to get more engagement from a specific loyal audience. We call this topic a "niche".
Here is another definition for niche given by bloggingwizard.
A blog niche is a specific topic you'll write (or create other types of content) about on your blog.
Anything can be a blog niche. For example, health, news, business, marketing, tech, food, law, science, etc. However, those niches can be narrowed down to sub-niches: food -> cookery, science -> chemistry, marketing -> SEO. Thus we can say there are two main types of blog niches.
Vast niches

Sub niches
The more you narrow down a niche the more your blog content becomes very specific. If you want to blog about a vast subject or if you want to blog about a very specific particular subject, play with niches well.
Choose the blogging platform
Blogging platforms are broadcast-style communications systems that enable authors to publish articles, opinions or product reviews (known as posts), which can be delivered through stand-alone websites, email, feed syndications systems and social networks. Blogging platforms also enable direct reader participation with the host blogger or with other blog participants by enabling user comments.
Got an idea of what a blogging platform is?
You have so many options to choose from available in this instance. According to their behavior, they can be divided into three main categories such as dynamic, and static. A dynamic blog is a blog that changes or updates depending on the blog post's date, category, or even by random selection whilst a static blog is made up of one or more HTML webpages that load the same way every time. Static websites contrast with dynamic websites, which load differently based on any number of changing data inputs, such as the user's location, the time of day, or user actions.
You can choose any of those platforms/ CMS(Content Management Systems) the way you prefer. Sometimes your requirements might not be satisfied by one. When that happens, you can go for alternatives for a particular choice. Ex: Alternatives to WordPress, Hyvor Blogs, etc.
Many people prefer to choose blogging platforms that create dynamic blogs as they give lots of benefits to the blog owner. Dynamic blogs,
make the blog much easy to make diverse and user friendly

make data management very efficient

enable the addition of any future add-ons

make it impossible to destroy the layout, as might happen if you edit it from a web page editor.
There are some issues when using dynamic blogs. First, they require more complex coding/designing/ customizing if the blogging platform has given you an editor. Not only that, they cost higher than static blogs.
Here are some advantages of creating a static blog
Static blogs take less amount of time to build and deploy than dynamic blogs

Static blogs tend to be more secure.

Easy for search engines to rank static websites because they usually load faster.

They don't require complex software.

Static blogs cost less to build than dynamic blogs

Ability to change the layout and design of every page on a static website.

It's easier to restore a static website after a crash or DDoS attack by redeploying the codebase.
Static blogs also have some drawbacks.
Making updates to static websites can be challenging and time-consuming, especially if they're large.

Once you've built the basic structure, it can be hard to scale a website to add new content.

Because of the effort needed to update static websites, yours may end up with stagnant content that makes your company or brand feel outdated.

You can't interact with or create unique experiences for visitors.
When considering your requirements you might confuse because you have your requirements spread in both static and dynamic positive areas. In this situation, we suggest you follow the concept HYBRID BLOGS which means a blog built using both dynamic and static concepts. We will talk about static, dynamic, and hybrid blogs in detail in our next article. Stay tuned!
Identify your competitors
Regardless of the niche of your blog, you definitely have competitors. So, when planning it is completely beneficial to identify your competitors. After identifying your customers, do research on their strategies, and success stories. These things give you great knowledge on how to drive your blog to the success that you expect.
There are two types of competitors you will find out there.
Direct competitors

Indirect competitors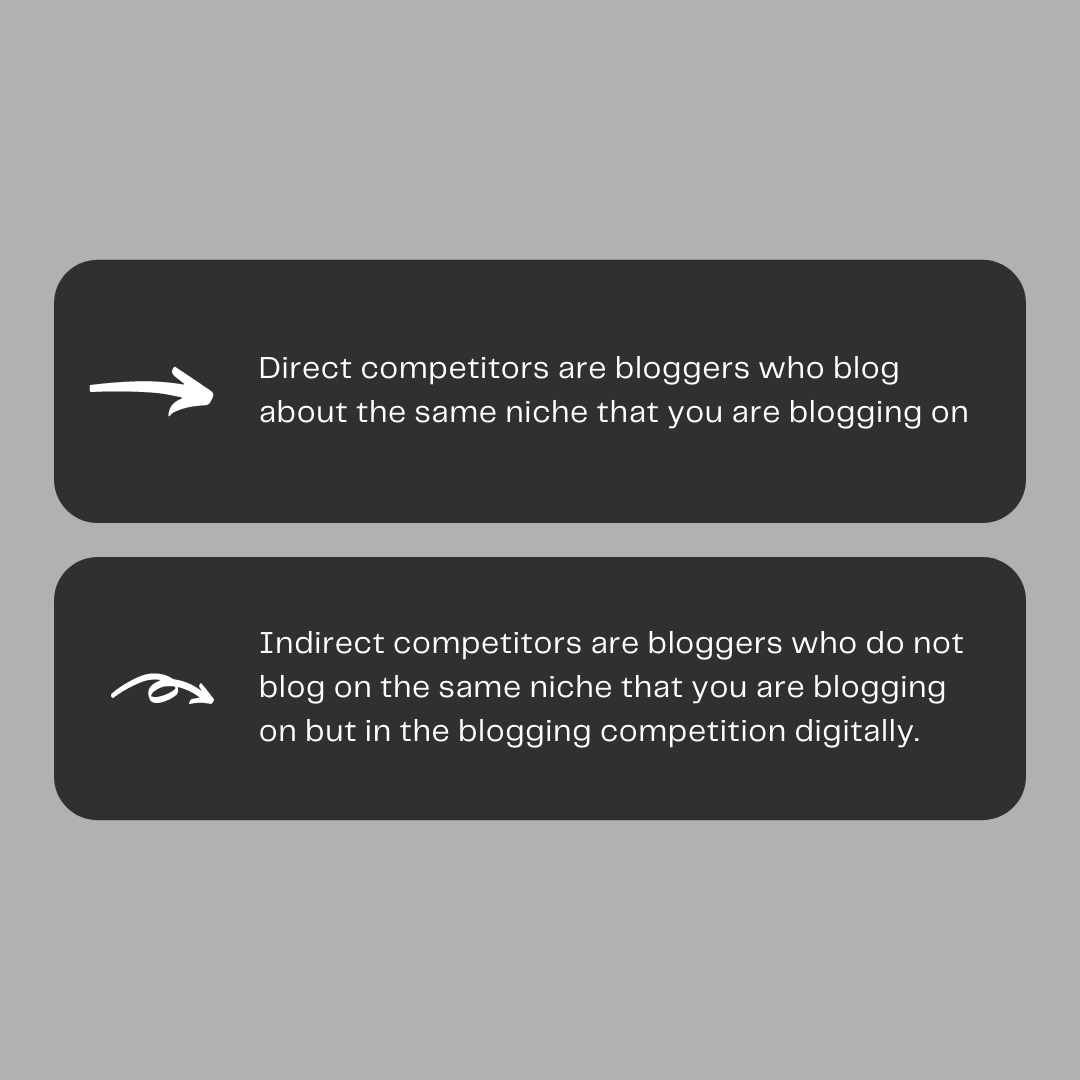 But how to find those competitors?
How to find direct competitors
Blog research – Research the blogs running on the same niche that you are blogging. Take a closer look at those blogs and identify how they manage their blogs, how they create content, and how they attract users. You will find some interesting strategies and you will gain knowledge you never had before. These things help you a lot in achieving the blogging success you expect.

User research – This is the second method of identifying direct customers. In this method, you are searching for what things users love in the particular niche and how their engagement is. Some users reveal their needs clearly and they give reviews about your competitors. Those things are much useful when identifying your competitors because they reveal your competitors that have not ever heard of. We all know that as a single person we see and catch a little when we research but as a group of people we catch a lot of things and see from different potential perspectives when researching. With that help, you can improve your blog.

Check online communities – Online communities are places where you can find what users think about your competitors. From there you can have a clear idea about your competitors and learn a lot from them.
How to find indirect competitors
Keyword research – Keyword research is the best way to identify your indirect competitors. By conducting a competitive SEO analysis, you can determine which businesses or publishers are competing for space on Google. After all, many of your customers are looking for your products and solutions by typing them into search engines. For today's marketer, that means that you're in competition not only with your direct competitors but with every other website competing for keywords important for your business.
2. SEO is your savior
What is SEO?
SEO stands for search engine optimization, which is a set of practices designed to improve the appearance and positioning of web pages in organic search results. Because organic search is the most prominent way for people to discover and access online content, a good SEO strategy is essential for improving the quality and quantity of traffic to your website.

MOZ
Why SEO is important?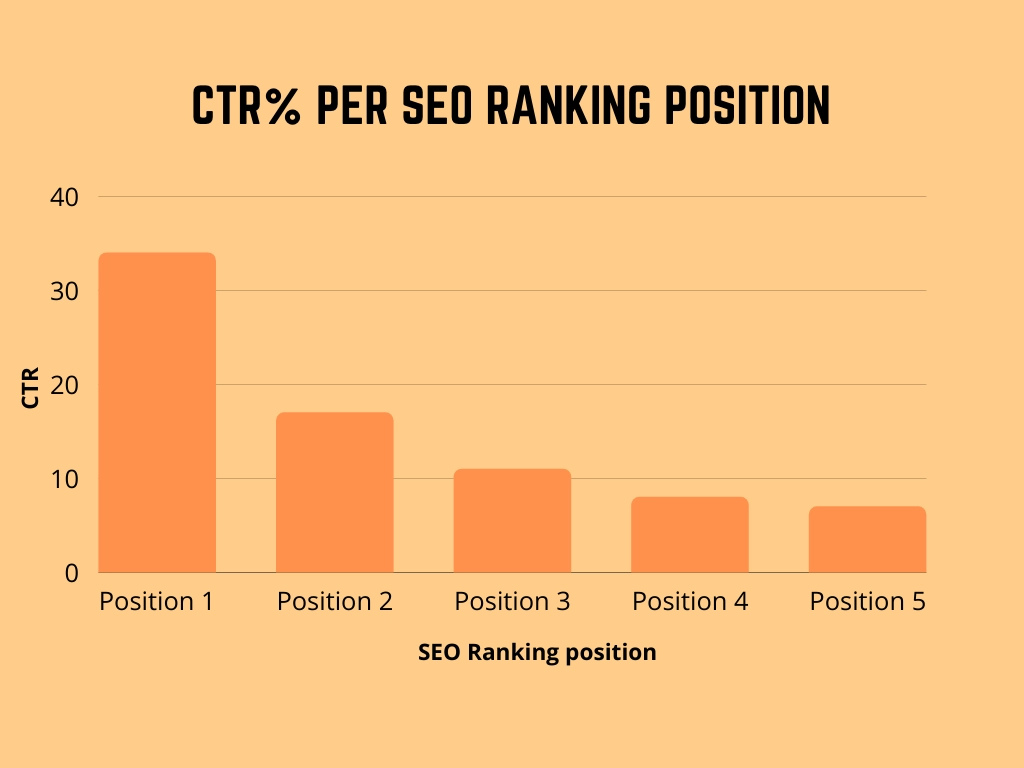 Search engines serve lots of users per day looking for answers to their millions of questions or for solutions to their millions of problems.
The majority of search engine users -more than 70%(refer to the graph above)- are more likely to click one of the top 5 suggestions on the search engine results pages (SERPS). To take advantage of this behavior and gain visitors to your blog, your blog needs to appear in one of the top positions. And that is where SEO comes as your savior.

SEO is not all about search engines also improve the user experience and usability of a website because the more users come to your blog, the more your blog's usability and user experience increase.

Users trust search engines' results. And your appearance in the first 10 search results gains the users' trust in your blog.

Doing SEO is also a good social promotion because when your blog appears on the first 10 search results users tend to share your blog on social media. That's an advantage, right?

SEO is important for the smooth running of a big blog. Because blogs with more than one author can benefit from SEO in a direct and indirect way. Their direct benefit is an increase in organic traffic and their indirect benefit is having a common framework (checklists) to use before publishing content on the site.

In simple words, if two blogs are running on the same niche, the search engine-optimized blog is more likely to have more users and make more visits.
SEO can be part down into three main categories.
Technical SEO – Technical SEO is known as the first stage of the search engine optimization process. As same as the name says, in. technical SEO, there is nothing to do with the user-visible areas which mean technical SEO does not include any process for the content of the blog. What it has got to work with is the setting that you are required to configure to make the crawling process done by the search engines easier. Usually, once you work with technical SEO it will not bother you again. Here you can get the help of Google Search Console. However, remember that if you have issues crawling your blog, it affects the improvement of your blog by low traffic and engagement. Who can visit your blog unless it is not available to be seen in the google results right?

On-page SEO – This is the second stage of the SEO process which primarily deals with the content and other elements found on your blog pages. What on-page SEO does is provide search engine crawlers enough signs and signals that they can understand the meaning of the context of your blog content. What does that mean by the way? Do search engine crawlers understand the context of the blog? How is that even possible? The answer is NO, they do not read and understand the context of your blog content like humans. What is happening there is that they are looking for some signals to figure out what a particular blog page is about. In on-page SEO, you will have to deal with internal links, headings, image alt texts, keywords, meta tags, excerpts, slugs, and blog structures that can send correct signals to search engines. Not only on-page SEO helps search engine crawlers to understand the context of the blog content but also it improves the usability and credibility of a blog.

Off-page SEO – This is the third step of the SEO process. In this process blog promotion carried on. Some people identify this step as link building step we call it blog promotion instead of link-building because there is so much happening rather than just link-building. "But how does website promotion helps my blog?" There is what happens. When a user types and searches for something, search engine algorithms look into their index and try to find the best pages that satisfy the user's requirements. Backlinks are one of the factors which determine the position of a blog page in the search results. But does it happen? Here is how backlinks do their job. Search engines identify backlinks as good signals of trust and depending on where the links are coming from. As I explained earlier signals mean ranking higher right? So if those signals are from good and trusted sites ranking will become positive which means it will rank higher.
Those are the 3 main processes that you will need to do SEO for your blog. If you have any questions or doubts please comment down below.
Got an idea about SEO right?
3. Content is an asset
To build and maintain a blog, you should have content. What is content? You have seen articles, photographs, videos, GIFs, and audio on published blogs right? Those are the content of a blog. Anything published on a blog that gives meaning to a blog, and provides its users valuable information is called Blog Content.
Well, when blogging there is no rule on what type/types of content that you should use: it is all up to you. However, there are some concerns when adding blog content. For example, let's say you have a blog about photography. Then the main type of your content is photos/images. Plus, you can add text, and videos too. If you have a blog about marketing, science, technology, health, and fitness, you can add texts, images, videos, audio, etc. So, deciding what types of content that you are adding kind of depends on the niche of your blog.
When creating blog content, there are several things that you should be concerned about because those things certify the quality of your content. But what are they?
Uniqueness – This means that content is not a copy of some other's content. Your blog content is written or created on your own. If your content is marked copied or plagiarised, that is not good for your blog's reputation and rankings.

Trustworthiness – The content you create needs to be correct and reliable. It can be trusted by the readers. If you enter some researched data, you have to mention (giving references) from where you got that information. Not only that but also be careful when taking information from the internet, make sure those resources are positively rated and reliable.

Readability – All of your content must be readable to your readers/users. Otherwise, they will not read that content. Who wants to read with disturbances right? This does not mean that the font size of an article should be humanly well visible. Readability has lots of sectors to be taken care of. Font size, colors, image size, quality of images/videos/audios. Make sure when you consider these things in content creation. Poor readability makes your content less engaging.

, but other factors play a part too, including your use of personal pronouns (say "I" and "we," not "it" and "the company"), how concise and lively your writing is, and how your tone of voice sounds more generally. The tone is a great opportunity to engage your audience. Are you punchy and to-the-point, or laid back and expressive? 

Engaging – Let's switch back to the role of a reader or a visitor. Imagine that you are visiting a blog that has so many articles. The article is written completely in the third person, there are no media, so and so. While you are reading the article you will feel that you need to stop reading and move to something else. Why is that? why do people give up in the middle of reading some articles? Because of the lack of engagement. People love to read engaging articles, not boring content. What is really engaging? Engaging content is content that is created in a way that users will find interesting, easy for the eyes, and presentative. But, how do you make your content more engaging? Yeah, there are a lot of ways to do that successfully. You can write an article using I, we, you, and they pronouns which means writing articles/posts in a way that you are talking to your users directly; when they are reading your content, they should feel that you are talking to them in a friendly manner. Add images, videos, and audio because people love that variety.
As such you have to maintain the content of your blog with all the potential you have.
Pro tip 1: Do proofreading after your content is created before publishing. You can join someone apart from the person who created content for this task in order to spot missed errors.
Pro tip 2: Post often but keep the consistency.
4. Be Unique
Now that you have identified your competitors, you have chosen a CMS and a niche. So now you have seen a lot more about the existing blogs of the same niche. It has a great possibility that you may start following what others are doing. STOP! this is where you have to be unique. Start designing your blog in your own way. That brings you a nice unique blog. A.nd when it comes to content, create your own creative content rather than copy scraping someone else's content because a lack of uniqueness downs your blog in no time. Even if the media that you add to your blog, try to make them on your own. You will thank me later.
Do you know why being unique matters? Here's why. Being unique matters because crawlers do not get mixed signals because of copying. Not only that, copied work build distrust among the visitors and readers of the blog. This badly affects your blog reputation and rankings. So, be unique in every way, from designing your blog to maintaining the blog.
5. Social availability is a strength
Ah, the big S word! Social media!!! This is a vast topic to discuss in every digital field. We all know what social media is right? Facebook, Instagram, Twitter, TikTok, Youtube, etc. Social media is vital for your blog because social media is one of the best ways to reach and communicate with people. Because everybody is on social media, there is nobody who does not use social media right? Why is it vital? How does it happen? In brief here's why.
It brings traffic – After publishing well-organized and uniquely created content your next move is to bring users to your blog right? This. is where social media helps you. This requires time but you can share links to your particular content on social media. It will drive more traffic and email subscribers to your blog and make your content available for anybody to see.

Social media helps in SEO – In the sphere of SEO, social media is another method for improving your search engine rankings. Search engines are more likely to rank you as a trustworthy source for your chosen keywords if you link active social media accounts to your blog. This creates a reliable brand signal for search engines. That's why we think social media should always be a component of your blog – so start pinning, tweeting, Instagramming, and more to increase the visibility of your content. The more traffic you get, your blog will rank higher in SEO. When a user comes and refers to your blog content and finds it interesting when readers/users of t your blog share link to your blog and your blog content

It gives you a hand to create and maintain your online presence – After publishing your blog make your blog available on social media by creating each page on different social media. But to receive the results from this step takes time. Active social media profiles with a large following instantly improve your reputation and demonstrate to others who haven't yet discovered your site that you know what you're talking about and are the industry's next great thing.

Helps you to learn more – Learn more? Yes, being available on social media for your blog helps you to identify how well you are doing and what your competitors are doing. It also helps you to identify what people think about your blog and your content.
Above mentioned points are like a shell of the social media and blogging relationship. We will talk about this in detail in near future. Fingers crossed!
6. Relationships matter
Relationships matter in any sector as we all know. So does blogging. There are several types of relationships that are identified in blogging.
user-blog owner relationships

user-content writer relationships

user-user relationships
Always remember when blogging, those are the are three main relationships in a blog. But why are those relationships important for blogging. Well, in that case, well-maintained blog relationships improve the user engagement of the blog and makes the blog more interactive. It helps you to drive traffic to your blog because users love to interact with other people and authors by carrying out discussions. These discussions help you to identify several things such as the next content topics, how well people find your content interesting, and how they feel about your blog. Hence you can do improvements and avoid mistakes you do in blogging.
As a blogger to maintain those relationships well you can add a commenting platform to carry on discussions, ask questions openly, and add an email list.
At last…
Blogging has become a vast subject and lots of people are blogging and lots of people are starting blogging. It is thoughtful and safe to know everything about blogging before you start. This guide has brought you 6 important things that you should know before blogging, just let us know how well you did with those things. If you have questions, or suggestions just comment down below.