What's the first thing you notice when you enter a physical store? The exterior, the colors, the design, and the aesthetics, right? The same applies to a blog.
A blog is quite like a storefront but virtual. It's the first thing your blog visitors see, and based on what they see, they form an impression about it. From simple navigation to professional branding to solid calls to action to compelling content, every blog or website should feature these elements. But, they need the right pages to relay all the vital information to their visitors. There are a few most important pages for blogs that you should create and pay special attention to before anything else. 
I have rounded up the 9 essential pages for a website that will help people get to know you, learn what you do, what you have to offer, connect with you, and allow you to make a lasting first impression on your website visitors. If you plan on starting a blog, this is the perfect guide!
The homepage is the first thing people see when they visit your blog, making it one of the most important pages for blogs. It is your chance to capture the reader's attention within seconds and make them explore the rest of the blog. Additionally, it is the first page Google considers when identifying your website's function and purpose. 
You should pay close attention to the design of your blog or website's Homepage and ensure that it features a user-friendly and extremely well-designed interface. It should also offer the correct information to the reader, such as a short description of the website, who you are, a summary of your products or services, etc. The content completely depends on what you do, which means every blog will have a unique Homepage. 
If you are new to blogging and want to start a blog, Hyvor Blogs is the best platform to kickstart your blogging journey. With custom themes, custom domains, the ability to host anywhere, in-built SEO, and a multi-language blogging feature, RTL language-supported blogging, this all-in-one blogging platform makes blogging easy.
Here is an example homepage of a blog that is created on Hyvor Blogs.
You can create your homepage of the blog in any design you like as Hyvor Blogs has beautiful free open-source themes for you to choose from. Not only that but also you can customize those themes according to your liking.
Plus, you can set up your own custom domain on Hyvor Blogs. Let's say you have a custom domain called john.io, then you can definitely set it up on your blog with no cost in Hyvor Blogs
It's in the name - this section is all about you, your story, your inspirations, and what value you bring to your readers. People often struggle when writing about themselves and what they bring. However, the key is to be real, and honest, add a touch of humor, and show yourself in the best light.
Try to put yourself in the reader's shoes and think from their perspective - what would you want to read or know when going through a blog's About Me page? Add some personal bits and tell a story - story-telling is an excellent way to attract your reader's attention. You can also draw attention to your About Us page with striking visuals.
Here is an example page for the about us page that is created using Hyvor Blogs.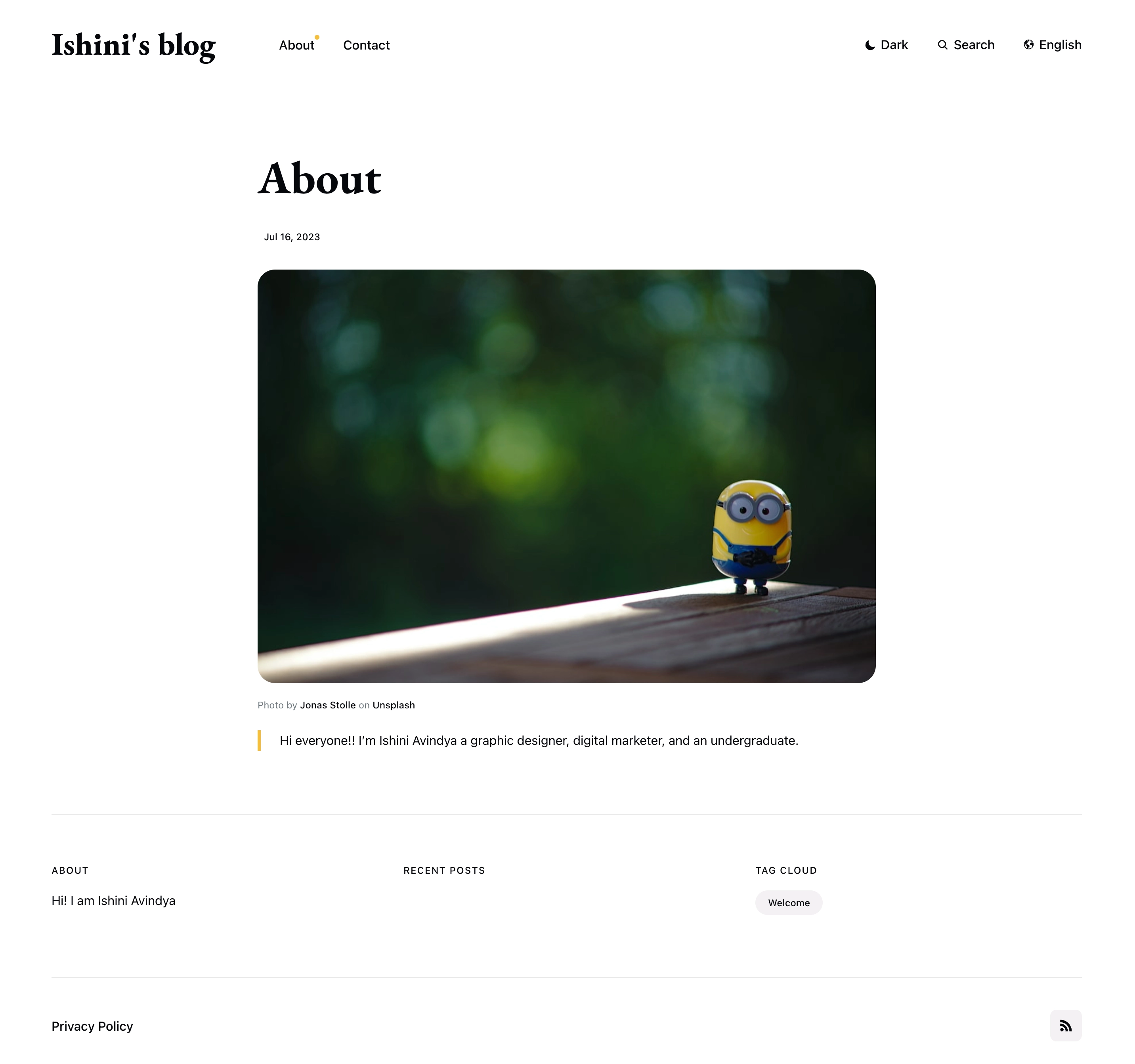 You create these pages in other languages in addition to the main language you are using. Hyvor Blogs supports multi-language blogging and at the same time Righ-to-left (RTL) languages such as Arabic, Farzi, etc.
Every blog or website needs a Contact Page, which helps create a professional image and establishes your blog or website as a credible source of information. It also promotes a strong connection with your audience because it shows that you care about them and that they can reach out to you through multiple avenues like phone, email, live chat, etc.
It is advisable to use Calls to Action (CTAs) here, such as 'Call Us Now' or 'Email Us Now.' Doing so will let your visitors know you are only a click away.
Here is an example page for the contact us page adapted from Supun's blog. You can add your contact details and social addresses here too. Customizing any page as per your liking is a great advantage when using Hyvor Blogs.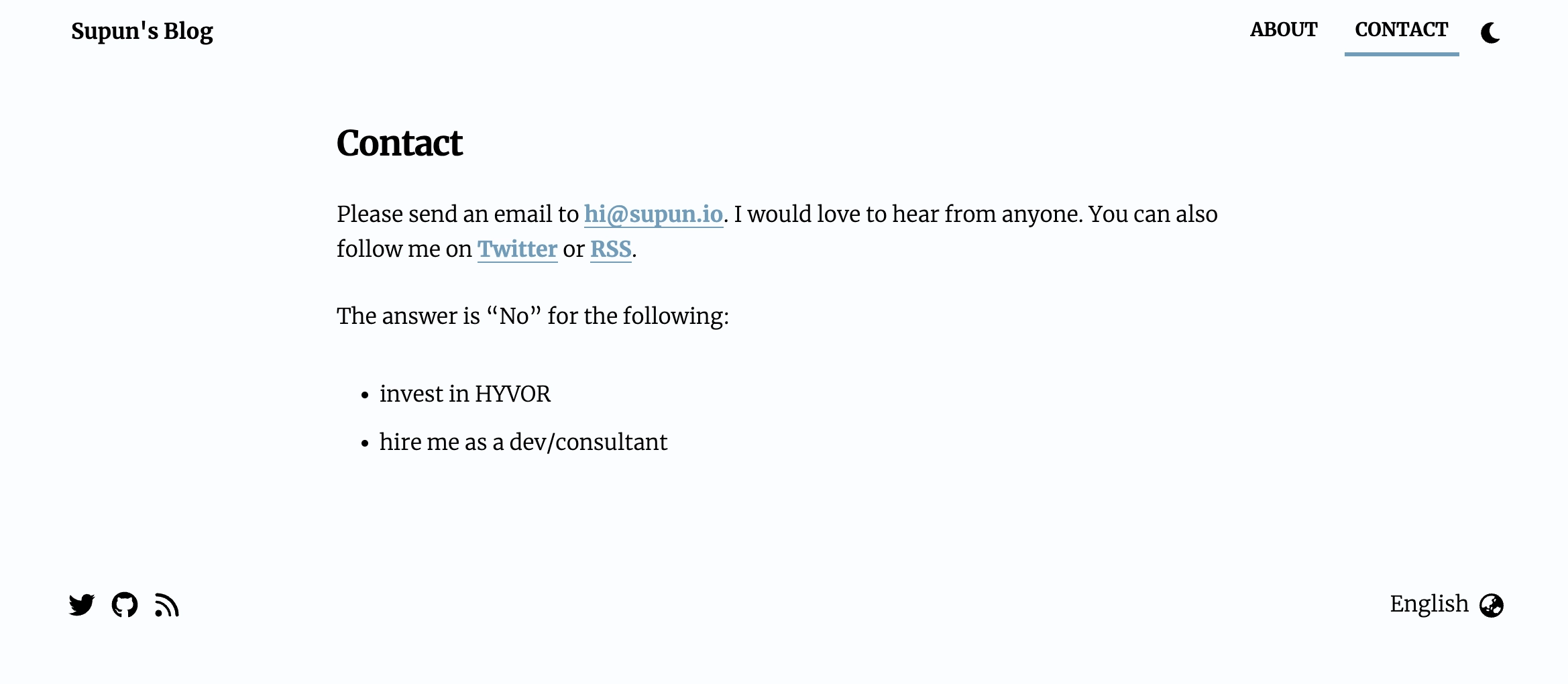 This is optional and depends on what you do and what your website is about. For instance, if you offer products like eBooks or printables, you should have a separate page called 'Our Products' or something along those lines. Use this page to summarize your product portfolio, followed by details of all the products you sell. If you have multiple products to display, adding a description with each product is ideal because it will make browsing easier for your website visitors. 
For example, if you offer services such as writing workshops, create a similar page labeled 'Our Services' where you list all your services. 
Here is how you can create an optional page like a services/products page in Hyvor Blogs.
Goto Console -> Pages -> + New

Add all the necessary details as per your liking. And hit Publish
Nothing is more frustrating than looking here and there for answers, right? Don't give your readers or visitors a chance to experience this kind of frustration and answer all their questions and concerns on the FAQs page of your website. 
The FAQs page is where you answer the most frequently and commonly asked questions by people. This is your chance to convince your readers to take action by removing possible doubts, listing down all relevant questions, and answering them with honesty. Make sure to include calls to action here which is another way to get them to take action.
With multi-author support, Hyvor Blogs bring you a chance to collaborate with other writers and even bring guest bloggers on board for your blog. Create an inviting Write for Us page to allow your readers and other writing enthusiasts to feel included in your work.
The primary purpose of this page is to create some diversity by allowing readers and writers to submit their ideas, insights, and opinions. Walk them through this process by stating clearly on this page what you are looking for, the kind of work you expect, what you publish, how to submit, and what happens next. It'd be helpful for your visitors to include a FAQ section where you answer about guest posting on your blog.  
This is one of the most vital pages every website should have because it informs your readers or visitors about what you will do with their personal information, given that your website collects personal data from its users. Even if it does not, Google Analytics still uses cookies to gather information about the visitor's network and visits to your website. 
A Privacy policy page should ideally include the following information:
What user data your website collects

How the data is collected

If the data will be shared, how and with whom will it be shared
You should always adhere to everything mentioned on your Privacy Policy page and maintain honesty and transparency.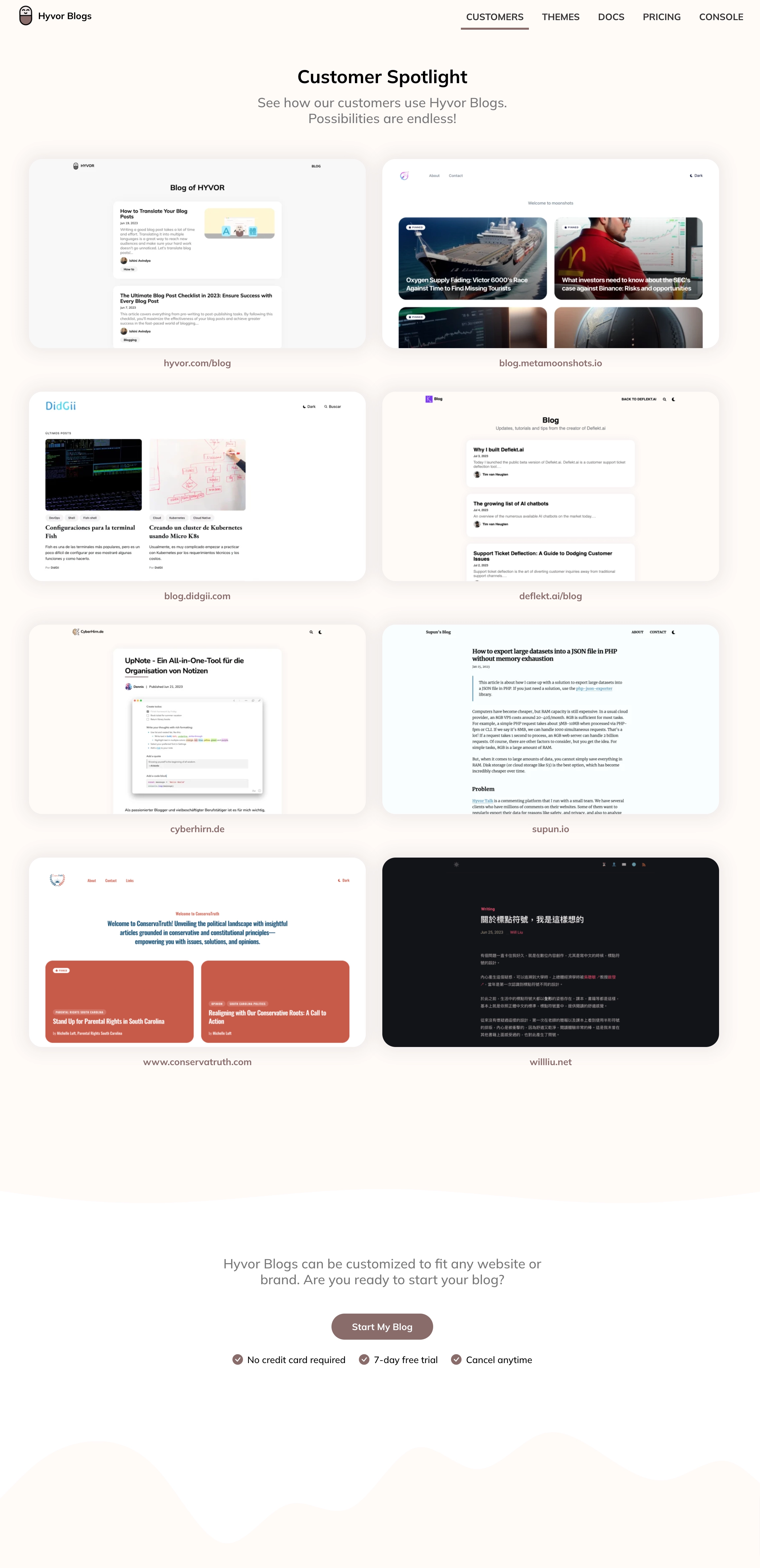 Testimonials function like social proof for a website, offering your readers and visitors approval of your work, business, and other factors. People turn to reviews and testimonials to help make a decision, get insights into other people's experiences and gain the confidence they seek before buying a product, for example.
Having a Testimonials page on your website is a way for you to earn the trust of your website visitors, build confidence, and create an emotional connection with them.
FAQs
How do people find your blog?
Google search is the most common way people will find your blog online. Google search results are both paid and organic. For instance, you can use Google ads to promote and advertise your blogs on Google and gain visibility. However, you must employ effective SEO strategies for organic results to help your blog rank high on search engines. Lucky for you, Hyvor Blogs has in-built SEO, so you no longer need to worry about your blog's SEO.
What should a homepage contain?
A homepage should ideally contain the following elements:
Logo

Branding elements

Tagline

Mission statement

Call to action

Navigation menus

Striking visuals and color scheme

Social proof 
What pages do I need on my website?
The most important pages needed for a website are: 
Homepage

About Us page

Product/ Service page

Testimonials page

Blog page

Privacy policy page

Write for Us page

FAQs page

Contact page
How many pages should my blog have?
The number of pages varies from one blog to the other, and it completely depends on your resources and the type of website. However, you should have at least five standard pages and a few unique ones catering to your niche to improve user experience. 
Boost Website Authority with the Right Blog Pages 
Create your blog today with Hyvor Blogs and customize it any way you like! Hyvor Blogs offers an all-in-one blogging platform where you are the boss and control of your blog. Make sure to include all the important pages for blogs to enhance user experience and boost website authority. 
Your blog offers a wonderful opportunity for anyone to pen down their thoughts and share them with the world. So, make the most of your blogging journey by staying true to yourself and giving your readers all they would expect to read and learn from your blog.