If you're a new blogger, you may find it challenging to write SEO-friendly content. However, it's important to remember that SEO is just one part of the puzzle when it comes to driving traffic to your blog.
Optimizing your content for search engines can attract more readers and followers interested in what you are writing.
In addition, SEO-friendly content helps you rank higher in search engine results from pages and makes it easier for people to discover your work.
The purpose of a blog post is to inform, educate, or entertain the reader. However, if you want your blog post to be successful, you need to optimize it for search engines.
This means using specific keywords throughout the post so that it ranks higher in search engine results pages (SERPs).
The higher your post ranks, the more likely people will see and read it.
If you're not sure where to start with SEO writing, don't worry, This post today will show you step by step to help you write SEO-friendly content for your article.
There are a few things you should keep in mind when optimizing your blog post for search engines, and that is what I'm about to show you today.
 Also, remember that everything I'm sharing today took me almost two years to learn, but you definitely don't need that much time.
 Now you have a concise summary of all you need to know to generate an attractive, SEO-friendly article.
 All you have to do is take about 8 minutes to read the entire content of this article and take note of critical things and practice.
 Best result at the end of the article journey.
 And because you're here now. And I know you can do it, and you are worth the effort.
 It is my sincere hope that this art will be the key to bringing your article and your writing career to the next level!
 For more helpful SEO blogs, check out here.
What is SEO Writing?
SEO writing is a way of creating content that is optimized for search engines.
This means that the content is written in such a way as to rank highly for relevant keywords and phrases.
SEO writing is essential to any digital marketing strategy, as it can help drive traffic to a website and improve a brand's visibility.
Additionally, SEO writing is not about cramming keywords into your content; instead, it is about creating informative and engaging content that will appeal to both users and search engines.
In order to write SEO-friendly content, you need to understand how search engines work and what kinds of things they look for when ranking websites.
Once you have a good understanding of this, you can start incorporating relevant keywords and phrases into your content in a natural and organic way.
And if you want to learn how to write SEO-friendly content to optimize your blog, check out these tested SEO tips. 
How To Write SEO-Friendly Articles - Content Optimization 
Step 1: Start with research.
With an empty head and starting to write is a horrible thing. If you really want to get rid of it and do it easily, quickly, and efficiently, then research is a top priority in your first step.
Here are a few things you need to determine to write a different article: 
Target Keyword

Research Topic

Length of the article

Type of the article

Question people also ask

Outline article structure
In SEO, writing good content is the key. And to write SEO-friendly content, we need to prepare many things.
But it can be simpler if you follow the steps I guide below.
Do a favor to yourself and start with a tool such as SEMrush.
 SEMrush offers a 14-day free trial which helps you do your keyword research, find the hot topic, look for backlinking, track the keyword strategy of your competition users, and many more valuable things for content optimization.
 Step 2: Type of content: Keyword Search Intent 
Enter your keyword into Google search to see what kinds of articles are currently ranking.
This is a part of the study and will assist you in understanding the kind of content Google believes is best for these kinds of inquiries.
After clicking "the button finding", Google will return the search results as shown below.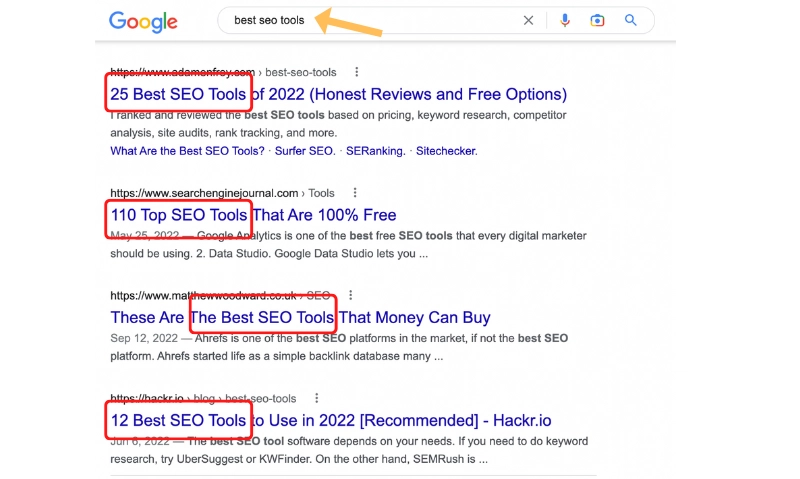 Should you do the same thing?
Yes. Imitate the success of your predecessors intelligently.
First, determine the primary keyword you use.
Then add one or two of these modifiers from this list:
"How to…"

The current year

Review

Best

Simple

Easy

Tips

Top

Fast

Checklist

Guide

Step by step

Perfect

Fun
You can't predict precisely what keywords these modifiers will rank for.
However, you'll receive more search engine traffic from them than you would otherwise.
And that's what matters. 
Step 3: Research Topic
After coming up with a few keywords for your article, people often struggle to write articles.
It is a blind spot for those who are new to writing.
For example, you have a target keyword, "diet," and you start to think of topics related to it like
A diet suitable for beginners

The best diet for a beautiful body

Why should you have a good diet?
And you pick one of those three ideas and start writing?
No, that's not what I want you to do. Do you remember the purpose of writing SEO-friendly?
That's right, optimizing SEO simply to optimize answers in the most intelligent way to customer questions or concerns.
You should always consider what your audience finds important.
What is going to grab their attention?

What kind of content is going to address their biggest pain points?

Your reader is always wondering what's in it for them
The more accurate and detailed the answer, the higher the click-through rate, ROI, CTA, and ranking on the first page of Google.
What if your topic is not exactly what the customer is looking for? Yes, no one will read it because it's not because they need to.
So how do you find a hot topic that people want to read?
Here how. I use Answer The Public, one of my list's best SEO tools for the blog.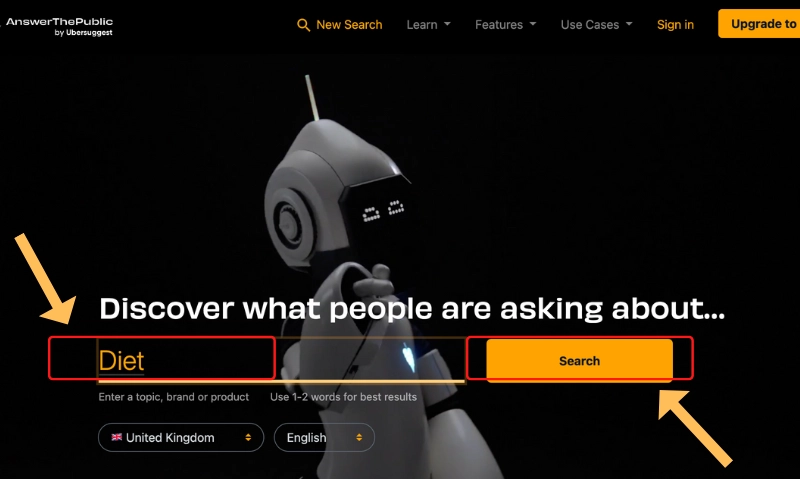 This FREE powerful tool will have you find out more about what your audience is looking for without registering or paying anything.
It immediately generates every helpful phrase and query people post around your term by listening to autocomplete data from search engines like Google.
The five Ws (Who, What, Where, Why) plus "how," "can," "are," "which," and "will" make up categories.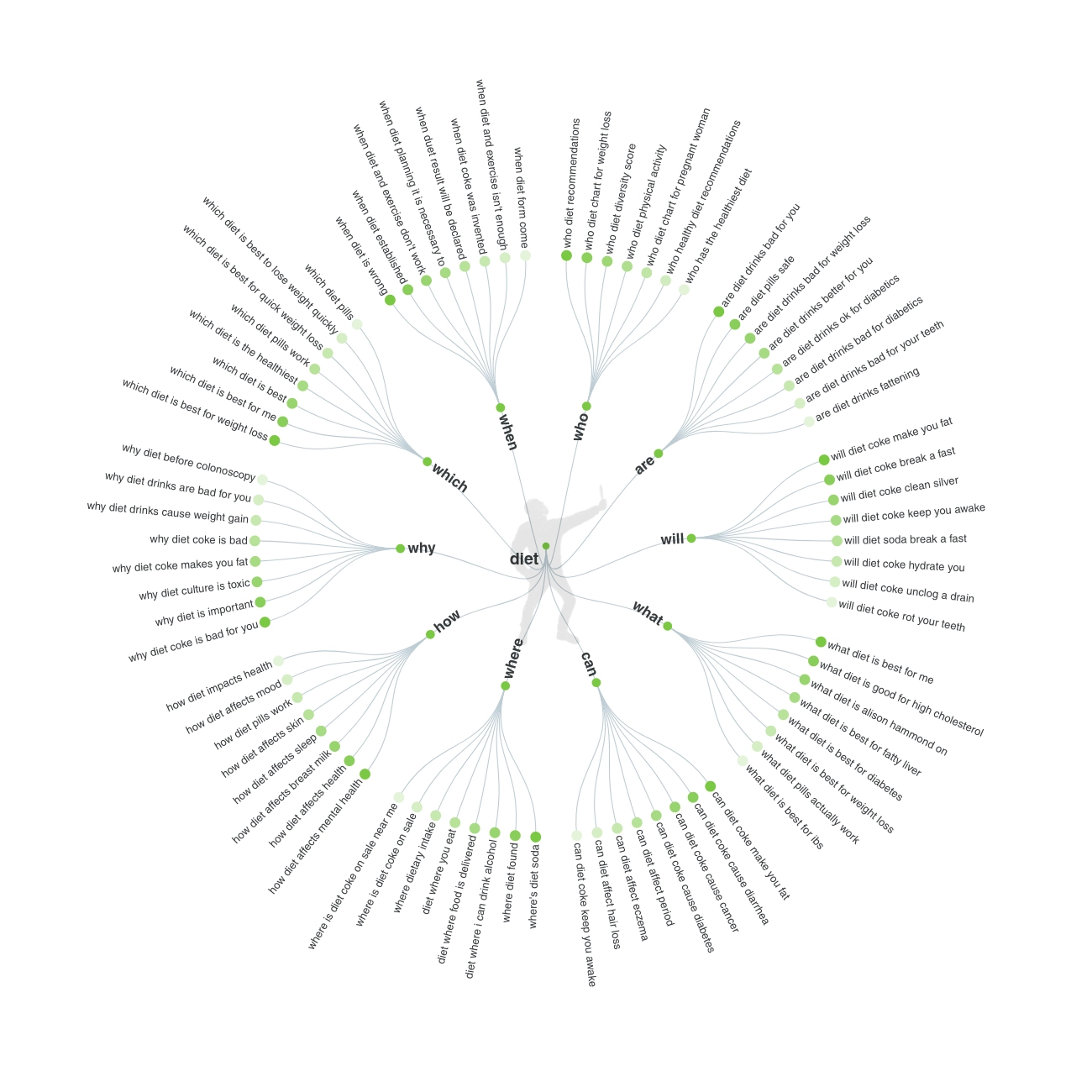 Awesome! Now you get a lot of perfect topic ideas in just a few seconds.
Those questions are relevant to what people search for on Google, so they're accurate and useful.
And if possible, don't choose 1; choose 3-4 questions that match the topic you want to write about, add them to your writing and answer them, and write your readers valuable information, exactly what they need.
Alternatively, you can also use the Topic Research Tool of Semrush. The tool helps to find your reader's interests and displays a vast array of related topics, well-linked article titles, and often-asked questions for your main keyword.
Topic research is a crucial step in the blog optimization process. If you provide material that isn't relevant to their searches, people won't find it or be interested in it.
So save this tip if you don't want to spend more time brainstorming topics for your following articles.
Step 4: Optimize the Length of your article.
How long should a blog post be?
This is a common query among bloggers, but there isn't always a great one.
HubSpot research indicates that 2,100 to 2,400 words are the optimum blog article length for SEO.
However, John Mueller from Google has previously stated that "Word count does not indicate quality"
So, What should we do to have the best-length blog?
Let's see how I usually do here:
Using SEMrush's writing assistant, determine what your idle word limit should be for higher ranking chances.
To use it:
Enter the target keyword

Select the Country and device you want to target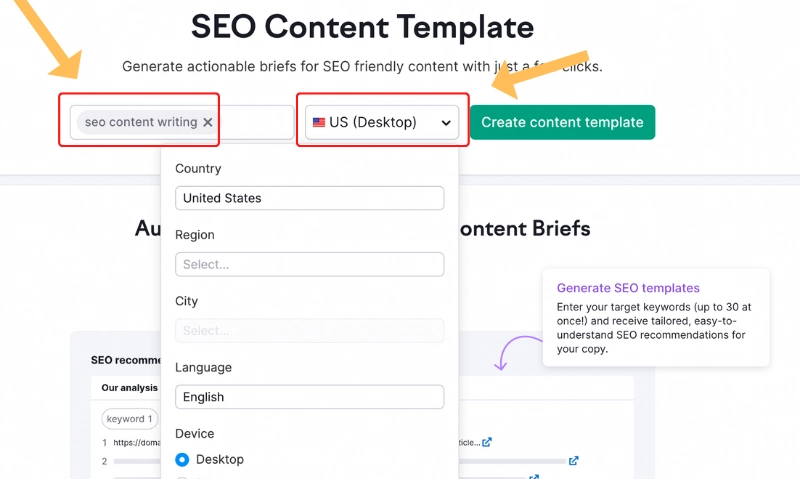 Next:
Click on "Create SEO template"
You will see the result as shown in the screenshot below: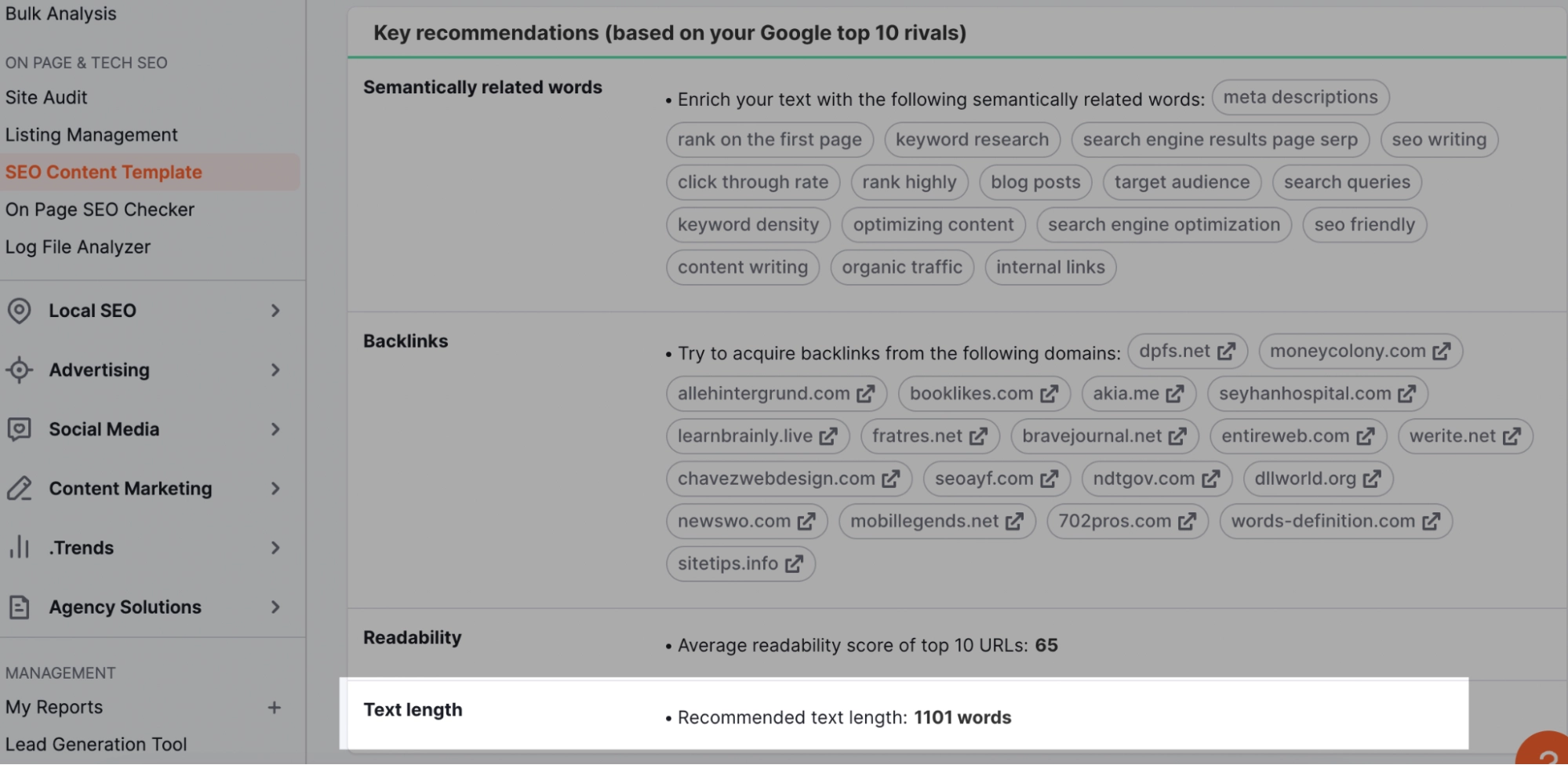 The average word on the first page for my target keyword is 1101.
In order to optimize my SEO article, I would ensure that it contains at least 1100+ words.
Alright, you got an idea about text length for your article.
Now I will show you what you can get more here from SEMrush.
On the dashboard you just saw, besides "Text length," SEMrush provides you with a lot of helpful info than you expected, like:
The analysis is based on your Google top 10 rivals

Semantically related words

Backlinks

Readability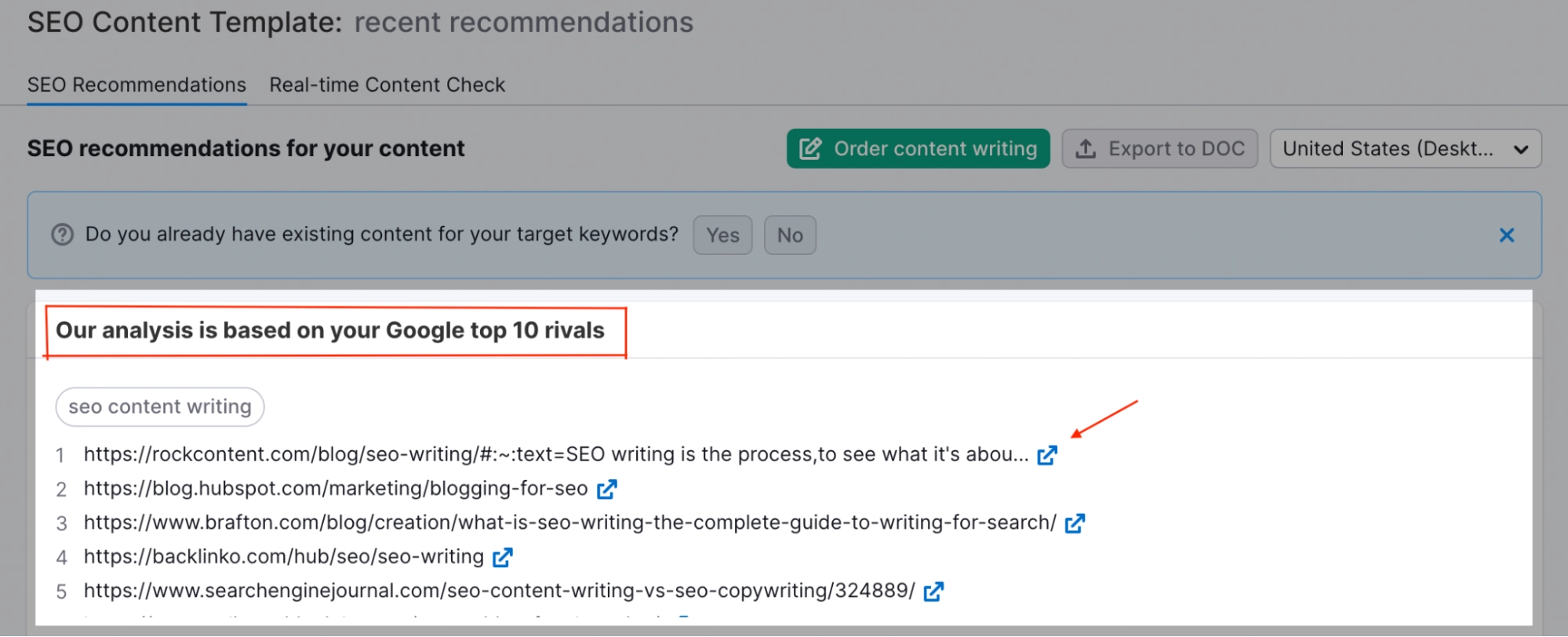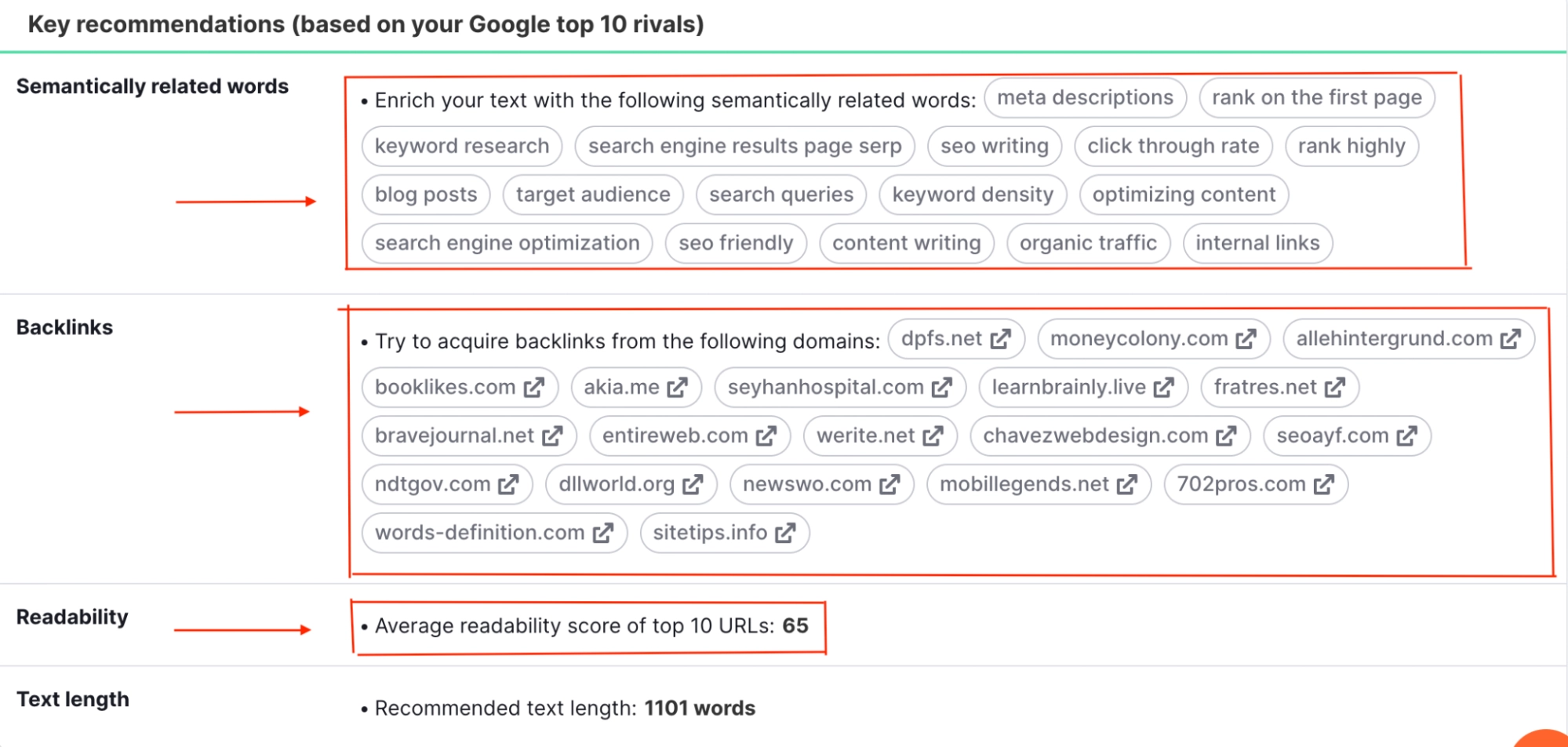 You see, they show many high-quality keywords, good backlinks, and the score of the top 10 URLs.
This is a lot of work, but if you hope to rank #1 on search, these extra steps will help you stand out from the crowd.
 Step 5: Scout People also ask
First, use Google Autocomplete, which provides keyword suggestions based on user queries.
Furthermore, SEO Ranking has a tool - Keyword Suggestions - that help pick keywords based on the way people search.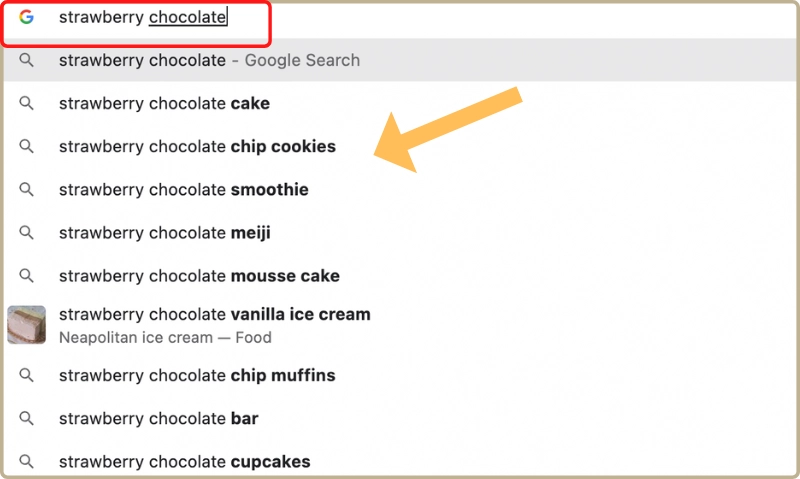 Next, Search for your target keyword in Google search, and it'll show a section called "People also ask."
Here are some of the questions people ask for the "strawberry chocolate" keyword.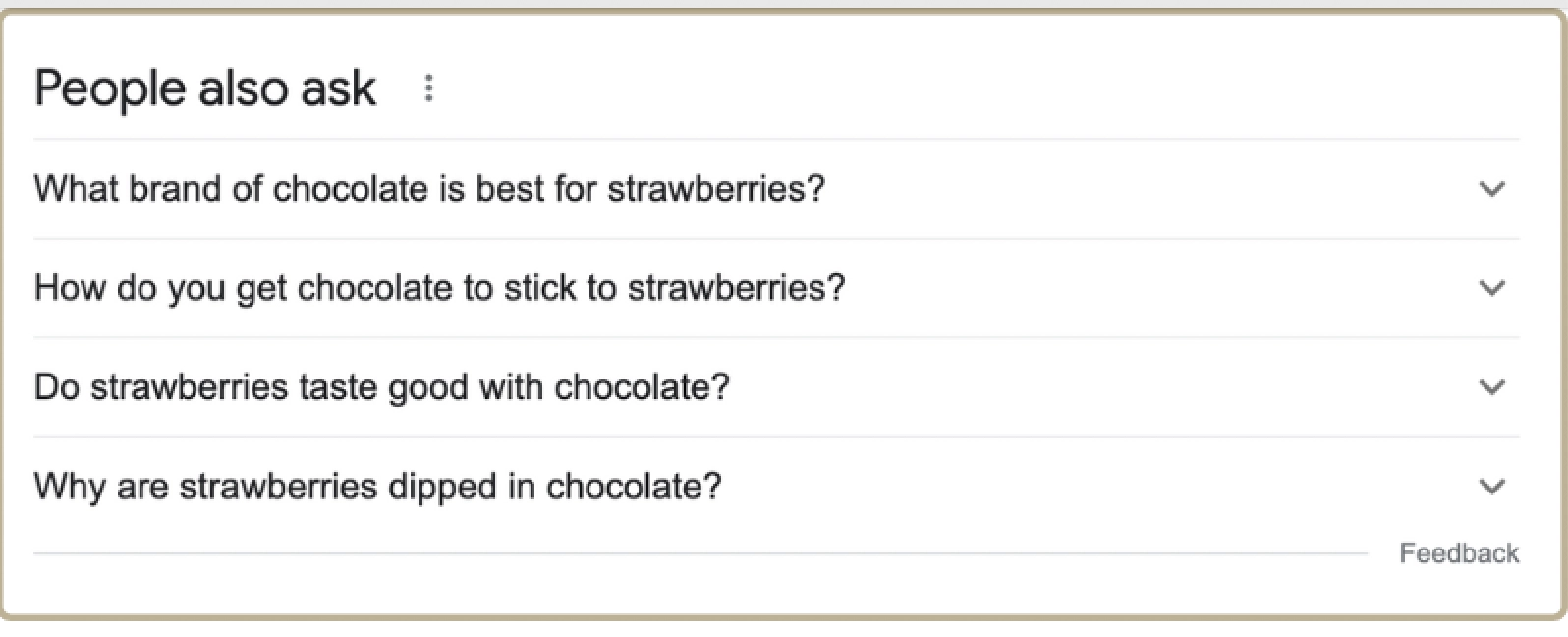 Select the inquiries that make sense in light of the purpose of your piece and address them there.
Don't stop there; if you click on one of the questions, then Google will continue to add more.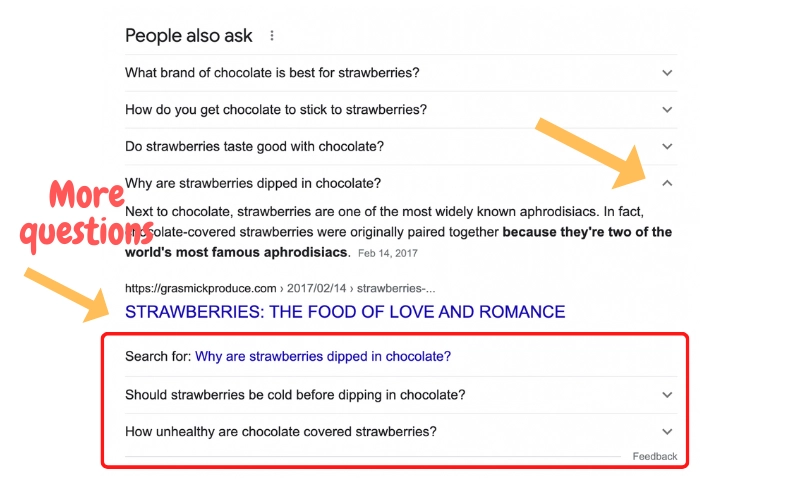 In this way, you can ensure that your SEO-optimized content answers questions that people are looking for.
So, instead of you wondering which SEO tool to buy to use, try searching keywords with this method first.
This method looks very simple but is highly effective. And best of all, it's completely free.
Okay, that's enough; we have enough keywords, right?
Yes…
In fact, you can optimize your article better if your article contains the long tail keyword.
Why?
There are two main reasons why long-tail keywords are essential for SEO
Long tail keywords aren't that competitive

Long tail keywords have high conversion rates
The Long tails are MUCH less competitive than the shorter "head keywords" in terms of SEO. They are, therefore, simpler to rank for.
And the traffic that you get from long tail terms tends to convert really well.
How to find Long Tail Keywords.
Use Google "Searches Related to…"
Have you ever noticed that Google's search results have a section at the bottom labeled "Searches related"?
Well, this little area is a golden mine for long-tail keyword research.
Let's see the result of the keyword I used above, "strawberry chocolate."
Scroll to the bottom of the page. And here is what you get.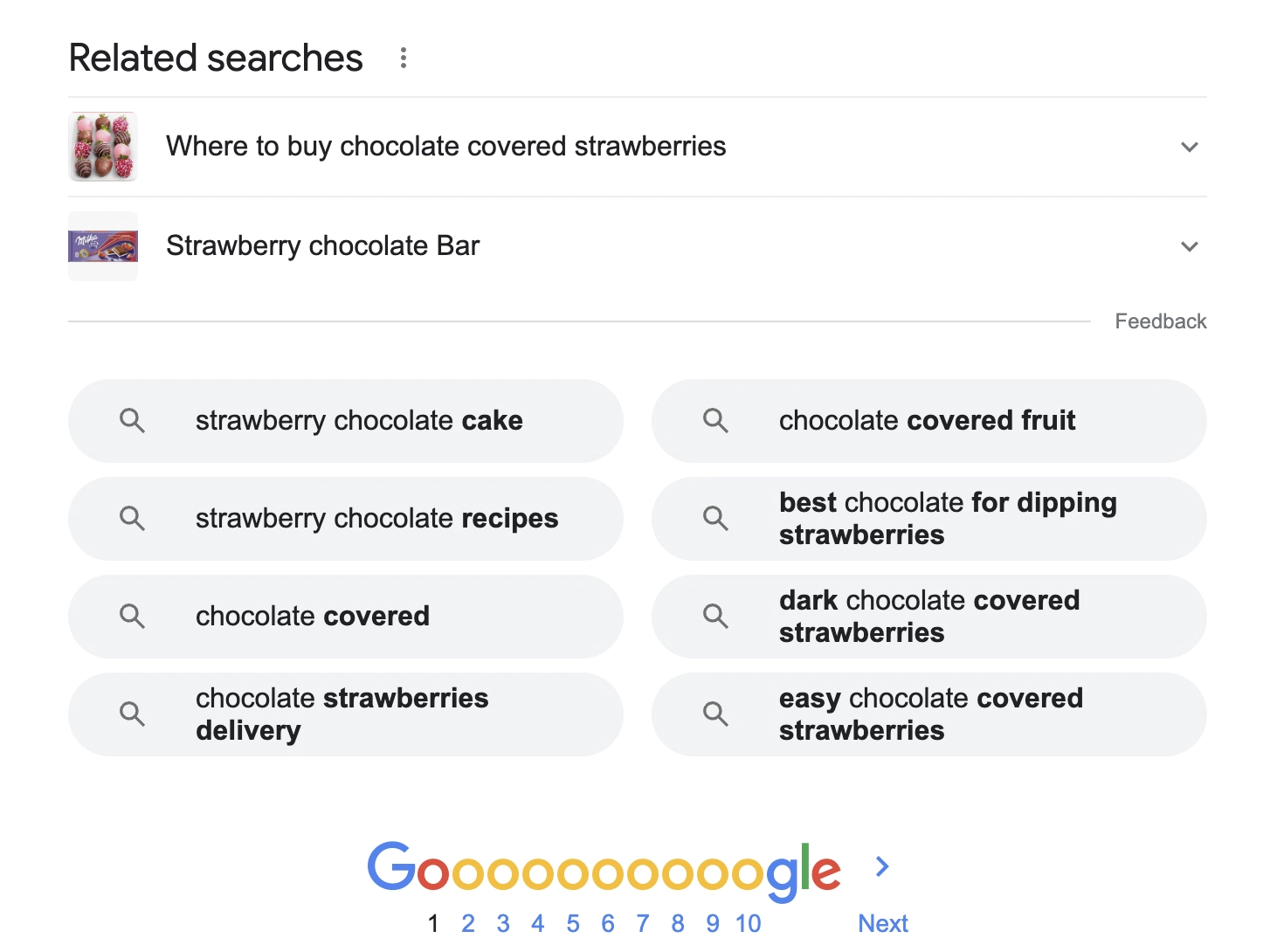 Nice! Now you have a handful of GREAT long tail terms that you can target.
Pro tip:
1.   Enter one of the search terms from the "Searches related to..." section into Google.
2.   Check out the results for THAT keyword under "Searches related to..."
3.   Continue doing this until you have a huge list of fantastic keywords.
Alright, it seems like you have almost everything here to start writing SEO-friendly content for your article.
Now, Open Google Docs or Microsoft Word or whatever you use for typing your article. And Outline the article structure on that.
Step 6: Outline the article structure
This is a simple outline for all types of articles you should know
 How to Write a Compelling Intro
A long intro is a traditional way in the past, but now readers do not have much time to read a too-long paragraph.
That's why a short intro with 3 - 5 sentences is enough to hook readers and get them curiosity about the content they're about to read.
Here are two killer formulas to help you generate a good intro
AIDA (stands for attention, interest, desire, and action)

PAS (stands for problem, agitation, solution)
How to Write a sexy body
You want to impress your customers and stand out in your readers' eyes, but good content is not enough.
The point that makes you different from other writers is that you know how to take advantage of your opponent's knowledge and their writing.
Good, but how?
Check out at least ten blogs by ten different writers, see how they write, the layout of their posts, the images they use, etc., steal some good ideas, and make it yours.
Then optimize your body at least with these things:
Short paragraphs

Section subheaders

Active Voice

Font px

Lots of Visuals (screenshots, charts, pictures)

Use bullets and numbered lists

Use transition words
 I love using transition words because it makes paragraphs more intelligently connected, which also helps readers scan through your text and quickly understand information changes between paragraphs.
How to write a good conclusion
 The conclusion is where you help the reader summarize the amount of information they have just read, comment on the main points, and the reader needs to take notes.
 Your conclusion is the final thing your reader will remember about your article. But it shouldn't be too long, and an ideal ending is 3-5 sentences.
Optimize for SEO
Now, it's time to optimize your post for SEO
I use WordPress to guide you step-by-step on optimizing before posting, but this method will still work for you if you're using something else.
Let's get started!
1. Short URLs
When it comes to SEO, short URLs work best.
There are two reasons why short URLs are superior to long URLs
URLs help Google understand your page's topic

The short URL is clean and entices people to click on the blog faster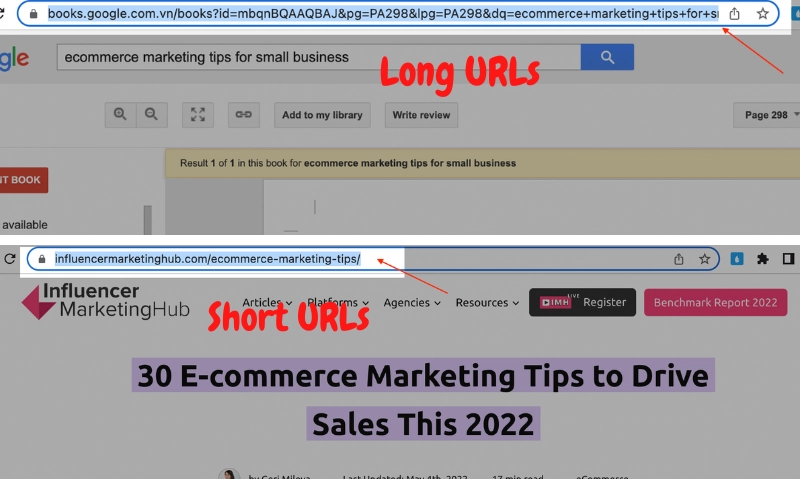 Well-optimized URLs not only help readers and Google understand what you're writing. It enables you to build a clear information hierarchy on your website.
For example, here is one of our URLs
https://blogs.hyvor.com/blog/multi-language-blog
Here are the elements of this URL:
➔  Protocol: https
➔ Subdomain: blogs
➔  Domain: hyvor.com
➔  Subdirectory: blog
➔  URL Slug: multi-language-blog
Compared to URLs without keywords, URLs with keywords have a higher click-through rate (CTR) than 45%.
Here are some best practices for SEO-friendly URLs.
Keep it as simple as possible

Use subfolders to avoid over-optimization

Make your URL exactly the keyword, and nothing else

Use hyphens instead of underscores

Remove stop-words
Although optimizing URLs is a step that doesn't take too long, it might be a bit of a hassle for newbies.
So, the links below can make sense for you.
You can learn how to create SEO-Friendly URLs (Step-by-Step) here.
2. Unique Meta Description
The Meta Description is a short but extremely accurate introduction to the topic of the entire article, and it's a nice way to get more people to click on your post.
WordPress SEO plugin offers you to write meta descriptions for a post because it plays an important role in search engine ranking and gets more organic traffic for the website.
Specifically, you want your meta description to have the following:
Include relevant keywords.
Describe your content's USP

Fit within 156 characters limit (about 1-2 sentences)

Target an emotion and add a call to action if it's relevant
Meta descriptions are one of the best ways to attract new visitors, so pay close attention to this optimization step.
If your blog doesn't have a meta description yet, you should start adding it to your blog now.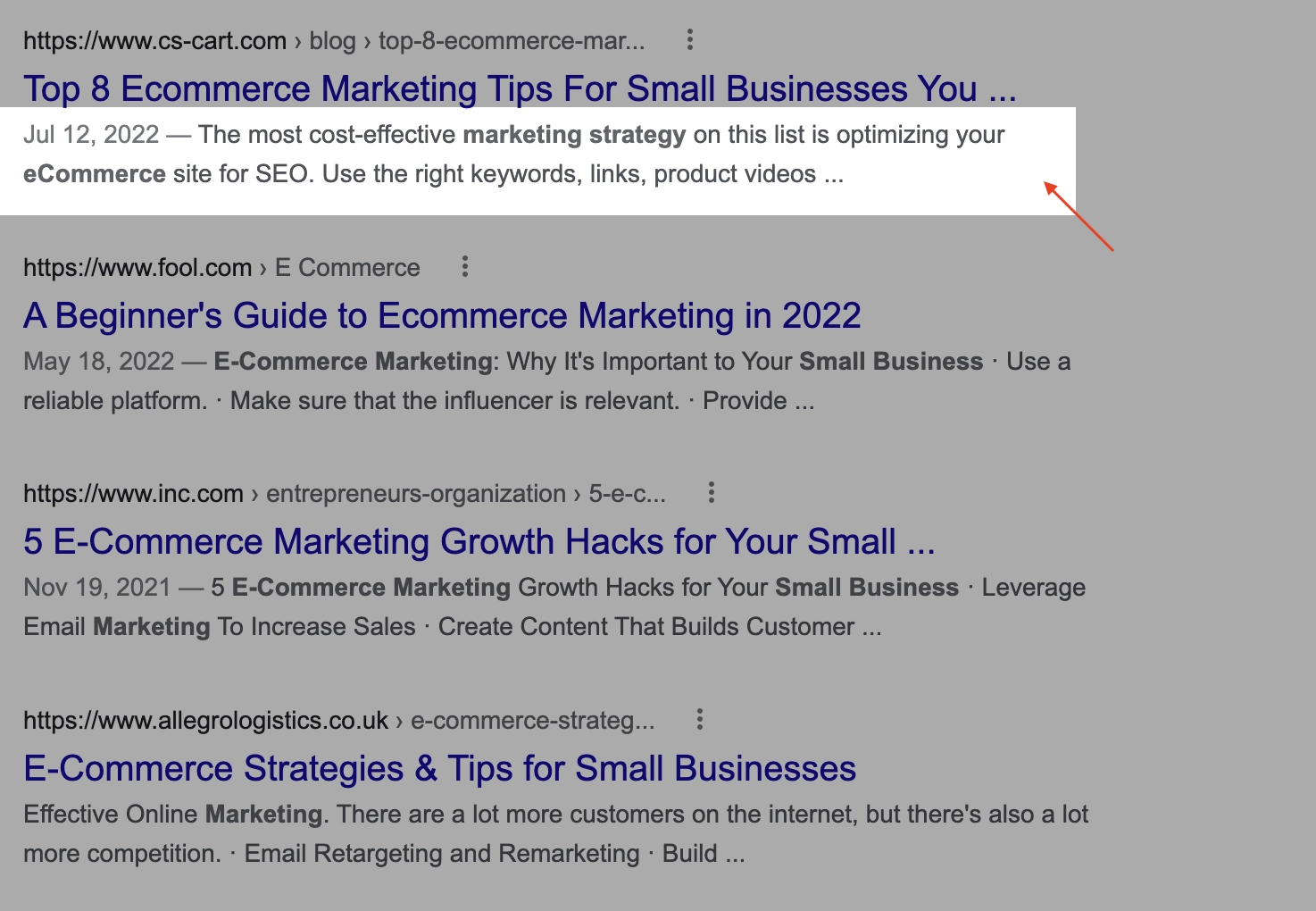 The meta description is one of the crucial factors in SEO.
You should add it to all of your article posts. If your pre-published articles still don't have a meta description, go to the edit section and add one.
By adding meta descriptions, Google can read and understand the content in your description. The article will have an easier chance of ranking high in top answer search queries and bringing more eyes to your web pages. 
3. Title Tag and Slug
First, you need to know the difference between a Title tag and a Slug
Title tag: how the audience sees the title of the post on your website

Slug: summarizes the main content of the website and usually stands behind the domain name
If you omit the Slug in the SEO optimization section, your article will be restricted from the ranking by Google.

Slug optimization is a necessity for SEO.
Slug is an integral part of the URL and, when combined with the domain name, will form a permalink link that leads to the source page of the website.
It can be said that the Slug optimization process is similar to creating SEO-friendly URLs.
What about the title tag?
Title tag helps users and search engines quickly and accurately capture a website's topic.
Conditions for a standard SEO Title tag
Do not capitalize the entire title tag

Keep your title less than 66 characters

It does not 100% match the title of another post

Include the main keyword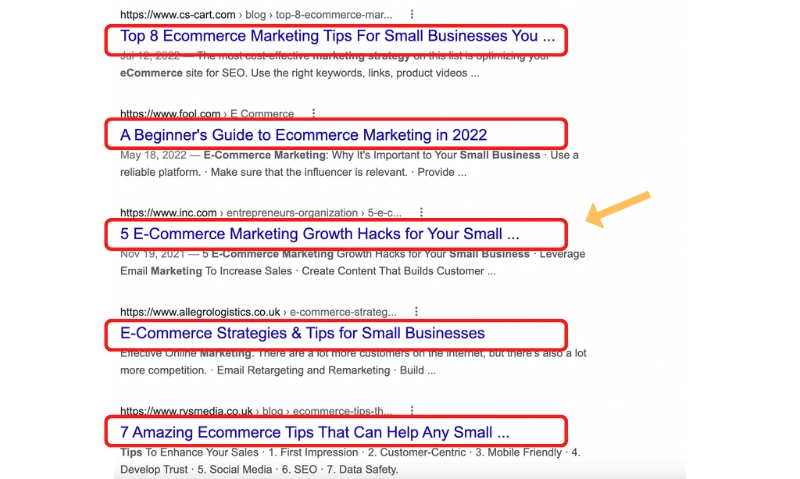 A good title tag is an excellent opportunity for you to score points in the eyes of the audience, helping you make the first impression on the reader.
By including a keyword in the title tag, Google will recognize your site faster.
However, this does not mean that you need to use the exact main keyword at the beginning of the title tag. Google is smart enough to understand a standard SEO title tag.
You can learn how to optimize a title tag for readers here
4. Internal Links & External Links
Let's see how the two links are different:
Internal Links: internal links from one page to another on the same website.

External Links: to link your article with articles or information from other websites.
 External links are divided into two types: Inbound Links and Outbound Links.
Inbound Link: also known as Backlink, is a link that points to your website from other websites

Outbound Links: are links to other websites from your website that convert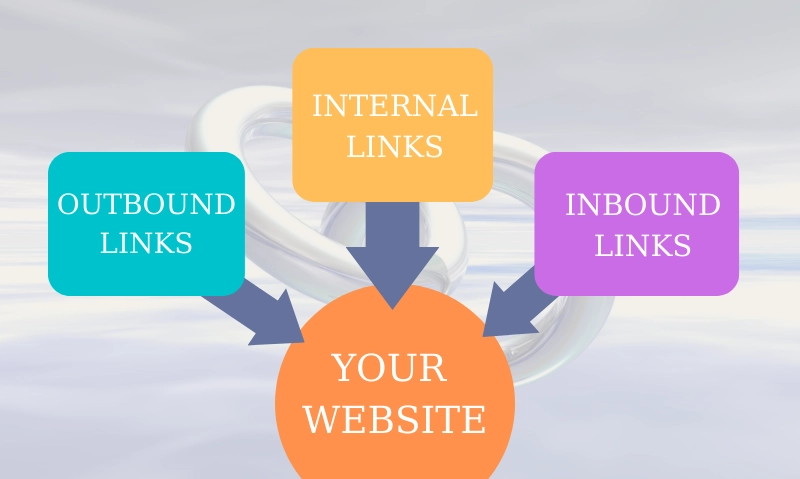 Inbound & Outbound Links are the 2 main types of External Links
Why Internal Links is important?
Internal Links are key for any website that wants higher rankings in Google.
It helps Google find, index, and know all of the pages on your site.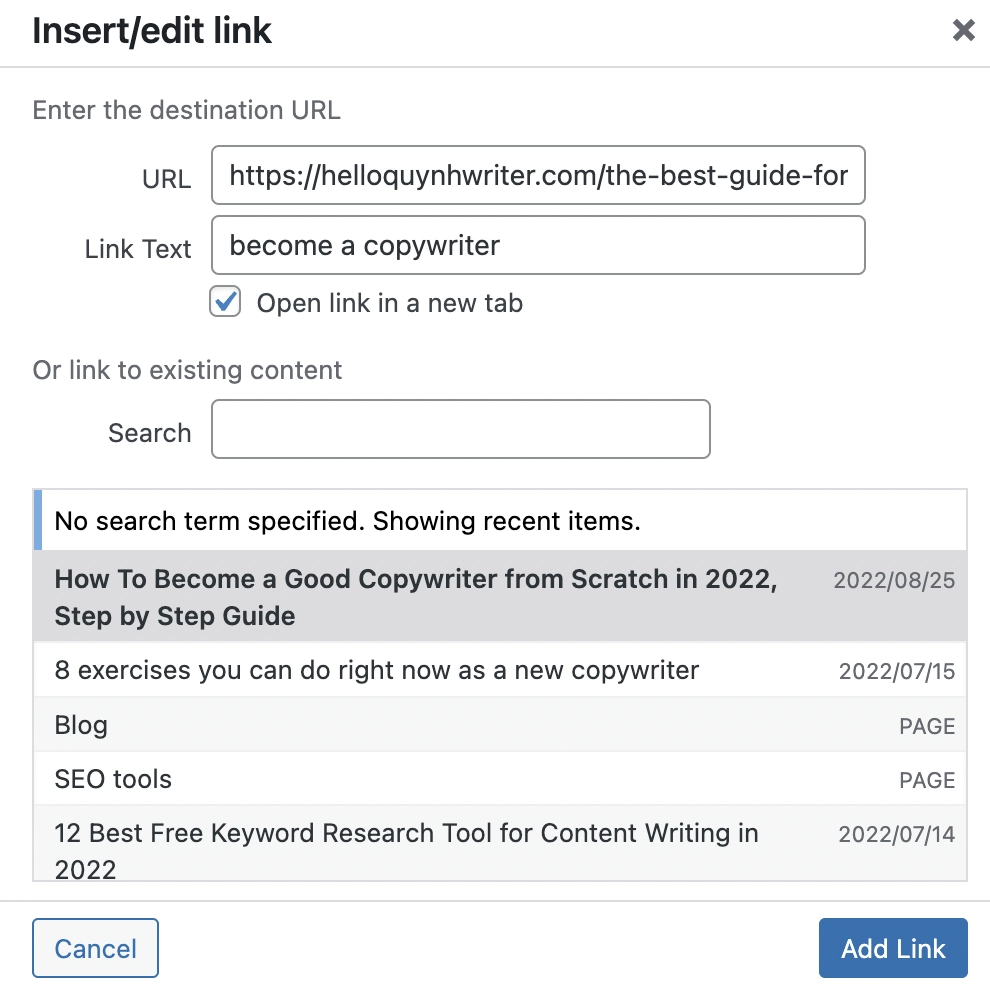 Let's say you publish a new article about your market sector. All you have to do is choose a relevant article and link it to your recent article.
In this way, it provides additional information to the reader, improves the number of views per session, and boosts your organic traffic.
But don't over-link; 3-8 links are good enough.
In short: The more you create internal links, the more you create SEO energy for your website.
Why are External Links important?
By linking to other websites, it is possible to improve your website's authority significantly.
Provided that the websites you link to need to have a high level of authority (not spammy sites).
Here is how to check the website link you should link or not.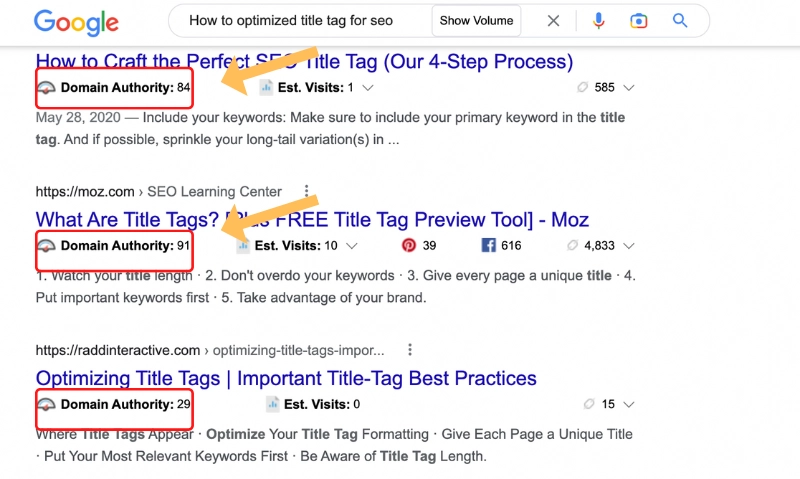 If your website is new, you should link with other external links with a high Domain Authority (over 60).
Domain Authority is the authority or trustworthiness of a website, and obviously linking to such a website will help Google rate your article positively.
Pro Tip: I use the Ubersuggest extension for checking Domain Authority. And it is completely FREE for everyone. If you haven't used this awesome tool, add it now.
5. Image Alt Attribute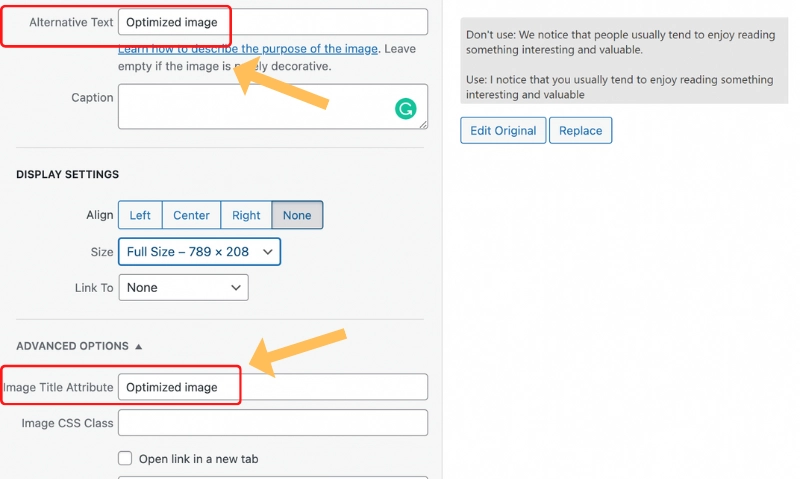 Image SEO is the practice of optimizing images for your articles to make it easier for Google to find out and rank them in image search.
But the thing is, Google can't read images.
Text is how Google realizes an image.
That is why, when you use images, you need to make sure to optimize all images in your article so that search engines can understand what the image is.
Here are seven ways to make your images SEO-friendly:
Original images: Use Canva to make your image look more beautiful

High-quality photos: it more appealing than blurry, unclear images

Images optimized for speed: The overall size of the image is not should be larger than necessary. Use Pixlr X for resizing and compression

Supported image formats: Google Images bear the following formats: PNG, SVG, JPEG, WebP, GIF, and BMP

File names: Google extracts information about images from the page's content, including their file names.
For example, People often upload images with names like image003.jpg
It was a big mistake!
When you name an image, use something related to the image.
For example, when you save an image from Hyvor, and you name the image "Hyvor," it will not be targeted. Instead, name it this way "Hyvor - Inbound Links" or "Hyvor - Outbound Links."
This way, when people search for images on Google image search, they will quickly see relevant Hyvor pictures in the website's blog posts. 
6. H1, H2, H3 Headings
Using the right heading tags is crucial for SEO since they assist Google in understanding your content.
Otherwise, the Heading will make your website more user-friendly by making your information more legible and accessible.
For H1, you should use it only once on each post.
The H1 heading is the name/title of the post.
For example, on this page, is "How To Write SEO Friendly Content (From Beginner To Advanced)."
Then, you can use an H2 heading, H3 heading, H4 heading, and so on.
High-performing articles are more likely to have both H2 and H3 tags and to be well-structured.
Structure the article such that it is simpler for the reader to understand the material, but don't go overboard by adding too many subheadings.
As an example, think of header tags as the book's table of contents:
H1 introduces the subject of your page, much like the book's name.

H2 is a book chapter - the main subjects of the article are covered in sections

H3 to H6 act as extra subheadings, similar to how a book chapter may be divided into several subtopics.
If you need a catchy H1 for your article, here is what you need to consider:
Use words like: "how," "why," and "where" - guides and how-to articles drive 2x more traffic than other types

Use numbers like "Top 5", "10 Best",..etc. - articles with list headlines get 2x more social shares than other types
All the top websites use this heading structure as a great SEO technique in order to rank.
When creating a long post, it is especially wise to employ appropriate header tags for SEO purposes.
The SEO community advises using your keywords in the H1, H2, and H3 tags. You should choose the header tags for your outline at this stage (during the research process).
For more information on using heading tags in blog posts, please see heading tags for SEO.
7. Grammar and Spelling
Your blog contains perfect keywords and great optimized content, but your grammar and spelling are not good?
The bad news is if you have a lot of typos or errors in your post, it might rank your content lower than other search engines.
The good news is that Google's bots don't care much about spelling or grammar mistakes. However, as I said, typos and errors can still create a problem for search engines.
And if your article is over 2000 words long, you won't want to waste time checking every single typo.
Here is the solution.
Use the Grammarly tool to help you save time and keep your article in the best condition.
Grammarly is free, but they also offer a premium for more function. This tool will pick up spelling and grammar mistakes better than any other checker.
Aside from spelling and grammar, it may check for syntax errors and suggests contextual improvements. You can use it to ensure your written blogs are error-free.
One more thing!
Friendly content or readability is also vital for both reader and SEO optimized content.
Readability is vital in online content and can greatly improve your SEO results. Google usually checks the readability of your content.
You can establish authority, attract attention, and effectively communicate your message with high readability.
If your article is too difficult to read, you can not achieve higher rankings.
Here is what you should do to improve your readability
Use Hemmingway Editor
Simply copy and paste all your text into the Hemmingway Editor, or you can download the desktop app.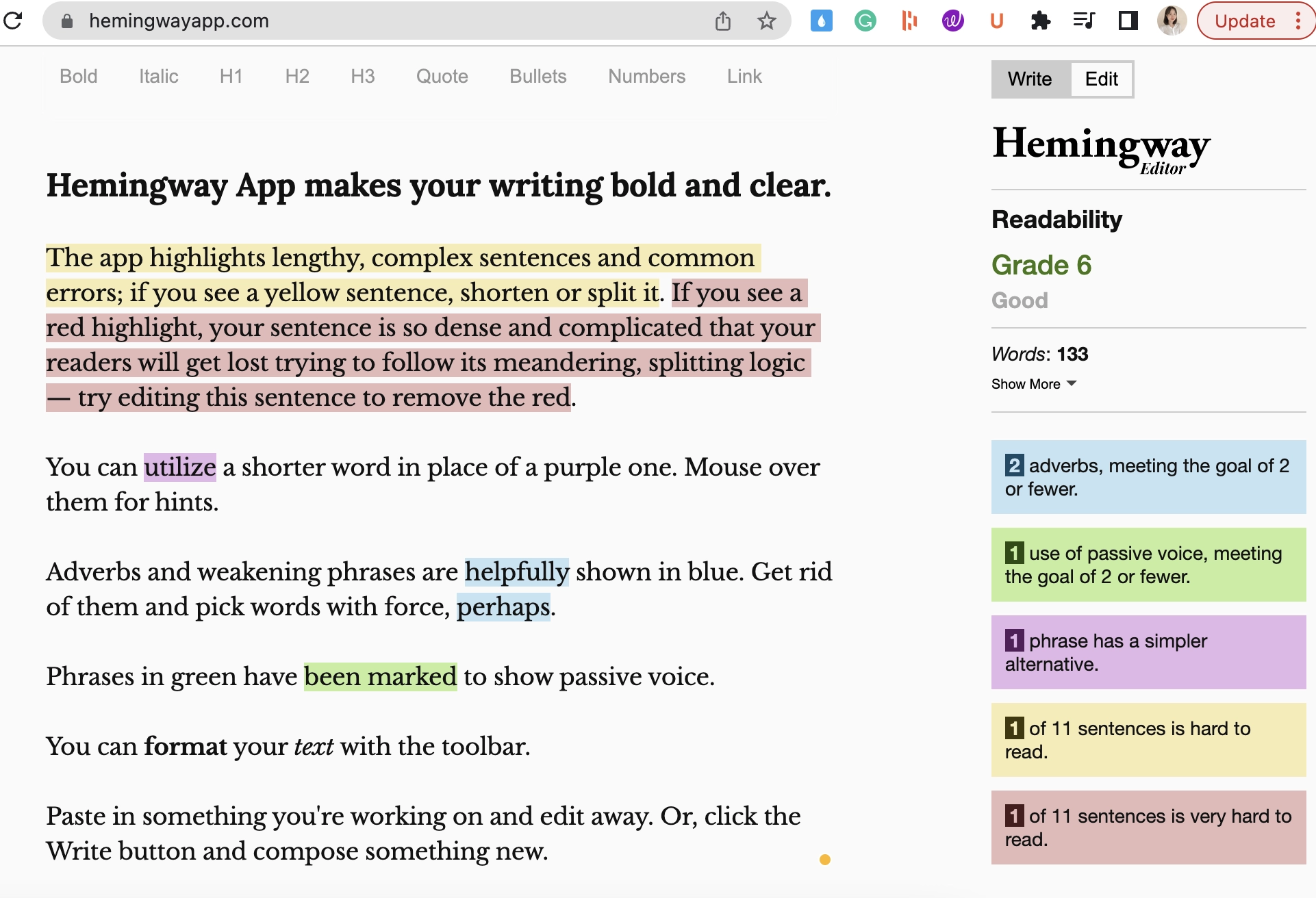 Then the app will show you the scale of your writing (ideally 4-7 points). It will highlight sentences you need to edit, including adverbs, passive voice, simpler alternative phrases, and hard-to-read sentences.
Using Hemmingway, you can ensure your blogs have an appropriate reading grade for the intended audience. 
8. Optimized Your Content For Mobile
According to WebFX, there are over 40% of transactions happen on mobile, and people spend 70% of their internet time on mobile.
To attract and retain mobile users, you should invest in mobile search engine optimization (SEO).
Optimizing your mobile site will rank better in search results and keep mobile leads on your site.
Before you make drastic changes to improve your mobile SEO or your customer's mobile SEO, do this
check to see if your site is mobile-friendly or not?
Using Google's mobile page testing tool is easy to test mobile-friendliness.
Go directly to the website or search for the mobile-friendly test on Google.
All you need to do is enter the URL of the page you want to test and click "Test URL."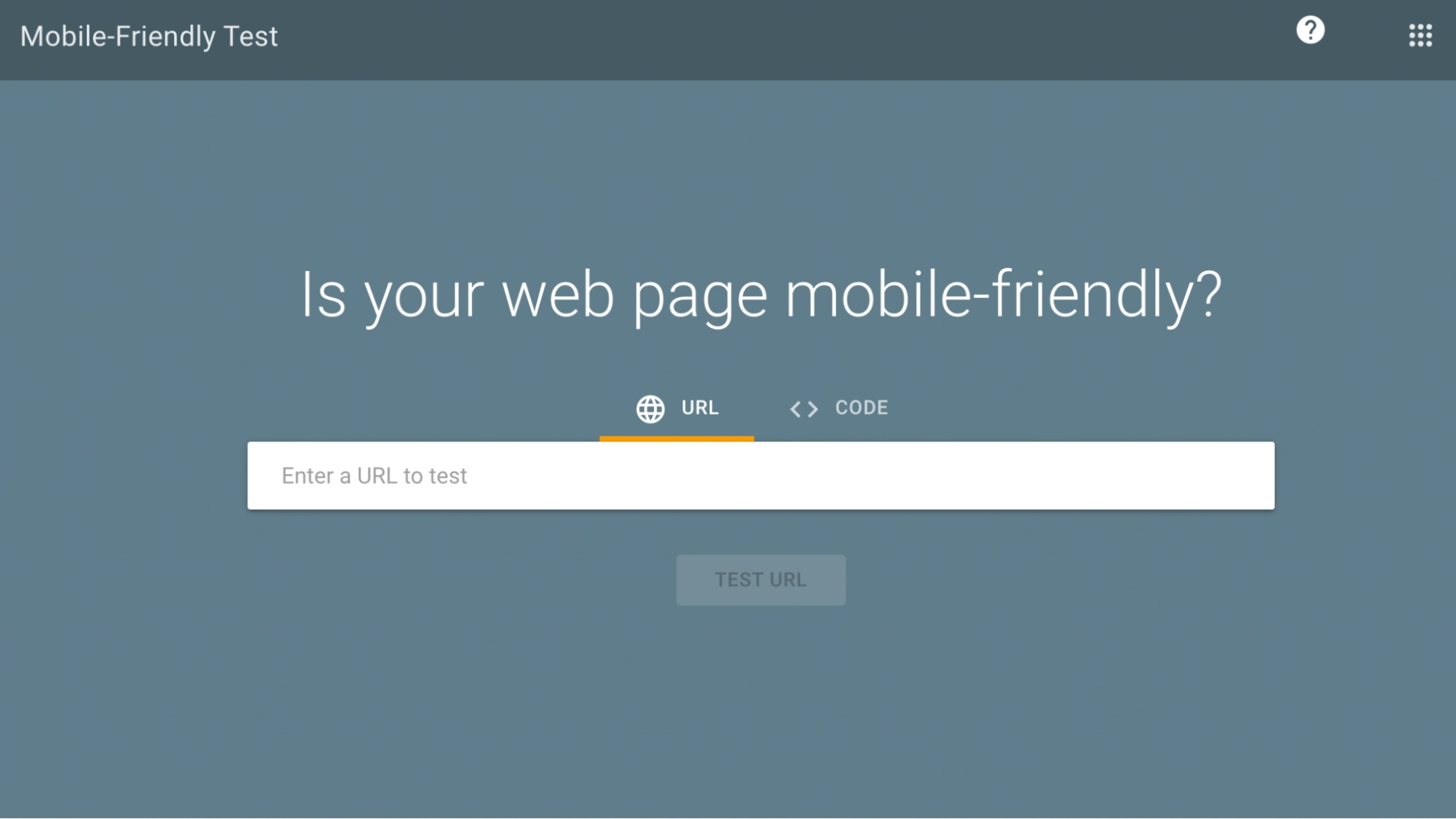 The best part is that you can determine how mobile-friendly your site is without loading every page on your phone or other mobile devices.
This will evaluate how mobile-friendly your website is and classify URLs based on problems they may have.
Once your mobile-friendly research is finished, you'll have a better sense of the work you need to perform for your mobile SEO strategy. 
9. Update Your Content Regularly
Google frequently updates its algorithms to provide the searcher with the best and most relevant results.
So if your website is not converting and your online traffic isn't rising, you may need to rewrite the content.
By doing this effectively, you will improve your rankings, leading to more traffic.
You don't have to deal with the headache of maintaining your website on your own all the time.
There are many resources available to you for assistance, regardless of whether you wish to share regular blog entries or occasionally update one or two pages.
Hiring a freelance writer is a great way to solve this problem for you.
Even if you are a freelancer, you can still hire other freelancers to work for you for a reasonable price. 
Ready to write SEO-friendly content?
It's time to get started on your SEO writing to-do list! Whether writing new content or updating existing content, these tips will help you write for SEO and improve your ranking.
Final Checklist:
Start with research keyword

Optimized the length of the article

Google search relevant keyword

Make an outline article structure

Write a unique Meta description

Post a catchy Title tag

Short URLs

Add Internal links & External links

Image Alt Attribute

Use H1, H2, H3 Heading

Grammar and Spelling check

Optimized content mobile

Update blog regularly
Now we want to hear from you.
What do you think of this guide?
Let us know if we missed something or if you have any suggestions, comment below for sharing. We love to hear from you!
Blog Post SEO FAQ
Do blog posts help SEO?
There is a lot of debate in the SEO world about the value of blog posts. Some people believe they are essential to ranking well in search engines, while others believe they are a waste of time. The truth is blog posts can help your SEO if they are done correctly.
How do I make content SEO optimized?
Recheck our post, and you will find the best answer. Or see a mini summarize things you can do for writing for SEO.
Use keyword-rich titles and descriptions

Do your keywords research

Make sure your website is mobile-friendly

Format your content properly
Why is optimizing content important?
There are a number of reasons why optimizing content is essential. First and foremost, it helps to ensure that as many people see your content as possible. Secondly, it can help to improve your search engine rankings, which can, in turn, lead to more traffic and higher conversion rates. Finally, optimized content is better quality, making it more likely to engage and retain readers.
What is a content optimization tool?
A content optimization tool is software that helps you optimize your content for the web. It analyzes your content and provides suggestions on how to improve it for better search engine ranking, social media engagement, and overall user experience. A good content optimization tool will help you identify areas of improvement and give you actionable steps to take to fix them.
How many keywords should I use for SEO?
This question lacks a definite response. The number of keywords you should use for SEO will depend on various factors, including your industry, the competition level, and the search engine algorithms. A good rule of thumb is to target two to three keyword phrases per page. By doing this, you'll improve your position on search engine result pages (SERPs) and increase traffic to your website.
Should I use the same keywords on every page?
When it comes to using keywords on your website, there is no simple solution. Each website and each page is different, so you will need to use your best judgment to figure out what keyword(s) to use. However, you should keep a few things in mind that will help you make the best decision for your website.
Use pertinent keywords throughout your website if you want to score well on search engine results pages (SERPs).

Don't stuff your keywords! This will not only turn off potential customers but also get you penalized by Google. Use keywords sparingly and only when they are relevant to the content on the page.

Choose your keywords carefully. Consider the keywords that prospective clients would use to find a company like yours.
Now we want to hear from you.
What do you think of this guide?
Let us know if we missed something or if you have any suggestions, comment below for sharing. We love to hear from you.