As you do Search Engine Optimization in your blog, you will need SEO tools that make things easy for you. In this article, the top 10 SEO tools for blogging are thoroughly explained, mentioning their features and why you need them. They are important as same as choosing a good blogging platform.
When talking about essential SEO tools, we can mainly categorize them into several groups.
Keyword Research

Content Marketing

Rank tracking

Technical SEO

Link building
Under those categories, there are lots of tools existing on the internet such as Ubersuggest, Answer the Public, Soovle, Google Trends, Google Search Console, Google Analytics, Google SERP Preview Tool, Moz bar, Grammarly, SE Ranking, etc. Let's see about these tools and how they help you to improve SEO.
This is one of the SEO tools that you might want to do SEO in your blog. Moz is overall series of SEO tools. However, most of them are free while having paid plans. However, Moz has a bunch of different SEO tools that cover most of the above-mentioned categories; for example Link building – Moz bar, Keyword Research – Keyword Explorer, etc. And if you are looking for free tools, the following Moz tools would be good choices for you.
Paid Moz tools are listed below.
Moz Pro – This is an all-in-one Suite tool that includes keyword research, link building, site audits, page optimization, rank tracking, reporting, and more. This tool's price starts at 14$/month.

Moz Local – This paid tool completes local SEO management. It helps you to raise your local SEO visibility with easy directory distribution, review management, listing updates, and more. This tool's price starts at 99$/month.

STAT – This tool is used for enterprise rank tracking. SERP tracking and analytics for SEO experts, STAT helps you stay competitive and agile with fresh insights. This tool's price starts at 720$/month.
You can choose any of the above-mentioned tools according to your requirements. Let us know about your experience with Moz.
All of the SEO tools required to properly perform online marketing tasks are provided by the all-inclusive SE Ranking program. For proprietors of small companies, SEO experts, and agencies, SE Ranking is ideal. The software offers a full suite of capabilities for checking keyword positions, conducting keyword research, auditing websites, analyzing competitors, coming up with keyword ideas, grouping keywords, keeping track of backlinks, creating automated professional reports, and much more. In addition to the usual SEO tools, the system provides a number of extra features like White Label, Social Media Management, and Marketing Plan that are designed to take your expert digital services to a whole new level. These are the tools that you get to use when you choose SE ranking
It has a user-friendly UI but it is not that user-friendly for mobile. This application can be used to manage marketing services for numerous clients or to keep an eye on a personal website. Its most affordable plan, which costs $18.60 a month, offers surprisingly powerful functionality.
These are the pricing plans they offer.
Basic plan – which tracks up to 250 keywords, is $18.60 each month. The cost then increases to $25.80 for tracking 500 keywords and then increases once more to $33 for 750 keywords. The Essential package also enables you to run website audits for up to 70,000 pages and monitor up to 10 websites.

Pro plan – The most popular SE Ranking option is the Pro package. This plan's starting price is $42.50 for rank tracking for up to 1000 keywords. If you spend $71.40 per month, you can extend your keyword limit to 1750 keywords. With this subscription, you can check an infinite number of websites, which is a vast improvement over the Essential plan's limit of 10.

Business plan – The price for rank tracking up to 2500 keywords each month starts at $90. Once more, you can pay more to track additional terms monthly as follows.

5000 keywords: $167 per month

10000 keywords: $263 per month

15000 keywords: $359 per month

20,000 keywords: $431 per month
Let us know about your experiences with SE Ranking.
"Answer The Public" is a keyword tool that creates a search cloud, which is a visual representation of search queries and suggested autocomplete searches. The five Ws (Who, What, Where, Why) plus "how," "can," "are," "which," and "will" make up categories. This tool immediately generates every helpful phrase and query people are posing around your term by listening to autocomplete data from search engines like Google.
All you need to do to use Answer The Public is add a few pertinent keywords. After then, a wealth of customer insights will become apparent. The information is arranged by why, how, what, when, are, and other criteria and divided into subtopics. You can use Answer The Public to find out more about what your audience is looking for without registering or paying anything. They do, however, have a daily search limit that you are limited to. A significant quantity of new insights and functionality can be unlocked by choosing one of the premium subscription tiers. However, it has three pricing plans as follows.
Monthly – 99$

Annual – 79$

Expert – 199$
These are the features you get with the above-mentioned paid plans.
No daily search limit

Invite as many people as you wish

Compare data over time

Create up to 4 search alerts

Export as a CSV

Export high-resolution visualizations

Hide branches and suggestions

Priority customer support
Nevertheless, the free version of Answer The Public is powerful. You can add the browser add-on to Answer The Public too.
GA – Google Analytics is a platform inside the Google Marketing Platform brand that measures and reports website traffic. Google Analytics is a web analytics tool. Google introduced the service in November 2005 after acquiring Urchin. GA has tools that may be used to assist users in spotting patterns and trends in how people interact with their websites. Data gathering, analysis, monitoring, visualization, reporting, and integration with other applications are all made possible by features. You get free access to GA once you have a Google account.
However, Google Analytics works on the hybrid model meaning it offers freemium service as well as paid service. The great news is that small business owners can use this service for free without paying any amount or monthly charge.
With the free version, you get access to these features. But some of them have limitations.
Real-Time Data

Custom Reporting option 

Advanced Segmentation

Flow Visualization

Social Reporting

Conversion Reporting

App Tracking and Mobile Device 

Video Performance Measurement

Multi-Channel Reporting

Integration with Search Console, AdSense, Adwords, and DoubleClick Ad Exchange

Data tracking and exporting 
For example, the limitations of the free plan are,
Data volume capacity of hitting up to 10 million hits per month

Max 50,000 Data rows

5 Slots custom variable

Limitation of only 20 custom dimensions and metrics

24+ Hours of data freshness capacity
The premium/paid version of GA is known as Google Analytics 360 which will cost you the amount of $150,000/year. The following features are additionally included in this tool plus the above-mentioned features without limitations.
Higher Quality Data – The premium version increases your monthly data capacity from 10 million hits to 500 million hits. 98 percent data freshness and 99.9% data accuracy are also guaranteed. Simply put, you get higher data volumes and improved data accuracy.

Advanced Analytics – The premium version includes attribution modeling, data-driven features, integration with double click manager, and data that is processed by Google Big Query. As a blogger, you may learn a lot of useful information that will help you better understand and target your target market.
Add Google Analytics to your blog and start monitoring your blog.
This is an analytic tool based in Europe. It is an ideal solution for Google Analytics that users have lots of issues with when using. Unlike Google Analytics, Splitbee gives you a bunch of useful features and issue-free.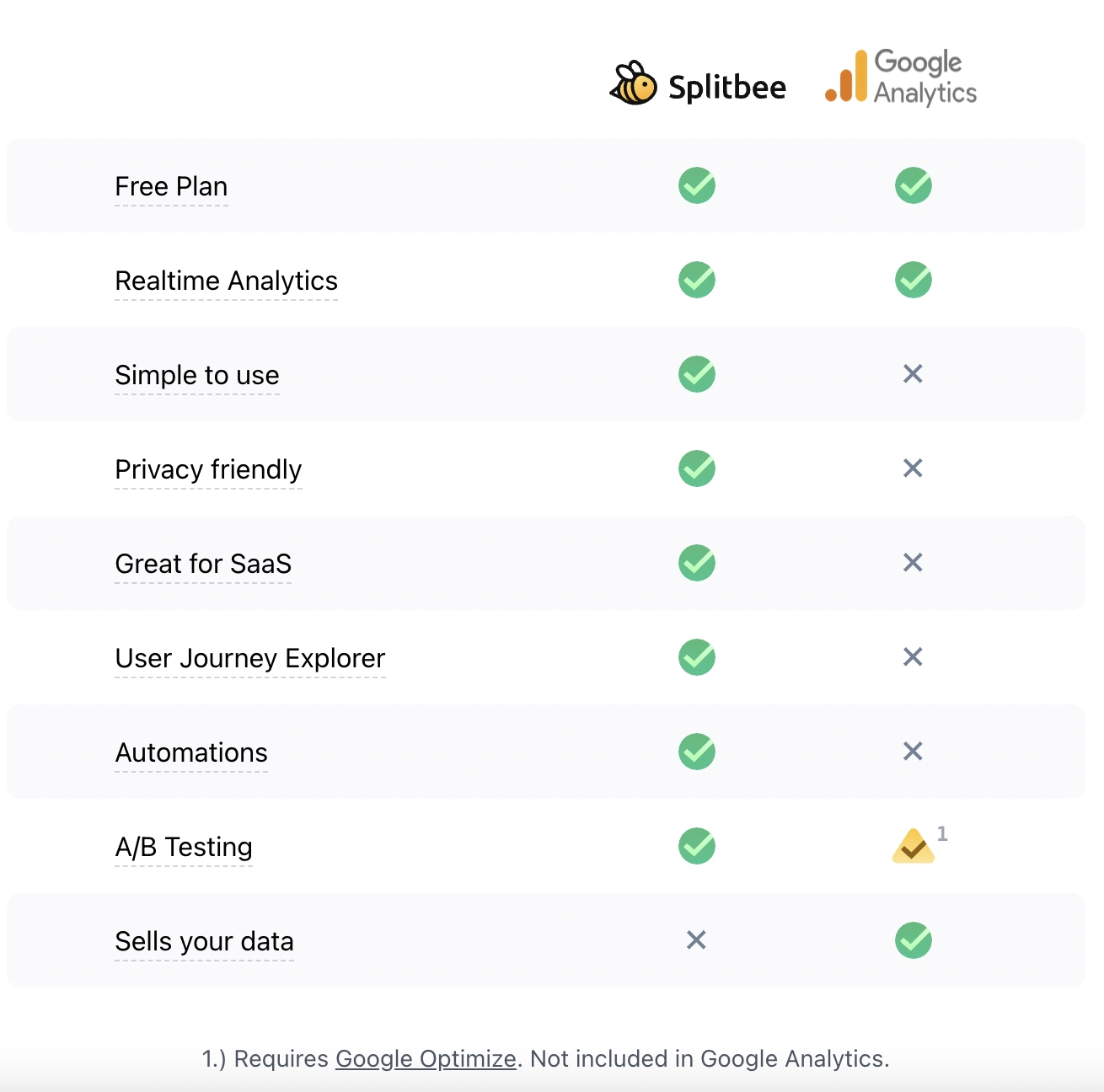 Splitbee assists in real-time traffic monitoring. Splitbee discovers the origins of individuals and the websites they frequent. It investigates the user's behavior and interprets the data. Not only that but also it automates the page view tracking; for the complete plot, including custom events. It determines user journeys and the points at which users stall. It has a very nice UI that you might feel happy to work with. Splitbee is a tiny program that utilizes a vast network. Users only need to write one line of code. A user need not be a developer.
The API for event tracking is fairly basic. Both JS functions and data-split bee-event auto-tracking are supported. By tracking user behavior, it is possible to improve user flow funnels and automate some onboarding. From the viewpoint of blogs, it is already more than necessary.
For a small-scale blog with fewer views, Splitbee has a free plan and offers an extension on the needed area. FYI, Splitbee has two types of plans.
Free plan – This is of course for free with the features of,

A/B testing

Analytics

Insights

Pro plan – This is 79$/month. With features,

15000 monthly users

A/B testing

Analytics

Insights
Let us know your experience with Splitbee by commenting down below.
A web-based tool called Google Search Console was created to assist businesses in monitoring the performance and search traffic of their websites, fixing problems, and raising their placement in Google Search results. In order to improve decision-making processes connected to websites' visibility in search results, it enables SEO practitioners to do marketing analysis utilizing other Google technologies, such as Google Trends, Google Analytics, and Google Ads.
Google Search Console is a helpful tool for evaluating a company website and enhances search outcomes on Google. It can trace every click in the Google search console dashboard after adding the website to it. Furthermore, it can simply determine the total clicks, impressions, and average position of a keyword on Google. As discovered 404-page failures, Mobile Usability difficulties, and other significant problems for business websites in the Google search panel. In order to remove undesirable bad link URLs from the website, it offers good functionality. It is the ideal tool for SEO and notifies users when a problem arises with the website. Sometimes Google does not index website pages, so in order to rank keywords, we have to index website pages using a search console. It provides keyword query lists so that you can improve your marketing strategy.
This tool does not have paid plans and it is free of charge provided by Google.
When we question why SEO is this much important, improving the readability of the content you provide is also a part of blog SEO: indirectly but has an impact. Grammarly is a typing assistant in the cloud that checks for spelling, grammar, punctuation, clarity, engagement, and delivery errors. Artificial intelligence is used to recognize the fault it finds and look for a suitable substitute. You can check spelling and grammar, plagiarism, punctuation, and tone detection. Not only it does track all the errors and issues but also it provides you suitable solutions for that.
Grammarly has apps and extensions for browsers that will make your work so much easier. Their technology for writing aids English scales to operate smoothly on a variety of platforms and gadgets. A free account can help people write better and stronger every day, but a Premium account can help you communicate more effectively at work, school, and other places where you need your writing to seem as professional as possible.
Grammarly Business was created for businesses, groups, and teams of all sizes to assist them in maintaining their corporate identity and generating outcomes through consistent communication. To enhance the effectiveness and quality of internal and external communication, Grammarly Business provides all Premium suggestions in addition to enterprise-level tools. Grammarly for Education assists students in acquiring critical writing abilities and reinforcing good revision practices.
Builders can implement Grammarly's top-notch communication support into their applications with just a few lines of code thanks to Grammarly for Developers. According to Max Lytvyn, co-founder of Grammarly, "Quality communication translates to improvements in engagement, retention, and other crucial metrics." Additionally, we've made it simpler than ever for developers to give their end-users better results.
It has three pricing plans including the free plan.
Free plan

Premium plan – Costs 12$/month

Business plan – Costs 15$/month
Let us know your experience with Grammarly by commenting down below.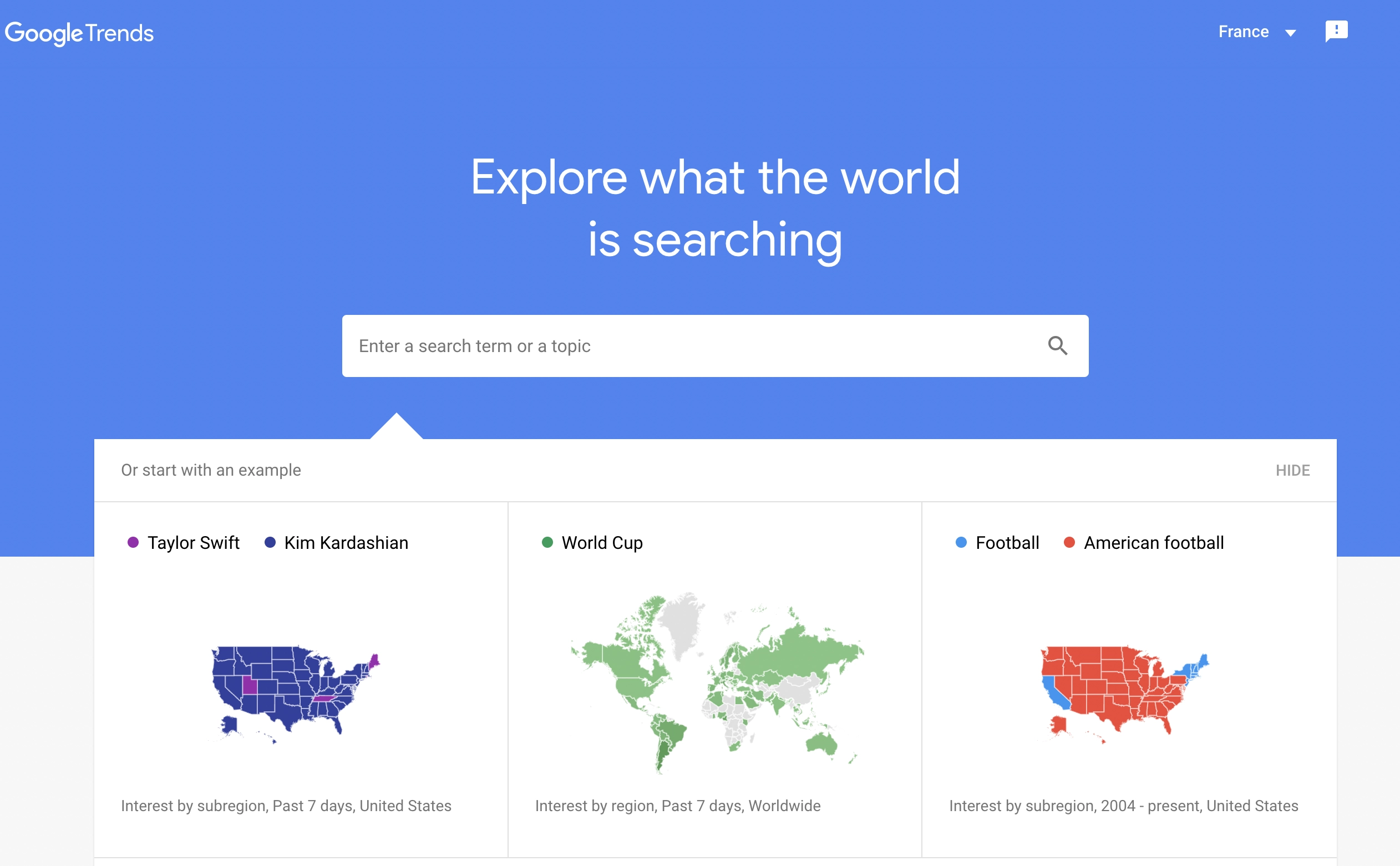 Google Trends is a website that tracks the most popular Google Search terms across various geographies and linguistic groups. The website compares the search volume of various keywords throughout time using graphs. This is not a full pack of SEO tools. But it helps you to track the trends on Google. Not only that but also you can use Google Trends to search niches. Furthermore, you can also do keyword research using Google Trends.
Moreover, if you are promoting products by blogging, Google Trends is a great help for you to find and identify what the trending products are and what products people are looking for. On the other hand, bloggers can use this tool to create articles for trending topics and you can check the performance of particular keywords in particular regions. Monitoring your competitor's positions can also be done using this tool.

This tool is a customizable engine that unites the suggestion services from all the major providers in one place: Google, Bing, Amazon, Answers.com, Yahoo, Wikipedia, and Youtube. As you know, there are lots of browsers out there and each of those browsers sometimes ranks differently from the same search results. But with Soovle, you do not have to suffer searching at each browser one at a time.
In other words, instead of having to search on each website for suggestions for a particular term, you can get access to all the data in one central location. Soovle is a major help for search and content creation inspiration. After installing the browser add-on, you can start using Soovle. Moreover, it is a straightforward yet effective tool for conducting semantic research in your sector.
This is a free SEO tool that focuses on coming up with fresh keyword suggestions. Ubersuggest was initially developed as a tool to harvest Google Suggest phrases; but, since being recently acquired by businessman Neil Patel, the feature set has been greatly increased. You can use Ubersuggest on its website and it also has given you a Chrome extension. So you can do that and use it too.
Ubersuggest has a set of SEO tools as a whole it brings you all in one package. Ubersuggest gives you,
Domain overview – You may adapt, enhance, and gain an advantage from the techniques that are working for others in your market by using Ubersuggest.
Keyword suggestions – Ubersuggest will provide you with hundreds of possibilities, from head terms to long-tail phrases. For each keyword, you'll also see the volume, the level of competition, and even seasonal trends.
Top SEO pages – You may find out which pages of your competitors are ranking for popular organic keyword phrases and which ones are favored by websites like Facebook by using the top SEO pages analysis.
Content ideas – Your content strategy can succeed or fail based on what you choose to write about. You can look closely at the content that has performed best for any specific keyword so you can write about subjects that readers will find interesting with the use of this tool.
Backlink data – You may see the precise content that is being linked to in your area using Ubersuggest. Next, you contact each of these websites and request that they connect to you. You only need this information to create an action plan for enhancing your link profile and identify the links that will have the biggest influence on your rankings.
Though this tool is free with limitations, there are also paid plans.
Individual – Entrepreneurs & small businesses. Managing 1-3 websites. It costs you 12 USD/month.

Business – Small & medium businesses. Managing 4-7 websites. It costs you 20 USD/month.

Enterprise/Agency – Large businesses & agencies. Managing 8+ websites. It costs you 40 USD/month.
At Last…
There are lots of SEO tools in the world. But choosing the right and appropriate tools is another skill. Though we can do SEO all by ourselves to some level, we cannot fulfill every goal in SEO without SEO tools. If you have any questions, suggestions, or ideas, feel free to comment down below. We are happy to carry on discussion interesting discussions. Happy Blogging!