According to Oberlo, the average person spent about 400 minutes online every day in 2022 and 15 minutes more in 2021. And with 60% of internet users reading blogs daily, it becomes crucial for any business person looking to thrive in their industry to have one. 
As a result, we have collated all the tips, tricks, guides, and solutions for blogging for real estate agents. This piece examines why you need to get started immediately, how to blog the right way, and how to ensure you never run out of ideas. 
Let's get this show on the road. 
There are several benefits to blogging with Hyvor Blogs as a real estate agent. They include but are not limited to the following:
Affordable Lead Generation Option
Any and everywhere you check, you would find people living their best lives with real estate listed as their source of wealth. However, they do not tell you how much financial investment it often requires to create a name for yourself in the industry. 
From the logistics to running ads and generating leads on platforms like Zillow, it can quickly take a toll on your finances and condemn your business from the start. This should not be too much cause for concern as most budding businesses face similar challenges, but like other budding businesses, you want to figure out ways to cut costs. 
One such way is operating a real estate blog or real estate blogs. It allows you to target your audience better, interact with them, and know what they want every time while still working with your budget. 
Controlled Sales Funnel
Another reason blogging for real estate agents is becoming increasingly popular is that it allows you to monitor and control every aspect of your sales funnel. Unlike other traditional methods –running ads as an example– how well your business is promoted depends on the agency offering the service and other factors you do not know or can not control. 
Blogging with Hyvor Blogs allows you to choose and direct your narrative. You can monitor your reach and make tweaks for more efficiency, depending on what you find. This enables you to determine what works at a glance and discard strategies with relatively low yields just as easily. 
It Works All Year Round
As long as you are able to create timeless relevant content, owning a blog is an investment that continues to pay off all year round. You do not need major fixes or updates, you do not need to worry about substantial subscription plans that can put you out of pocket as long as you have the right blogging partner in your corner. 
You can only enjoy the benefits listed above if you blog the right way. One way to ensure you are on the right track is to follow a blog post checklist, it ensures consistency and quality in your publications. The following are some other ways you can get blogging done right. 
As you embark on your blogging journey, one of the first decisions you'll need to make is selecting the right blogging platform. With numerous options available, it's essential to choose a platform that aligns with your goals, technical skills, and long-term vision.
There are several things that you need to consider when choosing s blogging platform to start your blog.
Consider Ease of Use: If you're new to blogging, need for a blogging platform that offers user-friendly interfaces and intuitive tools. Hyvor Blogs, for instance, is a popular choice due to its user-friendly dashboard and a wide range of customizable themes. Look for platforms that require minimal coding knowledge and offer drag-and-drop functionality for creating and organizing content.

Cost: The cost of using a blogging platform should be affordable as bloggingas a real estate agent, you should always think about every penny you spend and its ROI (Return of Investement). Hence, consider the amount you will have to pay if you are choosing a particular blogging platform.

Customization and Design: Your real estate blog's appearance plays a crucial role in attracting and engaging readers. Choose a platform that offers a variety of customizable templates and themes. Look for responsive designs that ensure your blog looks great on both desktop and mobile devices.

SEO and Marketing: Search engine optimization (SEO) is vital for driving organic traffic to your blog. Opt for a platform that offers SEO tools and features, such as customizable URLs, meta descriptions, and image alt tags. Hyvor Blogs excels in this area with plugins like Yoast SEO that help optimize your content for search engines. Additionally, consider platforms that integrate seamlessly with email marketing services and social media platforms to promote your blog effectively.

Scalability and Future Growth: As your real estate blog gains traction and your content library expands, scalability becomes crucial. Choose a platform that can accommodate your growing needs without sacrificing performance.
There are several blogging platforms that you can try. Here are some of them.
Hyvor Blogs is an all-in-one blogging platform focused on enhancing user engagement and providing seamless content management for blog owners and where you have everything you need in one place. With its intuitive and seamless interface, you can write and publish your blog post in less time than on other platforms. 
Hyvor Blogs is a superior choice over other blogging platforms out there for your blogging needs due to its simplicity, purpose-built focus on blogging, and performance-driven features.
Everything you need for blogging is already inbuilt, and you don't need to have technical experience before you can use Hyvor Blogs. 
With Hyvor Blogs's multi-language blogging capabilities, you can publish your blog in any language such as French, German, Chinese, Dutch, Norwegian, and more. Plus, you can also effectively blog using right-ght-to-left (RTL) languages like Arabic, Farzi, Hebrew, etc. What's more? 
Simplicity and ease of use: Hyvor Blogs provides a straightforward and user-friendly interface, making it exceptionally easy for bloggers of all skill levels to get started. The platform's intuitive design allows users to create and manage blogs efficiently without extensive technical knowledge. In contrast, blogging platforms like WordPress, Ghost, can be perceived as more complex and might require more expertise to navigate effectively.
Multi-language support: You can blog in any language you like. Or, you can translate your existing blog into any language you prefer and maintain your blog in both languages at the same time: you can do this with any number of languages. Hyvor Blogs has an AI-powered auto-translation feature that lets you translate blog posts just with one click into any language. How cool is that?
Custom Domains and Host Anywhere: You can easily set up your own custom domain for your blog in Hyvor Blogs: there are no additional charges for that. And also, you can host your blog anywhere without any issue: that is also zero cost at Hyvor Blogs. Unlike other platforms, you do not have to pay extra for any of these privileges in Hyvor Blogs.
Powerful Console: Hyvor Blogs Console has everything you need to manage your blog easily. It is simple and initiative. The rich text editor is fun to work with. You can easily add images, embeds, code blocks, and more.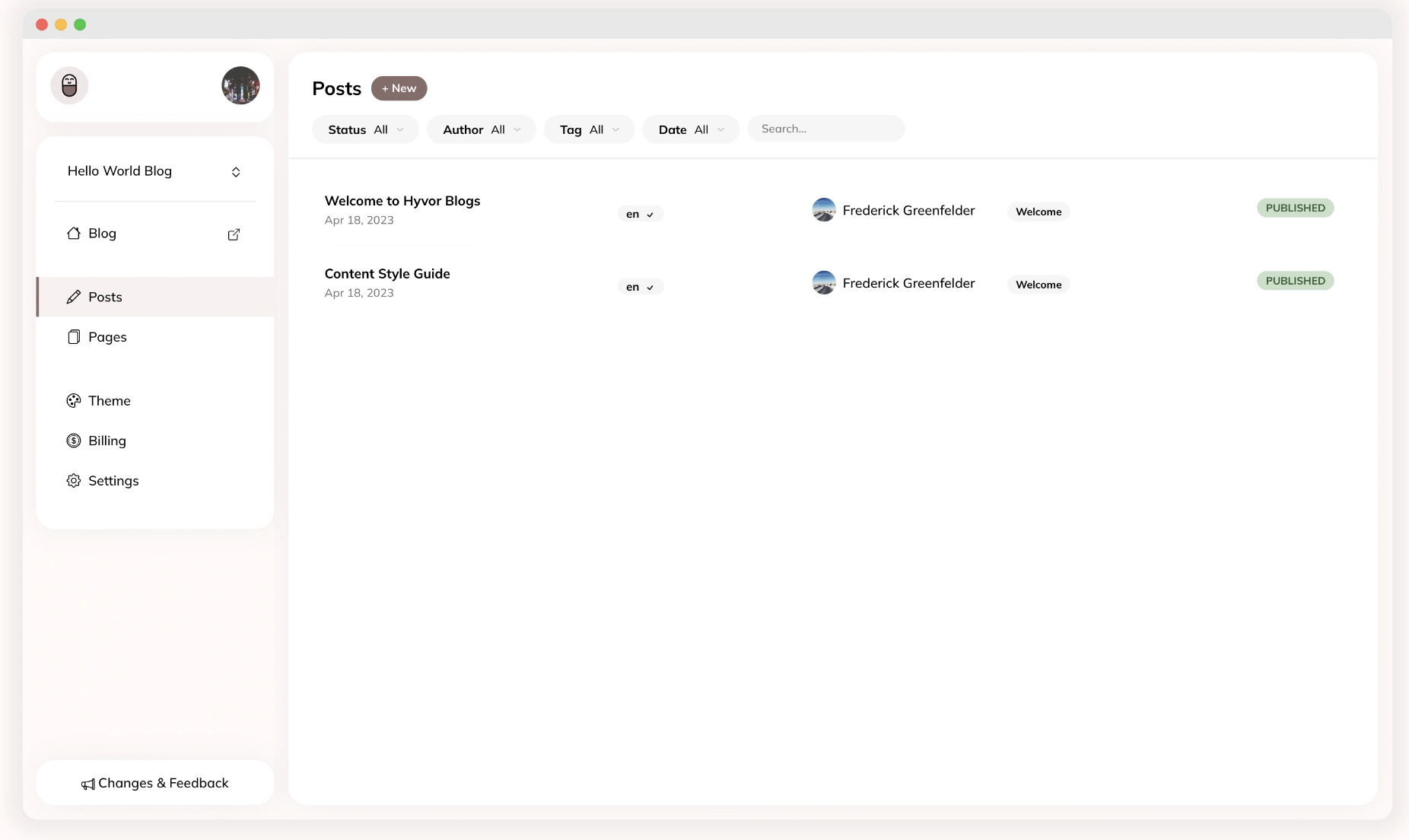 Customizable Themes: All the blog themes in Hyvor Blogs are free and open-source; for example, "Zing", "Pela", "Hello", etc. Customizing any theme as per your liking is highly encouraged in Hyvor Blogs. You do not need to pay for any of them. And, you can also create your own theme easily from scratch. Use this guide.
In-built SEO: SEO is one of the crucial parts of blogging. In most blogging platforms, you have to buy a plugin to do SEO or some do not even have SEO plugins at all. But in Hyvor Blogs, you do not need to worry about SEO or pay for SEO services or plugins. It has in-built SEO that takes care of your blog SEO behind the screen.
Team Collaboration: If you have a team to manage your blog (authors, editors, etc.), you can easily work with your blog team with no issues.
Mobile Optimization: Hyvor Blogs automatically optimizes blogs for mobile devices, ensuring that your content looks great on smartphones and tablets. This feature is vital, as many users access websites from mobile devices. Hyvor Blogs templates are specifically designed to provide a superior mobile browsing experience.
Developer Friendly:
Data API - Access public data of your blog as JSON using our Data API. For example, you can use it to get the latest posts on your blog. The Data API makes Hyvor Blogs work as a headless CMS for an alternative front-end.

Console API - This is the same API we use in the Console. Automate some of your administrative tasks, or you can even build your own console.

Delivery API - Delivery API allows you to host your blog within a subdirectory of your web applications, with the help of Webhooks.

Webhooks

Web Framework Integrations such as Symfony, Laravel, etc.
Free Commenting Platform Integration: You can add Hyvor Talk to your blog for FREE in Hyvor Blogs.
Optimum focus on security: Hyvor Blogs strongly emphasizes security, ensuring that your blog and data are well-protected. As a specialized blogging platform, it focuses on implementing robust security measures explicitly tailored to the blogging environment. .
Solely focused on blogging: Hyvor Blogs is exclusively centered around blogging. This specialization ensures that bloggers can access all the essential tools and features tailored to enhance their blogging experience. With Hyvor Blogs, you won't encounter unnecessary complexities or features unrelated to blogging, making it a streamlined and purposeful platform.
Performance-driven features: Hyvor Blogs is designed to focus on speed and performance, ensuring that your blog loads quickly and efficiently for your visitors. With Hyvor Blogs, you can cache your blog and optimize its delivery, significantly reducing loading times and leading to better user experiences and improved search engine rankings. 
Here is the summary of the key features of Hyvor Blogs
Customizable themes

Custom domains

Powerful blog console

Fast performance

Ability to host anywhere

In-built SEO

AI-powered auto translations

Multi-language blogging

RTL languages support

Data ownership and control

Developer friendliness

Team collaboration

Affordability than any other blogging platform
In real estate speaks your domain name is like your piece of real estate on the world wide web. It is the address where your blog is hosted, and like in the real world, where it is hosted would determine the ease with which your prospective users would find it. 
When you sign up with Hyvor Blogs, you get a FREE subdomain where you can host your blog and still access all the many features on offer. This is a great option for a new company trying to carve space in the industry. More robust brands can do better with a custom domain; it is more recognizable and the industry standard when setting up blogs. 
Blogging for real estate agents relies heavily on generating traffic, and one way to ensure that is with proper keyword research. Employing the right keywords in your content points people to your blog, allows them to get value, come back for more, and recommend your blog to others who may find it useful.  
You can take advantage of several keyword research tools, most commonly Ahrefs and MOZ. They both allow you a free plan to do light research for a number of days before you are prompted to upgrade to paid plans for more intensive keyword research features. 
With over 400 languages spoken in the U.S., one easy way to one-up the competition is to make your blogs as inclusive as possible. The ability to have your blogs translated into many languages can be the silver bullet that destroys the competition and puts your brand on the map. 
Check out how to translate blog posts with Hyvor Blog's multi-language feature. At the push of a button, different people from different works of life can access your content and join your sales funnel. 
The pages on your blog define your business and intimate potential users with your services and offerings, so you can not afford to leave out any important pages when setting them up. 
You want a Homepage that is easy to skim through, informs at first glance what your blog is about, how you stand out from the rest, and, importantly, easy to crawl by Google. 
Your about and contact pages are also crucial. They allow potential users to know more about yourself, your brand, and your preferred contact method. 
Lastly, your services page. It informs them about all you do and how you can provide solutions to whatever problems they might have. 

One bane that constantly plagues people looking to manage blogs is them –sooner or later– running out of blog ideas. It usually becomes challenging to keep track of the content they have already published and what new content they can have on their blog. 
While you can solve the former problem by implementing a content map in the plan, you can solve the latter by doing the following:
1. Put Yourself in the Buyer/Seller's Shoes
The first and perhaps the easiest step is to put yourself in your intended target's shoes. If you are trying to connect with buyers, try and ask yourself what you would do if you were a buyer and the same question for sellers. 
Doing this lets you view the problem from a unique vantage point that buyers and sellers alike would resonate with. It makes the blog content more personal and increases the chances of your audience reacting or responding to your blog as required. 
2. Address Common Issues
From your experience, you know what problems buyers and sellers alike are more likely to encounter. So you know where to start by answering their frequently asked questions and giving recommendations. 
An example would be content that addresses top staging mistakes, DOs, and DONTs for buyers and sellers, tips on selling homes fast, and buyer assistance programs to name a few. 
3. Discuss Local Events
Covering local events has multiple advantages. The first is that it endears you to the local community; it shows that you have done your homework and are invested in their way of life, eventually trickling down into them trusting you. Another is that these local events are usually yearly and guarantee traffic every time the event is being observed.
So if there's a march, an art festival, or a competition in the area, you want your blog to capture every bit of it with enough media content to share your appreciation of the event with the locals. 
4. Feature Local Businesses
If there are not too many events to cover, you can always feature local businesses. It gives people considering moving to the area more information to work with. You can interview the owner of the bakery that has always been there, the florist business that has been passed down through the generations. 
Businesses with sentimental value that the locals have always known or some would want to know more about are sure to get you more clicks on your blog. 
5. Cover Housing Trends
When creating a real estate blog, there are no ideas more important than having up-to-date housing trends content. This is not just what people want but what they need. A go-to that provides on-the-go information like restrictions in the area, mortgage rates, and buyer and seller trends would be more than appreciated. 
Unlike covering local events and businesses, you must constantly update your trends content. You do not want things out of fashion on your blog, you might need to create alerts for new trends so you can quickly make the necessary changes on your blog. 
6. Create Children Friendly Content
A consideration most people have when buying or selling their homes is how it will affect their children, and you want your blog content to reflect this too. If people are moving into the area, they want to know how safe it is for themselves and their kids, they want to know how many fun sites are in the neighborhood and what type of influence it would have on them. 
It is important that you factor all these, answer all the questions they might have, quell any fears that might linger, and put to bed any rumors that might be flying around about the neighborhood. 
You are sure to get results with a list of schools in the area, pictures would be appreciated as it gives them more to work with. Having a list of parks would also be a great idea, you can inform them if dogs and other pets are allowed at the park and their proximity to listings in the area. 
Blogging for real estate agents is often easier said than done. To ease the process, all the steps to kickstarting your own real estate blog are listed below:
1. Sign Up
The first step would be to sign up and create your Hyvor Blogs account. 
Or proceed to log in if you already have an account.
2. Create New Blog
The next step would be to visit the Hyvor Blogs console and click "Create a new blog." You will be prompted to add a name of your blog and a subdomain. Fill in the details of your blog as seen in the sample below.
If you have a custom domain already, just save it for future steps. Untill that, just go with the default custom domain given. We can change it to your own custom domain later with just one click.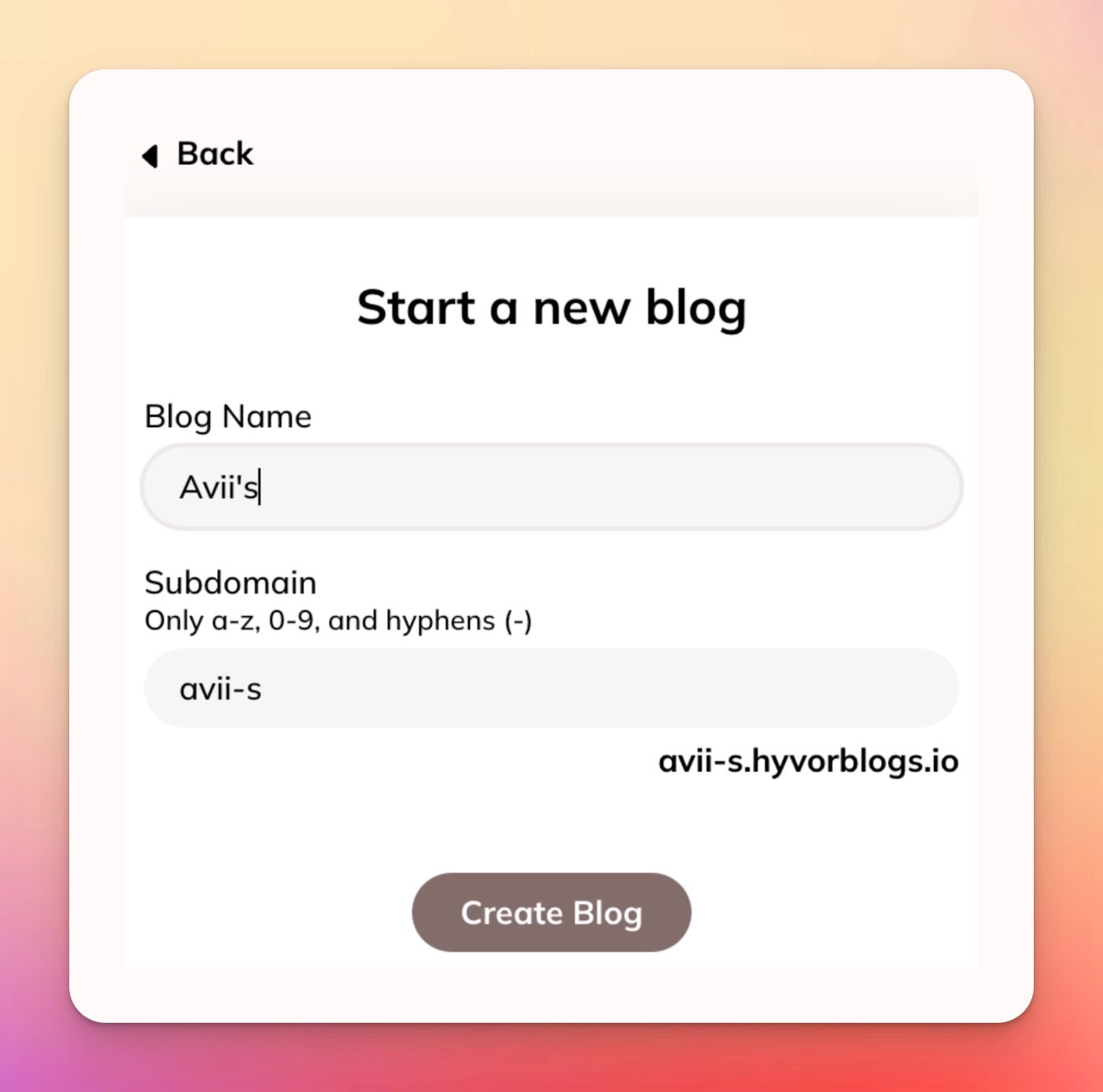 3. Customize Your Blog
After creating your blog, it is presented to you with the default "Hello" theme that you can change in the following way. It is crucial to note that changing your theme changes the layout and appearance of your blog. 

Go to console  > Theme -> Change  > Select Theme  > Change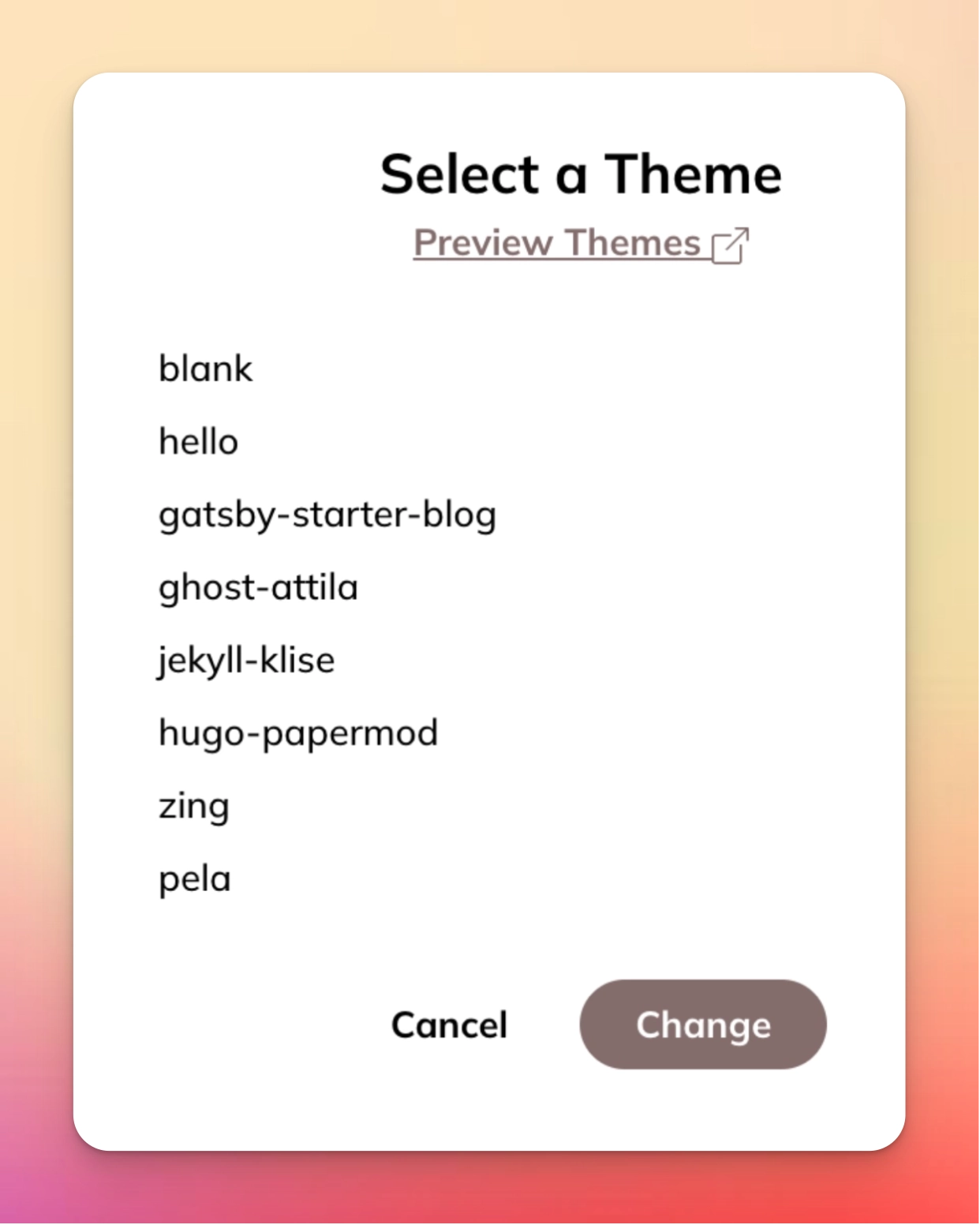 To adjust features of the theme like the font family, font size, colors, and others, go to Console > Theme > config.yaml.
4. Create Content
Now the most important part of blogging; creating your blog content. With your blog already set up, you can take advantage of Hyvor Blogs' editor, as seen below, to start drafting your content. 
It enables you to create content in real-time on Hyvor Blogs and enables you to bring your content to life with different styles and editing options. Check out the writing guide to learn how to make the most of Hyvor Blogs' Rich text post editor. 
Driving an audience to your real estate blog is crucial for success. Let's explore some effective tactics to get more eyes on your amazing content.
1. Harness the Power of Social Media
Social media platforms offer a powerful way to directly share your blog posts and attract engagement. Regularly post links to your latest blogs on Facebook, Twitter, LinkedIn, and Pinterest. Use relevant hashtags and location tags to extend your reach to more users who may be interested in the content. Social media ads are another option to directly target your blog posts to the right people.
2. Market With Email
Email marketing is also an excellent channel for promoting new blog content. Include links to blog posts and special previews in your regular email newsletters to subscribers. When you publish a new post, send a dedicated email blast to your list announcing it. Giving fans exclusive sneak peeks into upcoming content gives them the incentive to click through from your email to your site.
3. Show Off Your Listings (and Blogs)
Your real estate website and active listing pages present prime opportunities to highlight your blog content. Look for relevant places to organically embed or link to local guides, area overviews, market insights, and tips content from your blog. This seamlessly connects home buyers and sellers with helpful blogs while they are already researching listings on your site.
4. Network and Guest Post for Backlinks
Networking events, guest posting, and industry forums enable you to build relationships and quality backlinks. Attend conferences and share links to your blog content in your conversations and presentations. Pitch contributing guest posts to complementary blogs and publications to grow your audience. Comment on industry forums and directories with a link back to your relevant blog content.
The key is using every channel possible to get your real estate blogs into the hands of potential clients, establish yourself as an expert, and build authority.
Blogging is a crucial investment for real estate agents in 2023. By establishing expertise, connecting with clients, and promoting listings, a real estate blog fuels business growth. Follow this guide to start blogging the right way - choose the optimal platform like Hyvor Blogs, optimize for SEO, create helpful content, and spread the word. With the tips here, real estate agents can build an authoritative blog that converts readers into leads all year round.