Are you a mom with a passion for writing and sharing your experiences with others? If so, starting a mom blog could be the perfect way to share your thoughts, connect with other moms, and even make some extra income. But where do you begin?
In this comprehensive guide, I'll walk you through everything you need to know to start your own mom blog, from choosing a niche to setting up your mom blog and creating content. And, of course, I'll show you how to get started with Hyvor Blogs, the best blogging platform for mom bloggers.
Here is the crucial pre-preparation that every mom blogger needs.
Choose your mom blog niche
The first step in starting a mom blog is to choose your niche. What will your blog be about? There are countless possibilities, from parenting advice to cooking to fashion and beauty. The key is to choose a topic that you're passionate about and that you have expertise in.
Here are a few popular niches for mom bloggers:
Parenting: This is a broad category that covers everything from pregnancy and childbirth to raising children of all ages.

Health and wellness: As a mom, you likely prioritize your family's health and wellness. Sharing your tips and tricks for staying healthy and happy can be a great way to connect with other moms.

Food and cooking: Do you love to cook and share recipes? A food blog could be the perfect niche for you.

Fashion and beauty: If you have a passion for fashion and beauty, consider starting a blog focused on these topics.
Of course, these are just a few ideas. You can choose any niche that you're interested in and that you think other moms will enjoy reading about.
Choose a Platform
When it comes to starting a blog, there are many platforms to choose from. Some of the most popular platforms include WordPress, Squarespace, and Wix. However, if you want a platform that is easy to use, affordable, and comes with all the features you need to run a successful blog, I suggest you use Hyvor Blogs.
Hyvor Blogs is a platform that is specifically designed for bloggers. It comes with everything you need to start a blog, including,
custom blog themes

multi-language blogging support

custom domain setup at no cost

RTL language support

inbuilt SEO

commenting platform, "Hyvor Talk" for FREE

complete ownership and control of the blog

powerful console and post editor

team collaboration

developer friendliness - APIs and web framework integrations

social media integration

easy to use and affordable
making it a great option for moms who want to start a blog without breaking the bank.
3. Craft Compelling Content:
Content is the heart and soul of any blog. Create high-quality, engaging, and informative content that resonates with your target audience. Share your personal stories, practical tips, and expert advice to establish yourself as a trusted source of information. Consistency is key, so develop a content schedule and strive to publish new posts regularly.
As a mom, you have plenty of ideas to craft compelling content on your mom blog. Here are some content ideas from us.
Tips for managing work-life balance as a mom

Creative and healthy snack ideas for kids

Organizing hacks for busy moms

Self-care tips for moms

DIY crafts and activities for kids

How to encourage positive sibling relationships

Traveling with kids: Tips and tricks

Budget-friendly meal planning for families

Parenting challenges and how to overcome them

Home organization and decluttering tips

Parenting book reviews and recommendations

Advice on raising confident and resilient children

Tips for fostering a love of reading in kids

Ideas for memorable family traditions and rituals

Eco-friendly living tips for families

Home remedies for common childhood illnesses

Ideas for creating a cozy and inviting home environment

Advice on managing screen time for kids

How to promote a healthy lifestyle for the whole family

Real-life Stories and Experiences of Motherhood
4. Connect and Engage with Your Audience:
Building a loyal community of readers is essential for a mom blog's success. Engage with your audience by responding to comments, encouraging discussions, and seeking feedback.
Utilize social media platforms to promote your blog and interact with fellow moms. Join relevant online communities, participate in forums, and collaborate with other bloggers to expand your reach.
5. Monetize Your Blog:
While the primary motivation for starting a mom blog is often the love of sharing experiences, there are opportunities to monetize your blog as it grows. Generating an income from your own blog motivates you to do your best at your blog too.
Explore avenues such as sponsored content, affiliate marketing, and advertising to generate income. However, ensure that any partnerships or promotions align with your blog's values and maintain transparency with your audience.
For example, you can add Adsense to your blog and start running ads as a revenue-generating strategy.
Start a Mom Blog with Hyvor Blogs
First of all, you have to signup on Hyvor to start blogging with Hyvor Blogs.
Go to Hyvor signup page and create an account.

If you already have an account just login.

Then visit Hyvor Blogs console.

Click "Create a new blog" and you will see an interface to add blog name and subdomain. Add the details relevant to you as shown below. Then hit "Create Blog".
After that, you will see your new blog with the default theme called "Hello".
If you don't like that theme you can simply change the theme and customize it according to your preference. Plus, you can set up your own custom domain instead of the default subdomain given to your blog by Hyvor Blogs. Both of these are explained down below in detail.
Choosing a domain name
Your domain name is the URL that people will use to access your blog. It should be memorable, easy to spell, and relevant to your content. Many blogging platforms offer free domain names, but you can also purchase a custom domain name if you prefer.
When you sign up for Hyvor Blogs, you will get a subdomain of hyvorblogs.io for free. If you are blogging for fun, this is more than enough. However, if you like to build a personal brand around your blog, we highly recommend using a custom domain.
Buying a domain name is very easy. A quick "buy .com domain" or "buy .blog domain" search will give plenty of domain name registrars to select from. Once the domain is ready follow our custom domain guide to connect it to your blog. You can use mydomain.com or blog.mydomain.com for your blog.
Refer to our article "Blog with Custom Domain: The Ultimate Guide" which explains how to add a custom domain to your blog easily.
Selecting a theme
The theme of your blog determines its appearance and layout. Choose a theme that reflects your personality and complements your content. Hyvor Blogs comes with multiple themes - all for free! Change your blog theme to a theme you like.
Go to Console-> Theme -> Change -> Select the theme you want

And hit "Change".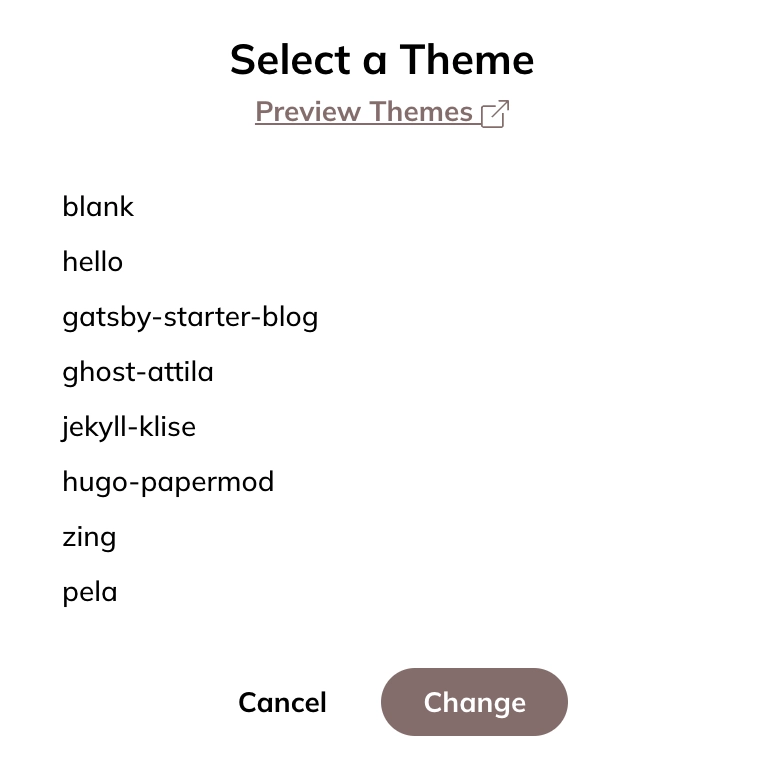 To customize the theme, go to Console -> Theme -> config.yaml. You can adjust colors, font family, font sizes, and more options to reflect your brand and personal blogging needs.
Create Content
Once you have set up your blog, it's time to start creating content. Choose topics that you are passionate about and that will appeal to your target audience. Write in a conversational tone and include visuals to keep readers engaged. Hyvor Blogs supports embedding rich content from your social media, uploading images, and many other options to make your blog posts more appealing to your audience.
Here is a snap of Hyvor Blogs' editor.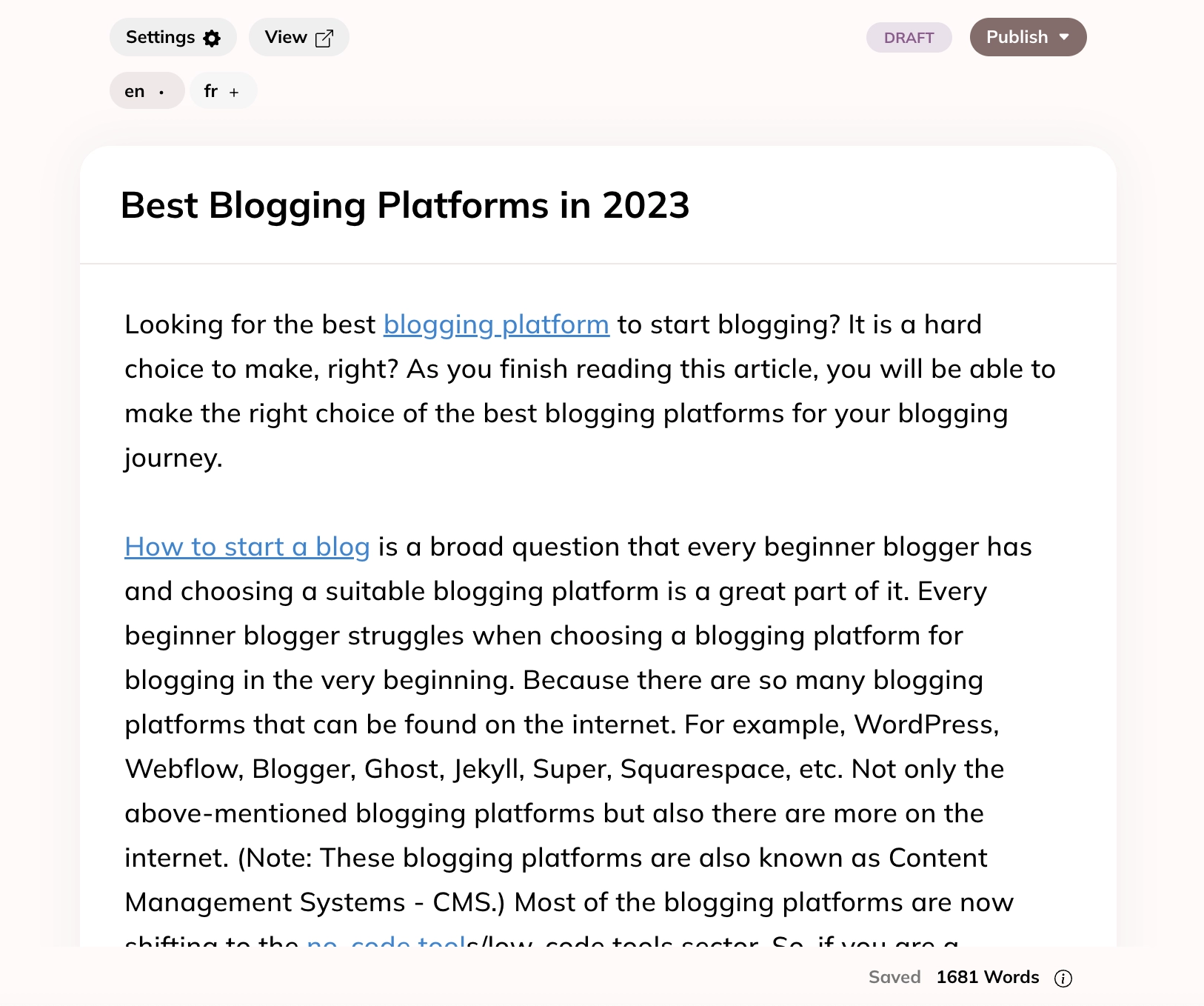 See our writing guide to learn more about using rich content and styles in your blog posts.
Promote Your Blog
To attract readers, you need to promote your blog. Share your content on social media, email newsletters, and other online platforms. Engage with your audience by responding to comments and feedback. There are several strategies that you can use to promote your blog, including search engine optimization (SEO), social media, email marketing, guest blogging, and more. In this article, we will explore these strategies in more depth.
SEO
SEO is the process of optimizing your blog for search engines like Google. By improving your site's visibility in search results, you can attract more organic traffic to your blog. SEO involves several factors, including keyword research, on-page optimization, link building, and technical optimization like meta tags, robots.txt, canonical links, etc.
Keyword research involves identifying the keywords and phrases that people use to search for content related to your blog. Use keyword research tools like Google Keyword Planner, Ahrefs, or SEMrush to find relevant keywords with high search volume and low competition.
On-page optimization involves optimizing your content to make it more appealing to search engines. Use your keywords in the title, URL, headings, and throughout your content. Use meta descriptions to provide a brief summary of your content and encourage people to click through to your blog. Hyvor Blogs handles all the technical parts. You have to make sure to
Write a description including your keyword

Make sure images are optimized. Compress them if needed

Test with Pagespeed Insights to check for any issues
Link building involves building links from other websites to your blog. The more high-quality backlinks you have, the higher your blog will rank in search results.
Social Media
Social media is a powerful tool for promoting your blog and connecting with your audience. Share your blog posts on social media platforms like Twitter, Facebook, Instagram, and LinkedIn. Use hashtags to make your content more discoverable and engage with your followers by responding to comments and messages.

There can be moms who do not like to reveal themselves but blog passionately. For those moms, we have good news. You can start an anonymous blog and yet share your content on social media.
Email Marketing
Email marketing is another effective way to promote your blog. Build an email list of subscribers who are interested in your content and send them regular newsletters featuring your latest blog posts. Include calls-to-action in your emails to encourage subscribers to visit your blog and engage with your content. See our newsletter guide to learn how to add a newsletter form to your blog.
Guest Blogging
Guest blogging involves writing content for other blogs in your niche. This is a great way to reach new audiences and build backlinks to your site. Reach out to other bloggers in your niche and offer to write a guest post for their blog. Make sure your content is high-quality, relevant to your audience, and includes a link back to your blog.
Comments
Adding a commenting system to your blog can increase engagement on your blog, and help you bring back users to your blog. There are many optimized commenting systems you can use. In Hyvor Blogs, Hyvor Talk is completely FREE for anyone. So, Hyvor Blogs has relieved you from that one too.
Convert your blog to a multi-language blog
As a mom blog is not just focused on one geographic area, you can focus on all moms around the world by making your blog available in their mother tounges such as Spanish, Dutch, French, Arabic, Hindi, German, etc. Therefore, Hyvor Blogs has everything you need to make your blog a multi-language blog from AI-powered auto-translation to enabling Right-to-left (RTL) language blogging. When you go multi-lingual, your blog's multi-language SEO is taken care of by Hyvor Blogs with its in-built SEO feature.
Snaps from Hyvor Blogs
Final thoughts…
Starting a mom blog in 2023 offers immense potential for connection, support, and empowerment within the mom community. By defining your niche, selecting the right platform, creating compelling content, engaging with your audience, monetizing strategically, and staying adaptable, you can build a thriving mom blog that resonates with moms worldwide. Embrace the journey, stay authentic, and enjoy the fulfilling experience of sharing your motherhood journey through the power of blogging.