Creators are evolving and looking to put their digital products online daily. To do this effectively, they need an efficient and trustworthy content management system (CMS). 
Joomla has successfully done this by empowering  2.6% of website owners with its various functionalities and customization options. However, as technology continues to evolve, so do the needs and expectations of website administrators.
In this article, I will discuss the top 7 Joomla alternatives, exploring other content management systems that provide unique features and benefits. Whether you're seeking enhanced user engagement, simplified content management, or quality SEO capabilities, there are compelling alternatives you can explore. 
Why should you seek Joomla alternatives?
Joomla has undoubtedly been a reliable content management system, enabling users to build and maintain websites easily. However, as the digital space evolves, it's essential to consider why exploring Joomla alternatives could be prudent for your website. 
Limitations in using Joomla
It does not always meet the specific requirements of all users. 

Its learning curve can be difficult for beginners

Customization demands some level of technical expertise

Managing large-scale websites with the platform may impact loading times and user experience.
Factors to Consider When Choosing Other Alternatives
Before making a switch, it's essential to identify your website's needs and objectives. Doing this can help you find a CMS that caters to your unique requirements.
Consider the following factors:
User-friendliness

Customization options (Themes/Design)

Third-party integrations

SEO tools

And customer support services 

Cost

Multi-language blogging capabilities
7 Alternatives to Joomla
Many CMS platforms can offer specific advantages that better suit your website's demands. I will discuss seven of those other alternatives to Joomla below:
Hyvor Blogs is a powerful, user-friendly all-in-one blogging platform focused on enhancing user engagement and providing seamless content management for blog owners. It offers a range of compelling features tailored to meet the needs of bloggers and website administrators alike.
Why Hyvor Blogs is a Better Alternative to Joomla
Hyvor Blogs is an all-encompassing blogging platform where you have everything you need in one place. With its intuitive and seamless interface, you can write and publish your blog post in less time than on other platforms. 
Hyvor Blogs is a superior choice over Joomla for your blogging needs due to its simplicity, purpose-built focus on blogging, and performance-driven features.
Everything you need for blogging is already inbuilt, and you don't need to have technical experience before you can use Hyvor Blogs. 
With Hyvor Blogs's multi-language blogging capabilities, you can publish your blog in any language such as French, German, Chinese, Dutch, Norwegian, and more. Plus, you can also effectively blog using right-ght-to-left (RTL) languages like Arabic, Farzi, Hebrew, etc. What's more? 
Simplicity and ease of use: Hyvor Blogs provides a straightforward and user-friendly interface, making it exceptionally easy for bloggers of all skill levels to get started. The platform's intuitive design allows users to create and manage blogs efficiently without extensive technical knowledge. In contrast, Joomla can be perceived as more complex and might require more expertise to navigate effectively.
Multi-language support: You can blog in any language you like. Or, you can translate your existing blog into any language you prefer and maintain your blog in both languages at the same time: you can do this with any number of languages. Hyvor Blogs has an AI-powered auto-translation feature that lets you translate blog posts just with one click into any language. How cool is that?
Custom Domains and Host Anywhere: You can easily set up your own custom domain for your blog in Hyvor Blogs: There are no additional charges for that. Also, you can host your blog anywhere without any issue: that is also zero cost at Hyvor Blogs. Unlike other platforms, you do not have to pay extra for any of these privileges in Hyvor Blogs.
Powerful Console: Hyvor Blogs Console has everything you need to manage your blog easily. It is simple and initiative. The rich text editor is fun to work with. You can easily add images, embeds, code blocks, and more.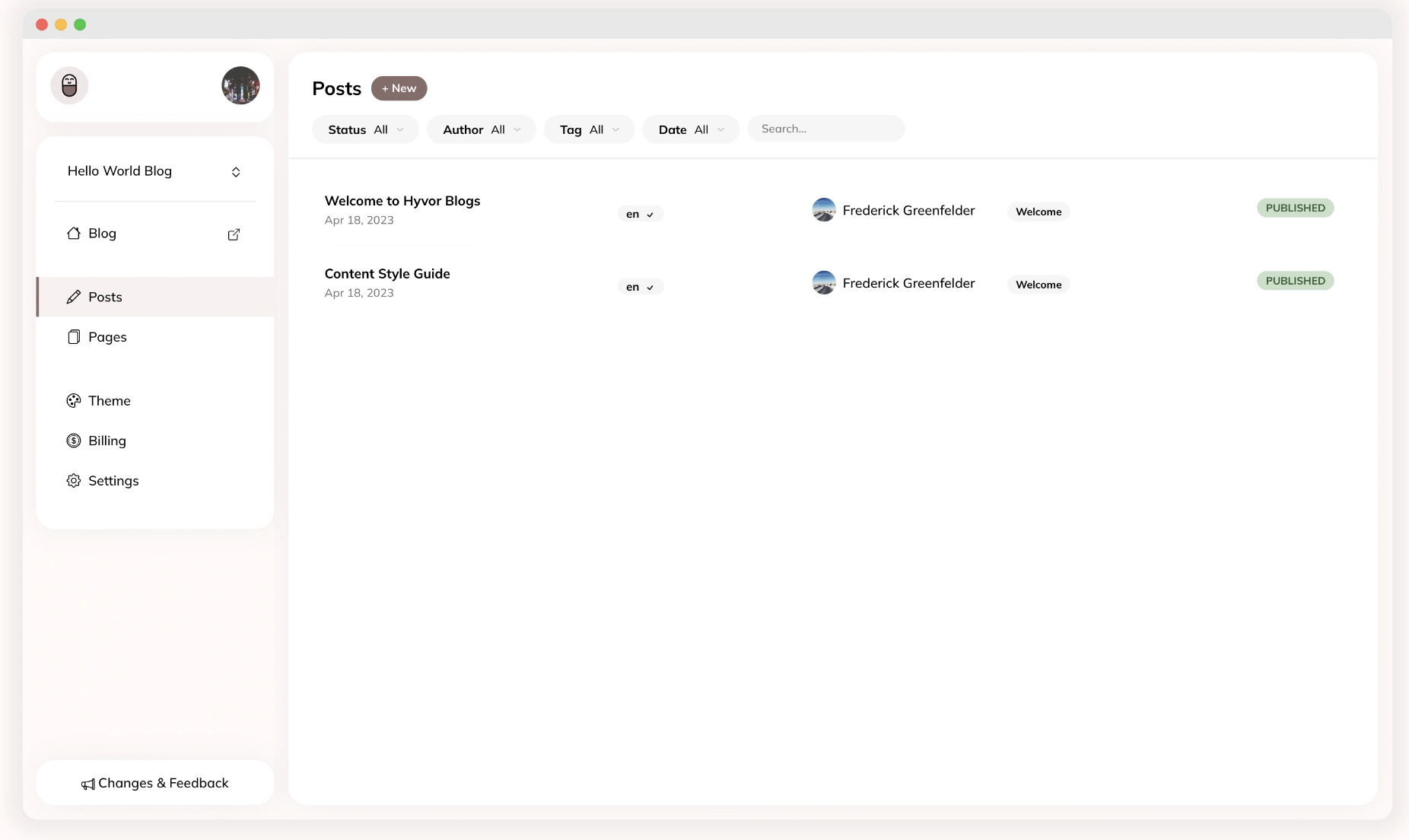 Customizable Themes: All the blog themes in Hyvor Blogs are free and open-source; for example, "Zing", "Pela", "Hello", etc. Customizing any theme as per your liking is highly encouraged in Hyvor Blogs. You do not need to pay for any of them. And, you can also create your own theme easily from scratch. Use this guide.
In-built SEO: SEO is one of the crucial parts of blogging. In most blogging platforms, you have to buy a plugin to do SEO or some do not even have SEO plugins at all. But in Hyvor Blogs, you do not need to worry about SEO or pay for SEO services or plugins. It has in-built SEO that takes care of your blog SEO behind the screen.
Team Collaboration: If you have a team to manage your blog (authors, editors, etc.), you can easily work with your blog team with no issues.
Mobile Optimization: Hyvor Blogs automatically optimizes blogs for mobile devices, ensuring that your content looks great on smartphones and tablets. This feature is vital, as many users access websites from mobile devices. While Joomla also supports mobile optimization, Hyvor Blogs templates are specifically designed to provide a superior mobile browsing experience.
Developer Friendly:
Data API - Access public data of your blog as JSON using our Data API. For example, you can use it to get the latest posts on your blog. The Data API makes Hyvor Blogs work as a headless CMS for an alternative front-end.

Console API - This is the same API we use in the Console. Automate some of your administrative tasks, or you can even build your own console.

Delivery API - Delivery API allows you to host your blog within a subdirectory of your web applications, with the help of Webhooks.

Webhooks

Web Framework Integrations such as Symfony, Laravel, etc.
Free Commenting Platform Integration: You can add Hyvor Talk to your blog for FREE in Hyvor Blogs.
Optimum focus on security: Hyvor Blogs strongly emphasizes security, ensuring that your blog and data are well-protected. As a specialized blogging platform, it focuses on implementing robust security measures explicitly tailored to the blogging environment. While Joomla also offers security features, its broader scope might make it more challenging to prioritize security enhancements specific to blogging needs.
Solely focused on blogging: While Joomla is a content management system designed for various types of websites, Hyvor Blogs is exclusively centered around blogging. This specialization ensures that bloggers can access all the essential tools and features tailored to enhance their blogging experience. With Hyvor Blogs, you won't encounter unnecessary complexities or features unrelated to blogging, making it a streamlined and purposeful platform.
Performance-driven features: Hyvor Blogs is designed to focus on speed and performance, ensuring that your blog loads quickly and efficiently for your visitors. With Hyvor Blogs, you can cache your blog and optimize its delivery, significantly reducing loading times and leading to better user experiences and improved search engine rankings. 
Here is the summary of the key features of Hyvor Blogs
Customizable themes

Custom domains

Powerful blog console

Fast performance

Ability to host anywhere

In-built SEO

AI-powered auto translations

Multi-language blogging

RTL languages support

Data ownership and control

Developer friendliness

Team collaboration

Affordability than any other blogging platform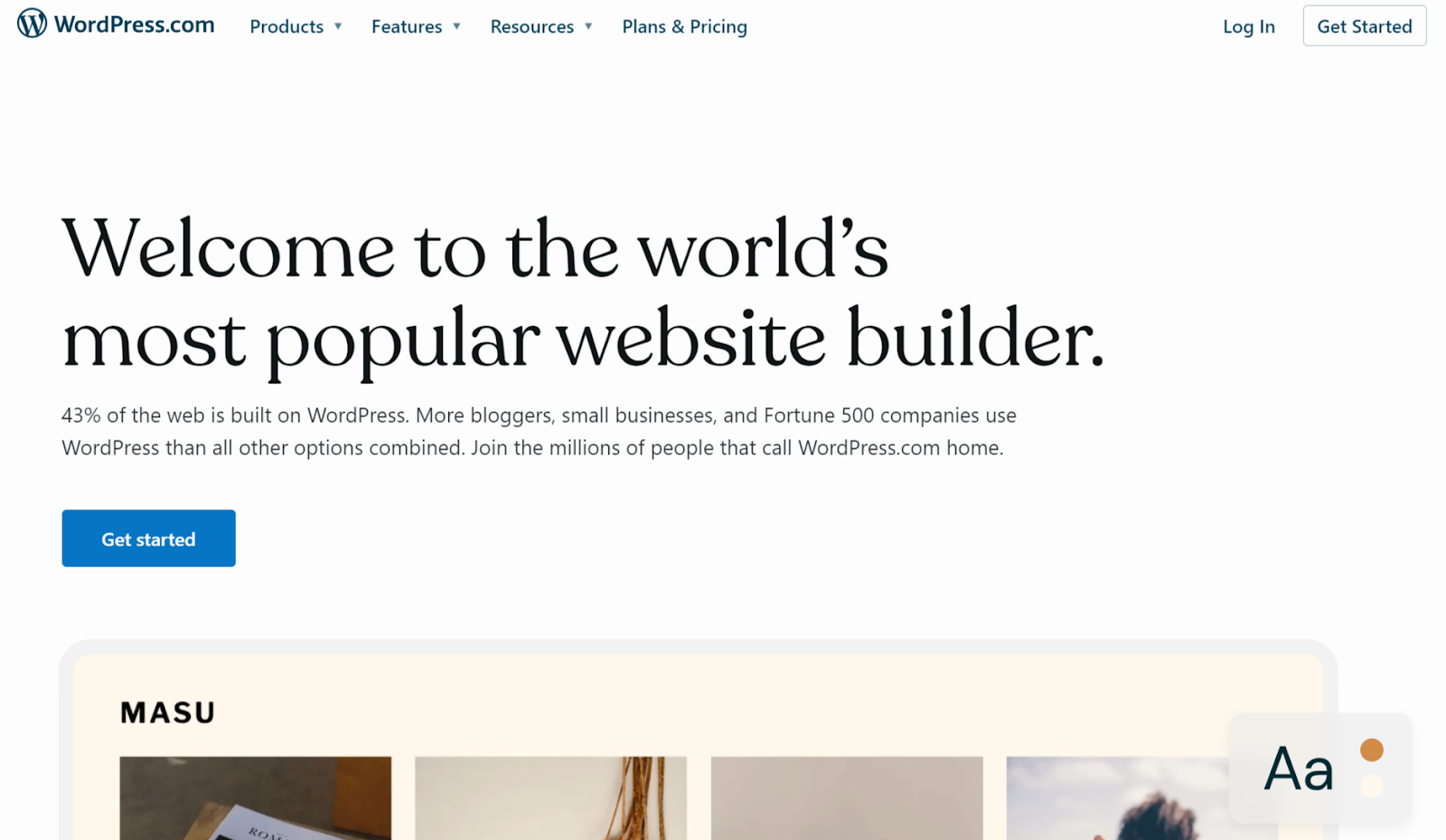 WordPress is one of the most widely used content management systems globally, renowned for its versatility and extensive capabilities. Initially known as a blogging platform, WordPress has evolved into a CMS suitable for various websites, from personal blogs to large-scale e-commerce platforms.
Why WordPress is a more suitable alternative to Joomla
WordPress provides a more user-friendly experience, a vast selection of plugins, awesome community support, greater versatility, and a larger user base than Joomla. The following factors make WordPress the better alternative for those seeking a flexible and powerful content management system:
User-friendliness: WordPress is renowned for its intuitive and user-friendly interface. Individuals with limited technical expertise can quickly grasp its functionalities and build websites or blogs. On the other hand, Joomla is more complex and challenging for beginners, as it requires a steeper learning curve.
Extensive plugin ecosystem: WordPress boasts an extensive library of plugins, providing users with a wide range of features and functionalities to enhance their websites or blogs. WordPress has a vast selection of plugins, whether for SEO optimization, social media integration, e-commerce capabilities, or security enhancements. Joomla also has an extension marketplace that is less comprehensive than WordPress's plugin repository.
Strong community support: WordPress has a massive and active community of developers, designers, and users. This vibrant community ensures regular updates, bug fixes, and continuous improvements to the platform. It also means that any issues or queries are quickly addressed through forums, documentation, and online resources. While Joomla also has a supportive community, it is not as vast and dynamic as WordPress's.
Versatility: While Joomla can be a choice for a CMS, WordPress offers much more versatility. It can be utilized to create blogs and a wide array of websites, ranging from personal portfolios to e-commerce stores and corporate websites. This adaptability makes WordPress a preferred choice for those seeking a more comprehensive website solution.
Larger user base: Due to its popularity, WordPress has a significantly larger user base than Joomla. This means more potential clients, job opportunities, and resources are available for those working with or learning WordPress. A larger user base indicates a more mature and stable platform with continuous development and support.
Here are the key features WordPress offers its users
Numerous availability of custom plugins 

Opportunity to expand and tailor the website's capabilities to specific needs

Adaptable to diverse website types, including blogs, portfolios, business websites, and e-commerce platforms

Scalable to handle increasing traffic and content requirements

Suitable for both small businesses and large enterprises

A diverse selection of themes catering to various industries and design preferences

Customizable templates to create visually appealing websites

Option to build a unique website with or without coding knowledge

Intuitive visual editor for effortless content creation and formatting.

Seamless integration of images, videos, etc

Opportunity to schedule posts for future publishing

Active community of developers, designers, and users

Extensive documentation, tutorials, and forums for troubleshooting and learning

24/7 community contributions and support
You can also try WordPress alternatives out there if you do not feel WordPress isn't the right choice for you/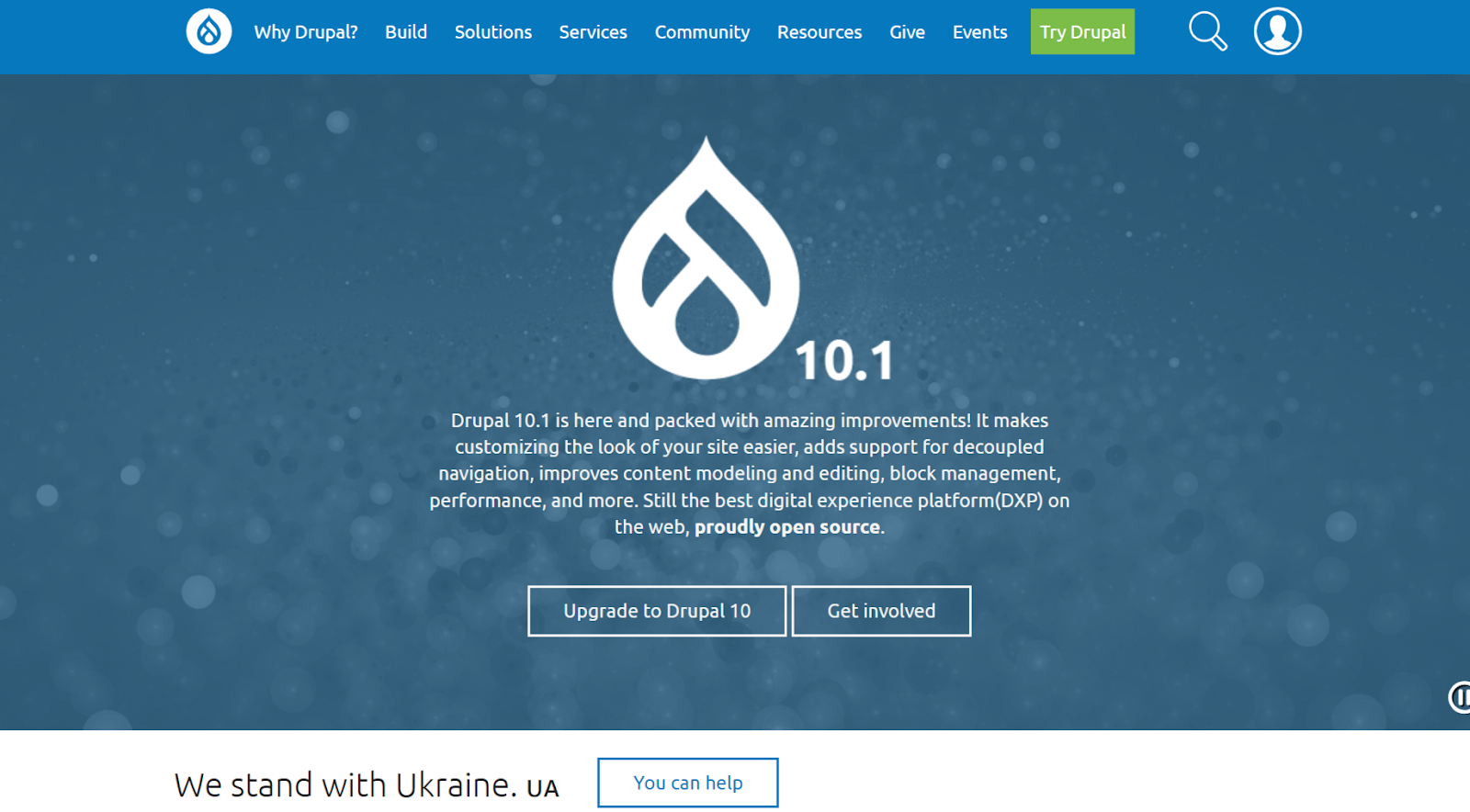 Drupal is a powerful open-source content management system known for its flexibility and suitability for enterprise-level websites. With a focus on advanced content organization and multilingual support, Drupal has gained popularity among large organizations and government entities, making it a more compelling choice than Joomla.  
Why Drupal is a better alternative to Joomla 
Robustness and Flexibility: Drupal is renowned for its flexibility, making it suitable for building websites of varying sizes and complexities. Unlike Joomla, which is primarily focused on content management, Drupal offers a more extensive range of content organization and customization options. Its flexible framework allows developers to create highly customized and feature-rich websites, making it a preferred choice for large enterprises, government organizations, and community websites.
Scalability: As websites grow, their needs often change, requiring a platform that can scale efficiently. Drupal excels in scalability, allowing websites to handle increasing traffic, content, and user interactions without sacrificing performance. This scalability is crucial for websites anticipating significant growth or accommodating complex functionalities.
Extensive Module and API Support: Drupal's module ecosystem is vast and well-established, providing many add-ons to extend the platform's functionality. This rich selection of modules allows website owners to integrate various features and services seamlessly. Drupal also offers API support, facilitating integrations with third-party applications and services, enhancing the website's overall functionality and user experience.
Security: Drupal is widely recognized for its strong focus on security. Its dedicated security team actively monitors and addresses potential vulnerabilities, ensuring the platform remains secure and reliable. This emphasis on security makes Drupal a favored choice for websites that handle sensitive data or require advanced security measures.
Active Community Support: Drupal boasts a thriving and active community of developers, designers, and users, providing continuous support, updates, and improvements to the platform. This vibrant community ensures that Drupal stays up-to-date with the latest industry standards and best practices, and any issues or queries are addressed promptly through forums, documentation, and online resources.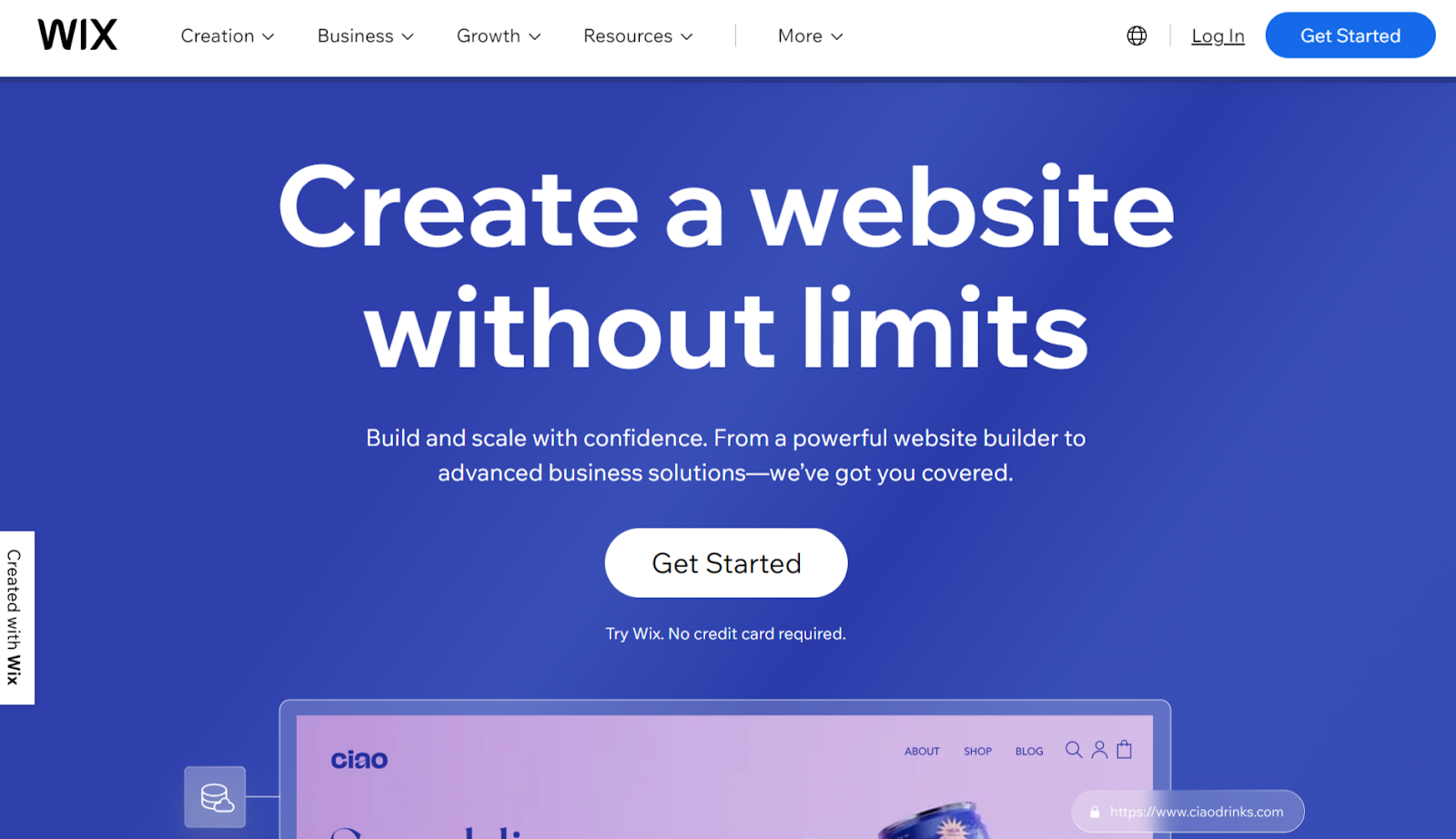 Wix is one of the most used website builders, offering a user-friendly and intuitive platform for creating visually appealing websites without coding knowledge. While primarily known for its website-building capabilities, Wix also provides a content management system that caters to many users.
Wix offers distinct advantages over Joomla in ease of use, drag-and-drop website building, integrated hosting, and customer support making it an excellent choice for individuals and small businesses looking to create a website quickly and without technical complexity. 
Here's why Wix is a better alternative to Joomla
User-Friendly Interface: Wix is well-known for its user-friendly interface, designed to cater to users of all skill levels. With its intuitive drag-and-drop website builder, users can easily create and customize their websites without any coding knowledge. On the other hand, Joomla, while powerful, may require a steeper learning curve for beginners, as it involves more technical setup and configuration.
Drag-and-Drop Website Building: Wix's drag-and-drop functionality allows users to move and arrange elements on their web pages, making the website-building process visually intuitive and straightforward. This feature makes it easy for users to experiment with layouts, designs, and content, resulting in a more creative and visually appealing website. In Joomla, achieving similar visual customization may require additional extensions or templates, making the process more complex.
Integrated Hosting: One of Wix's significant advantages is its all-in-one platform, which includes integrated website hosting. Users don't need to worry about finding and managing separate hosting services; everything is handled within the Wix environment. This simplifies the website setup process and ensures smooth performance. With Joomla, users need to secure their hosting and domain separately, which might be overwhelming for those new to website creation.
Customer Support: Wix provides excellent customer support through various channels, including live chat, email, and a knowledge base. Users can quickly get assistance whenever they encounter issues or have questions about the platform. In contrast, Joomla's support largely relies on its community, forums, and documentation, which might not offer the same level of responsiveness or accessibility as Wix's dedicated customer support team.
App Market and Templates: Wix offers an extensive app market with various add-ons and integrations that users can easily install to enhance their website's functionality. Moreover, Wix offers a wide selection of professionally designed templates for different industries and purposes. This allows users to quickly get started with a pre-designed template and customize it to fit their needs. Joomla does have an extension marketplace and templates available, but the range and simplicity of the selection may not match Wix's user-friendly approach.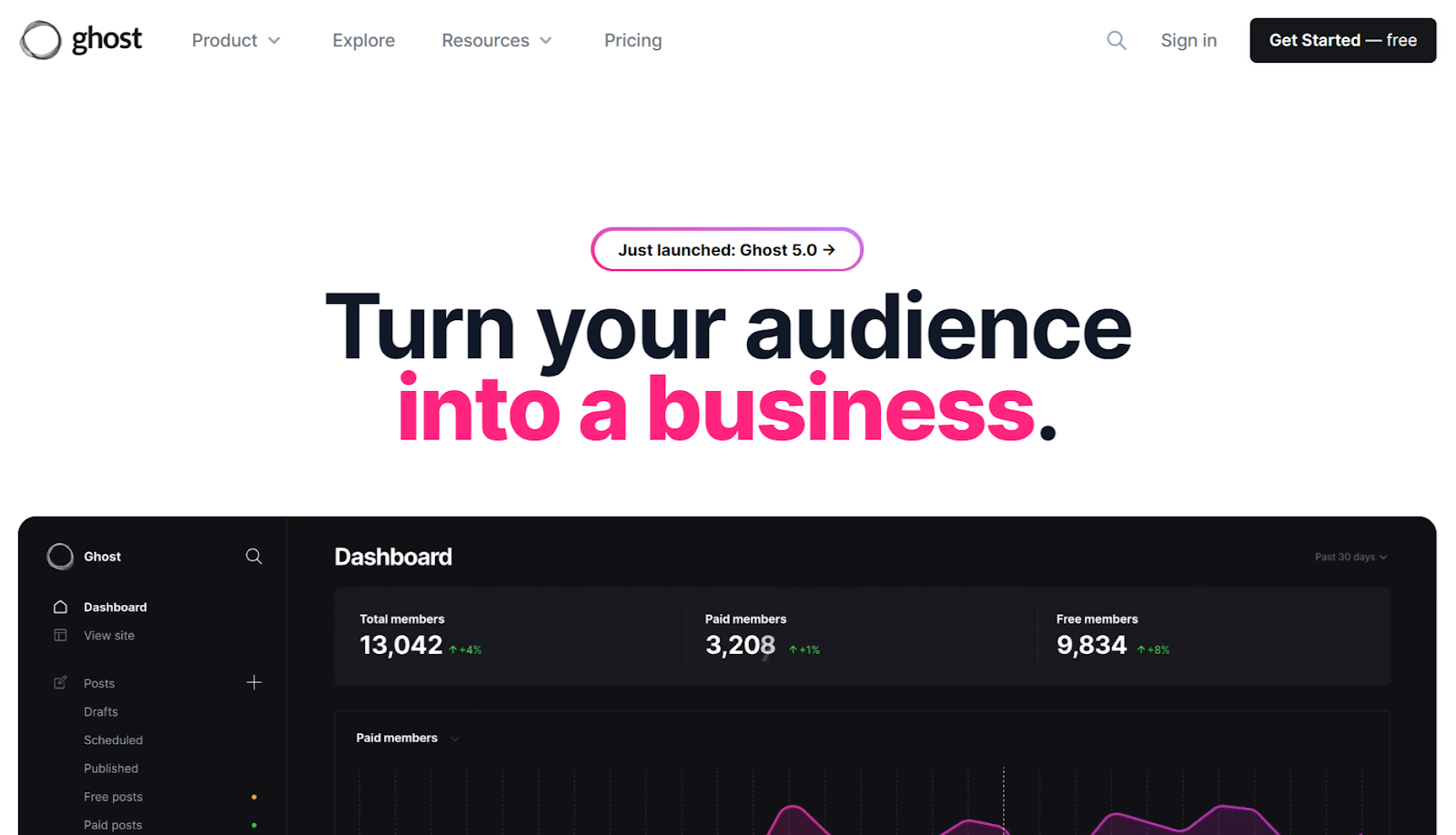 Ghost is a specialized content management system designed explicitly for bloggers and content creators. With a minimalist approach, Ghost provides a distraction-free environment for writing and publishing, making it a compelling choice for those who prioritize content creation and blogging.
Here's why Ghost is a much better alternative to Joomla
Simplicity and User-Friendly Interface: Ghost is renowned for its simplicity and user-friendly interface, specifically designed for bloggers and content creators. The platform's minimalist approach ensures that writers can focus on creating and managing content without being overwhelmed by complex settings and features. In contrast, as a full-fledged content management system, Joomla may have a more difficult learning curve and intricate setup, which can be unnecessary for bloggers who primarily require a simple and efficient writing environment.
Performance and Speed: Ghost is built with performance in mind, emphasizing fast loading times and optimal content delivery. As a result, websites powered by Ghost tend to have faster page loading speeds, leading to better user experiences and improved search engine rankings. Joomla, while versatile, may require additional optimization efforts to achieve similar levels of performance for blogging purposes.
Content Management and SEO: Ghost is purpose-built for content management and blogging, providing a seamless writing and publishing experience. It includes essential features like tags, categories, and a built-in editor that supports Markdown, making content creation straightforward and efficient. Ghost also offers native SEO tools to optimize content for search engines, helping bloggers reach a wider audience. Joomla's content management capabilities are extensive, but they may come with more complexity than needed for bloggers who desire a streamlined writing process.
Distraction-Free Writing: Ghost provides a distraction-free writing experience, allowing bloggers to focus solely on their content without any clutter or distractions on the interface. This clean and minimalistic environment can enhance creativity and productivity for writers. While Joomla has various functionalities, its focus on managing complex websites might not offer the same level of distraction-free writing experience as Ghost.
You can also try Ghost alternatives if you think Ghost is not the right choice.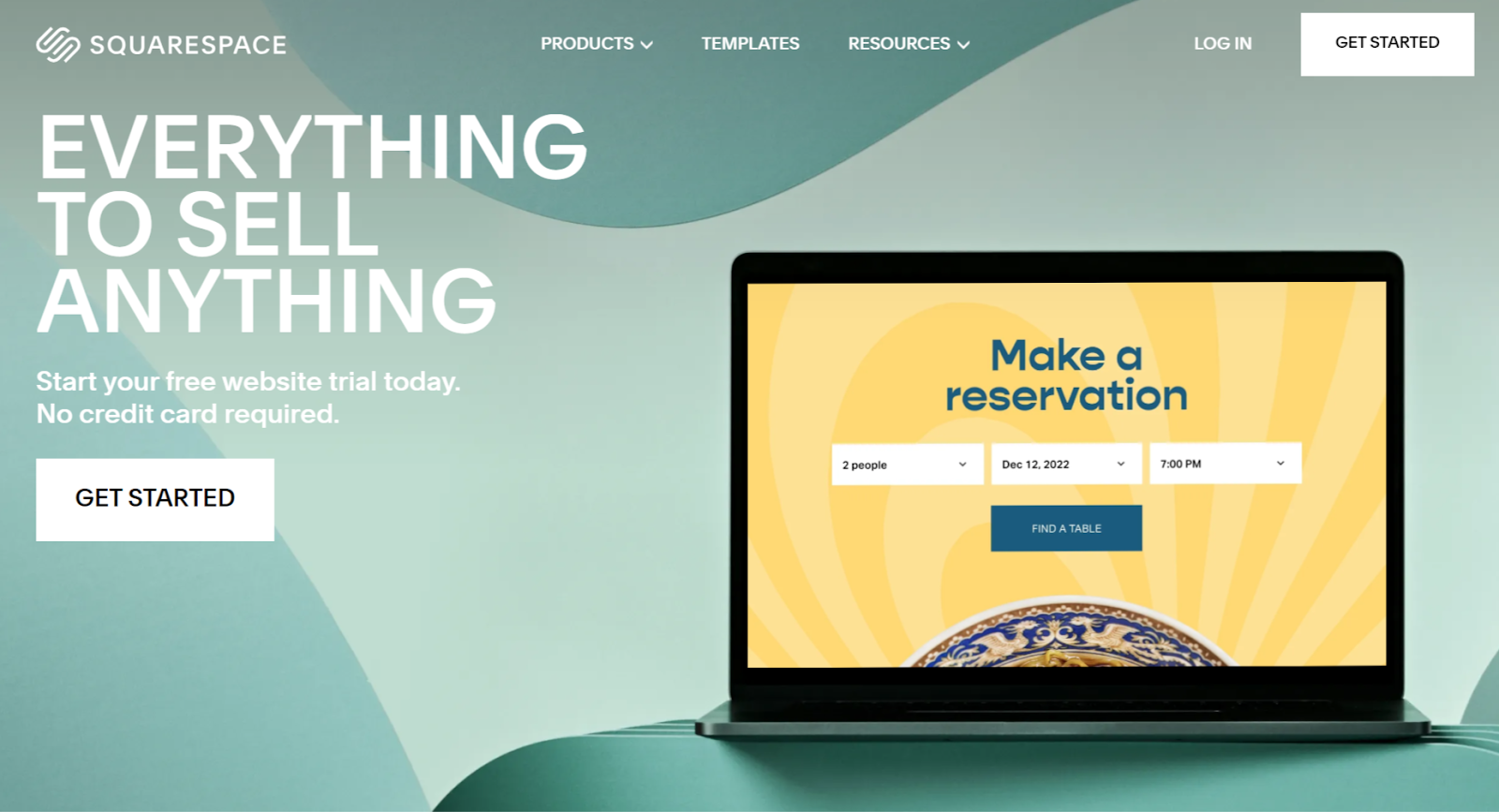 Squarespace is a popular website builder renowned for its visually stunning and professionally designed templates. Aimed at creative professionals and businesses, Squarespace offers an all-in-one platform with easy-to-use tools for building and managing aesthetically pleasing websites.
Why Squarespace is a better alternative to Joomla
Squarespace offers several advantages over Joomla for individuals and small businesses looking to easily create a professional and visually stunning website. Here are the reasons why you should consider using Squarespace instead of Joomla:
User-Friendly Website Builder: Squarespace is renowned for its user-friendly website builder, designed to cater to users of all skill levels. With its intuitive drag-and-drop interface, creating and customizing a website becomes a seamless and straightforward process. Joomla, while powerful, may have a difficult learning curve, especially for those without technical expertise.
Beautiful Templates: Squarespace provides a wide selection of professionally designed templates that are visually appealing and modern. These fully responsive templates ensure that your website looks great on various devices. While Joomla also offers templates, Squarespace's designs are more polished and require minimal customization to achieve a professional look.
Integrated Hosting and Updates: Squarespace is an all-in-one platform that includes hosting, ensuring a hassle-free user experience. You don't need to manage separate hosting services or perform regular updates, as Squarespace handles these technical aspects. In contrast, Joomla users need to handle their hosting separately and perform regular updates to keep their websites secure.
E-commerce Functionality: Squarespace includes built-in e-commerce features, making it an excellent choice for individuals or businesses selling products online. Setting up an online store is straightforward; you can manage inventory, payments, and orders seamlessly. While Joomla has e-commerce extensions, integrating and managing them requires more technical expertise.
Shopify is a leading e-commerce platform built to cater to the specific needs of online stores and retail businesses. With a focus on providing a robust and user-friendly e-commerce solution, Shopify has earned a reputation as a top choice for entrepreneurs and businesses seeking to establish and grow their online retail presence.
Why Shopify is a better alternative to Joomla
Shopify offers several distinct advantages over Joomla for users looking to create and manage an online store with ease. Here are the reasons why you should consider using Shopify instead of Joomla:
E-commerce Focus: Shopify is specifically designed as an e-commerce platform, making it the perfect choice for users who want to set up and run an online store. It offers a wide range of e-commerce features out-of-the-box, including product listings, inventory management, payment gateways, and shipping options. While Joomla has e-commerce extensions available, Shopify's dedicated focus on online selling ensures a more streamlined and efficient experience for store owners.
User-Friendly Interface: Shopify provides a user-friendly and intuitive interface, allowing users of all skill levels to easily build and manage their online stores. Its drag-and-drop website builder and simple admin panel make it straightforward to customize the store's appearance and manage products, orders, and customer data. Joomla is more complex and requires additional plugins to achieve similar e-commerce functionalities.
Integrated Hosting and Security: Shopify is a solution that includes hosting, ensuring that your online store remains secure and performs optimally. Shopify takes care of updates, security patches, and backups, relieving users from technical management tasks. In contrast, Joomla users need to secure their hosting separately and manage security measures independently, which can be more challenging for those new to online selling.
Extensive App Store: Shopify offers a vast app store with numerous plugins and integrations that enhance the platform's functionality. Users can easily find and install apps to add features like email marketing, SEO optimization, customer support, and more. While Joomla has extensions available, Shopify's app ecosystem is specifically curated for e-commerce needs, providing a more comprehensive selection of e-commerce-focused tools.
Mobile Responsiveness: Shopify's themes are mobile-responsive by default, ensuring your online store looks great and functions seamlessly on mobile devices. Given the increasing number of mobile shoppers, this feature is essential for a successful online store. While Joomla also supports mobile responsiveness, Shopify's focus on e-commerce ensures a superior mobile shopping experience.
Customer Support: Shopify offers excellent customer support through various channels, including 24/7 live chat, phone support, and email. The dedicated support team can quickly address any issues or questions that arise during the process of setting up and managing an online store. Joomla's support largely relies on its community and forums, which may not offer the same level of responsiveness as Shopify's dedicated customer support team.
Ready to explore other Joomla alternatives?
When choosing the right CMS, it's essential to consider various factors such as ease of use, customization options, scalability, third-party integrations, and specific features that align with your website goals. 
Hyvor Blogs is the perfect Joomla alternative, catering to bloggers and website owners with its intuitive user interface, advanced commenting system, analytics and SEO tools, and strong security measures. It presents a user-friendly platform that fosters user engagement and provides a seamless content management experience. You should sign up today to enjoy its limitless features.