When it comes to churning out exciting food blog content, both new and old food blogs can sometimes find themselves lacking. While older blogs may have covered most things food-related, newer ones might be unsure how to get the ball rolling. 
Many times you'd find yourself with more questions than answers, questions like:
"what are the best food blog name ideas?"

"are there food blog writing examples I could follow?"

"should I proceed with writing a food blog?"
Despite the seemingly insurmountable odds, the answer to the last question would be an unyielding YES for many reasons, but mainly because…
You can't get it wrong with food
The human body needs food to function optimally, and as long as this stays true, there will always be a need for food content that can be sourced on your food blog. 
Do you need more convincing? Hold your horses because it gets even better. 
There are so many food variants from different countries, states, and tribes that you can have fresh content around the clock, depending on how you spin it. Some meals even have different ways they are prepared and served depending on who is making them and where. At the same time, others have meaning outside the ordinary to the people that make and consume them. 
You could also explore the history of food, how spices and their usage have evolved. Or keep it simple with crazy ice cream flavors from around the world; whatever it is, you CAN NOT get it wrong with food. 
But…
You need all the help you can get
While there is a lot you can do blogging about food, you want to approach it with caution. Food blogging can very quickly go horribly wrong because there are consequences to the information you put out. If you blog or promote something incorrect, it can cause irreparable damage to members of your community and, in turn, smudge your reputation. 
Of course, mistakes are part of the development process, but you want to keep them to a minimum, and that requires you to get all the help you can get, which for starters, you can do in the following ways:
Supportive host for your blog
Hyvor Blogs can help you every step of the way with its round-the-clock customer support, so you do not have to take time off thinking up food blog post ideas. Knowing that a reliable host hosts your blog allows you to focus on creating and publishing content and spend less time worrying about your blog's integrity.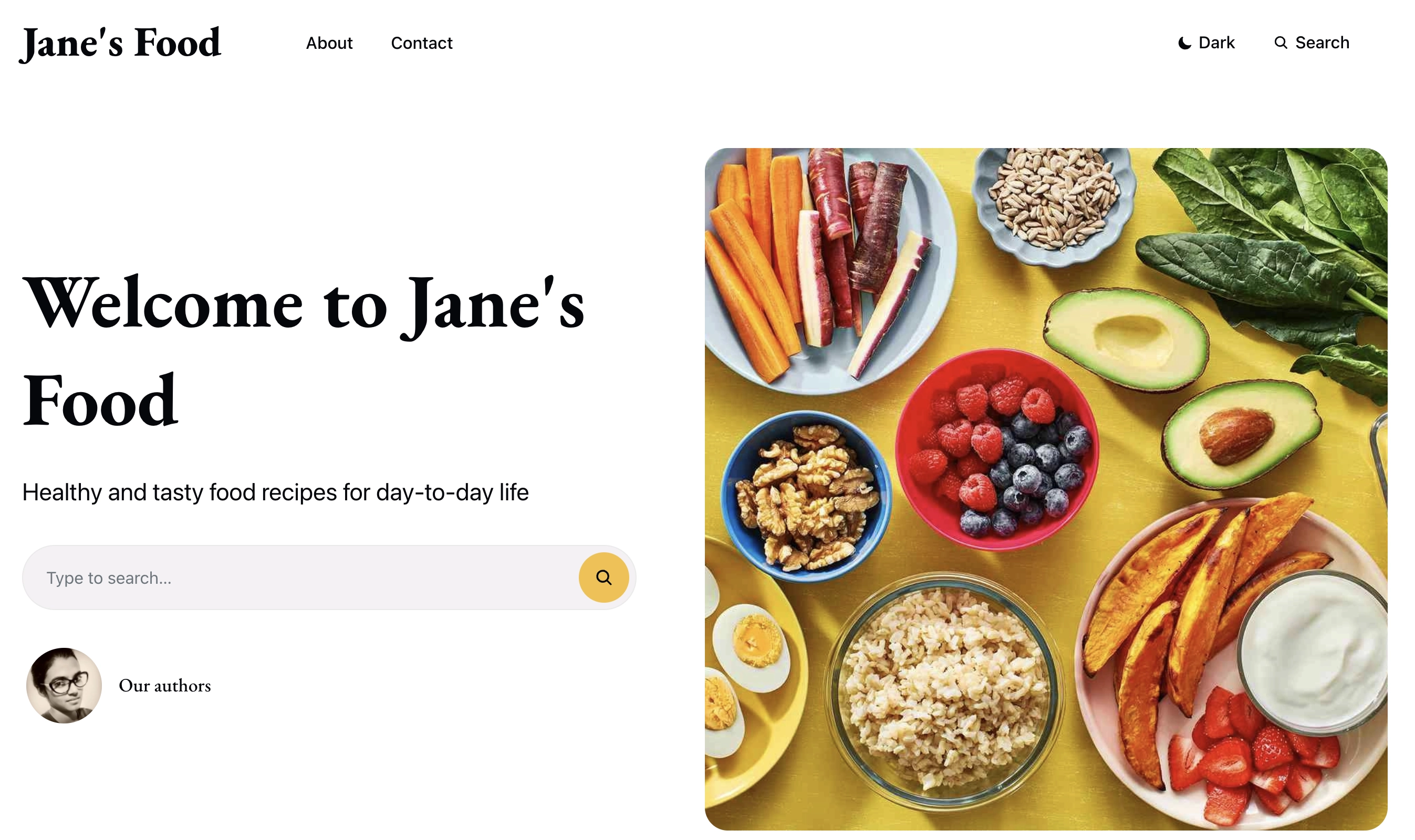 Another reason to have Hyvor Blogs as your host is how much creative freedom you have to tweak your blog to taste. This ensures that you can modify your blog on the fly without the hassle of employing professionals, which would hinder your creative process. 
You can set up your own custom domain in Hyvor Blogs without zero additional costs. Plus, it has multi-language blogging where you can blog using any language or you can translate your blog from one language to another language with just one click (you can maintain your blog in several different languages). Even Right-to-left (RTL) languages
All these combine to make Hyvor Blogs the best blog site for food bloggers.
If you have tried other blogging platforms, and you feel that those fit you. Then you can choose one among them. Otherwise, you can look for alternatives: WordPress alternatives.
In addition to that, normally food bloggers love to have a commenting section on their blogs to engage users interactively: getting ideas, and comments, and carrying meaningful discussion on the blog are the main goals of having a commenting section. I mean, you love to know what your readers think about your content right? So why not enable a commenting section? With Hyvor Blogs, you can do it just by adding Hyvor Talk - all in one commenting platform for FREE.
On the other hand, you can cut the cost of running a food blog. Like, as blog hosting costs, blogging platforms costs, domain costs, plugin costs like commenting plugins, etc. With Hyvor Blogs, you will have to spend just for the blogging platform only. All the other costs are zero when it comes to blogging with Hyvor Blogs. See for yourselves how low the pricing of Hyvor Blogs is.
Inspiration from established food bloggers
One way you can explore to get help is to search "best blog site for food bloggers," and you will find other blogs in various niches in the food blogging industry. Seeing what they do and how they do it would fast-track your creative process. 
If you are just starting, seeing what other people went for in terms of domain names can help you develop cute blog name ideas of your own. Furthermore, learning from mistakes from existing blogs can ensure smoother development of your blog in terms of its design and other branding forms, to name a few. 
Here are some inspiring food blogs out there.
Food Blog Ideas
Now that you have scoped out the competition for unique food blog name ideas and gotten on board with Hyvor Blogs as your host, let us explore potential blog ideas that could enrich your blogging community. 
It is important to note that these categories are to point you in the right direction, as food blog ideas are vast and only capped by your imagination. 
1. Food Beverages
Although several blogs are dedicated to beverages, this is still relatively uncharted territory. If you have ever had people in your home and you wanted to show off some bartender skills and fell flat on your face, it would interest you to know that you are not alone. 
Your blog can service people who want to make mocktails and cocktails and invent new smoothie and milkshake blends. 
Check out the following food and beverage blogs for inspiration:
2. Recipe Ideas
Say Food blog out loud, and this is what comes to the mind of most people. It is typically what most people expect, but at the same time, it is quite a saturated space with every and any person with a food blog pushing out different food recipes by the dozen.
This is not to say it is no man's land, as you can carve a niche out for yourself if you find exciting twists to get your readers hooked or find new recipes that people would consider exciting. 
The recipe idea is common because you can create media content as you go through the steps and add color to your blog. 
The following are some food recipe blogs for your consideration:
3. Tips and Techniques
I would not recommend you start with this if your blog is new unless you want your blog to feature only this content type. It comes in handy because it looks to solve or ease problems people encounter when preparing food or beverages. 
The drawback is that these problems can be very specific or unique to certain audiences, affecting your blog's ranking. The best case scenario would be to chip these in once in a while, solving problems members in your community bring to your notice. 
These usually include "how to" blog titles; some examples include:
4. Reviews and Recommendations
This requires you to review food brands and cooking equipment. You can ask members of your community to chip in on what they want to be reviewed, then you document the process and give your recommendations. 
It is a fun blog idea that sees you bridge the gap between yourself and your community members. You should note that it is not without its risks, as every time you review a product or item and consequently recommend it, you are putting your reputation on the line. 
This idea ranges from something as commonplace as food tasting to testing different oven brands and recommending the best. The following are some blog posts that review food-related items:
5. Cost and Budgeting
Most food blogs —especially food and beverage recipe blogs— are usually over the top and rarely spare any expense. But the reality is most people can't afford to prepare food or beverages like that. Take students living on a budget; the last thing they want to do is shell out hundreds of dollars to make one meal. Even if money were not a problem, many would think twice. 
You can solve this problem by centering your blog around cost-friendly and time-sensitive recipes. A series that helps people budget and still make healthy meals would easily be a people's favorite and drive traffic to your blog. 
The following are food blog examples for students and people looking for food and beverages on a budget:
6. Food Topics and Themes
You should know that not every post on your blog must directly discuss food; some can be food themed. An example would be discussions about food vitamins lacking in most people's diet, the consequences, and how to include them in everyday diet. 
Informational pieces that point out how exercise can aid digestion and bowel movement and improve quality of life would be appreciated by members of your blog community. 
These are examples of food-themed blog content that can add value to your blog:
7. Interviews and Collaborations
One fix when you have writer's block is to set up interviews or collaborations with other people in the industry or perhaps food experts. You can ask them questions members in your community have posed or have them share secrets they have learned in the course of their trade. 
These interviews and collaborations would come in handy in promoting your brand as the people that feature would mention it on their platform to members of their own community. 
Check out the following interviews with some food bloggers for inspiration:
8. Miscellaneous Ideas
Miscellaneous ideas involve the Ace up your sleeve. It can be anything about food that would make your blog stand out. There's no teaching; it has to come naturally to you and be unique to your blog. 
It does not need to be informational or educational; it can be strictly engaging, fun, and whimsical. You can create puzzles or games around food biweekly or monthly to give your readers something to anticipate. 
9. Sponsored and Affiliate Content
There are better ideas for new blogs than this, but it can be a great monetization opportunity for blogs that have established themselves in the food industry. You are tasked with promoting food brands or items used in preparing food or beverages. 
You can do so under sponsorship or by signing up for an affiliate program. 
Check out this example of a blog post with sponsorship content:
10. Healthy Food
There has never been more buzz around eating healthy than there is at the moment, especially with people coming down with different illnesses due to their poor diets. There are already many blogs peddling healthy food content, but with the high demand for such content, it is better late than never to join the party. 
The following are examples of healthy food blogs:
Frequently Asked Questions
How to come up with blog ideas
There are several ways to think up blog ideas. The first and most important is paying attention to your community, what they respond to more, and what interests them. Another thing you want to consider is the industry trend; what are other people in the same niche as yourself talking about? You can round it up with good ol' keyword research to pinpoint popular topics. 
How to Write a cooking blog
There are two secrets to properly writing a cooking blog. The first is to write in your own voice and from your perspective. You do not want to come off as someone that's recycling content already on the internet; you want to ensure you do your research. 
The other secret is remembering that you are writing for others to understand. You want to keep it as user-friendly as possible. 
How to write a recipe blog post
Writing a recipe blog post requires being as thorough as possible. You want to list the ingredients in the order you would use them, and you should ensure that you list out their measurements in weight and volume. It is crucial that you advise on how best the final product can be served and stored. 
Conclusion
Food blogs are increasingly popular because they cater to multiple audiences, and the right content can drive traffic to your blog. But getting the right content can be much more challenging than it seems, well, not anymore. The food blog post ideas listed above ensure you have a steady content stream that informs and entertains members of your community.