You've probably started your blog if you're an aspiring writer or journalist. But if you don't consider yourself a writer, you can still create a tech blog and be successful! Many people have started their blogs for fun and found themselves unexpectedly making money from them...
A blog is a website that contains articles, reviews, and other writings of a personal nature. A tech blog is a blog that focuses on technology-related topics. It can be about anything related to technology or computers.
A tech blog can be about:
Innovations in computer hardware and software (e.g., new laptops)

How-to guides for using different types of software programs (e.g., how to use Photoshop)

Tips for buying products online (e.g., where you should buy your next laptop from)
Tips for building your computer (e.g., how to build a gaming PC) Information about the latest technology news (e.g., what's the newest smartphone on the market?)
An excellent way to do this is by keeping your writing simple and avoiding jargon. People reading your blog may not have the same knowledge level as you, so it's essential to be clear in your words. Also, ensure each article on your blog has an overall theme or goal (e.g., showing how to use new software programs).
You should start a tech blog for the following reasons:
You can make money from blogging. Advertisers will pay for ads on your site if you have an audience that likes your content and trusts you.

You can build a community around your blog. If people read and engage with what you write, they're more likely to return in the future, which means more readers and more traffic for advertisers looking to reach them!

You can get free products and services. Many companies offer press releases or other marketing materials as part of their PR packages--and these materials are often available only if they know who exactly it is going out to (i.e., influencers). So if someone wants those things but has nothing else going on, they might give yours away!
You can build relationships. Bloggers are well-known for being "people persons"—they have to be because they need their readers to come back and read what they write! So if you're friendly with other bloggers in your niche, they'll probably be more likely to share your content with their readers than someone who doesn't know them personally.
If you're looking to start a tech blog, the first thing to do is choose a topic you are passionate about. This can be anything from gaming to technology or even travel, but it's essential that whatever you choose has enough interest and demand within the community of readers.
Once you've decided what content your website will contain, it's time to pick where it will live online. Many different platforms are available for hosting blogs today, including Hyvor Blogs, WordPress, Ghost, Webflow, Tumblr, Blogger, or Medium. As a choice, let's see why Hyvor Blogs comes in handy for you.
Hyvor Blogs is a powerful, user-friendly all-in-one blogging platform focused on enhancing user engagement and providing seamless content management for blog owners. It offers a range of compelling features tailored to meet the needs of bloggers and website administrators alike.
Hyvor Blogs is an all-encompassing blogging platform where you have everything you need in one place. With its intuitive and seamless interface, you can write and publish your blog post in less time than on other platforms. 
Hyvor Blogs is a superior choice over other blogging platforms for your blogging needs due to its simplicity, purpose-built focus on blogging, and performance-driven features.
Everything you need for blogging is already built, and you don't need to have technical experience before you can use Hyvor Blogs. 
With Hyvor Blogs's multi-language blogging capabilities, you can publish your blog in any language such as French, German, Chinese, Dutch, Norwegian, and more. Plus, you can also effectively blog using right-ght-to-left (RTL) languages like Arabic, Farzi, Hebrew, etc. What's more? 
Simplicity and ease of use: Hyvor Blogs provides a straightforward and user-friendly interface, making it exceptionally easy for bloggers of all skill levels to get started. The platform's intuitive design allows users to create and manage blogs efficiently without extensive technical knowledge. In contrast, other platforms can be perceived as more complex and might require more expertise to navigate effectively.
Multi-language support: You can blog in any language you like. Or, you can translate your existing blog into any language you prefer and maintain your blog in both languages at the same time: you can do this with any number of languages. Hyvor Blogs has an AI-powered auto-translation feature that lets you translate blog posts just with one click into any language. How cool is that?
Custom Domains and Host Anywhere: You can easily set up your own custom domain for your blog in Hyvor Blogs: There are no additional charges for that. Also, you can host your blog anywhere without any issue: that is also zero cost at Hyvor Blogs. Unlike other platforms, you do not have to pay extra for any of these privileges in Hyvor Blogs.
Powerful Console: Hyvor Blogs Console has everything you need to manage your blog easily. It is simple and initiative. The rich text editor is fun to work with. You can easily add images, embeds, code blocks, and more.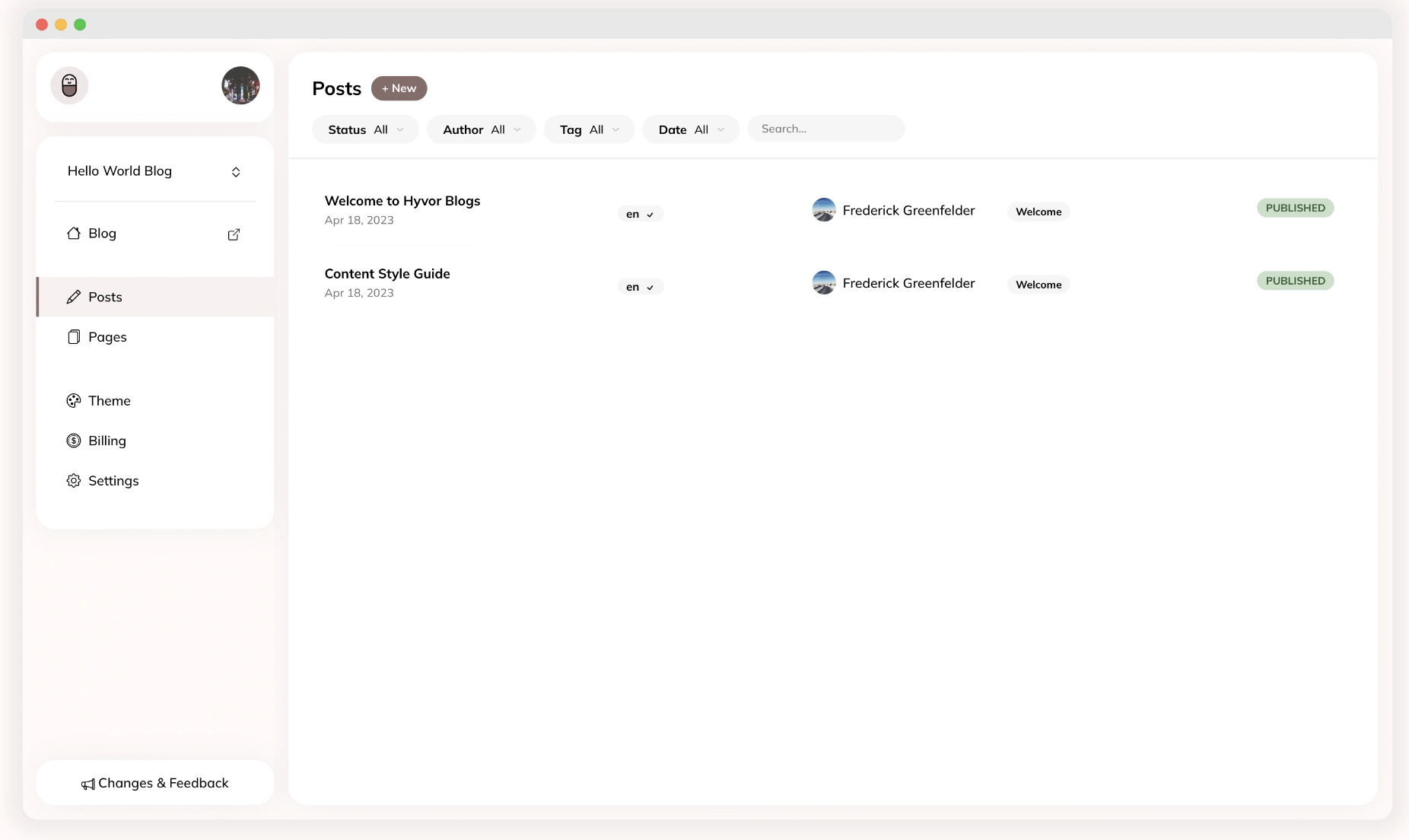 Customizable Themes: All the blog themes in Hyvor Blogs are free and open-source; for example, "Zing", "Pela", "Hello", etc. Customizing any theme as per your liking is highly encouraged in Hyvor Blogs. You do not need to pay for any of them. And, you can also create your own theme easily from scratch. Use this guide.
In-built SEO: SEO is one of the crucial parts of blogging. In most blogging platforms, you have to buy a plugin to do SEO or some do not even have SEO plugins at all. But in Hyvor Blogs, you do not need to worry about SEO or pay for SEO services or plugins. It has built-in SEO that takes care of your blog SEO behind the screen.
Team Collaboration: If you have a team to manage your blog (authors, editors, etc.), you can easily work with your blog team with no issues.
Mobile Optimization: Hyvor Blogs automatically optimizes blogs for mobile devices, ensuring that your content looks great on smartphones and tablets. This feature is vital, as many users access websites from mobile devices.
Developer Friendly:
Data API - Access public data of your blog as JSON using our Data API. For example, you can use it to get the latest posts on your blog. The Data API makes Hyvor Blogs work as a headless CMS for an alternative front-end.

Console API - This is the same API we use in the Console. Automate some of your administrative tasks, or you can even build your own console.

Delivery API - Delivery API allows you to host your blog within a subdirectory of your web applications, with the help of Webhooks.

Webhooks

Web Framework Integrations such as Symfony, Laravel, etc.
Free Commenting Platform Integration: You can add Hyvor Talk to your blog for FREE in Hyvor Blogs.
Optimum focus on security: Hyvor Blogs strongly emphasizes security, ensuring that your blog and data are well-protected. As a specialized blogging platform, it focuses on implementing robust security measures explicitly tailored to the blogging environment.
Solely focused on blogging: Hyvor Blogs is exclusively centered around blogging. This specialization ensures that bloggers can access all the essential tools and features tailored to enhance their blogging experience. With Hyvor Blogs, you won't encounter unnecessary complexities or features unrelated to blogging, making it a streamlined and purposeful platform.
Performance-driven features: Hyvor Blogs is designed to focus on speed and performance, ensuring that your blog loads quickly and efficiently for your visitors. With Hyvor Blogs, you can cache your blog and optimize its delivery, significantly reducing loading times and leading to better user experiences and improved search engine rankings. 
Here is the summery of the key features of Hyvor Blogs
Customizable themes

Custom domains

Powerful blog console

Fast performance

Ability to host anywhere

In-built SEO

AI-powered auto translations

Multi-language blogging

RTL languages support

Data ownership and control

Developer friendliness

Team collaboration

Affordability than any other blogging platform

Free Commenting System

An example blog that was created using the theme "Pela"
Once you've decided where your blog will live online, it's time to choose a name. This is very important because people will search for your website online, and if they can't find it, they'll go elsewhere. It's also vital that you pick a name that still needs to be used by someone else. You can do this by doing a quick search on Google or checking the whois records of the domain name itself (which can be found via any registrar). Once you've chosen a name for your site, it's time to start writing content!
This is the most essential part of starting a blog. It's what will attract readers and give them a reason to come back again in the future. Of course, you'll want to start with some basic posts about yourself and why you started this blog in the first place, but it's also important to branch out into other topics (especially if those are your passions).
Your blog should reflect who you are, what you love, and what makes your content unique. If you're starting a tech blog, it shouldn't just be about the latest trends in technology or how-to guides on coding. You should have a clear purpose for starting the blog and know exactly what kind of audience it will cater to.
A good example is if you are interested in photography or videography but want to write about something other than those subjects specifically, instead, write about travel destinations where these skills can come in handy (and then link back to relevant tutorials). Try incorporating keywords related to this topic into every article so that people searching for something specific will find them easier online when using search engines such as Google (or Bing).
If you're a blogger and you want your blog to be successful, you must know what your readers want. You should always write with the reader in mind and ensure your writing is relevant and helpful.
When you're ready to publish your article, ensure it is complete. You have included all necessary components: an introduction, main body paragraphs, and a conclusion. Next, check grammar mistakes by reading your article aloud (or having someone else read it) and fix them before publishing!
Your blog's name should be unique and memorable. It should also reflect your site's content, so if you're starting a tech blog, "Tech Tips & Tricks" might not be the best choice.
Another essential thing to include on your blog is your name and contact information (email address). This will help readers feel more comfortable reaching out if they have questions about anything on your site or want more information about something else that interests them.
You can also include a disclaimer that explains that all opinions expressed on your site are your own and not affiliated with any company or organization. This will help readers feel more comfortable with the information you have to offer.
If you want to get readers involved in the conversation, ensure your blog has a comments section. Readers can comment on posts and leave their opinions or questions for everyone else to see. This helps build a community around your site and creates a space where people feel comfortable sharing ideas with others interested in similar topics.
A Facebook page and a Twitter account are good ways to build your online presence. These platforms will help you get noticed by people who have yet to become familiar with your blog so that they can find it more easily. You can also promote your blog on other websites or social media accounts if you have connections.
The answer to this question depends on many factors, including your chosen niche and how much time and effort you're willing to put into blogging.
How much money can you earn from blogging? The short answer is that it depends on how many people visit your site, what they're willing to pay for your content, and whether or not ads are running on your site. In other words: it's complicated!
The more people that visit your site, the more money you can make. If you're famous, you can charge for sponsored posts and get advertising revenue from companies who want to promote their products on your blog. But if nobody knows about it, no one will come by, and there's no way for them to buy anything from you.
You can make money from blogging in a few ways: Sponsored posts -Companies will pay you to write about their products, services, or business. This is usually done through a flat fee or commission based on sales. -Advertising revenue -If your blog has enough readership (or if you get featured by popular websites), companies may pay for the opportunity to show ads on your site.
Conclusion
In the end, these are some ideas you can use to start a tech blog. Consider looking into other options, such as starting with a WordPress site or even Tumblr if it suits your goal. Whatever route you take, just remember that there are many benefits when it comes to making money online or sharing information with others interested in learning more about technology-related topics such as programming languages like Python or HTML/CSS coding skillsets like CSS animations.